It is October and it is time to enjoy Fall. From Pumpkin spice to Apple Cider and from Halloween to Thanksgiving it is time to start preparing for the upcoming Holiday season. This month's for BreadBakers', we are celebrating Fall; baking bread with fall fruits and vegetables, for example, apples, grapes, pears, sweet potatoes, cauliflower, broccoli, acorn squash, butternut squash etc. Our host of the month is the wonderful blogger Pavani at Cook's Hideout. Do check out her blog for some great inspiration!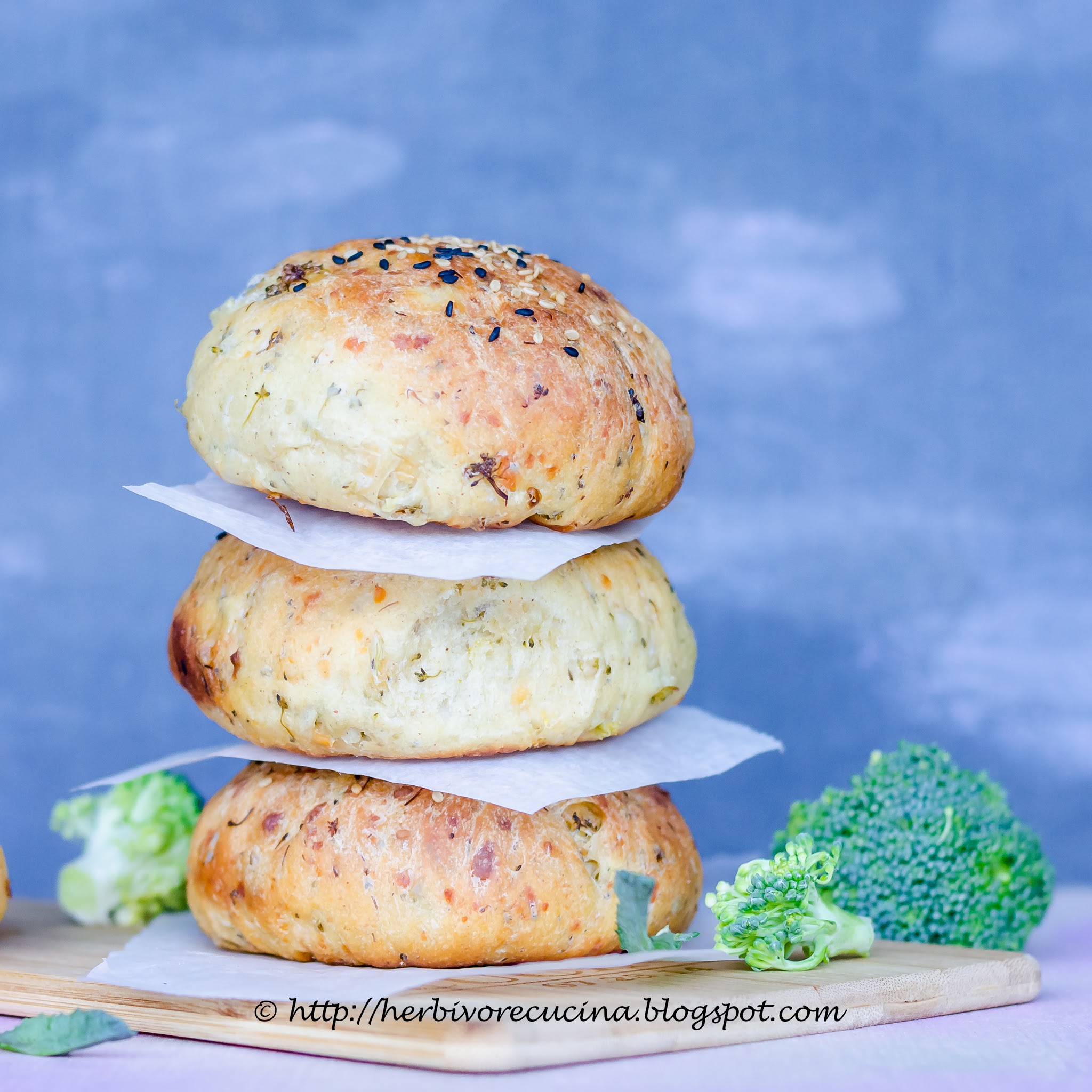 While thinking of a vegetable or fruit to bake, I was almost certain I would take up pear or apple. But with few takers for sweet breads, I changed the plan to make something savory. Potato was my next option, but my husband does not fancy those at all. And yes, I baked a Pumpkin Bread for last month, so I picked Broccoli. For a while I have been wanting to make burger bun at home and this seemed like a perfect start.
I used the basic bread recipe for this one. However, I replaced all purpose flour with whole wheat flour. Adding ¾ cup shredded broccoli to the bread gave the whole thing a great taste. Also, the egg I have added in the bread is optional. One can replace it with flax seeds or leave it out completely. I loved the way the flavor from the broccoli made the buns yummy. Adding some cheddar cheese to this one further enhances the taste for sure. Skip that if you cannot find it or want a healthier version.
While the plan was to use the buns burgers, I ended up devouring a couple of them while they were still warm. For the remaining, I made falafel patty and we had some great Greek inspired sliders for dinner. The bread tasted great when warm and the burgers were great the next day too. The buns can be stored for up to a week. If the weather is warm, refrigerate the buns, else they can be left on the counter top too.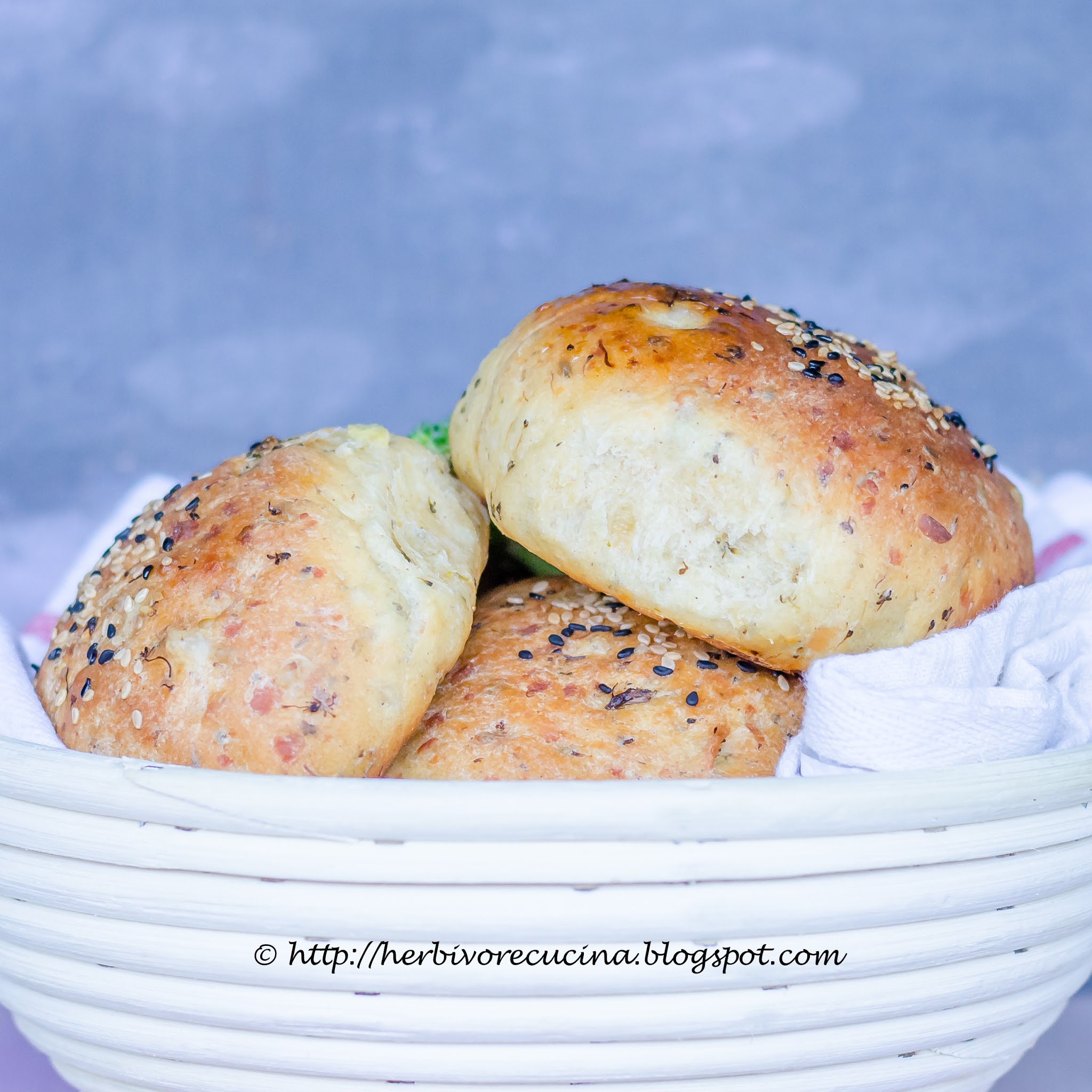 Ingredients
Broccoli ¾ cup, shredded
Whole Wheat Flour 2 cups
All purpose Flour 1 cup
Vital Wheat Gluten 3 tbsp
Instant Yeast 1 sachet (2 ¼ tsp)
Unsalted Butter 3 tbsp
Cheddar Cheese ¼ cup, shredded
Oregano 1 tsp
Egg 1 medium
Salt 3 tsp
Sugar 1 tsp
Olive Oil 2 tbsp
Sesame seeds 1 tbsp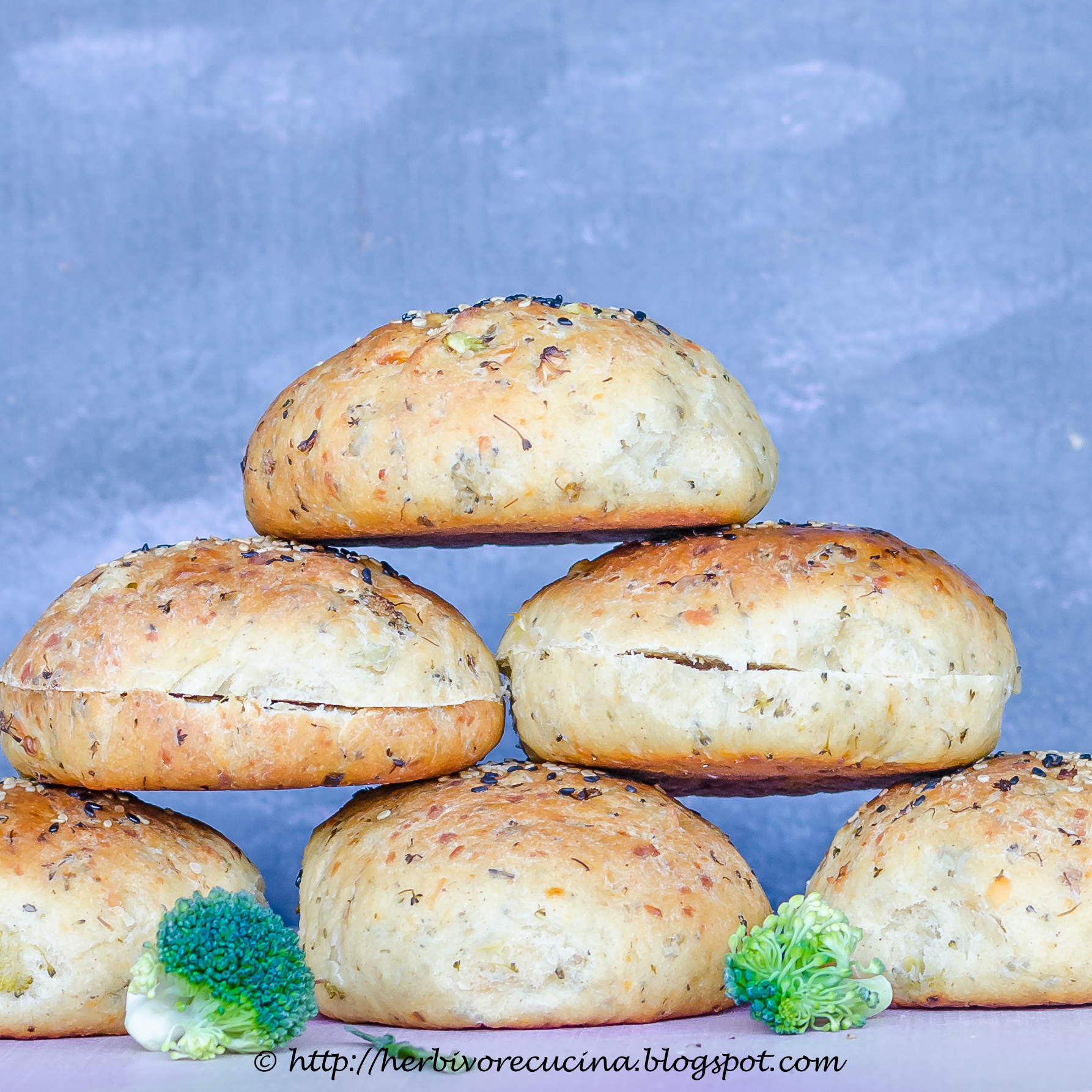 Method
In a cup of warm water (105-110 F) add 1 teaspoon salt and 1 teaspoon sugar. Mix well and add yeast. Mix well and rest in a warm place for 10 minutes. Once the yeast bloom, start with the dough.
In a mixing bowl add the flours and wheat gluten. Mix well and add 2 teaspoon salt, shredded broccoli, cheese and oregano. Finally add the egg, slightly beaten, unsalted butter and bloomed yeast. Bring everything together and make a soft dough. Knead the dough for 10-12 minutes. Lightly brush olive oil and place the dough in the bowl to rise. Keep the dough in a warm place ( about 90 F) for an hour till the it doubles in size.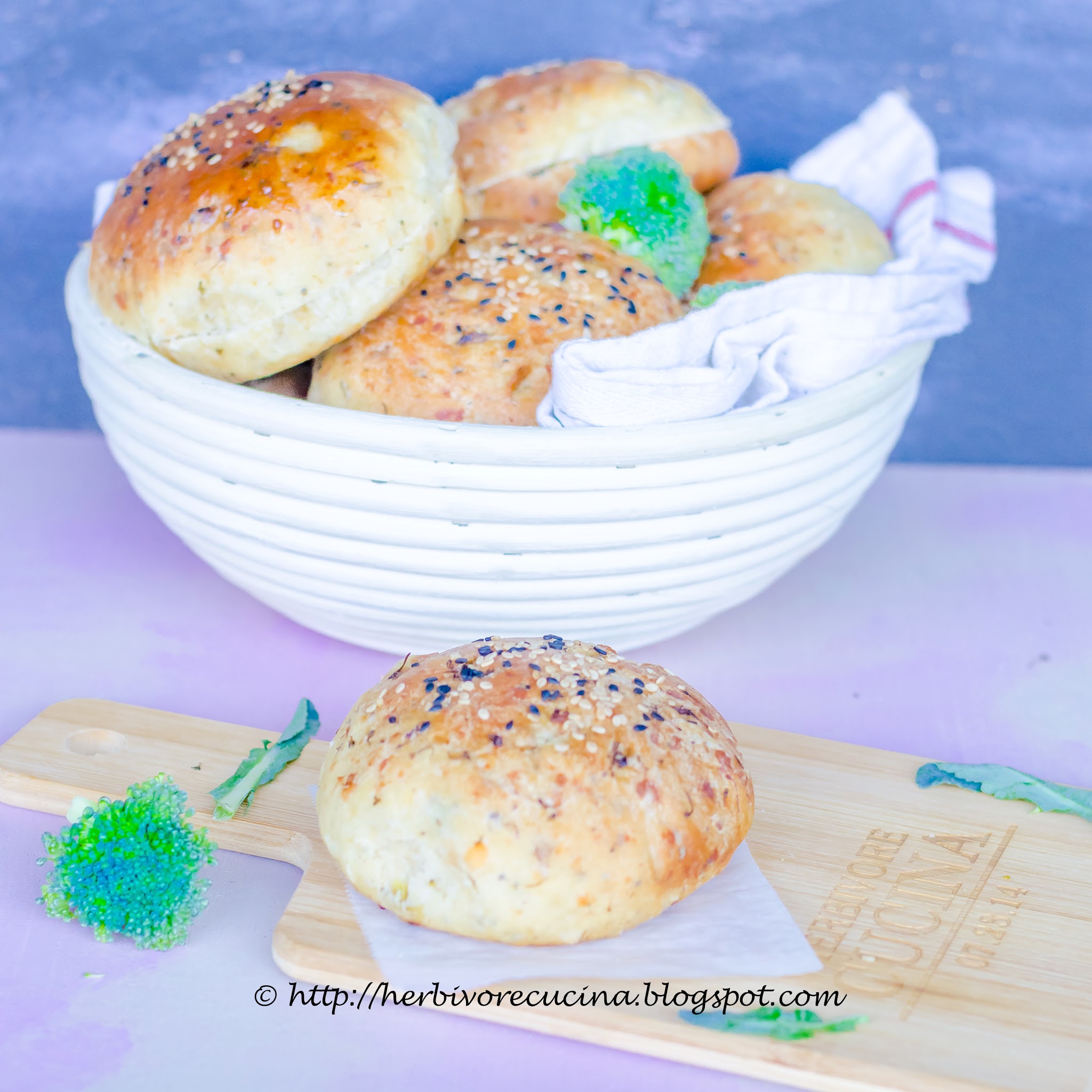 Once the dough has doubled, punch down and knead for a couple of minutes. Divide the dough into six or eight parts and roll to smooth balls. In a baking tray lined with parchment paper, lay all the rounds and brush olive oil on them. Cover and rise for an hour.
At the end of the rising time, preheat oven to 400 F/ 200 C. Brush the risen buns with oil or milk. Sprinkle white and black sesame seeds and bake the buns for 15-18 minutes, till the crust is golden brown. Remove and cool completely on a cooling rack. Once cool, slit and use as burger buns. Alternatively, just serve the buns with butter and coffee.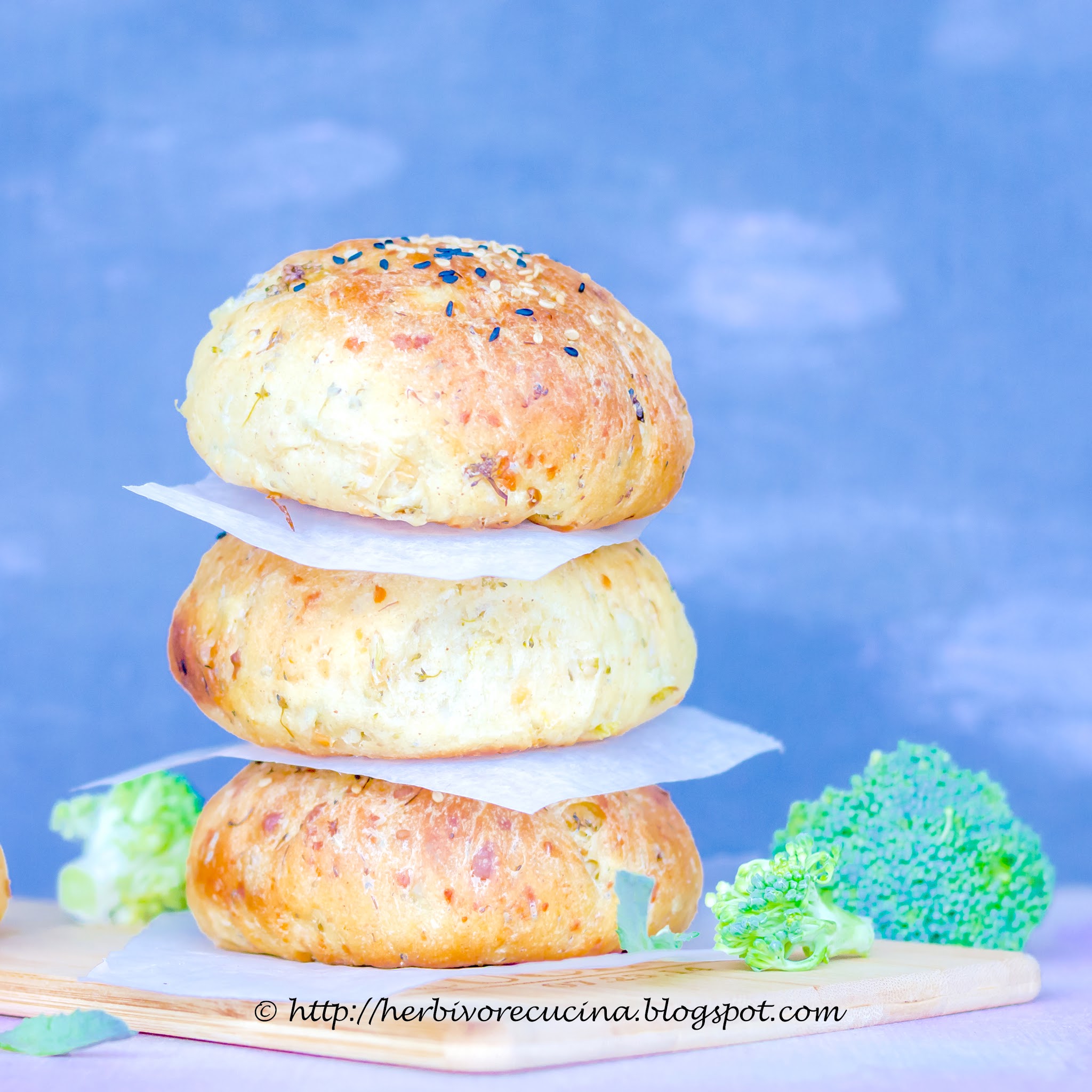 #BreadBakers is a group of bread loving bakers who get together once a month to bake bread with a common ingredient or theme. You can see all our of lovely bread by following our Pinterest board right here. Links are also updated after each event on the #BreadBakers home page.
We take turns hosting each month and choosing the theme/ingredient. If you are a food blogger and would like to join us, just send Stacy an email with your blog URL to foodlustpeoplelove@gmail.com.
Check out what our fellow bakers have come up with:
Apple & Olive Oil Boulé from Food Above Gold
Apple Cider Muffins from A Baker's House
Apple, Pear and Persimmon Stuffed Brioche from A Shaggy Dough Story
Baked Cauliflower Breadsticks from Sneha's Recipe
Broccoli Burger Buns from Herbivore Cucina
Brown Sugar Pumpkin Apple Bread from A Day in the Life on the Farm
Chilli and Cheddar Potato Rolls from Mayuri's Jikoni
Easy Apple Banana Bread from Food Lust People Love
Figs Quick Bread from Basic N Delicious
Harvest Bread with Sweet Potato from Cook's Hideout
Kartofel Khleb - Russian Potato Bread from Ruchik Randhap
Potato Bread Rolls from Gayathri's Cook Spot
Pumpkin Challah from Passion Kneaded
Sauerkraut-Nut Bread from Palatable Pastime
Savoury Potato Rose Rolls from Sara's Tasty Buds
Spiced Apple Star Bread from Hostess At Heart