Blogging Marathon #68 Week 1 Day 2
Theme: Soups and Stews
Dish: Broccoli Cheddar Soup


Today is the second day of the Mega Marathon and I am back with yet another soup. Yesterday I posted a broth based Manchow Soup, today it is time for something a little less healthy, but super tasty! For the people who are familiar with the soup, you know how sinful a bow can be! For the others, this soup will definitely be a game changer.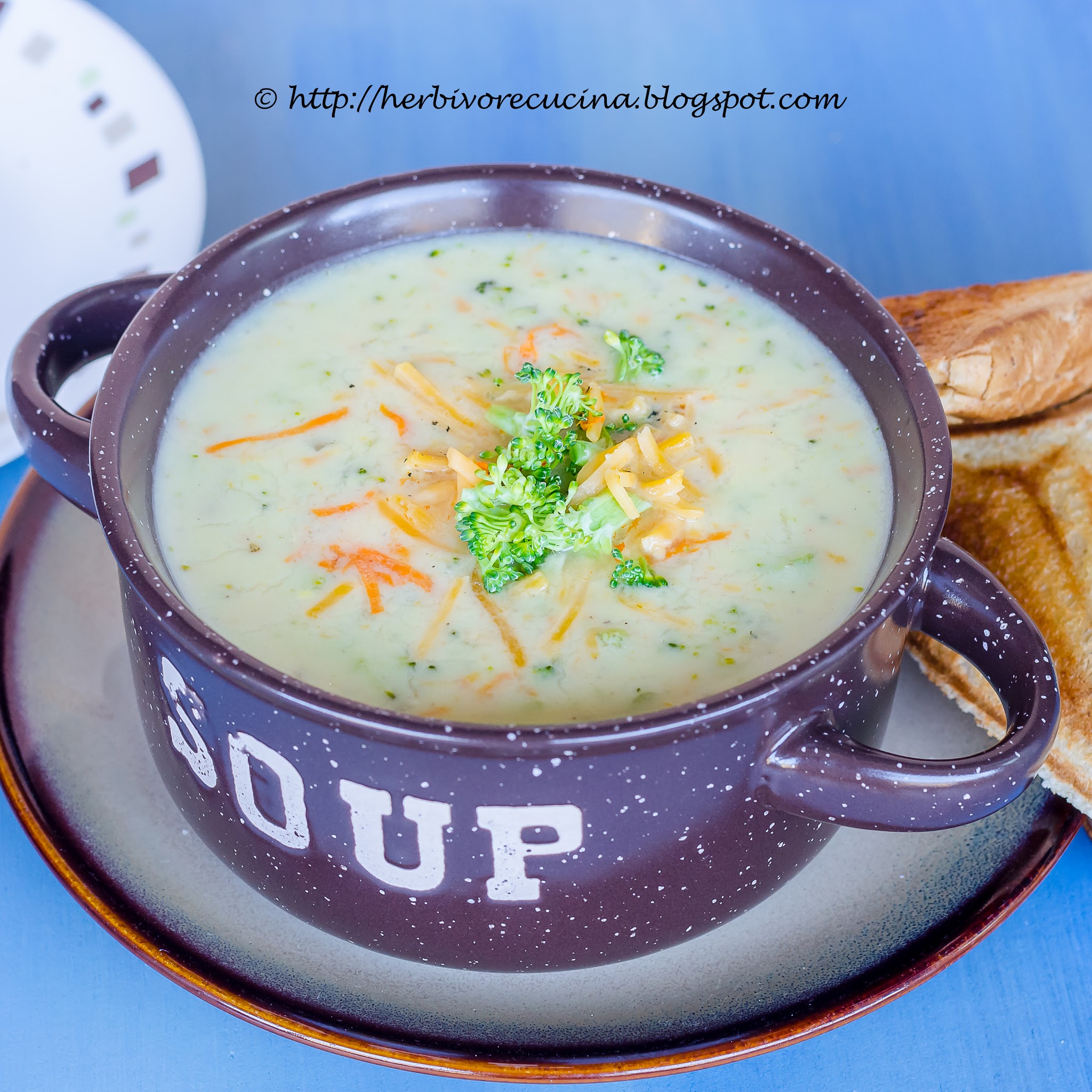 It sure was a shock for me when I first heard of cheese in a soup. My definition of soup was something that is healthy, light and sometimes served with a sinful accompaniment like fried croutons or fried noodles. When I read about this soup in a cookbook, I was amazed. A soup fully loaded with cheddar cheese, broccoli and cream was unbelievable. Then I had this soup at Panera Bread, and I was hooked up! This soup is the reason I avoid getting Cheddar Cheese home. If I see some cheese lying around, I would be tempted to make this all over again!

The soup is pretty easy to make, with a few ingredients and about half an hour. While most ingredients can be substituted or skipped based on the family preferences, I would not recommend changing two ingredients: Cheddar Cheese (obviously, the name of the soup says it all!) and Nutmeg. The spice adds a distinct flavor to the soup which cannot be achieved by any other spice!
I have made a version from the book Top Secret Recipes but made a few changes based on how we like it. If you look online, a lot of variations claim to be the original Panera Bread recipe, some have potato, some chicken stock and some have celery. My recipe is none of those! It is simply a soup that has everything we love as a family and tastes....better than Panera Bread! Try this yourself, serve a bowl full of this soup with a sandwich, I am sure you will have a satisfying meal at home 🙂
Ingredients
Broccoli 1 medium head, florets separated
Carrot 1 medium, grated
Yellow/White Onion ½ medium, diced
Garlic 1-2 cloves, minced
Olive Oil/Butter 1 tbsp
Shredded Cheddar Cheese ¼ cup
Half and Half ½ cup (Or Full Fat Cream ¼ cup and Milk ¼ cup)
Allpurpose Flour/Maida 2 tbsp
Vegetable Stock/Water 1 ½ cup
Nutmeg Powder 1 pinch
Salt and Pepper as required
Method
Heat oil or butter in a thick bottom pan. Add garlic and saute till the raw flavor vanishes. Then, add diced onion and mix well. Cook till the onion is translucent. Add grated carrot and mix well. Next, add the flour and mix till it is coated with the oil from the pan. Cook for another 3-4 minutes, till the flour is darker in shade. Add half and half, mix well and then add the vegetable stock/ water. Season with a teaspoon salt, a teaspoon pepper and a pinch of nutmeg.
Bring the mixture to a boil and then cook it for 6-7 minutes. Add in the broccoli florets, cook for another 8-10 minutes till the broccoli is soft. Now let the soup cool for a while and then using an immersion mixer whip the soup. If you like your soup chunky, just mix it for a minute. If you like it smooth, you can actually blend in a blender as well.
Return the soup to the pan, heat and add the cheese. Simmer for a couple of minutes and serve topped with some cheese, cracked pepper and broccoli florets.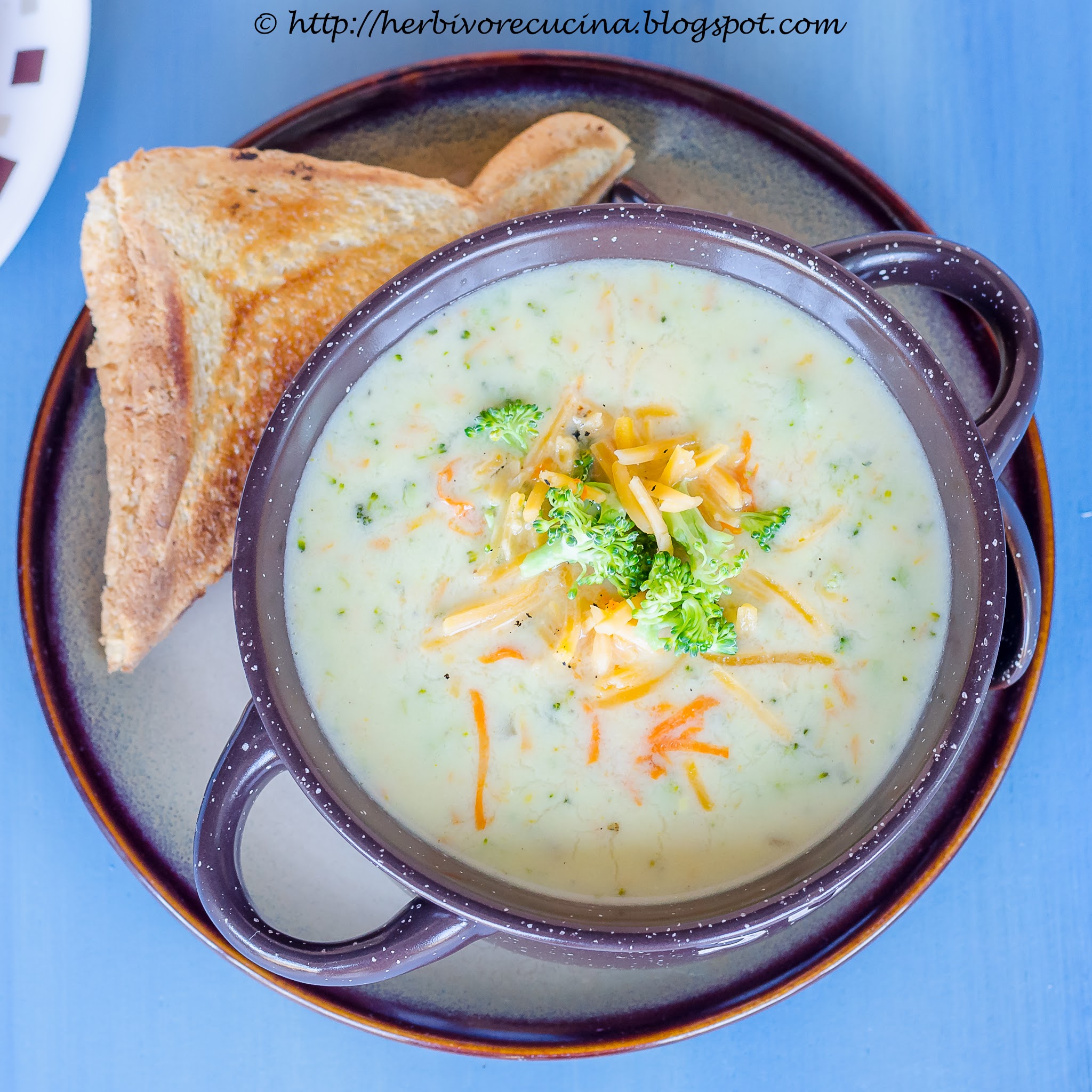 Check out the Blogging Marathon page to see what the other Blogging Marathoners are doing for BM# 68