Blogging Marathon #68 Week 1 Day 1
Theme: Soups and Stews
Dish: Vegetable Manchow Soup
It is September and it is the beginning of another Mega Marathon. For those who are new to my blog, let me elaborate. We as a group of bloggers have events each month where we post recipes on different particular theme each week. Twice a year, we have a Mega Marathon, posting a recipe each day except Sunday. That makes it 26 recipes in 30 days 🙂 Read more about the Marathon here.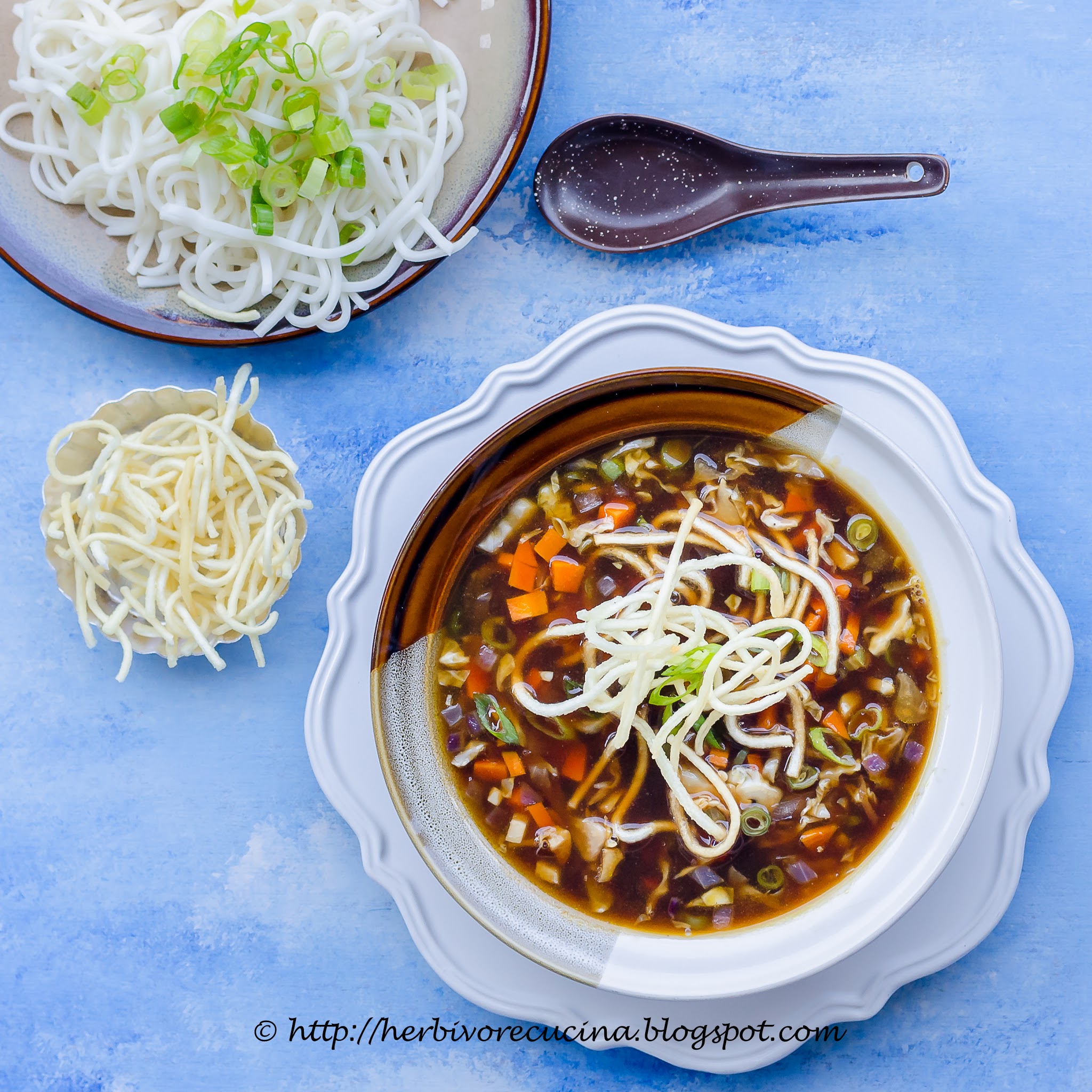 This month we were to select an ingredient or a category for 26 days or select a new ingredient or category each week. I opted for a category each week, and this is the first post of the series. Over the next three days I shall be posting different recipes of soups. For the first day, I begin with Vegetable Manchow Soup.
Indo-Chinese is our favorite cuisine at home and so this recipe is apt to start off the Marathon. This recipe is from my mom's cooking classes notes. She went there before I was born and still has her file with all the recipes in there! Back home she used to make this for me and I would love all the crispy noodles in there! In my opinion, the major difference between hot and sour soup and manchow soup is the fried noodles! Any restaurant that does not serve the fried noodles with Manchow is out of my list.
So now when I am planning an Indo-Chinese dinner for us, I make hot and sour soup to cut the calories from the fried noodles. A few days back i was craving for the crispy noodles and made a big batch of it! While a lot of it went into the soup and in munching with dinner, I used the leftover to make a serving of Chinese Bhel. Coming back to the recipe, I have used the vegetables I had handy. If you do not have one or two things, just skip them. Also, if you want you can add green peas, broccoli, cauliflower and Napa Cabbage to the soup. As this recipe is a fusion, there is no set recipe or ingredients. Even the restaurants have their own style of making it. Only a couple of pointers; LOTS of garlic and ginger, Dark Soy Sauce to get the dark color and cooking the vegetables on high flame. Follow these and I promise you, it will be a bowl of goodness!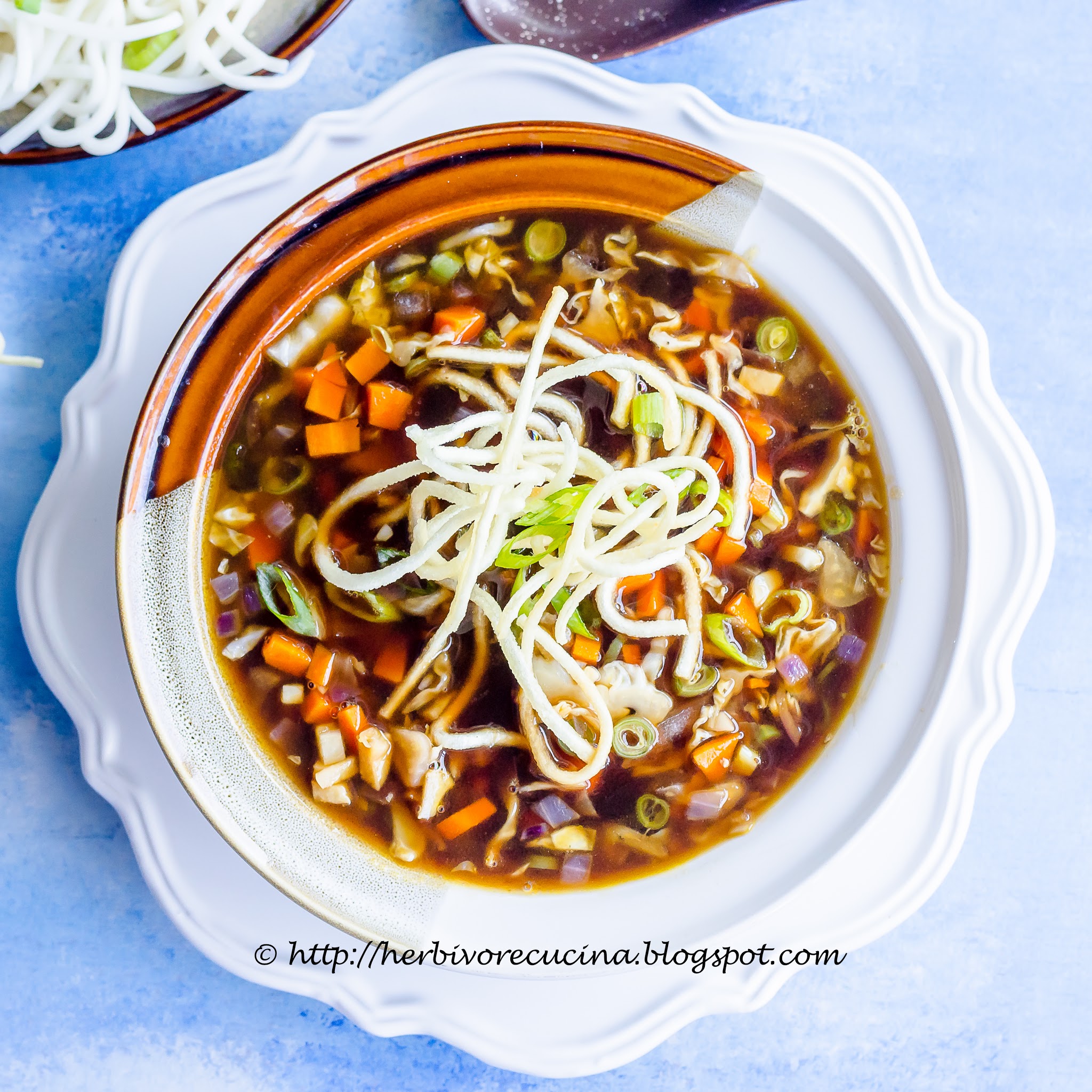 Ingredients


Carrot 1 medium, diced
French Beans 5-6, chopped
Cabbage 1 cup shredded
Onion ½ medium, diced
Green pepper ½ medium, diced
Garlic 5-6 pods, minced
Ginger 2 inch piece, grated
Green Chilli 1, minced
Spring Onion 2-3 stalks, chopped
Cilantro ¼ cup
Salt, Pepper
Dark Soy Sauce 1 tsp
Vinegar 1 tsp
Cornstarch 2 tbsp
Oil 1 tsp, Chilli Oil ¼ tsp
Green Chilli Sauce 1 tsp
Fried Noodles (recipe Follows)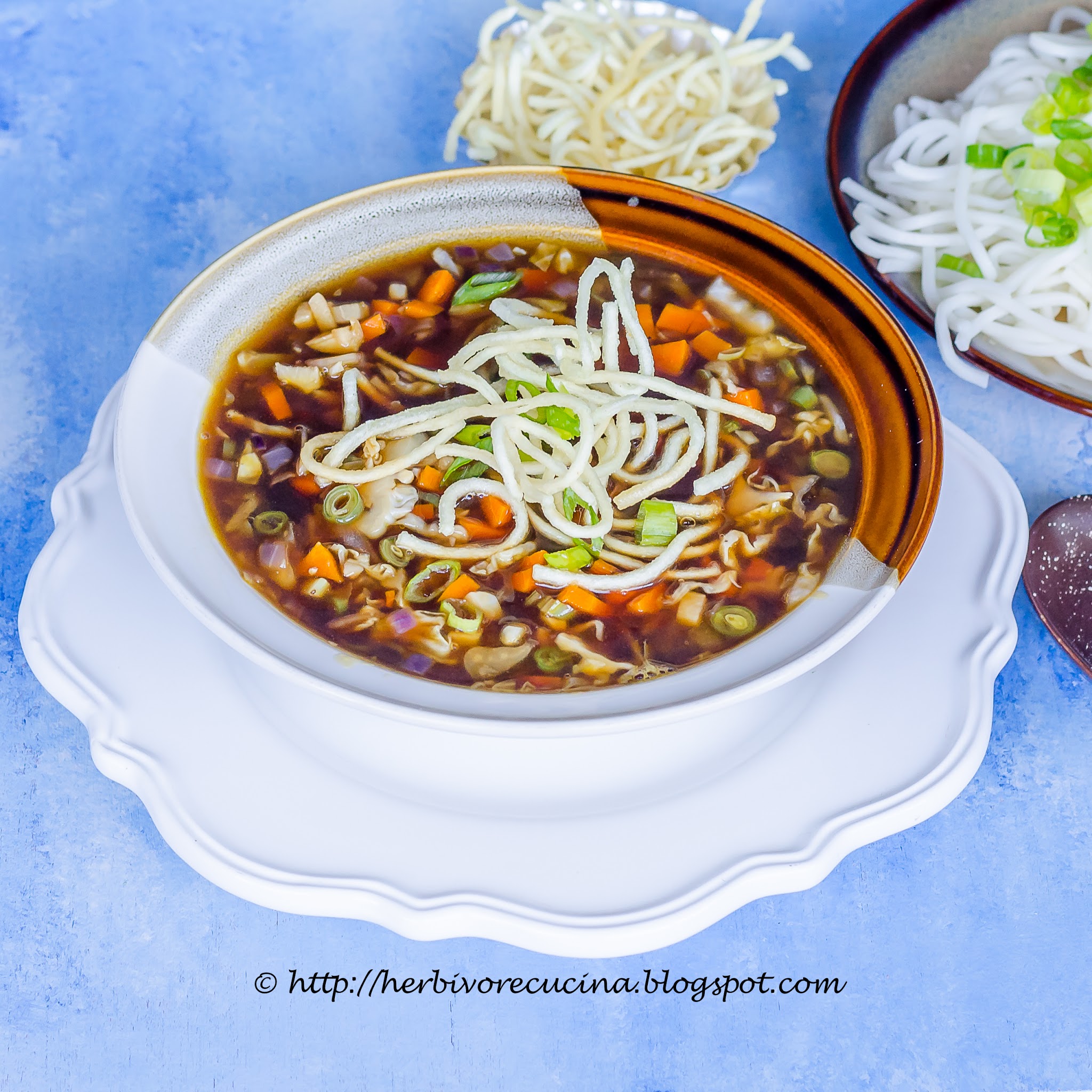 Method


To make the Fried Noodles


Boil 1 cup of any brand of Hakka Noodles according to the instruction. Make sure not to overboil and make it mushy. Cool the noodles completely. In a plate add 1 tablespoon cornstarch and roll the noodles in it. Heat oil and deep fry the noodles. Remove using a slotted spoon on a kitchen towel and once cool store them in an airtight container.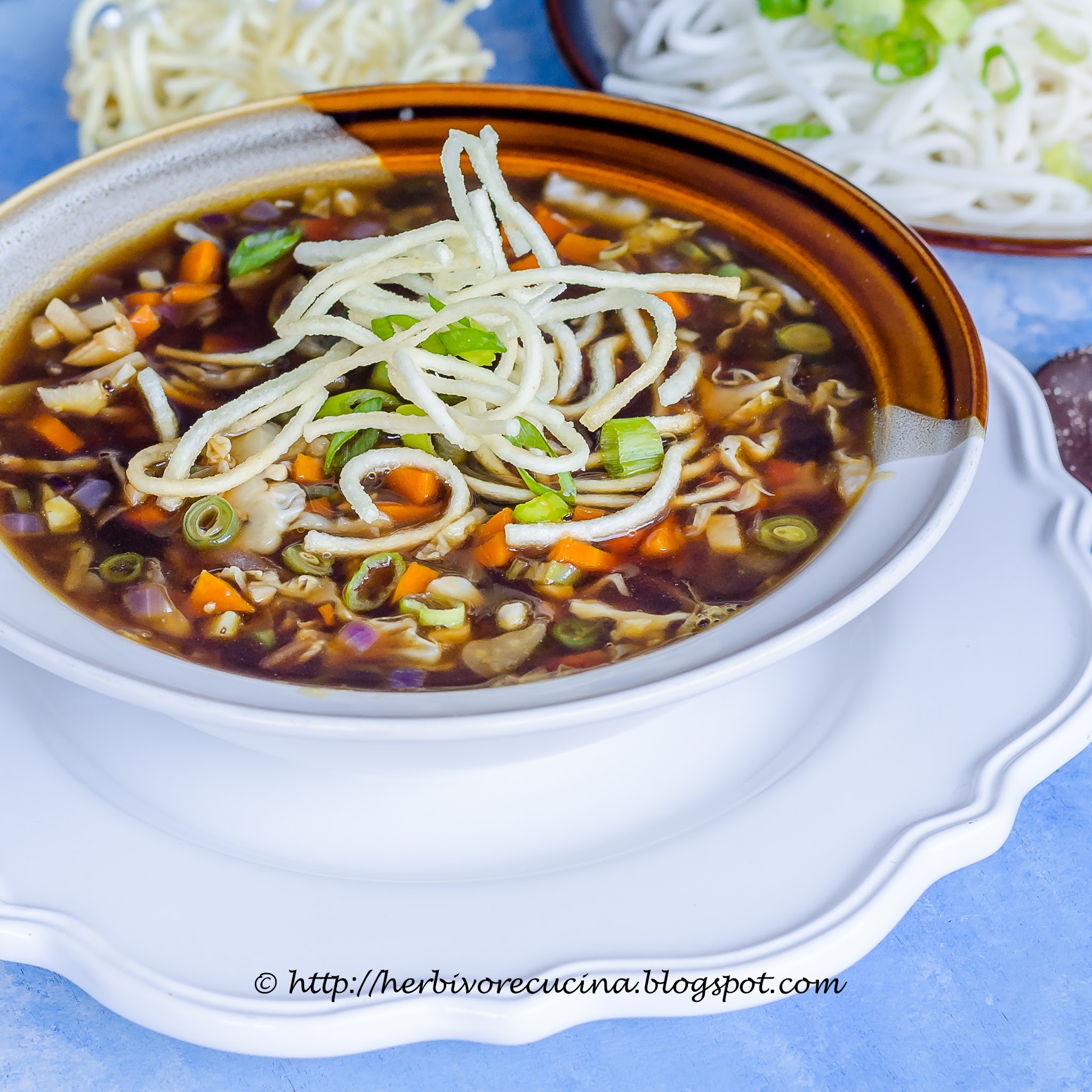 To make the Soup


Heat the oils in a thick bottom pan. Add garlic and ginger, saute and let the raw flavor go away. Once it is gone, add green chilli, onions and peppers. Saute for a couple of minutes on high flame. Do not cook them completely. Then add carrots and french beans and cook for 5-6 minutes. Finally, add cabbage and let it cook for a minute. Add two cups of water and bring the soup to a boil.
In a small bowl mix cornstarch with a teaspoon of salt, a pinch of black pepper powder and the three sauces. Add ½ cup water and mix well. Add this mixture to the soup, reduce flame to medium and cook the soup for 3-4 minutes. Adjust salt and spice.
Turn down the heat and add most of the spring onion and cilantro. When ready to enjoy, serve the soup in a bowl, top with fried noodles and some spring onion greens. We love this soup with Spicy Chilli Garlic Noodles, Black Pepper Tofu and Mushroom Fried Rice.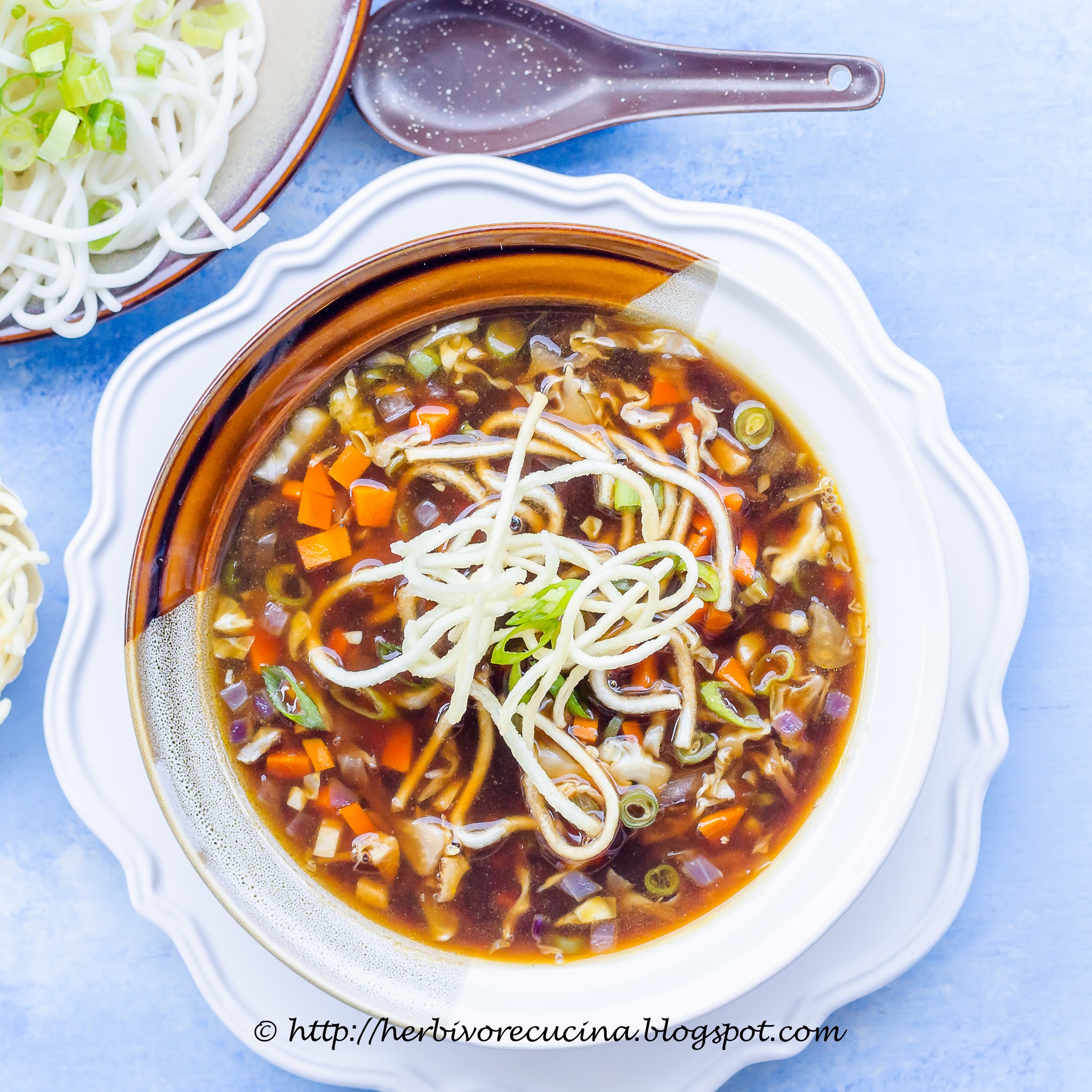 Check out the Blogging Marathon page to see what the other Blogging Marathoners doing for BM# 68