Brown rice is sometimes boring to cook and eat; and so are sprouts!! The rice takes forever to cook and do not even give the satisfaction of having RICE. And sprouts are probably the most boring diet food ever discovered. However, both these boring ingredients can come together with a few veggies to make an interesting dish!
This recipe was an experiment by me to combine the benefits of brown rice which has low saturated fat, sodium and cholesterol along with the protein, vitamin and iron rich Moong sprouts to stir up something tasty. Hardly any oil goes into this dish, yet it is tasty and flavorful.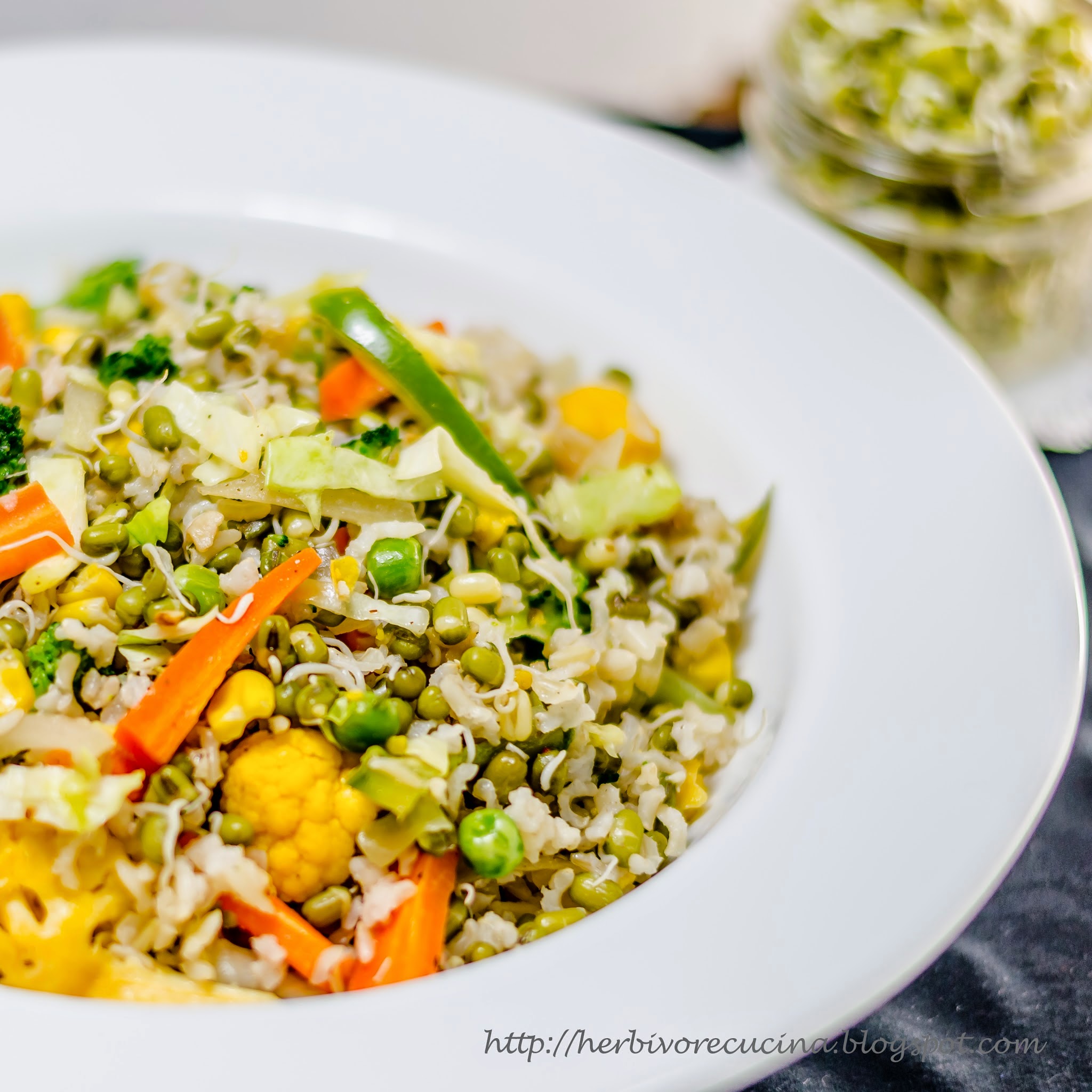 Ingredients
Brown Rice 2 cups
Moong Sprouts 1 cup
Mixed Vegetables 1 cup (I used Corn, Carrots, Peas, Cabbage, Orange Cauliflower and Broccoli )
Onion ¼ cup
Green Pepper ¼ cup
Olive Oil 1 tbsp
Salt, pepper, lime juice
Red Chilli 1 dried
Method
Wash and cook the brown rice in 3 ½ cups of water and a pinch of salt. Just cook them till they are done else the Pulao will become mushy. Cool the rice thoroughly before using it in the recipe. Sprout Moong beans as shown here. Heat two cups of water in the microwave and add the sprouted moon to it. Keep it in hot water for 10-15 minutes so that it becomes soft.
Blanch the vegetables except onion, pepper and cabbage separately in warm water and set aside. Heat oil in a skillet and add the dry red chilli. Add the onion and green pepper and saute till soft. Add the corn and peas and mix well. next add carrots, broccoli and cauliflower and mix well. Drain and add the Moong Sprouts and season with salt and pepper. Add the cabbage last and mix well.
Let everything cook for a couple of minutes and then add the cooked rice. Lightly mix the rice ensuring that the grains do not break. Turn down the flame, adjust salt pepper and add lime juice. Healthy Sprouts Rice is ready!! Serve with a bowl of Greek Yogurt or enjoy with Kadhi or Garlic Raita. The rice tastes absolutely amazing with this Greek yogurt Mixed Vegetable Raita.