Blogging Marathon #66 Week 3 Day 2
Theme: Vegetables that are Fruits
Dish: Cherry Tomato Bruschetta
Today is the second day of the Blogging Marathon this week and I have one of our home favorite recipe on the blog finally! It is a perfect appetizer, snack or sometimes even a light dinner for us. It is Bruschetta, lightly toasted bread topped with vegetables (tomatoes being the most common) and a drizzle of olive oil and balsamic vinegar. As the theme is still veggies that are fruits, I used tomatoes for this one.
While shopping at last week's farmer's market, I saw a pile of colorful cherry tomatoes. There were red, green, yellow, orange and dark red more like a maroon. I picked a few of each, but did not have the heart to cook them fearing they would lose their color. So the best way to use them raw was to combine them with my home-made crusty bread and enjoy bruschetta for dinner. If you can't get colored tomatoes, you can use red cherry tomatoes or even diced regular tomatoes.
Apart from tomatoes, a lot of other vegetables and fruits taste really good with Balsamic Vinegar. Peaches, strawberries, avocado, peppers or even cherries make beautiful bruschettas. A lot of people prefer feta cheese on theirs, I made a skinny version and did not add it. If you like, you can add crumbled feta. I used this home-made bread lightly toasted to make dinner, but French baguette is perfect for bruschettas. Don't leave out the basil, that adds the flavor which is unmatched!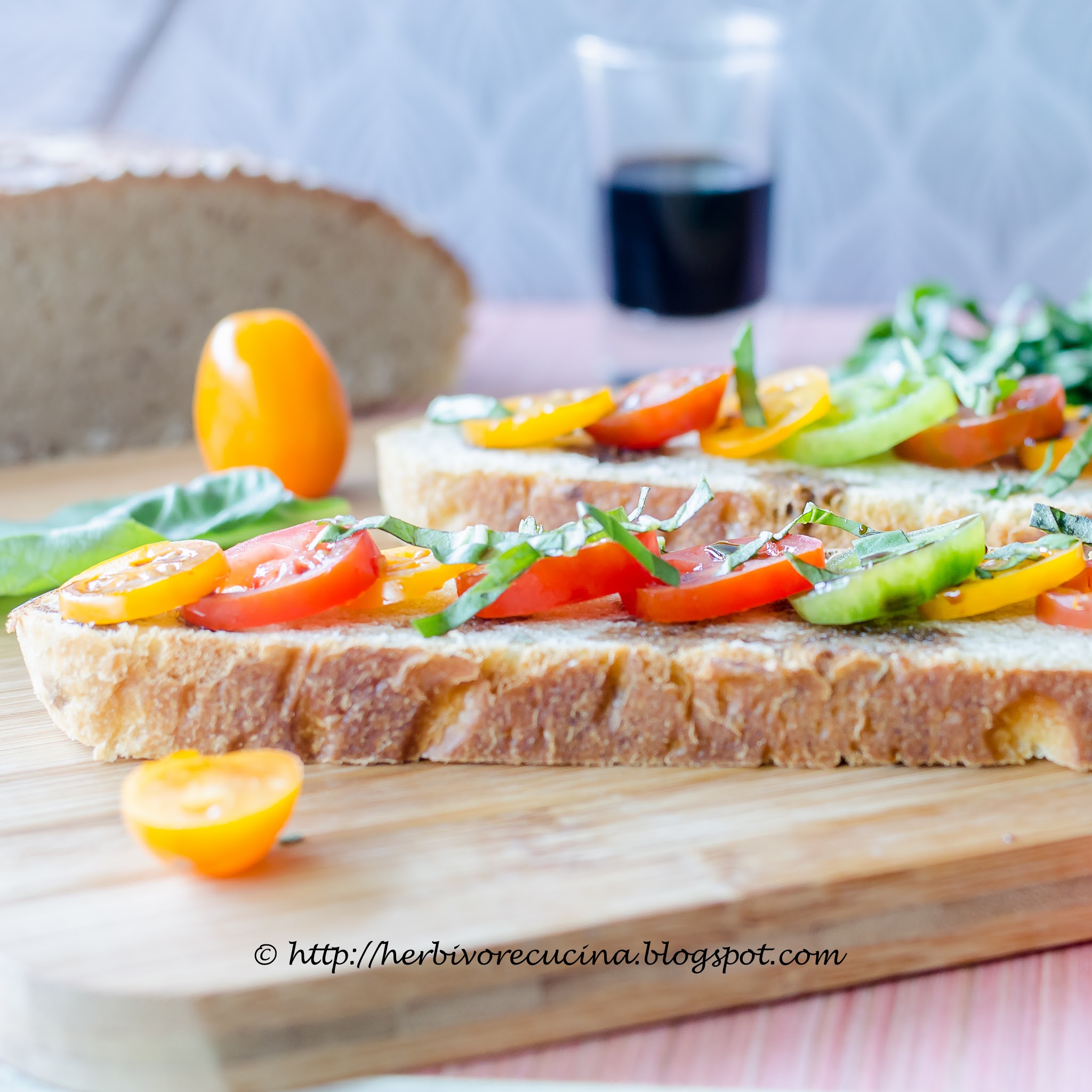 Bruschetta is perfect for appetizer or a quick snack. I love the tomatoes and basil chilled and the bread toasted. If making for a party, just make the mixture of balsamic and the vegetable or fruit you are using, and stack all the toasts next to it. let the guests make their own bruschettas and enjoy it! It also makes a great snack for movie nights and picnics.
Ingredients
Crusty Bread (Homemade or store bought)
Cherry Tomatoes 1 cup
Basil leaves ¼ cup
Balsamic Vinegar as required
Olive Oil 1 tbsp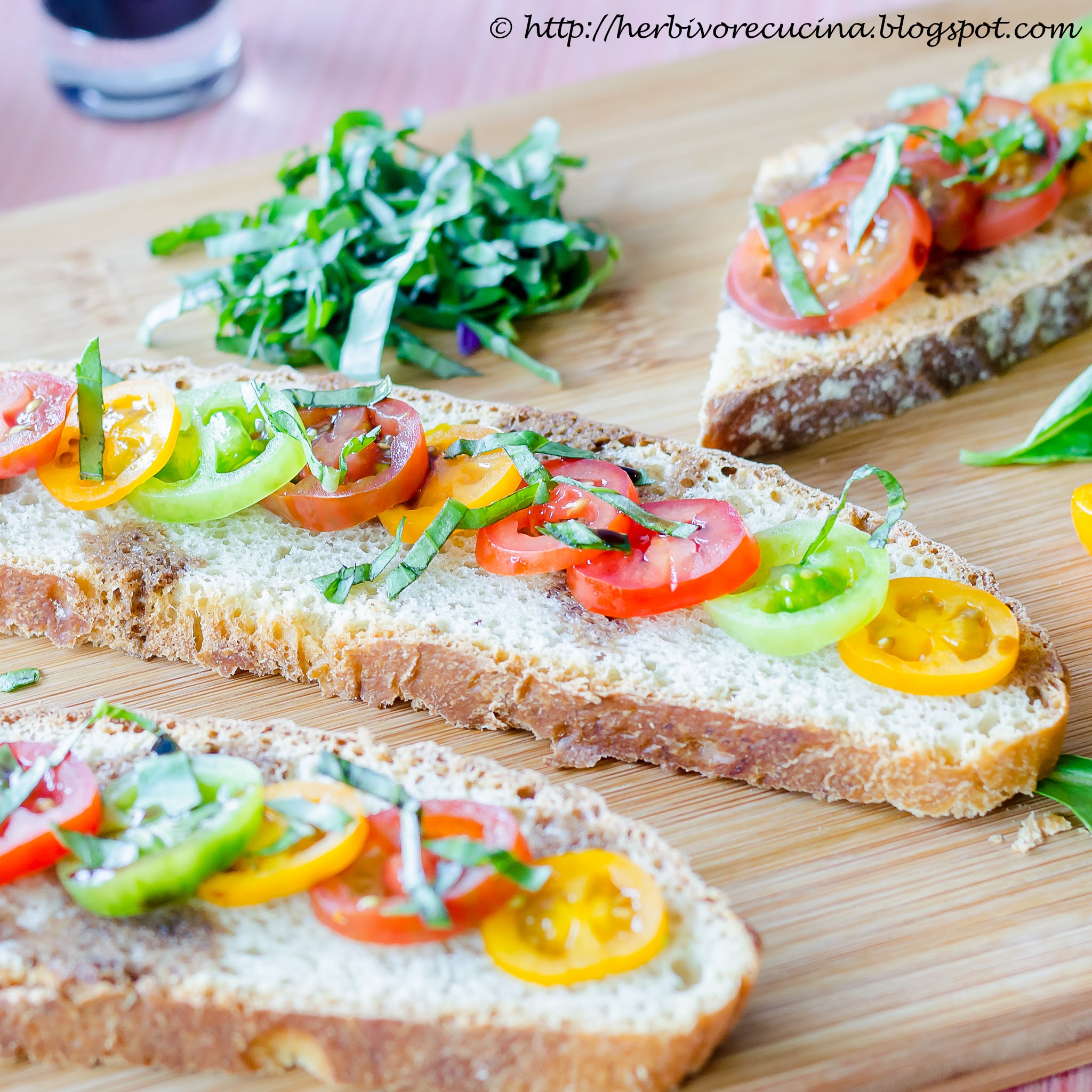 Method
Wash and slice the cherry tomatoes and chop the basil leaves finely. I used a medley of green red and yellow, but just red tomatoes work perfectly well. Slice the crusty bread into thin slices of ¼ inch thickness. I used this Crusty Bread I made a few days back. Toast the slices on a tava or in a toaster oven.
In a bowl, mix sliced tomatoes, half the basil, olive oil and 2-3 tablespoon balsamic vinegar. You can add diced onions and minced garlic too. Mix it all well and refrigerate till ready to serve.
To serve as an appetizer, add the mixture on the toasted bread, sprinkle some basil. Drizzle some Balsamic Vinegar and serve. Alternatively, serve the tomato balsamic mixture in bowls and toasts on the side.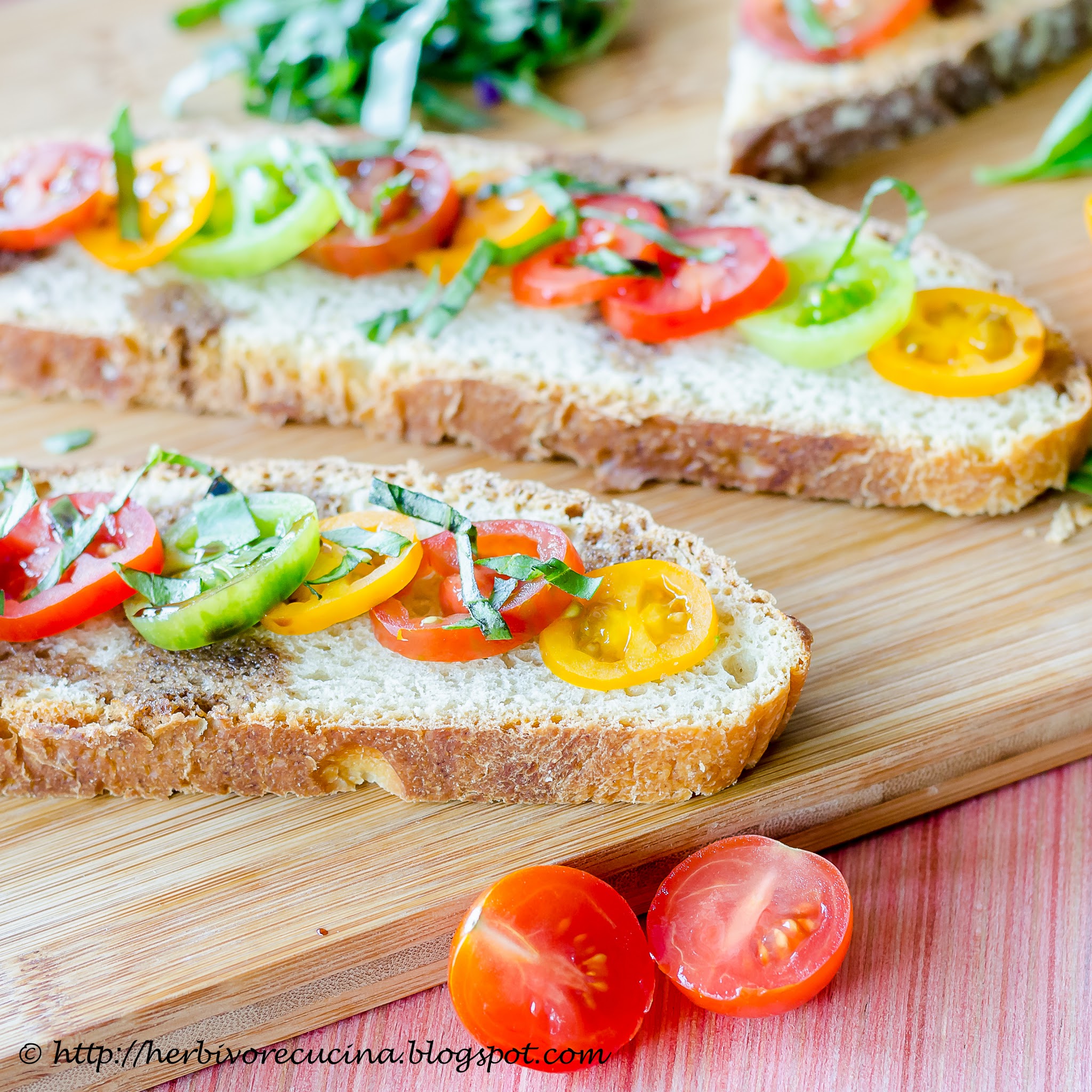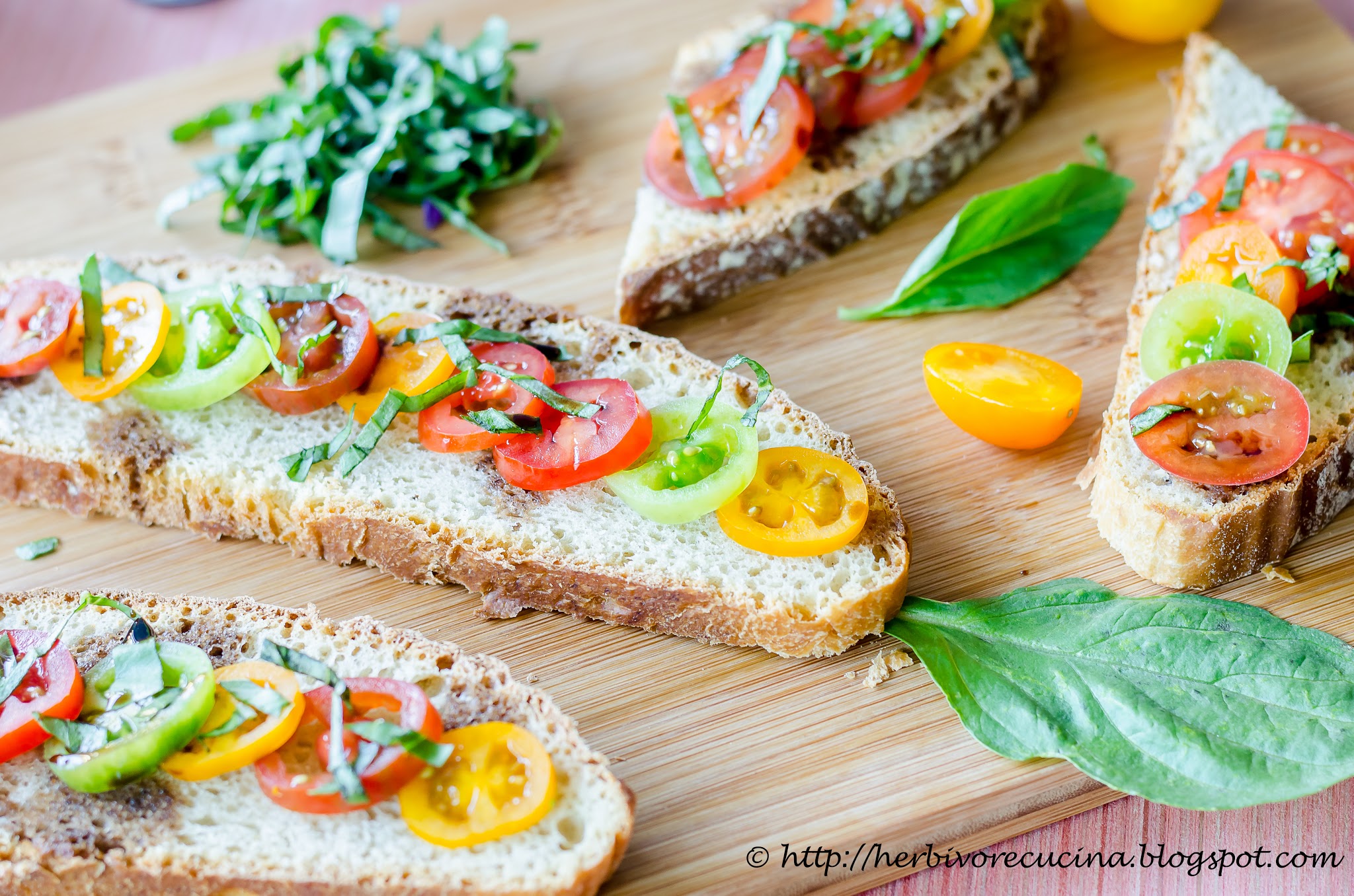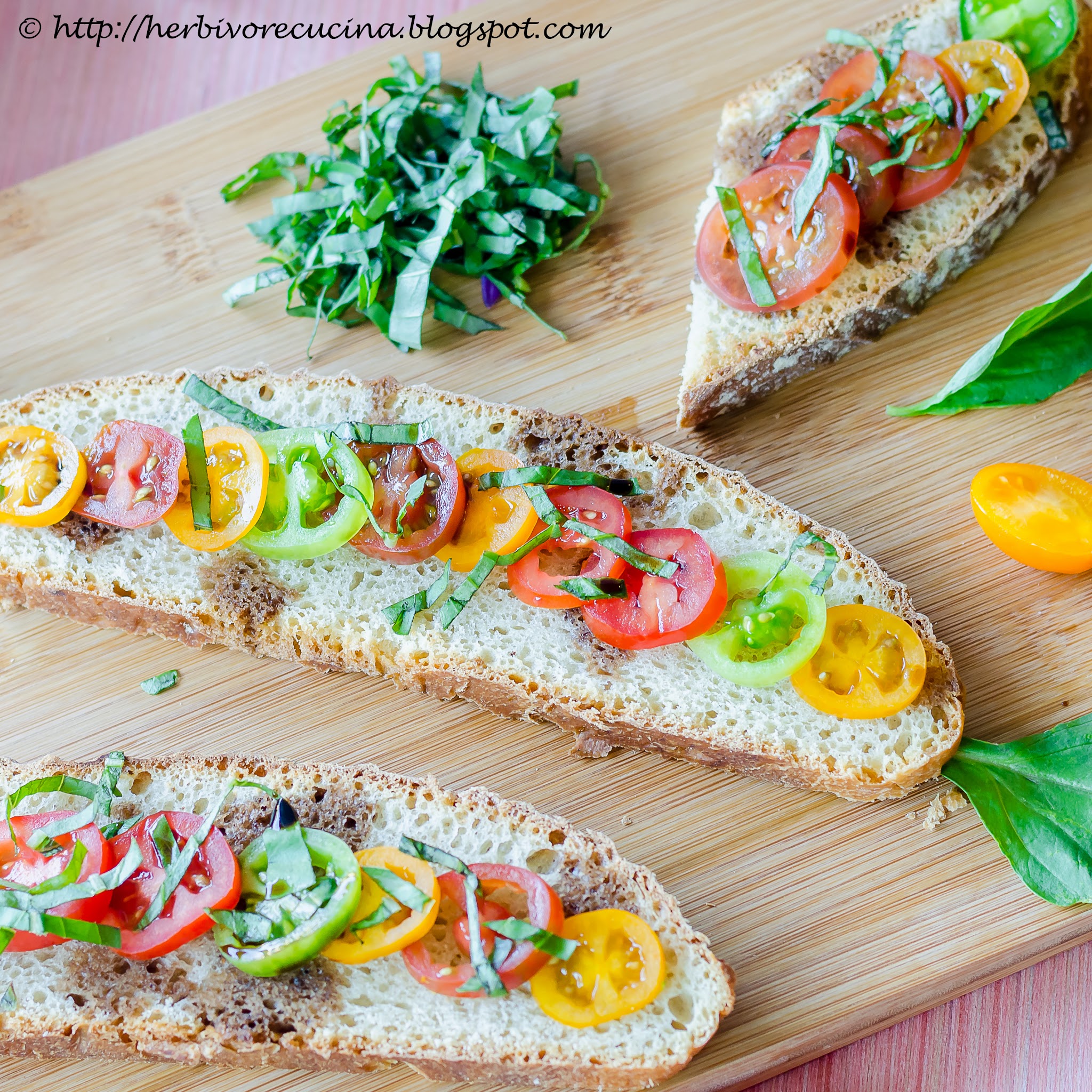 Check out the Blogging Marathon page for the other Blogging Marathoners doing this BM#66