Blogging Marathon #73 Week 4 Day 2
Theme: Ingredients through Mail
Dish: Chocolate Walnut Brownie


Decadent brownies; a perfect combination of chocolate and walnuts. These brownies are so good, it is difficult to stop at one!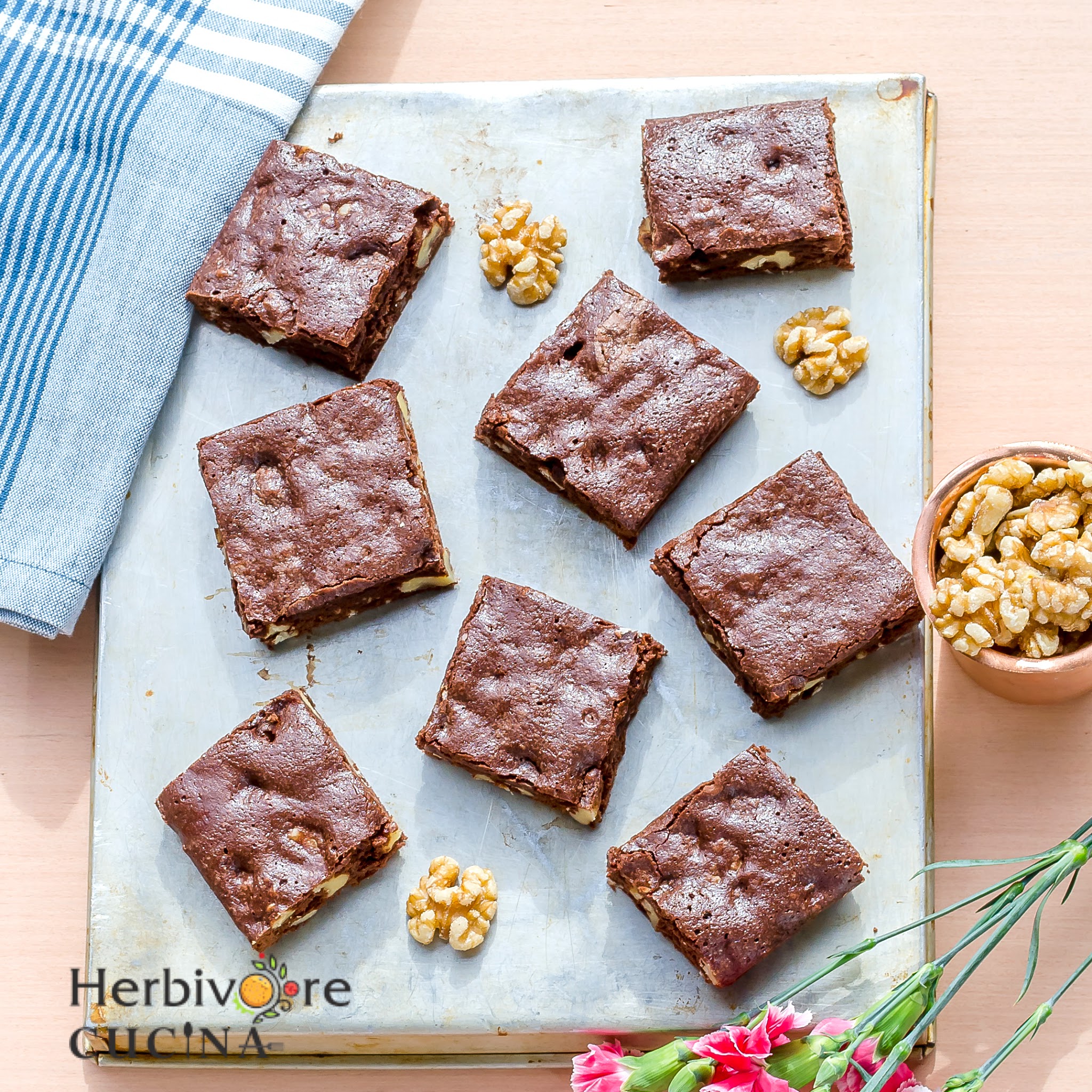 Brownies, I think the name itself is enough to get me thinking of a ton of delicious desserts! Compared to chocolate cakes, I prefer chocolate walnut brownies. Precisely the reason why I avoid making them; because I binge on them whenever I make them!

For this week's Marathon I decided to make them and put them up on the blog. As my theme this week is Ingredients by Mail, and Srividhya gave me walnuts as my second ingredient, I made these decadent brownies.

At first I thought I would make a Greek dip using peppers and walnuts. But whenever I looked at the walnuts on my kitchen counter, I kept thinking of brownies. So finally they are up!

Chocolate and walnuts in a batter, baked to perfection and served alongside some ice cream defines the best dessert. So I made this brownie from scratch, using a recipe that I used half a decade ago, and now have no idea about the source. However, the recipe worked out each time so I stuck to this recipe.

I have seen a lot of brownie recipes that ask you to use a double boiler to mix chocolate with the fat and proceed. However, I think that is a slightly complex method and prefer a method that asks to mix all the ingredients in a bowl and bake. These recipes are super easy to follow and give perfect results. So this one is perfect, even for first time bakers!
Substitutions


In the recipe I have used a few basic pantry ingredients. However, if you would like to leave out or substitute; you can do that. Granulated sugar can be substituted by brown sugar. Oil can be replaced by butter and egg can be eliminated by adding a mixture of 1 tablespoon ground flax seeds and 2 ½ tablespoon water. If you do not like walnuts, add any nuts you like or even chocolate chips. You can leave them out completely too!

Ingredients

All purpose Flour ½ cup
Granulated Sugar 1 cup
Walnuts ¾ cup, chopped
Vegetable Oil ½ cup
Eggs 2
Vanilla Extract 1 tsp
Unsweetened Cocoa Powder ⅓ cup
Baking Powder ¼ tsp
Salt ¼ tsp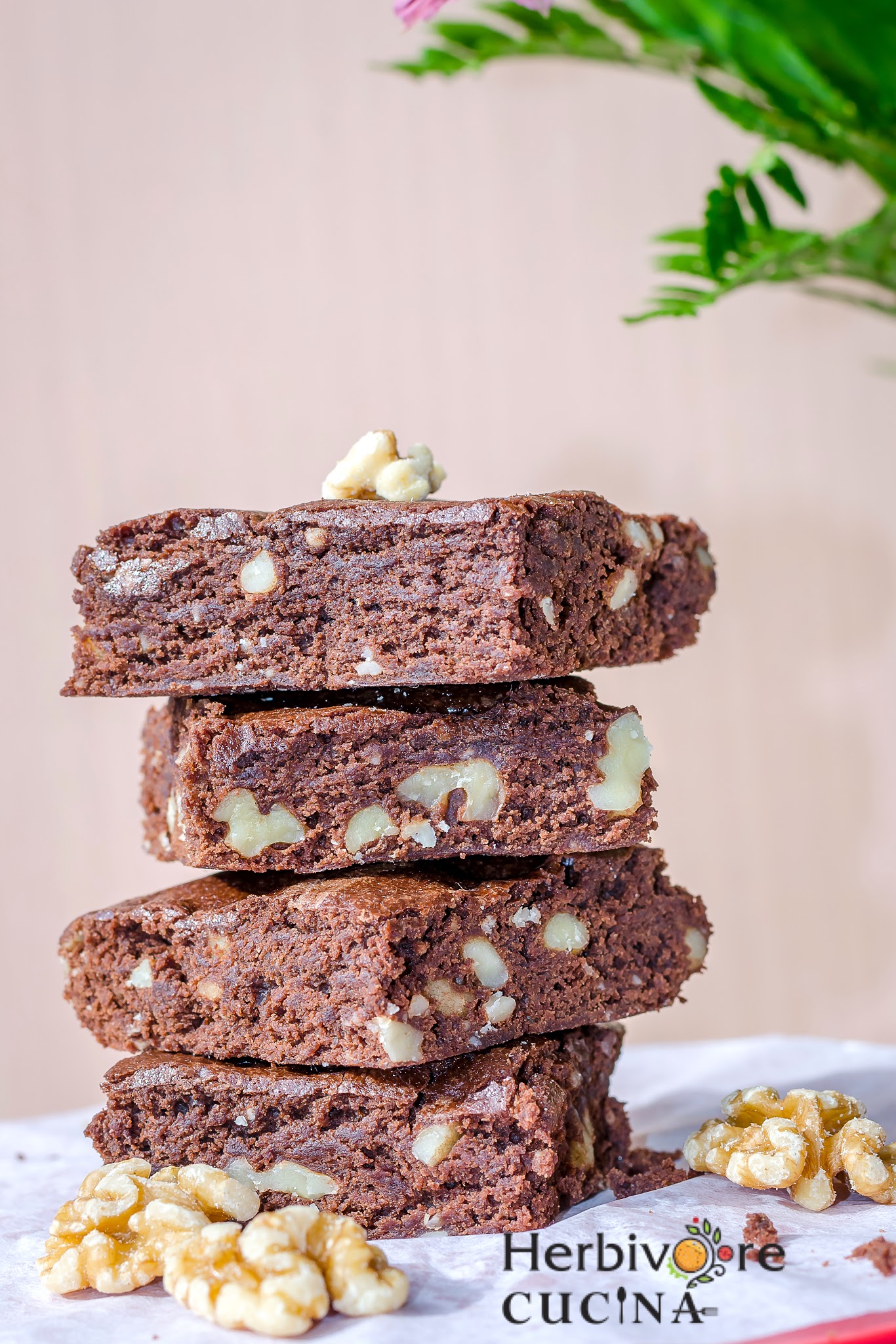 Method
Preheat oven to 350 F. Grease a 9x9 tray with parchment paper or nonstick spray. Roughly chop the walnuts and set aside.
In a bowl sieve flour, cocoa powder, baking powder and salt. Mix and set aside.
In a large bowl or the bowl of a stand mixer beat oil and sugar. Once it mixes add vanilla extract and eggs. Whisk until combined.
Add the dry ingredients to the wet ones. Combine to a homogenous mixture. Fold in walnuts.
Pour the batter to the prepared baking tray. Bake for 22-25 minutes, till a skewer comes out clean.
Cool for a few minutes and transfer to a cooling rack. Cool completely. Cut to pieces and serve.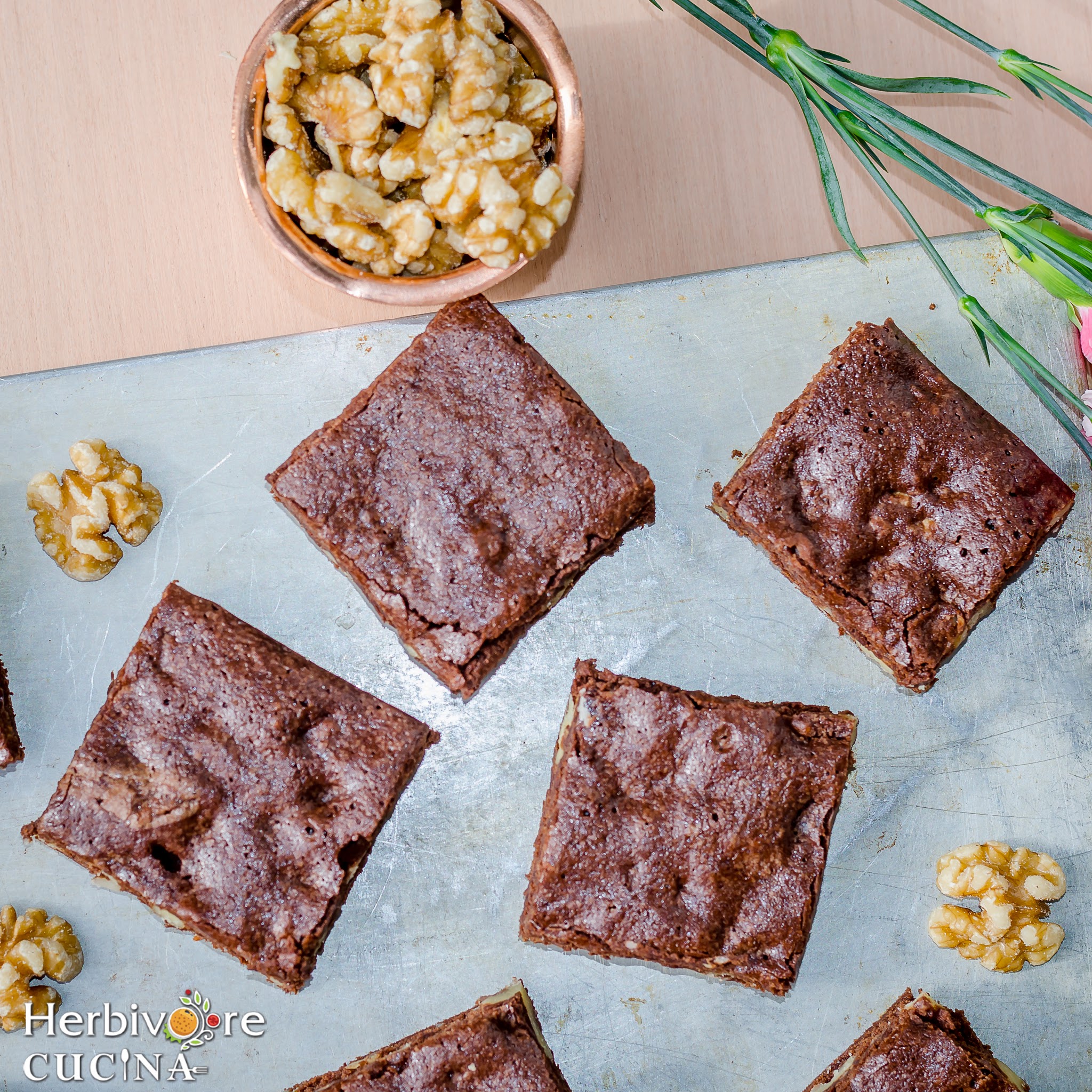 Check out the Blogging Marathon page to see what the other Blogging Marathoners are doing for BM#73