In the last couple of years I have made different types of breads. But a couple of things are pretty new to me, one is making stuffed buns and two is baking in cast iron. I have baked almost all my breads in aluminium pans but I have been wanting to make something in cast iron for a long time. Baking in cast iron pans has it's own charm because the pan has the ability to heat really well and hold the heat for a long time. The advantage is that everything in the pan cooks evenly and you also get a good crust on top and on the sides.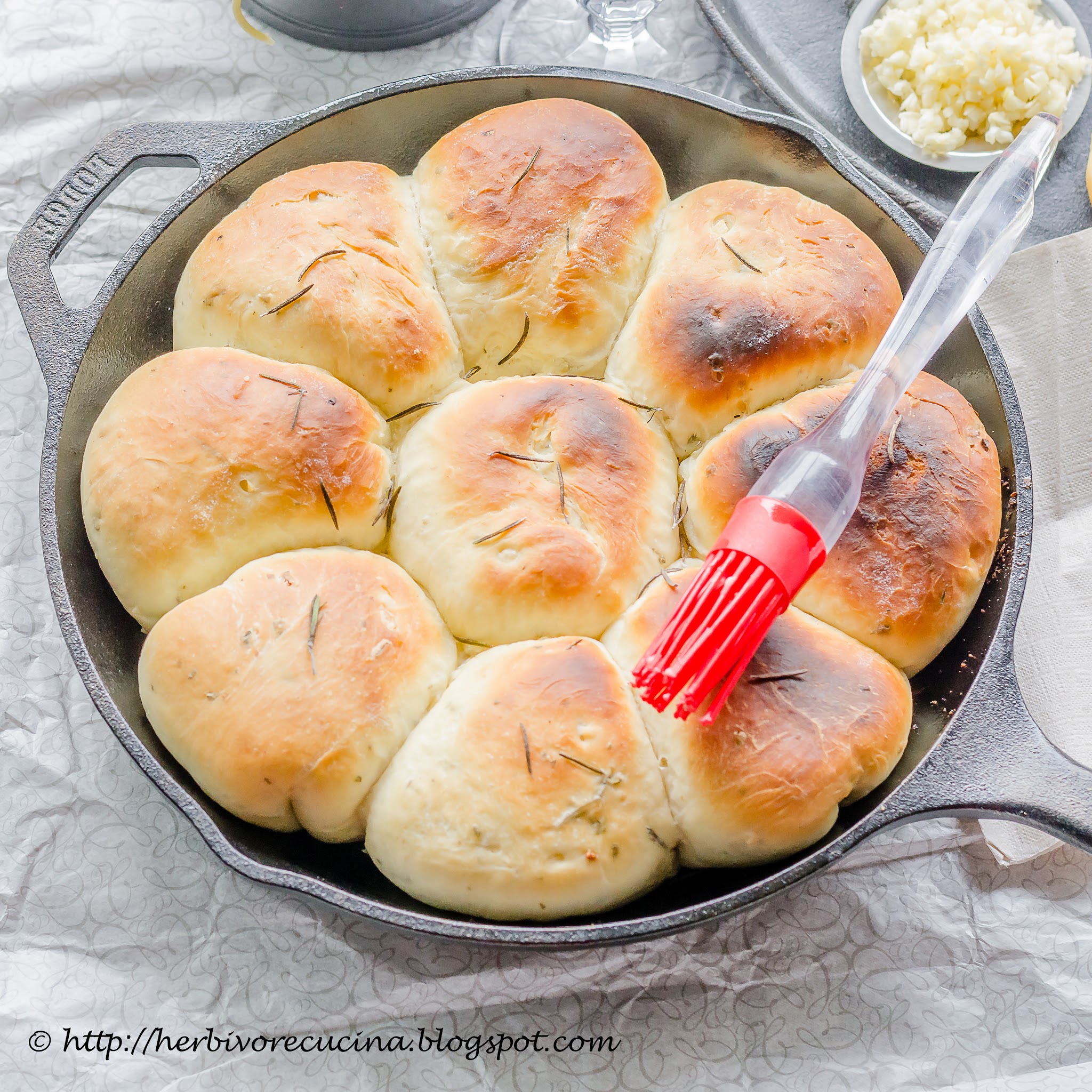 For a while I was mulling on the idea of baking in cast iron and then I read the theme for this month's Bread Bakers. Our lovely host Karen from Karen's Kitchen Stories set the theme to garlic. I was so delighted as garlic is something I love to the core! I thought of making a garlic focaccia, then garlic knots and then garlic oil infused bread. Finally I settled for a bread that combined the theme with my desire: Stuffed rolls, dough with lots of fresh garlic and baked in a cast iron pan.
My refrigerator had a box of onion and chives cream cheese, and I decided to add minced garlic to that to make a stuffing. I also added some cheese to the filling as we all love cheese. The buns turned out really well. The buns were huge and one bun would make a perfect accompaniment for breakfast. The bread had a lot of flavor of garlic, and the molten filling was full of creamy and cheesy garlic, onion and chives.

As a family we love garlic, so I added lots of it. If your family does not relish it as much, you can reduce the amount or eliminate it completely. I had chives and onion cream cheese so I used it. However, you can use a different flavor depending on your preference. I baked them in a cast iron pan, but they taste equally great when baked in an aluminum tray. Do try this at home and yes, don't forget to see the long selection of garlic infused breads that everyone else made for this event.




Ingredients

For the Crust
All purpose Flour/Maida 3 cups
Active Dry Yeast 1 sachet (2 ¼ tsp)
Unsalted Butter 4 tbsp
Oregano 1 ½ tbsp
Salt 1 ½ tsp
Sugar ½ tsp
Fresh garlic 5-6 cloves minced
Garlic Powder 1 tbsp
Warm Water 1 cup
For the stuffing
Garlic 2-3 cloves
Jalapeno ½
Cream Cheese ½ cup(I used chives and onion)
Black pepper ½ tsp
Rosemary 1 tsp
Mozzarella Cheese ¼ cup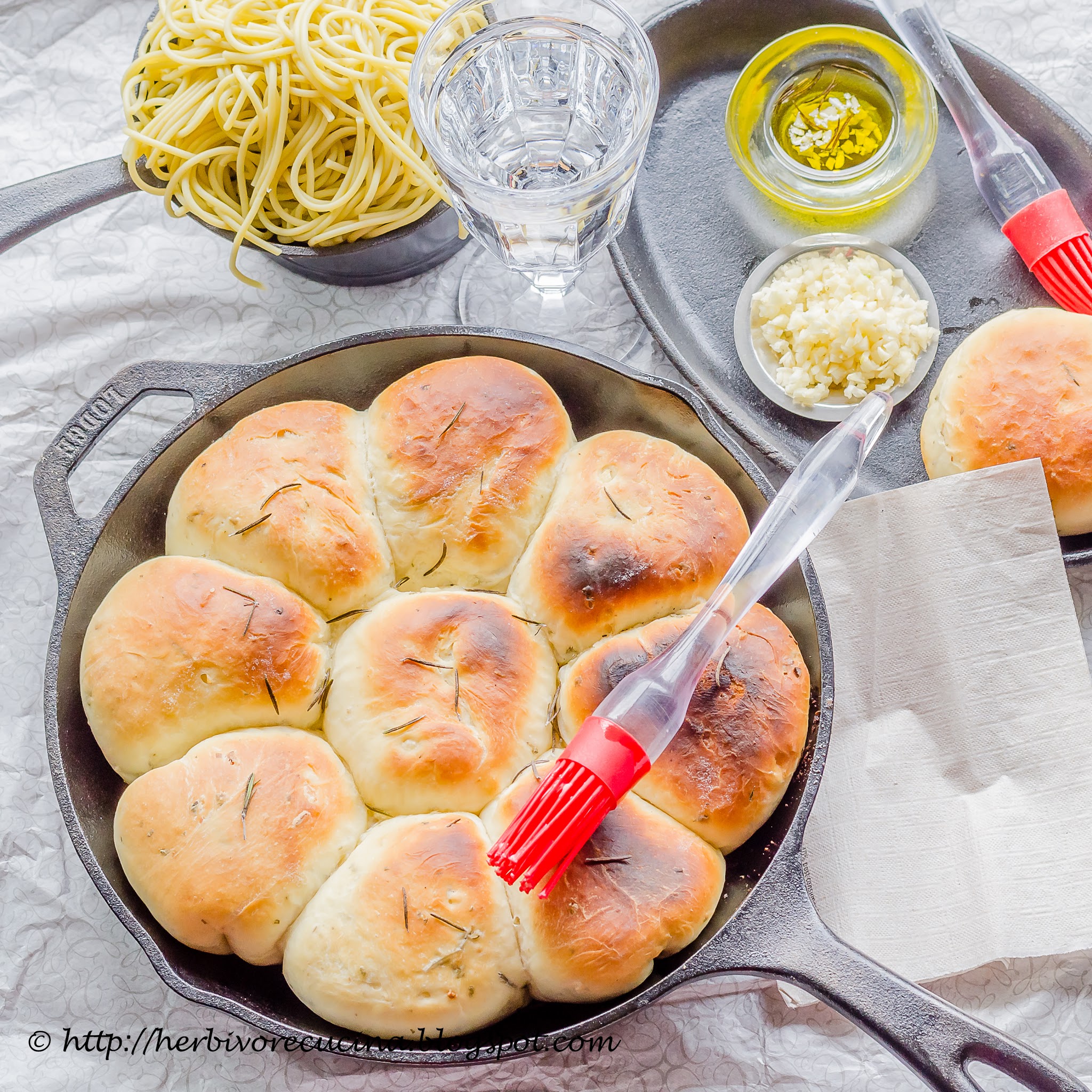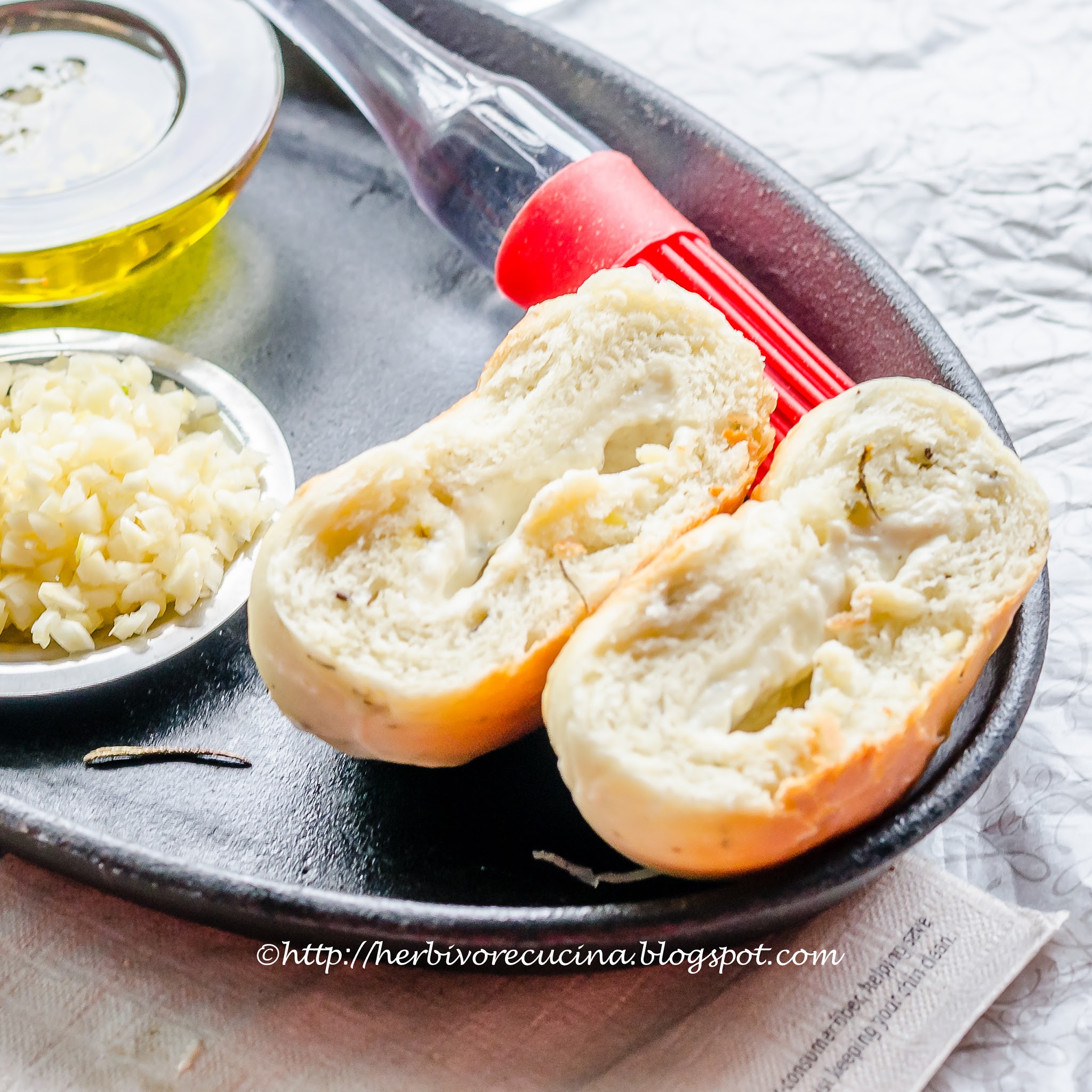 Method
In a cup add water, sugar and 1 teaspoon salt. Warm the water to 100-110 F, add yeast, mix and let the mixture stand for ten minutes till the yeast blooms. In a large mixing bowl, mix flour, 3 tablespoon unsalted butter, minced garlic, 1 tablespoon garlic powder and 1 tablespoon oregano.
Pour the frothy yeast mixture into this mixture and make a soft dough. Add little water if required and knead well. The mixture may be sticky at first, knead it well till it converts to a soft dough. Apply little oil over the dough and place it in a large bowl, cover it with a moist cloth and let stand for 45 minutes.

While the dough rests, prepare the stuffing. Mince garlic and jalapeno. Mix all the ingredients under stuffing and beat to a smooth mixture. Set aside. Once the dough is almost double it's size in 45 minutes, punch it down and knead it for 5 more minutes.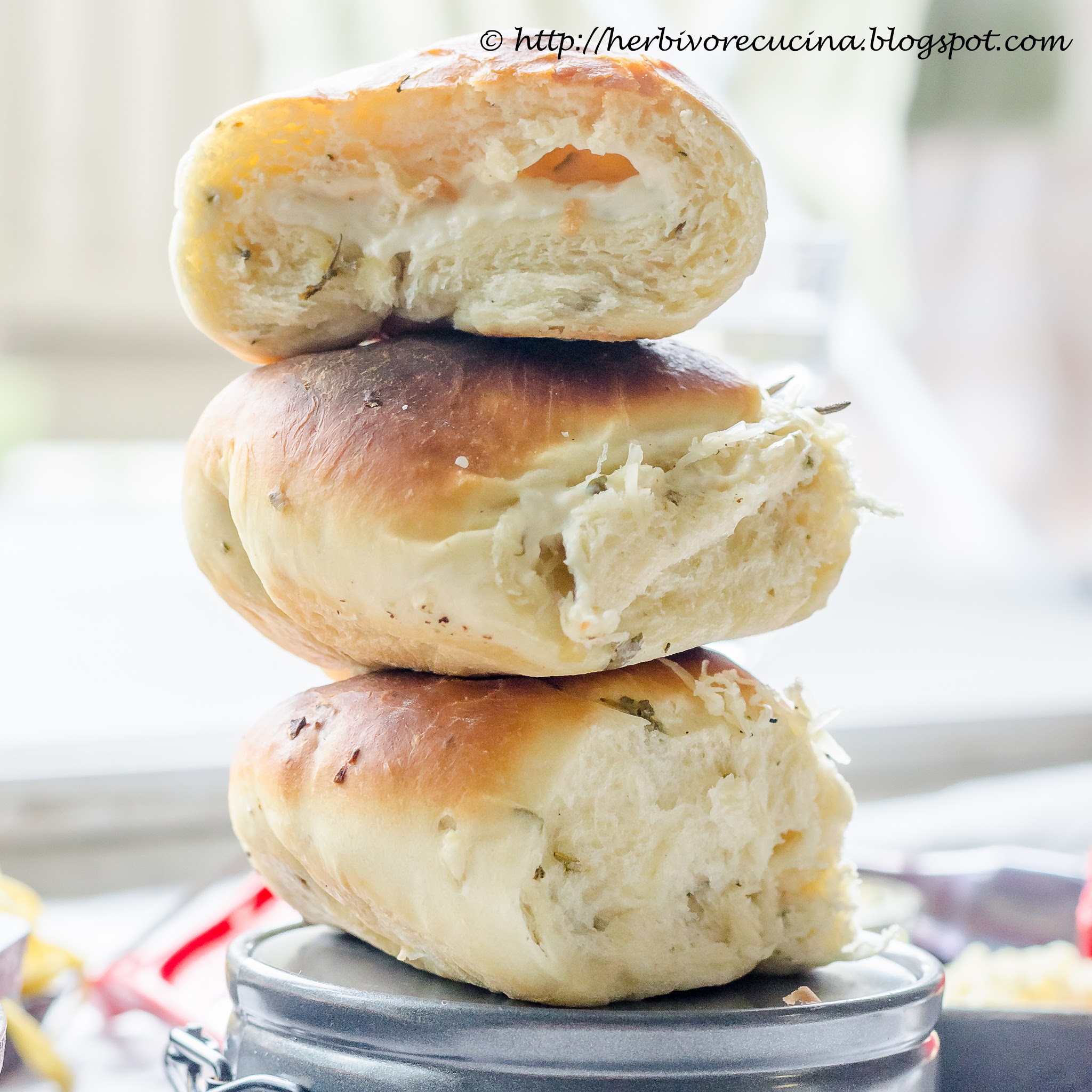 Now line a cast iron skillet with nonstick spray or oil. Divide the dough into equal sized parts. I made ten out of my 3 cup dough. take one part, roll it out to a disc of 6-7 inches diameter. Add a big portion of the stuffing, and roll the dough to a smooth ball. Place it in the greased skillet. Repeat for all the dough parts. Place all the buns in the skillet, leaving some place between them. Brush them with little butter, and add rosemary on top.
Let the buns rest for 20-25 minutes till they rise. Preheat oven to 400 F/ 200 C. Place the cast iron skillet in the preheated oven. Bake for 8-10 minutes till the tops are a little brown.
Remove and serve warm with a side of olive oil with minced garlic in it or just marinara sauce. If you like, add some shredded cheese on top too!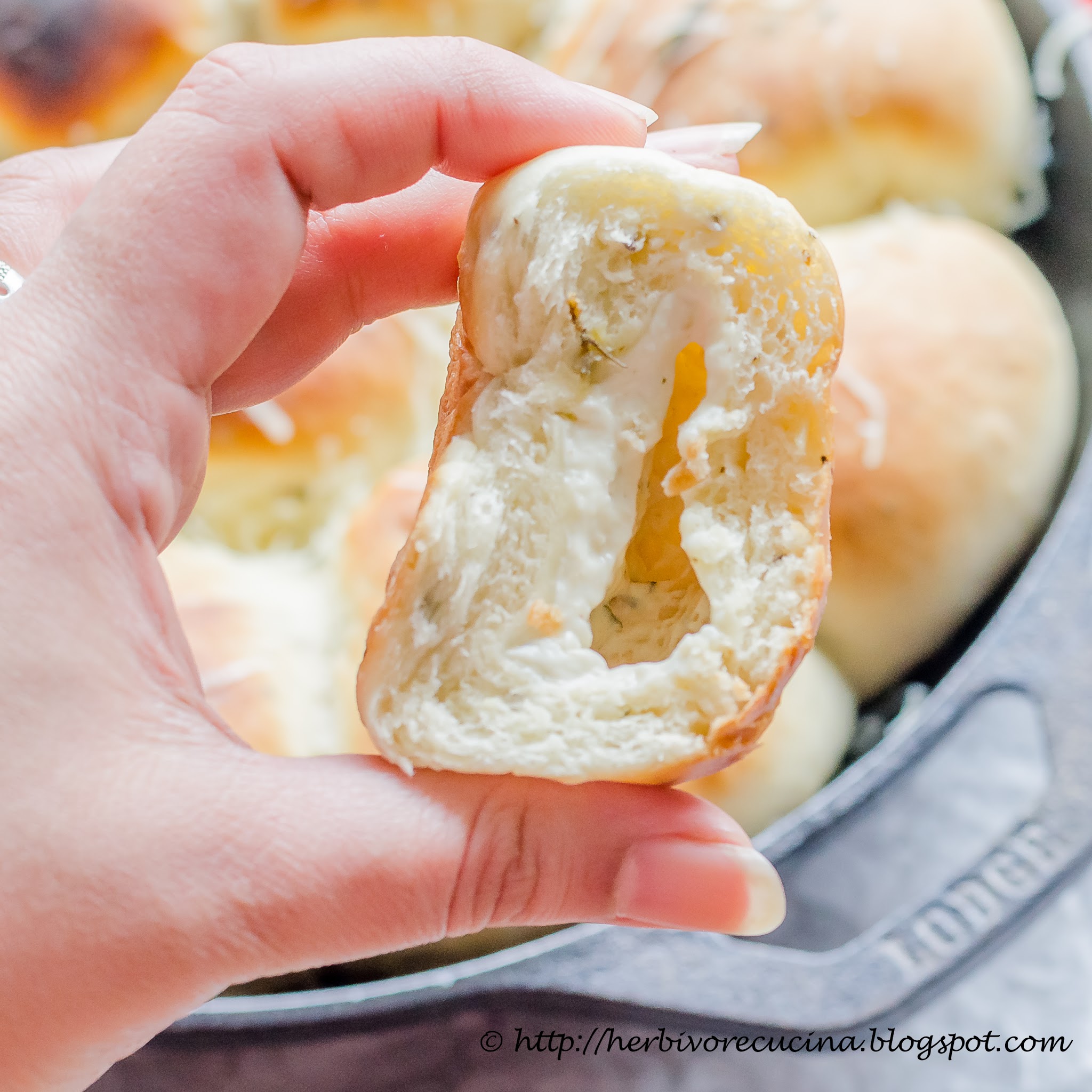 #BreadBakers is a group of bread loving bakers who get together once a month to bake bread with a common ingredient or theme. You can see all our of lovely bread by following our Pinterest board right here. Links are also updated after each event on the BreadBakers home page. We take turns hosting each month and choosing the theme/ingredient.
If you are a food blogger and would like to join us, just send an email with your blog URL to Stacy @ foodlustpeoplelove@gmail.com.
Here is what all of us came up with, for the Garlic Breads event: