Who doesn't like Chai? That morning cup that is generally enjoyed by people all over India. The country has more tea lovers compared to coffee lovers, maybe the reason why you see tea sellers at all the corners in the cities, towns and villages. The type of tea these corner stores sell is very different from the tea from a restaurant or hotel. The big vessel that they use keeps boiling with all the sugar, tea leaves, water, milk and ginger. It is super concentrated yet yummy. And yes, it is served in a typical glass called cutting chai glasses, that are just about 4 inches tall and all the tea in it can be gulped down in two sips. Along with the glasses, another eye catching product they use is the aluminium kettle that stores the tea.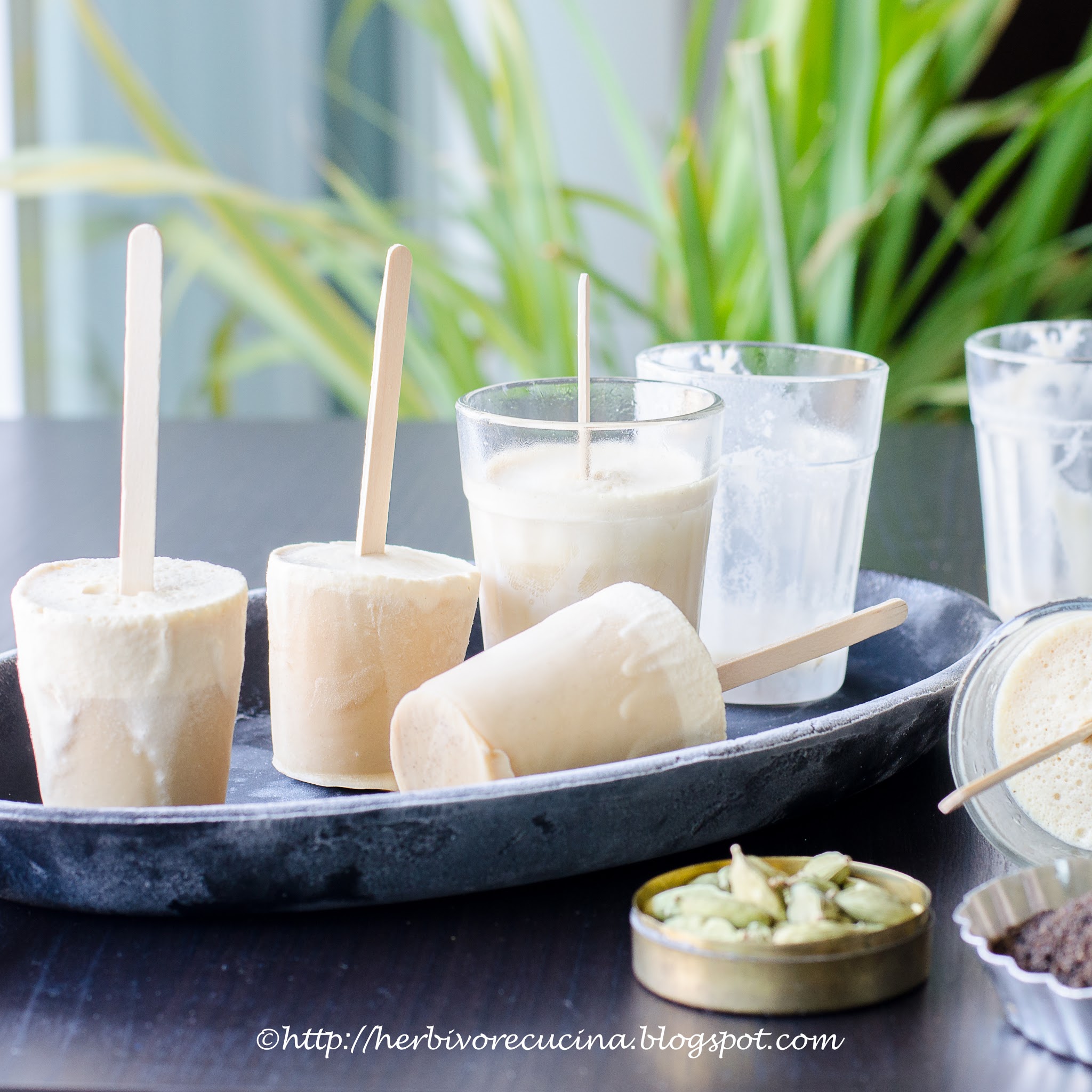 Over the last few months and years, these cutting glasses, their metal stand and the kettle is becoming extremely popular in households. People are going out of the way to use the glasses as condiment holder, to set desserts or even to serve salads. I am also on the bandwagon, thanks to my brother who got the entire set for me. I have used the glasses to serve chocolate and mango mousse, condiments for khowsuey and dal pakwan and now to set these cutting chai popsicles! I totally love them to serve everything and also to enjoy cutting chai on days that I miss Mumbai!
So coming to the recipe, these popsicles are nice and creamy owing to the whipped cream. Added to the whipped cream is chai extract made fresh at home and condensed milk. While it is pretty straightforward, the only mess can be the chai brewed water. If the water is too much, the popsicles will have tiny bits of ice in it. I used ¼ cup water and on boiling it reduced to half. That helped in getting a crystal (ice) free popsicle. The same method can be followed to get a coffee flavored popsicle too.
In trying to keep up with the authenticity of chai popsicles, I set them in my cutting chai glasses and pushed a wooden stick once it was partly set. If you do not have the glasses, use any standard popsicle mold or even a pan to set it as an ice cream and scoop it out to serve. Another interesting way would be to add some biscuit crumble on the ice cream and serve. The idea struck me after I had made my pops so I shall do that next time around! Btw, did you notice the green plant in the backdrop? It is my lemongrass shrub that I use to enjoy fresh tea each day!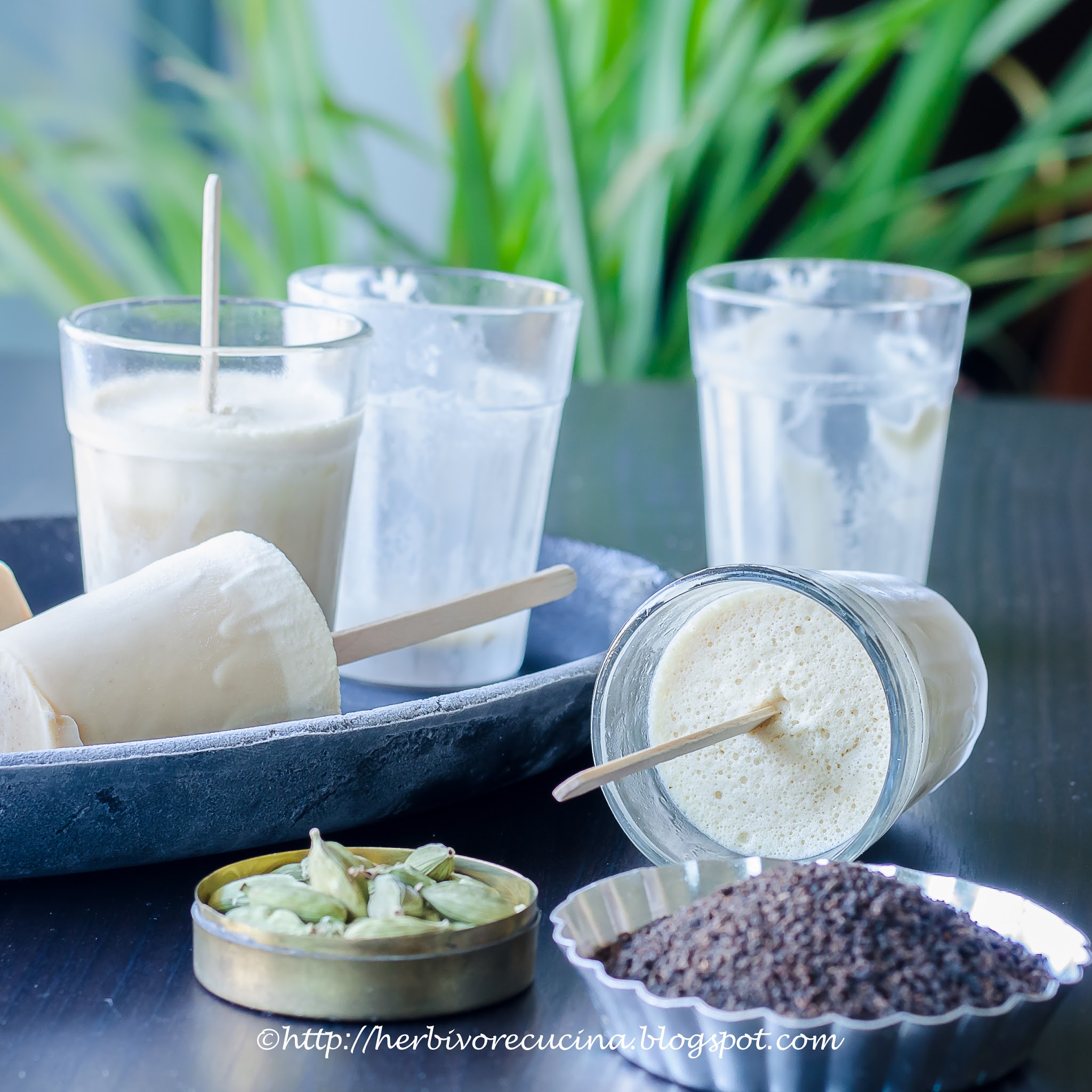 Ingredients
Heavy Whipping Cream 2 cups
Condensed Milk ¾ cup
Loose tea leaves ¼ cup or tea bags 3-4
Ginger 1 inch
Cardamom 4-5
Mint Leaves 3-4
Cinnamon 1 inch
Lemon Grass 2-3 stalks
Method
To prepare the tea extract, using a mortar pestle crush ginger, cardamom pods, mint leaves, lemongrass and cinnamon. Make a fine paste out of it. Heat ¼ cup water and add the crushed paste. Also, add the tea leaves or tea bags and brew for 5-6 minutes till strong. Sieve and cool the mixture completely.
Chill the bowl and hand mixer for ten minutes. In the bowl add whipping cream. Whip till you get soft peaks. Then, add the condensed milk and the cooled tea mixture. Whip one last time to mix it all well.
Add the mixture to the cutting chai glasses. Alternatively, use popsicle molds or an aluminum pan. Freeze for 2 hours. If using chai glasses, insert wooden sticks in them and freeze for another 3-4 hours.
Once completely frozen, it is really easy to remove the popsicles. Just run it under hot water for ten seconds and the popsicle will slide out easily. Enjoy the chai flavored candy this summer!!