Garlic Bread gets a makeover with this Hasselback Garlic Cheese Bread. Perfect appetizer or snack, this comes together in under 15 minutes!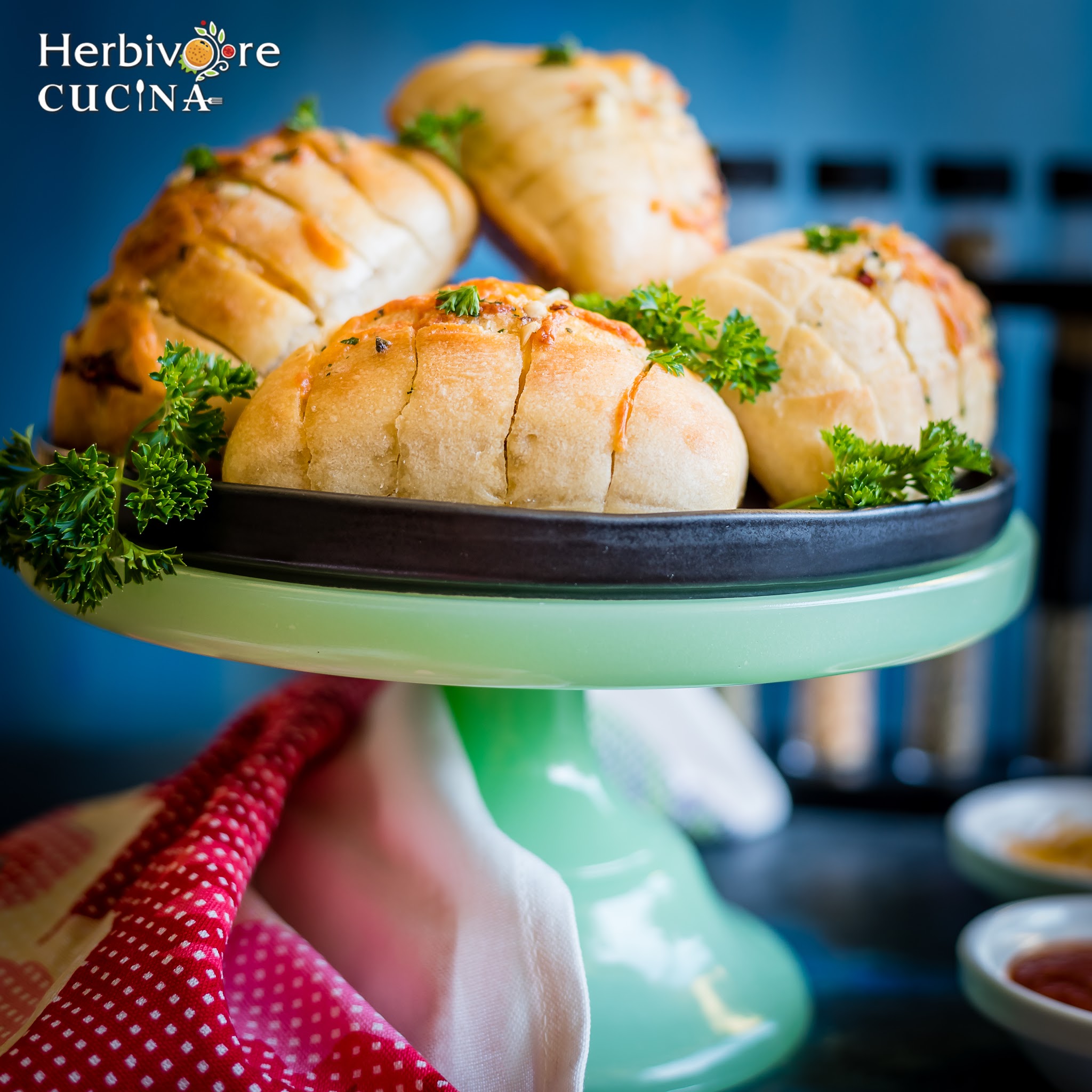 The Holiday season is coming up and I can't wait to get started with the parties! From Spooky Halloween to Friendsgiving and finally Thanksgiving; every dinner calls for something special from start to finish. Yet, the dishes should be PERFECT to make in a few minutes and taste perfect even after a few hours of making.
Our Holiday parties start this weekend and the first one will have this recipe for my friends. Garlic bread, a favorite amongst folks of all ages, gets a new form with this recipe. The ingredients are just like any other garlic bread, but the BEST part here is the Pepperidge Farm Stone Baked Artisan Rolls.
These Stone Baked Artisan Rolls have an amazing crust and super soft inside. The first time I bought these, I gobbled a couple slathered with butter. Then, I started to think how I want to make an appetizer using them!
I wanted to make something that would be great to serve to friends without the hassle of dividing, cutting or separating. These mini rolls are perfect for one person. And the ingredients needed to make this quick appetizer are easily available in any pantry.
Besides, these breads can be made ahead of time and freeze really well. To serve, just heat them in the oven for 4-5 minutes and you have a perfect appetizer ready to go! Plus, your friends will LOVE that. The day I first made these with pizza, we almost skipped the pizza and made another lot of this bread. The package has EIGHT rolls, and we were out in no time!
I guess I should make a bigger lot next time and in case of leftovers, freeze the remaining for our next meal. The frozen breads can be heated in a few minutes in the oven and served. The breads taste best when warm, but we loved them at room temperature too.
Variations
I made Garlic butter version of this. If you would like to make it without garlic, just use spiced butter and make it the same way. Besides, if you have a preference of cheese, use that instead of the Cheddar and Mozzarella Cheese. Lastly, if you like it HOT, add some minced jalapeno to the butter. It makes the bread super yum!
So wait no further; head out to your closest store and grab a package of Pepperidge Farm Stone Baked Artisan Rolls and make this today! These rolls are AMAZING as sides for all you Holiday entrees too. They taste awesome with some warm butter!
Pin for Later

Ingredients
Pepperidge Farm Stone Baked Artisan Rolls 5-6 (use this savings coupon to get yours)
Unsalted Butter ¼ cup
Garlic 4-5 cloves, minced
Dried/Fresh Oregano 1 tsp
Chilli Flakes 1 tsp
Shredded Cheddar and Mozzarella Cheese ¼ cup
Parsley a few stalks
Method
In a bowl melt the unsalted butter. Add in minced garlic, oregano and chilli flakes. Mix well and set aside.
Place a Pepperidge Farm Stone Baked Artisan Roll on the cutting board. Using a sharp knife make slits on the bread but ensure that it does not cut all the way.
Using a spoon, add some garlic butter in the cracks. Also add some shredded cheese there.
Preheat oven to 400 F/ 210 C. Place the breads in the preheated oven and bake for 8-10 minutes; till the cheese melts and begins to ooze out.
Remove and serve warm with some parsley leaves on top and marinara sauce on the side.