Green Lentil Crepes stuffed with Semolina Upma; this Pesarattu Upma recipe is a winner for breakfast or dinner!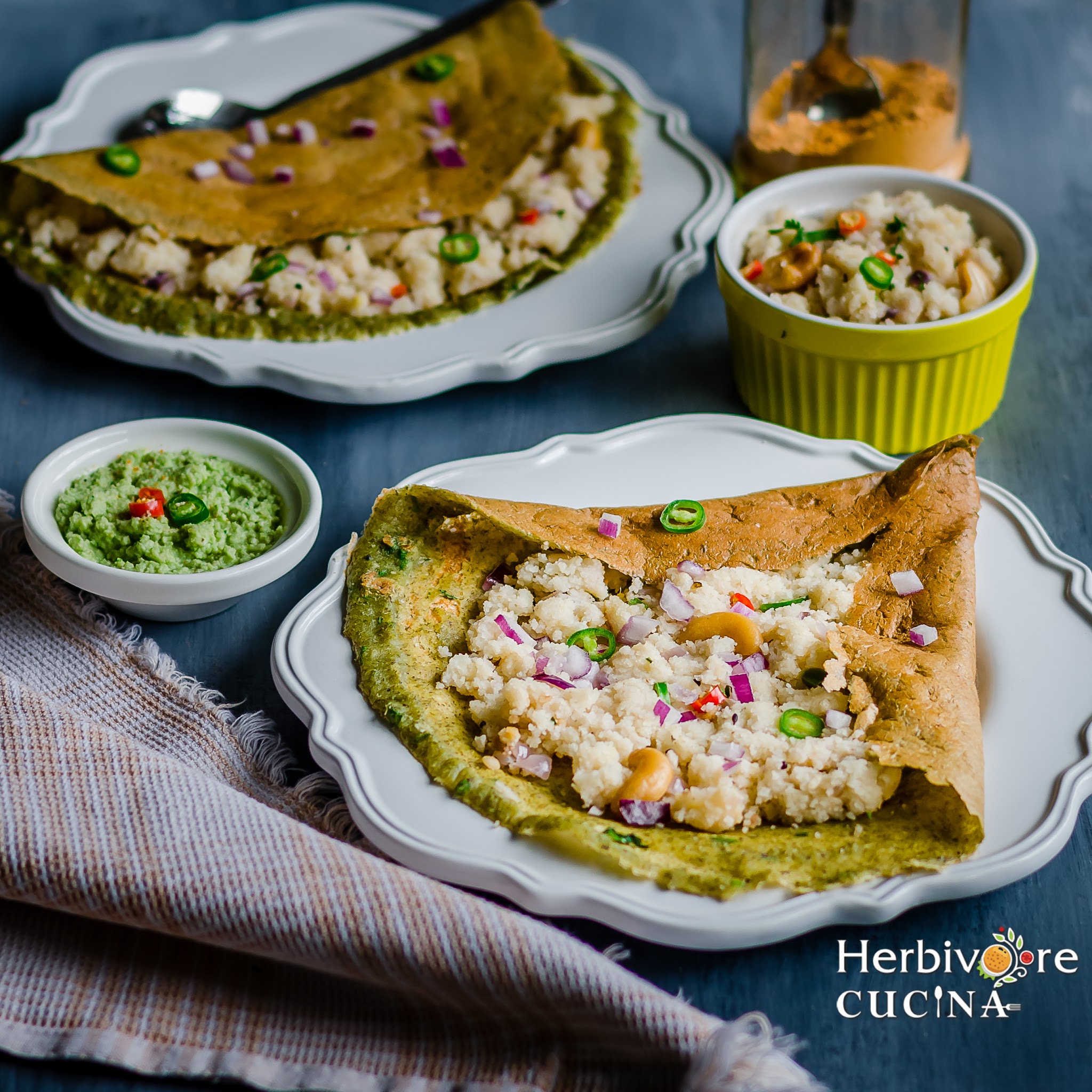 Diwali just went by and we celebrated to our heart's content. From sweets and savory snacks to delicious meals and desserts; we had it all. Now with the festival behind us, we are back to eating regular meals that are still yummy but healthier.
While I was in India, my mom made protein rich pancakes; green Moong Dal dosa really often. Not just dosas, the batter was also used to make fritters, idlis and dhoklas. I always loved it and thought that the dish was a Gujarati delicacy.
When I moved to US, I saw a dish Pesarattu Upma on the menu of many South Indian restaurants. I never understood what the dish was, until I saw someone order it in front of me at a restaurant. I could not believe that he was handed out a plate with green moong dal dosa stuffed with upma.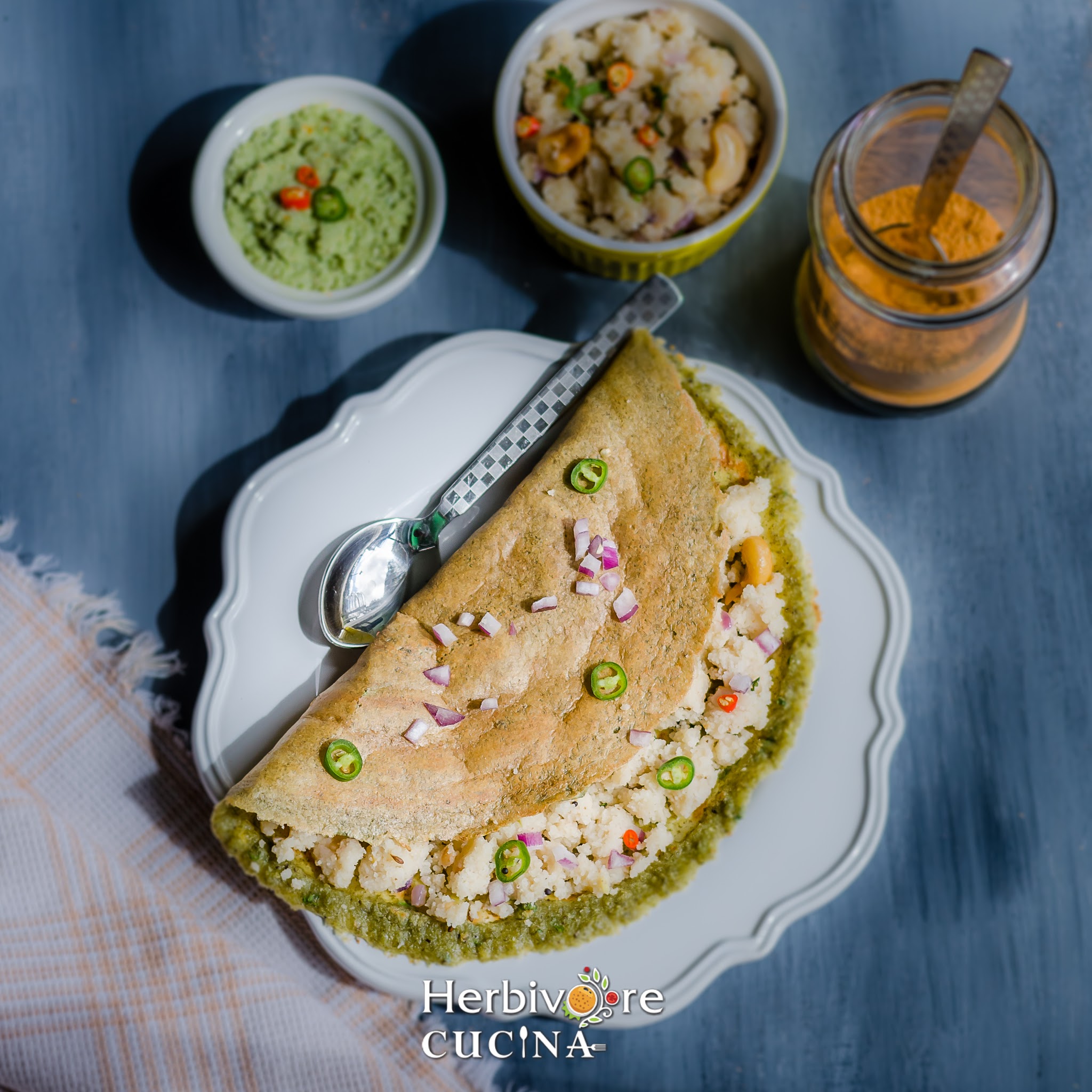 The combination looked pretty with all the chutneys that were served and I looked up online to find that this is actually a very popular combination from Southern India. So I tried it the next time I visited the restaurant and then replicated it at home. We LOVED how it came together so well, the crisp dosa and the soft upma together with gunpowder chutney and coconut chutney made a perfect meal.
Since then, I always make Upma whenever I make these crepes. Besides, if I have made Moong dal fritters or idli one day, I use the remaining batter to make these dosas with upma for breakfast. Served with either tea or coffee, it makes a protein rich breakfast that is delicious too!
This dosa is one of the easiest types; needs no fermentation, is made from just one grain so no hassle of proportions and quick soaking time. Whenever you need some meal in a jiffy, just keep the batter ready a few hours in advance or refrigerate it up to two days. Beyond that the batter starts to smell so avoid keeping it for too long.
Plus, these crepes are FULL of protein and can be made with minimum oil. If using a nonstick tava, there is no need to use oil in the dosa. The only oil that comes in is from the upma.


Variations


While I made these crepes with a filling, these green dal dosa taste awesome without any filling too. Besides, if you like you can stuff them with grated paneer or mixed vegetables too.
If you want a variation, use the same batter to make savory pancakes. Just lay them out thick and cook covered for a little extra time. Add some gunpowder chutney and chopped onions on top. It tastes really good.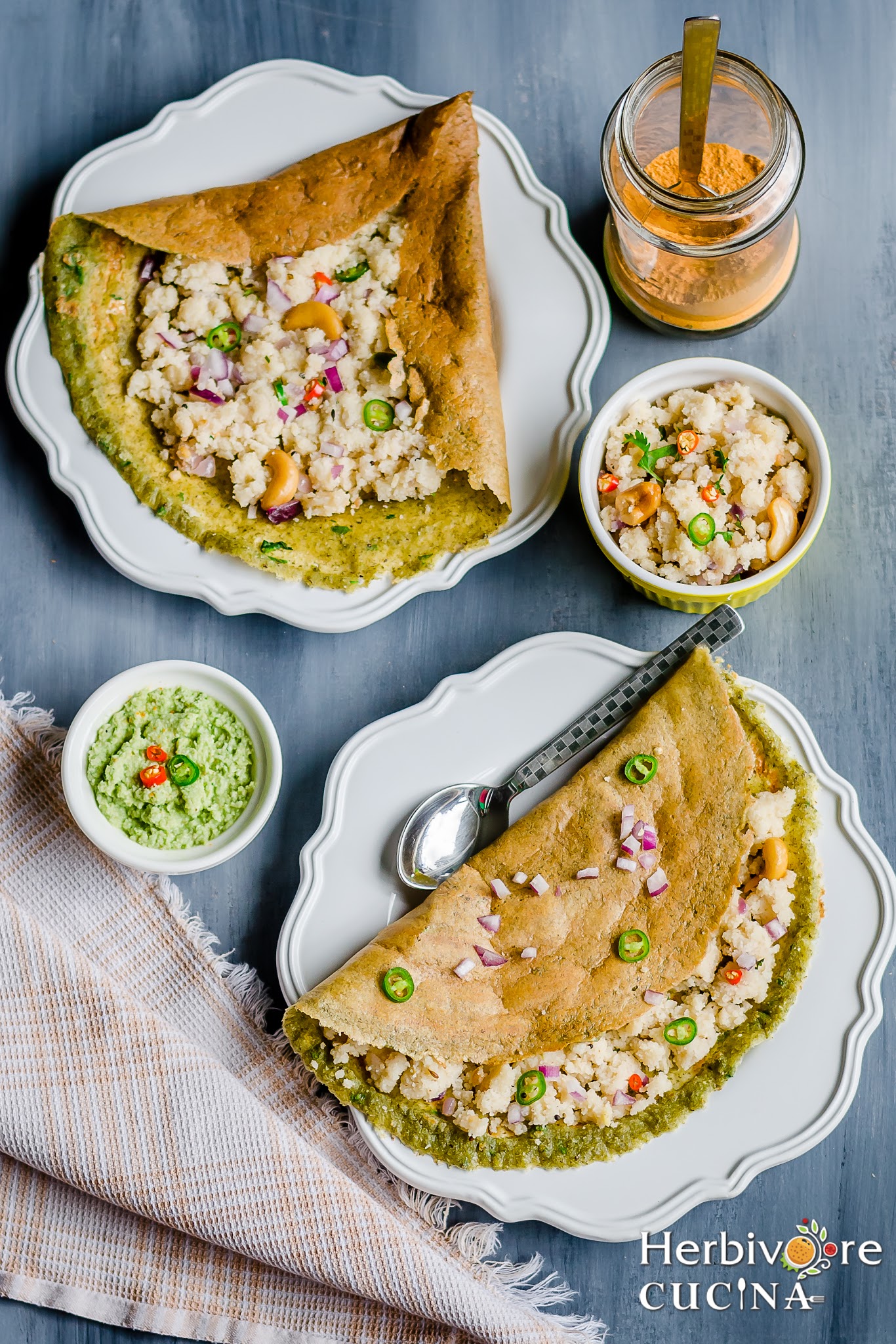 Ingredients
Green Moong Dal 1 cup
Salt 1 tsp
Black Pepper Powder 1 tsp
Shredded Coconut ¼ cup
Green Chilli 2-3
Ginger 1 inch piece
Onion ¼ medium, diced
Oil as required
Upma as required (Recipe here)
Method
Wash and soak the green dal in 2 cups water. Let it soak for 4-5 hours. Once soaked, grind with salt, pepper, shredded coconut, green chilli and ginger. I ground it to a smooth paste. You can keep it little coarse if you like.
Add more water as required to get the dal mixture to a dosa batter consistency.
Heat a tava and add ¼ teaspoon oil (optional; no oil is required for non stick tava). Once hot, add a ladle of the mixture and spread to a round disc. Cook for 3-4 minutes, till the bottom is crisp.
Add 3-4 tablespoon of upma and a some chopped onions. Spread out the upma and fold the dosa. Serve with coconut chutney and gunpowder chutney.