Blogging Marathon #68 Week 5 Day 3
Theme: Desserts
Dish: Honey Toast

After fruit salad and carrot cake, here is another dessert. This one had been on my to make list since the first time I had it! An Asian friend of ours took us to a place that serves Shaved Ice and Honey Toast. Little did I know I would get so addicted to both of them. To describe Honey Toast; it is a brick of bread with small pieces of bread inside, all the bread is slathered with honey or condensed milk, baked and topped with toppings of your choice.

If the description did not tempt you, the pictures in this post will definitely do it! When we had it there for the first time, we clicked pictures and sent it to family and friends in India. Since then, every time we have them visiting us, we HAVE to go to enjoy this dessert. And it is so huge that we generally share one amongst 3-4 people.

So since a long time we have been meaning to make it at home. As it is so filling, I made it from brunch on Sunday. Between the two of us, we managed to lick off the plate but as expected, we skipped lunch! I added toppings as we like it, but the restaurants offer a range of toppings like chocolate chips, gummies, condensed milk, chocolate sticks, macaroons and so on. Adding it all makes the dessert a perfect substitute for a meal!!

I made the bread from scratch too, but to simplify things, you can get unsliced bread from the store. Assemble it all and enjoy. The melting ice cream with the warm honey drenched bread makes a perfect combination. Here is another interesting thing about my shoot. I kept the dessert with the wooden plank at the back. And after I finished taking most pictures, I left the dessert there and went to my kitchen to grab a knife to cut it and take pictures. When I returned, I saw the plank falling on the dessert. I just held it in time that it did not completely spoil the dessert. It just smeared the ice cream and crushed a strawberry :p But then I was a little disappointed and stopped taking pictures. So I do not have any pictures of the cut dessert. Shall update the post next time I make it!
Ingredients


Unsliced Sandwich Bread ¼ loaf (recipe here)
Honey ¼ cup
Toppings
Vanilla Ice Cream 2 scoops
Strawberry Ice cream 1 scoop
Chocolate Sauce as required
Strawberries and chocolate

Method

Preheat oven to 350 F/ 200 C. Place the ¼ sandwich loaf on a chopping board. Using a sharp knife, scoop out the insides and cube the bread removed. Brush honey on the pieces and on the walls of the loaf.

Place the pieces and the bread in the oven and bake for 12-15 minutes. The bread should become crisp. Remove the tray and place the pieces back into the loaf.

Top the bread with ice creams, chocolate sauce, strawberries and chocolate. Enjoy immediately before the ice creams melt!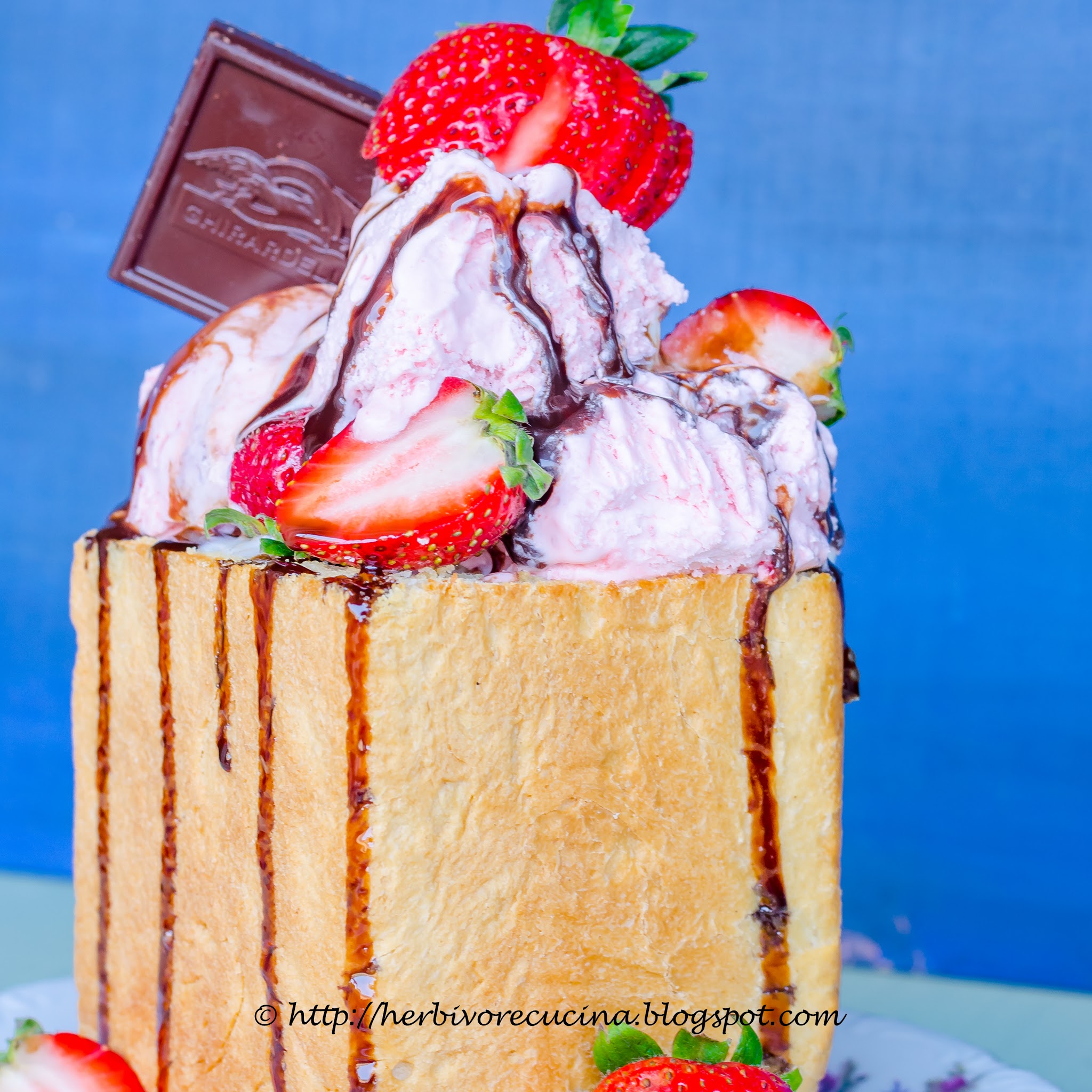 Check out the Blogging Marathon page to see what the other Blogging Marathoners are doing for BM# 68