Got extra produce? Here is a quick guide to freeze it correctly so that it lasts much longer!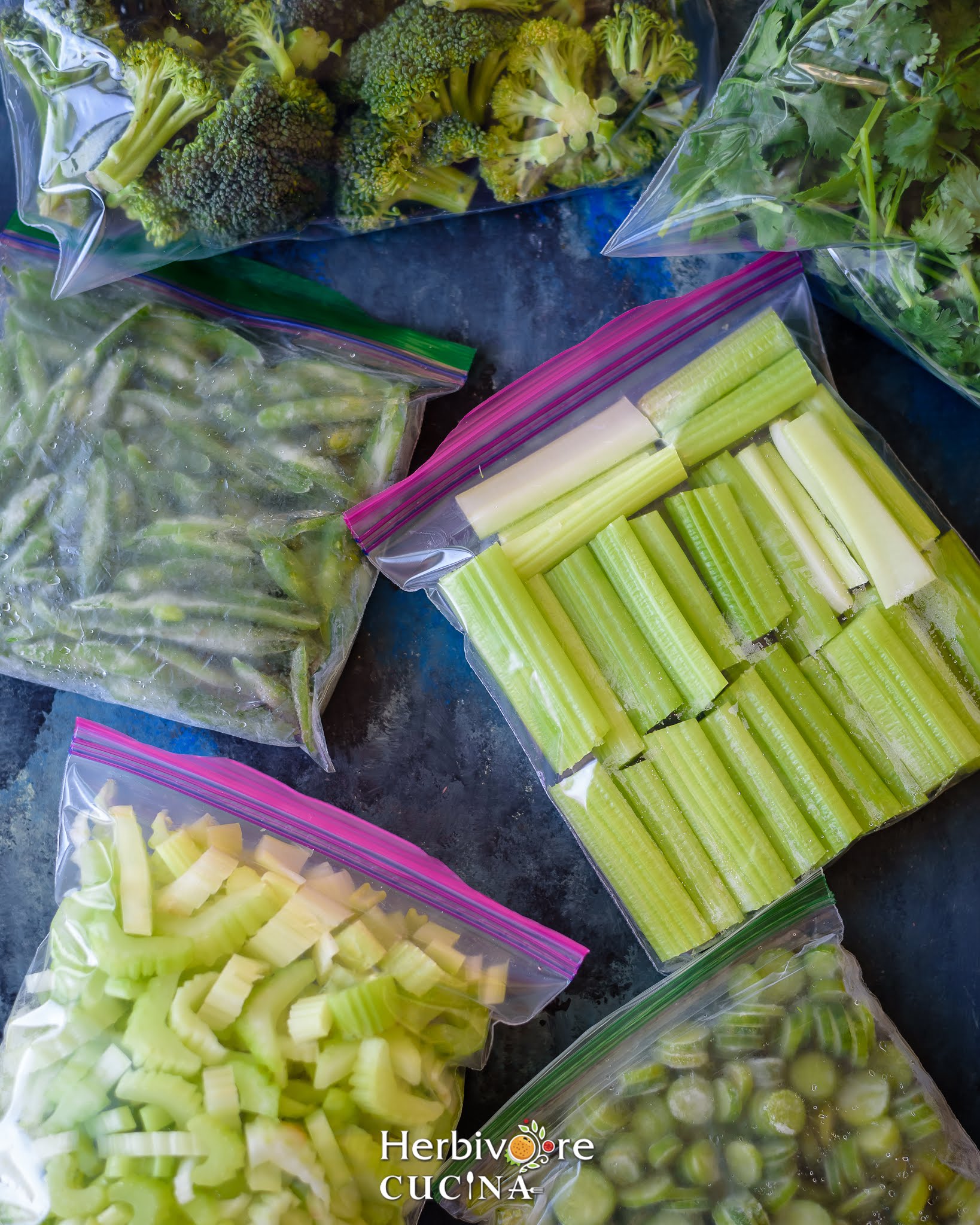 In the current scenario a lot of us are optimizing shopping trips and stocking up on grocery and produce. While it is fairly simple to stack the grocery in the pantry or fill it in containers, produce is the tricky part.
Getting the daily dose of vegetables and fruits is essential. During these uncertain times, the stores seem to have more fresh produce than frozen. Frozen produce lasts longer and has disappeared from the stores already.
Never mind! Freezing produce is quick, easy and can be done for most vegetables and fruits without a lot of effort.
Why freeze fresh produce?
So often we buy something that we end up using a little. Celery tops that list for me. I add some celery to my minestrone soup every time. I hate to buy a BIG bunch and keep eating it to finish it off. So instead of wasting it or forcing myself to eat it, freezing is a great idea.
The delivery options for so many places often have only whole numbers. Like, how can anyone use up a POUND of Thai chili before it spoils? In such situations, freezing it helps a lot.
Preserving produce correctly is important. Freezing is the easiest and most effective way to preserve produce.
It takes some time and often requires a few extra steps, but correctly freezing produce helps in many ways.
You can use the produce over the next few days without worrying if it would spoil, saves cost by buying in bulk and definitely reduces wastage. Plus, the produce is washed and chopped reducing prep time during cooking.
Tips for effective freezing
Freeze the produce sooner than later. The fresher it is while freezing, the better. I like to finish off all the freezing within 24 hours of getting it.

Use produce that is ripe and unblemished.

Label each bag with the date of freezing/buying. Use up the produce within 8 to 10 months. Most produce remains usable for months, but use it up quickly and wisely!
Use clean bags or containers that are freezer safe. Reusable bags like these come handy for so many things.

Use up frozen vegetables before they are completely thawed.

Wash the vegetables before freezing them. Most of them do not need to be thawed before cooking so washing them after freezing is challenging.
Blanching before freezing
Blanching is a process where produce is added to boiling water and quickly dipped in ice cold water.
The boiling water kills any microorganism that might be present in the produce and subsequently adding it to cold water stops the cooking process and helps preserve the color.
This method can be used for vegetables like broccoli, cauliflower, peas, corn beans and carrots.
Ensure that the blanched vegetables are dried completely on kitchen towels before freezing.
Vegetables that freeze well
There are actually a LOT of vegetables that freeze beautifully. Carrots, green peas and corn kernels are the easiest to freeze.
Just wash, pat dry, and either cut them and add to freezer safe bags. I like to freeze them all separate so I can mix and match as required.
French beans is one vegetable that I like to add to so many recipes. From biryani and indo-chinese rice and noodles, french beans are a great addition to soups and stews.
I chop them into long strips and some into small pieces and freeze them. They are so easy to use as needed!
Celery is another one that I like to freeze. Some of it in bits and some in large strips. They come handy for soups or just snacking with hummus.
Cauliflower and broccoli are the easiest to preserve. Just separate the florets, pop them into freezer safe bags and freeze. They come in super handy for making curries, adding to soups, noodles or rice.
Peppers cut into strips or dice freeze well too. I mix and match the colors and freeze them for using later.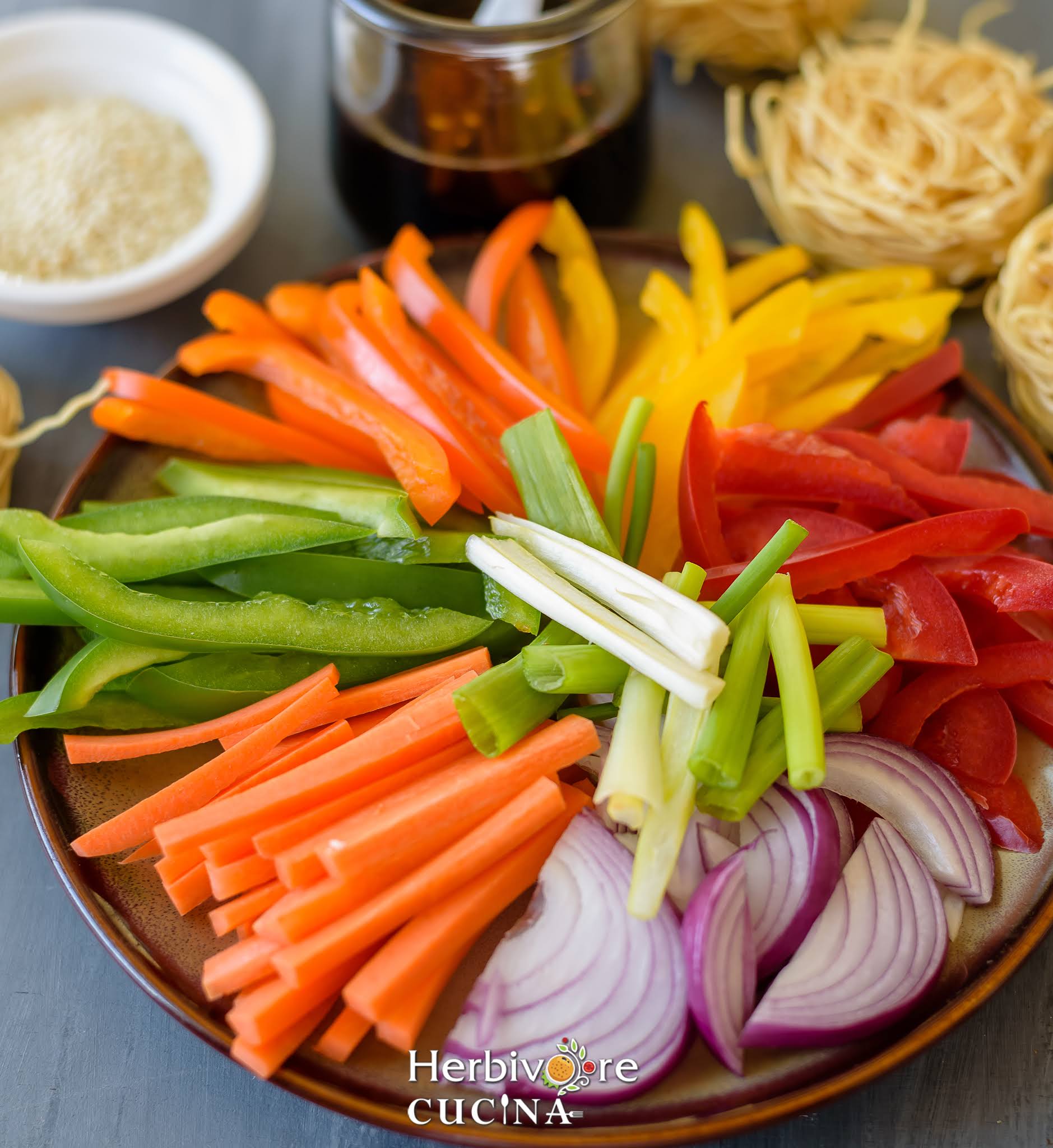 Freezing Tomatoes
Tomatoes are used EVERYDAY in my kitchen. From curries and vegetables to pastas, lentils and dals; almost everything is incomplete without tomatoes.
There are a couple of ways to freeze tomatoes. First is to cut them into pieces and freeze them as is.
The second method is to blanch them by pacing them in boiling water for a minute and then in ice cold water. This way the peel comes off and the tomato can be frozen.
However, my favorite method is to puree the tomatoes and freeze them in silicone ice trays. I tend to vary the amount I add in each so that I can add more or less of tomatoes as needed. Once frozen, transfer to a freezer bag and store.
Ginger and Chili
As I mentioned above, I often order Thai chili for my daily needs. When I end up with a pound of these super hot chilies, I know for sure that they are going to last me a couple of weeks.
To keep them fresh and to preserve their flavor, I like to refrigerate or freeze them.
For chili, I wash and pat them dry. Then I add a pinch of salt and process them in a blender till crushed coarsely. I then add some to a bottle and refrigerate and put the remaining in freezer safe bags and freeze it flat. The frozen bits can be broken and used as required!
Ginger is great for so many recipes including masala chai. To preserve it, the easiest is to clean them, remove the skin and process them in a blender till smooth. Then add that to a freezer bag and freeze flat. I do not add salt as the ginger is often used in making tea.
Alternatively, drop a small amount of ginger or chili on baking trays; chill them till rock solid and transfer to a freezer bag. Each bit can be made using 1 teaspoon measuring spoon to keep it easy to track when using.
Lemons
The easiest way to preserve lemons is to juice them and freeze them in ice cube trays. I use my silicone trays to freeze lime juice and then use them as needed.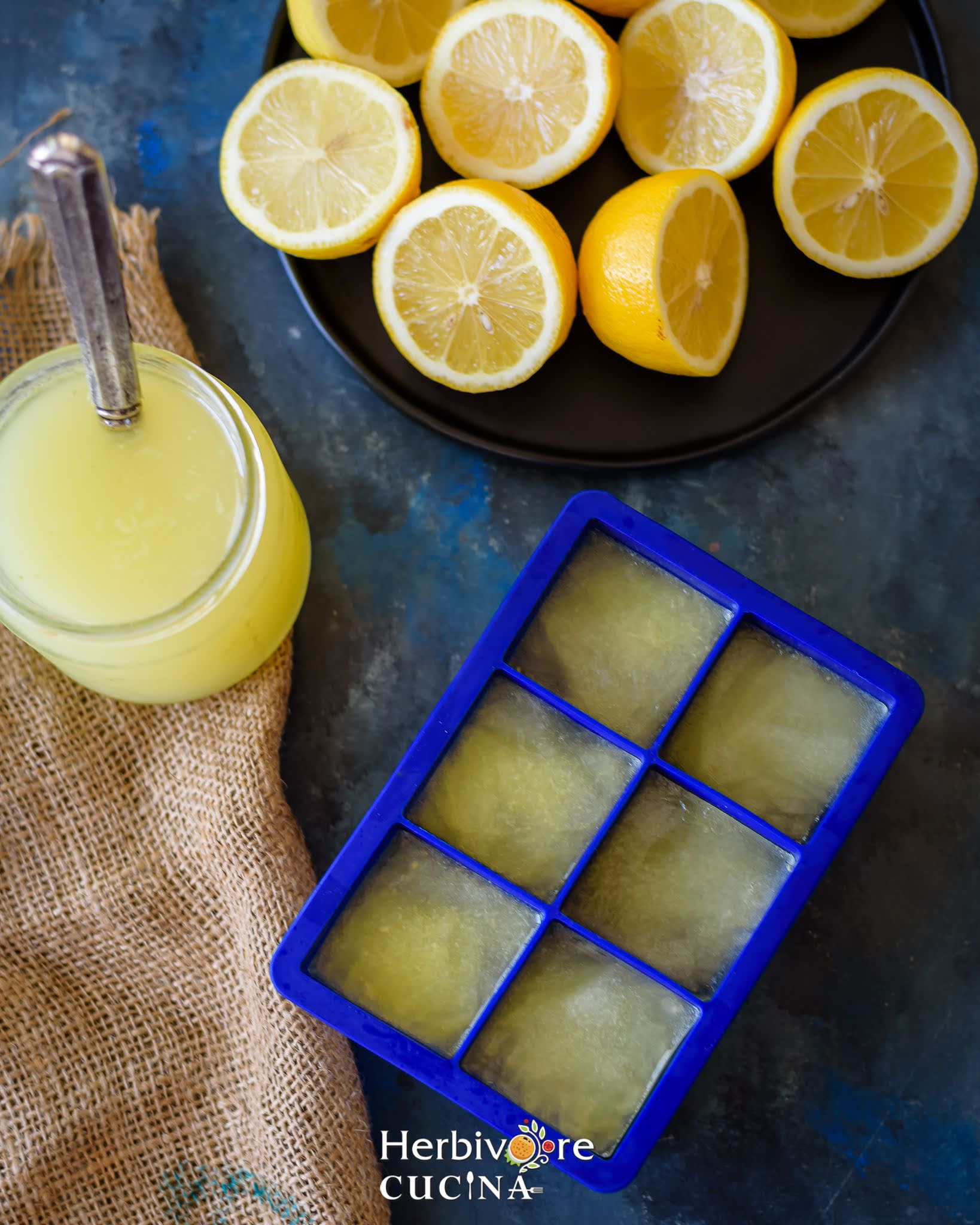 Preserving Greens
Herbs are often stars of so many dishes but you might end up only using a pinch. Preserving them is super easy.
For herbs like cilantro, spinach and parsley, I wash them in a salad spinner and dry them in it too. Then I place the stalks in a freezer bag and freeze them. Make sure not to place anything on top of them as they might wilt until they are not completely frozen.
Thawing them does make them slightly limp, but they are perfect for recipes where they are crushed or processed. Chutneys, curries and dals are where I use them.
For other herbs like thyme, rosemary, oregano etc; it is a great idea to freeze them in oil. To do so, add some olive oil in ice trays, place herbs in them and freeze. These frozen cubes are great in pasta and soups or as a dipping oil for breads.
Produce that does not freeze well
While most of the produce freezes well; the ones with higher water content are not great candidates for freezing.
Cucumbers, radish, mushrooms, cabbage and lettuce become waterlogged and mushy on thawing. Thus, they are best not frozen!
Vegetables with longer shelf life
In these unprecedented times, we try and make as fewer trips to the stores or deliveries as possible. It helps to buy vegetables that will stay good for a long time without processing them too much.
Potatoes, sweet potatoes, onions, garlic and all kinds of squash are in this list. Place them in a basket on the kitchen counter or in paper bags and they will be great for a few weeks.
There are SO many recipes using potatoes; I can literally survive on them for a month! To name a few; Baked Potato Stacks, Loaded Baked Potato and Cauliflower Soup, Deconstructed Potato Peas Samosa Bites and Vada Pav to name a few!