An EASY to make Indian breakfast or dinner recipe, this recipe of INSTANT Rava Idli (Steamed Semolina Cakes) is a keeper!
Rava Idlis, a different kind of steamed cakes; these are made from semolina, yogurt and some spices. These idlis are great for breakfast as they are not very heavy, need only a few ingredients to make and need no grinding or fermentation. With very little preplanning, this recipe is great for breakfast or even a quick brunch or dinner.
These semolina idlis have always been my breakfast love for lazy weekend mornings. Though it has been a favorite dish for a long time, I would ALWAYS trust the packet and use the pre-mixed rava idli mix to make them. Not long ago I was visiting my aunt and she whipped them up from scratch in NO TIME!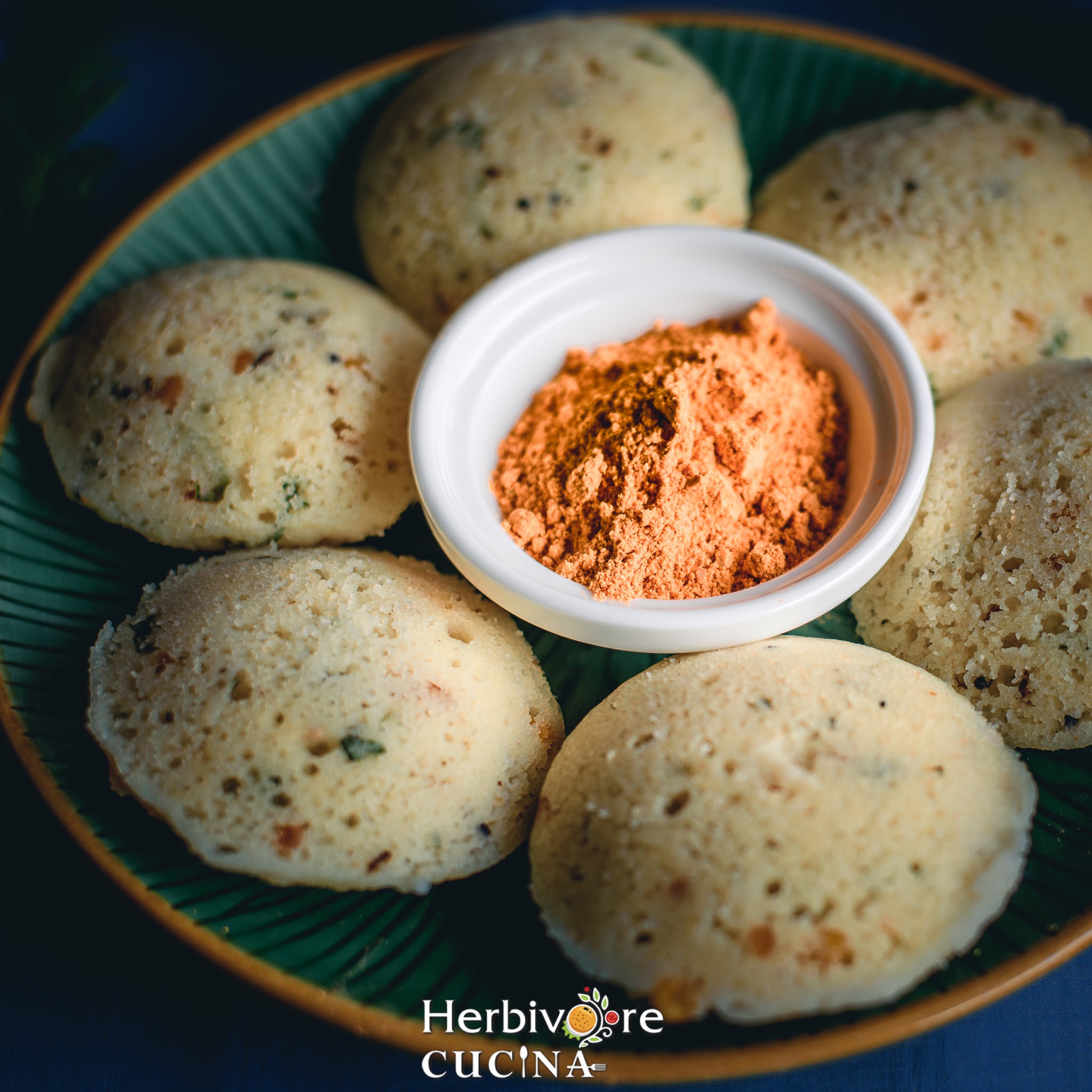 That is when I was super excited to try it from scratch too. The first few steps are pretty much similar to regular upma recipe. The last bit changes from adding buttermilk and cooking to adding some baking soda and steaming. Now I make it from scratch pretty often and bid goodbye to the packets!
A plate full of these idlis served with piping hot sambar and a chutney is my new definition of comfort meal! When a day starts with these soft idlis, it is definitely a great one. What's great is that this recipe comes together in around 40-45 minutes. If you are in a rush in the morning, do most of the preparation the earlier day. Then all you need is 20 minuted to make these for breakfast.
Not just for breakfast, we now enjoy these for dinner too. I like them with a side of Tomato Onion Chutney and Gun Powder chutney. With zero grinding and fermentation like traditional Rice Idlis, this works great for all meals. Plus, they make a meal by itself along with the chutneys. Served with a side of Indian style Filter Coffee, it is a great meal for sure.
Variations
Though I made the entire recipe in one go, it is easy to make it in parts too. Roast the semolina and add the ingredients except ginger and chilli. Store this in an airtight container. When ready to make, saute the ginger, chilli in ghee and add them. Rest of the procedure remains same.
Another yummy variation to this is to add vegetables of your choice. From grated beets and grated carrots to minced onion and green peas taste amazing in these idlis. It is an easy way to include vegetables in the diet.
A lot of people like to use sour yogurt in their recipe, but I have always got similar results with regular yogurt too. And Greek yogurt or homemade yogurt work great in the recipe. Just adjust the amount of water depending on how thick the yogurt is.
Finally, the same mixture can be used to make Instant Rava Paniyaram. The paniyaram using this recipe come out really great. They are PERFECT snacks for any party or get together.
Fan of Idlis? You MUST try one of these too:
Coming to the recipe, this one needs just a few ingredients that are easy to find in any pantry. Semolina or rava is an interesting ingredient in the pantry. From savory upma, paniyarams and idlis to sweet sheera and halwa, from being a great way to coat tikkis to rolling pizzas with a crisp base; this ingredient is super versatile and comes handy in many recipes.
So if you do not have this yummy ingredient in your pantry, get it NOW and start making all things delicious. First up should be THIS Rava Idli.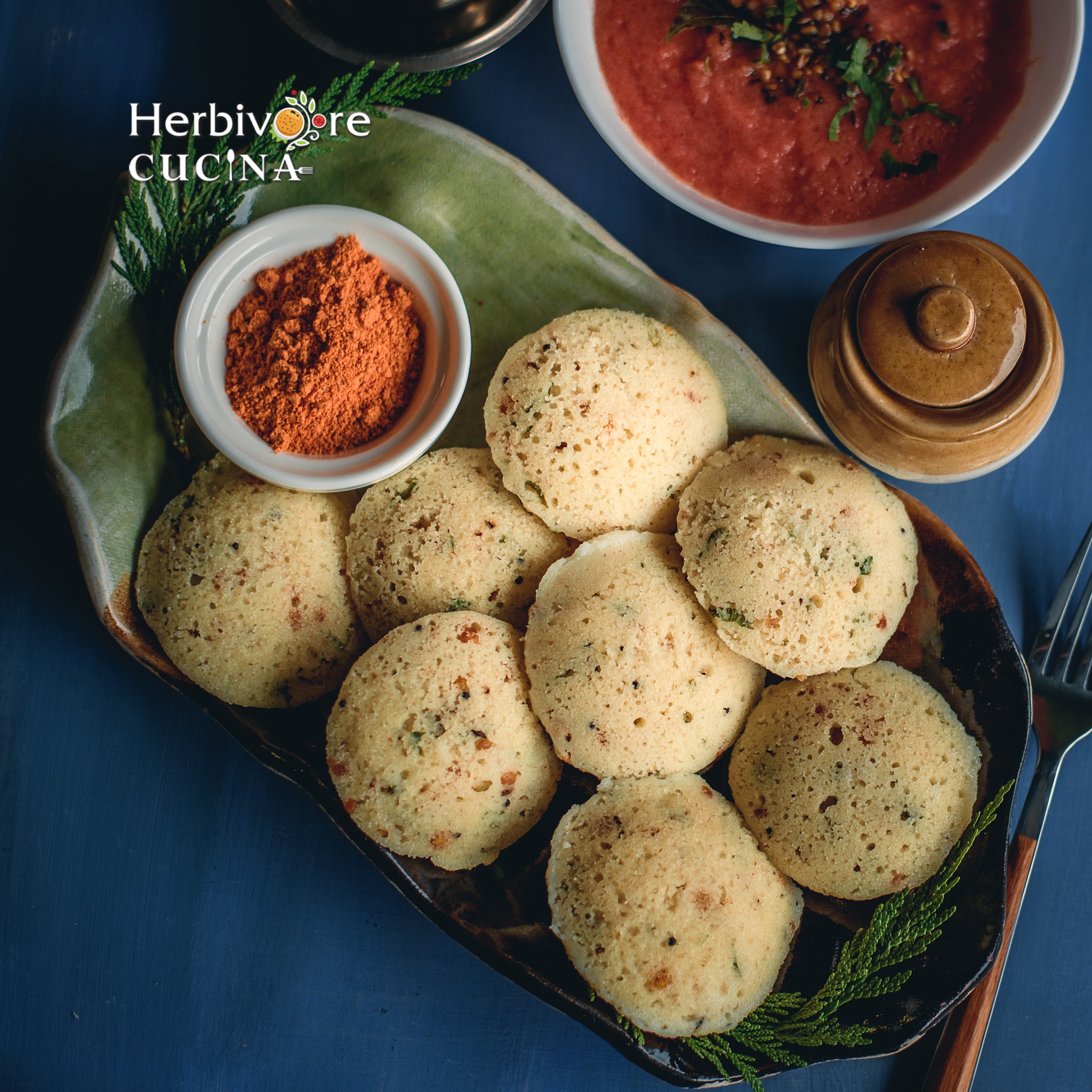 Ingredients
For the Idli
Rava/ Semolina 1 ½ cups
Yogurt ¾ cup
Baking Soda ½ tsp
Oil 1 tbsp
Salt 1 ½ tsp
For the Tempering
Ghee 2 tbsp
Urad Dal 2 tsp
Chana Dal 2 tsp
Mustard Seeds ½ tsp
Asafetida 1 pinch
Cumin Seeds 1 tsp
Curry Leaves 4-5
Green Chilli 1-2 minced
Ginger 1 inch piece, grated
Cashews 2 tbsp
Method
In a bowl soak the chana dal in warm water for 10-15 minutes. Drain and set aside.
Heat the ghee in a pan and add mustard seeds. Once they pop add asafetida and cumin seeds. Once they pop, add urad dal and chana dal. Mix well and let the dal turn brown. Add the curry leaves, green chilli, cashews and ginger. Let them cook for 4-5 minutes.
Add in the rava/semolina. Mix well and roast for 8-10 minutes on low flame. Make sure the rava does not burn. Once you can smell a nice aroma of roasted semolina, turn down the flame and cool the mixture.
Mix in salt, beaten yogurt and some water to make a thick batter. Let it rest for 15-20 minutes.
Meanwhile, heat water in an idli stand base or pressure cooker base. Line the idli plates with oil and keep ready.
Once ready to make the idlis, add the baking soda in the batter and mix well. It will bubble for a bit. Add some water if the batter is too thick.
Divide the batter into the idli cavities and steam for 10-12 minutes. Remove once a skewer inserted in the centre comes out clean.
Use a spoon dipped in oil to remove the idlis. Serve with your favorite chutney and sambar. I enjoyed mine with Tomato Onion Chutney and Gun Powder Chutney!