Puffed Jowar is almost like mini popcorn; when mixed with papad and spices it makes a perfect snack that is super easy to make.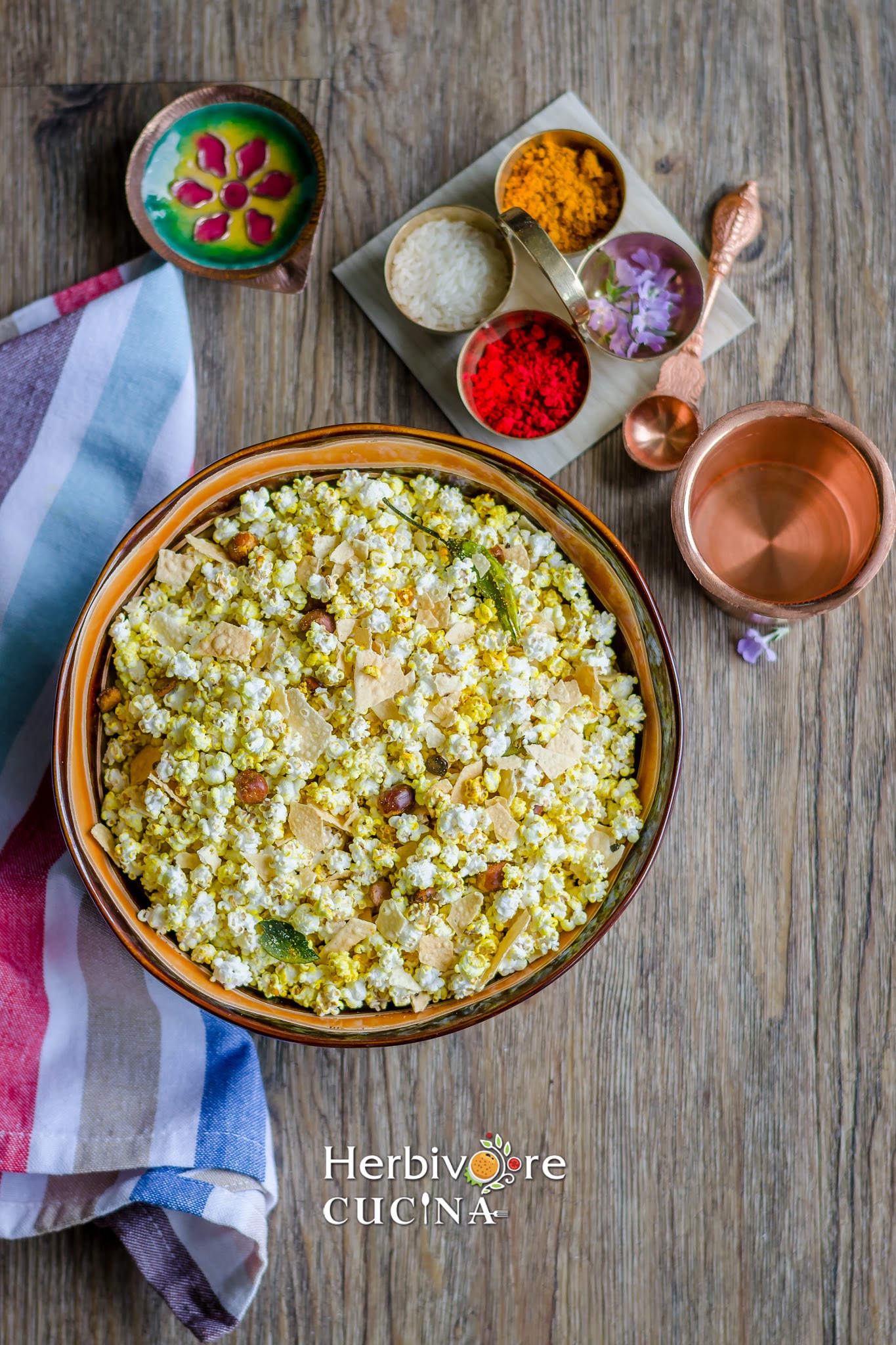 March is here and has brought Holi with it. While most of Holi is related to Thandai and sweets, there are a few yummy savory snacks for the festival. While Gujiya and Dahi Vada are famous, having this popped Sorghum seeds is pretty common in Gujarat.
Having popped Jowar or Dhani on Holi is an age old tradition. Women use dhani in the holika puja along with dates and other puja essentials like kumkum, haldi, rice and coconut.
I still remember how the markets used to be full of heaps of dhani in march and shopkeepers used to sell it by cup measures. We used to buy a bulk of dhani from them, use some for the puja and stir-fry the remaining and enjoy it for weeks!
After moving to USA, dhani seemed to be a distant dream. However, it was so heartwarming to see that my mother in law sent a packet full of dhani and papad chivda last year, straight from India. We enjoyed the snack for a couple of days and it was all gone.
This year, I found a big packet of Dhani in an Indian store and brought it home. I wanted to replicate the chivda so asked my mom in law for the recipe. It is a simple mixture of dhani, papad and spices, but the flavors are such that this snack can be addictive!
Not only during Holi, this popped jowar should be enjoyed whenever we can get our hands on dhani. It is a light snack that is roasted and has a perfect combination of flavors. Don't forget to make this during Holi and here is wishing you and your family a Happy Holi!
Variations
This recipe is a mixture of dhani and papad. However, if you don't like papad, skip it and add the rest. Plus, adjust the amount of peanuts and dalia based on your preferences. And lastly, adding sugar is optional in the recipe. We LOVE it and it balances the salt and chilli. Add it if you like, leave it otherwise!
Ingredients
Jowar Dhani 2 cups
Papad 4-5
Peanuts ½ cup
Dalia/ Roasted Chana Dal ¼ cup
Dry red chilli 1-2
Curry leaves 3-4
Mustard seeds ¼ tsp
Asafoetida a pinch
Sesame seeds ¼ tsp
Turmeric powder ½ tsp
Sugar 1 tsp
Salt 1 tsp
Oil 2 tsp
Method
Roast the papads on gas or in the microwave. Once they cool, break the papad in to bite size pieces and set aside.
Heat oil in a pan and once hot, add mustard seeds and asafoetida. Once the seeds crackle, add the peanuts and fry them till they are brown in color. Then add the roasted Chana dal and mix well. Let them become light brown too. Next add the dry red chili and curry leaves and fry them. Then add the sesame seeds.
Mix well and add the dhani and papad pieces. Sprinkle sugar, salt, red chilli powder and turmeric powder. Mix everything well and let the mixture mix on medium flame.
Once it is all combined, turn the flame down and let the chivda stand in the pan till it is a little cool. Then transfer to an airtight container and enjoy it for a week to ten days!!