Handvo is a traditional Gujarati savory cake made from lentils and rice. It is a very common dish that is pretty versatile. Make a big batch of it and it can be served as dinner with chutney. Make them into small cupcake sized cakes and they become perfect appetizers. Many gujarati families also eat handva as breakfast, with a cup of piping hot tea.
Though it is easy to make this dish from store bought flour, making the batter from scratch is a great way to customize the lentils that go into the handva. I have added udad dal, chana dal and moong dal in this one, along with rice. Also, the vegetables that go into this dish can be changed as per your taste and preference, I have used bottle gourd, onion, carrots, corn and peas. Bottle gourd is always used to give the cake a soft texture from inside.
I have baked the handva in a big tray this time, however you can make these cupcake sized handva too, that make it easier to serve and everyone get their share of the crisp top and soft inside. If you do not like to bake it, you can cook it in a pan for 15-20 minutes on each side till the top is crisp and the inside is cooked. The flavor of gas-top handva is equally great and it has a crisp top as well as bottom!
To make your own flour
Use a mill to make your own handvo flour! I used my Nutrimill by BOSCH to mill together rice and pulses in minutes. You need to check it out here: Nutrimill by BOSCH. Mills a LOT of flour for rotis, tortillas, dhokla and handvo in minutes!
Plus, here is a discount coupon for your purchase! Click here and add Nutrimill Harvest Everyday Essentials Package; plus use the code HERBIVORECUCINA-NH to SAVE $50 on your purchase!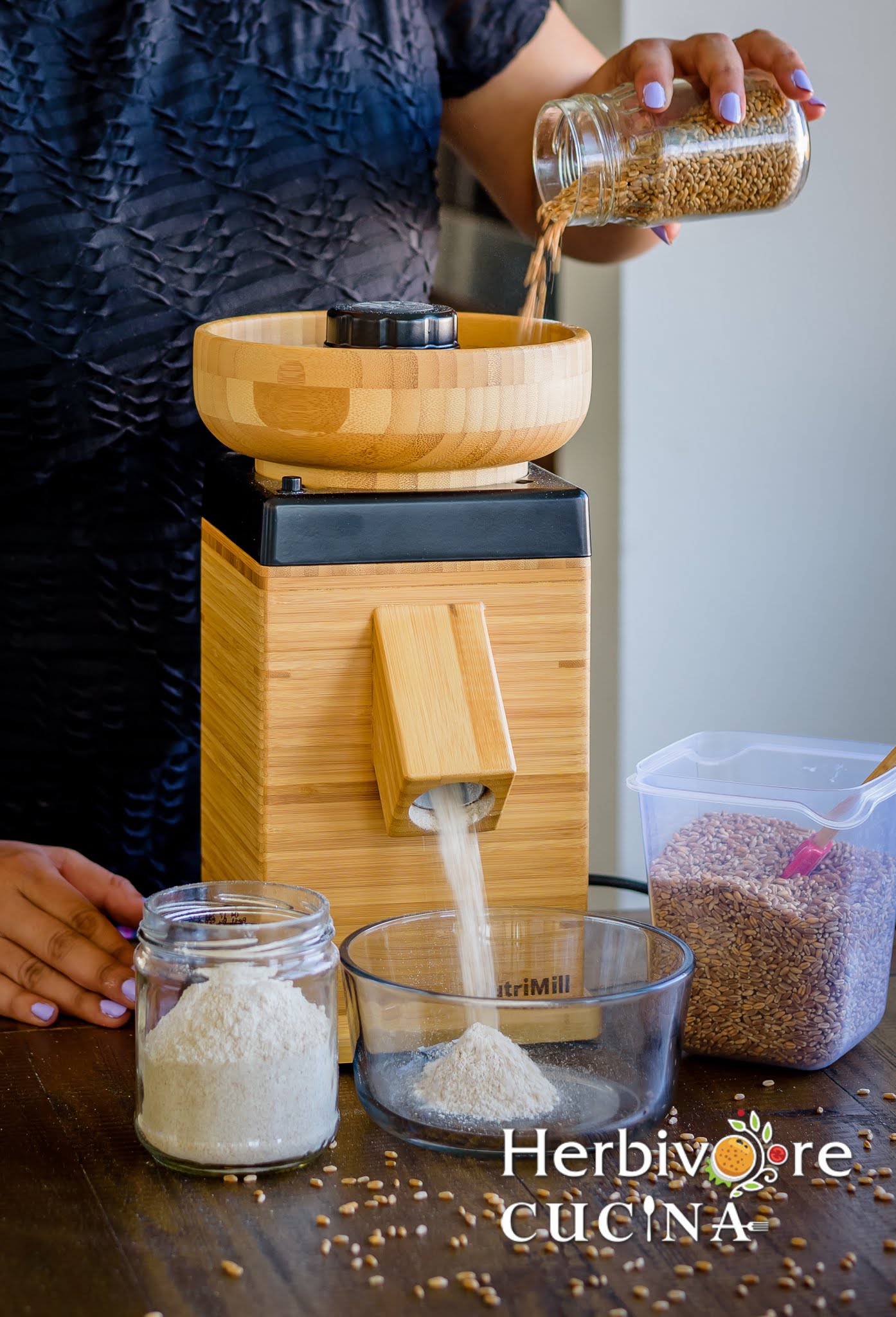 Ingredients
For the Handvo
Rice 1 cup
Mixed Lentils ( Udad dal, chana Dal, Moong Dal) 1 cup
Yogurt 1 cup
Grated vegetables (bottle gourd, onion,carrot, sweet corn, green peas) 1 cup
Chilli garlic ginger paste
Condiments ( red chili powder, turmeric powder)
Soda Bi-carbonate
Fruit salt (eno) 2 tbsp
Vegetable oil 1 tsp
Salt, Sugar
Cilantro
For tempering
Vegetable oil
Cumin seeds, Mustard seeds, Asafoetida
Curry leaves
Sesame seeds
Green chilies chopped into 1 inch pieces
Method
To make the batter
Mix the lentils and rice in a container and wash it thoroughly. Soak it in water for 4-5 hours. After that, grind them together. Keep the mixture slightly coarse.
Then, mix the yogurt and mixed lentils in a big bowl, add a pinch of salt and mix well. If the yogurt is not sour, you can add a couple of tablespoon of sour cream too.
Add a pinch of soda bi-carbonate and a cup of water or little more if required to soak the mixture. Let the mixture rest in a warm place overnight.
Next day, or after 6-8 hours, mix the fermented batter well. Also, add salt to the grated vegetables and let it stand.
After 5-10 minutes, squeeze the water out of the vegetables and dispose the water. Take the fermented mixture, add the vegetables, chili garlic ginger paste, some cilantro, oil, chili powder, turmeric powder and sugar.
Mix well.
Prepare the tempering
Heat the oil in a small wok. Add mustard seeds and allow them to pop. Now add asafoetida, cumin seeds, chili and curry leaves. Once the seeds splutter, add the sesame seeds and turn the heat down.
To bake the Handva
Grease the oven proof tray with vegetable oil and keep it ready. Preheat oven to 300 F. In the batter, add the fruit salt. Mix well and pour it in the tray. Add the tempering on top and bake for 30-35 minutes till the top is crisp.
Remove the tray from the oven and cool for ten minutes. Then remove the handva and serve with spicy mint and coriander chutney, sweet imli chutney and tomato ketchup.
To make the small cupcake sized handva, try this recipe from store-bought flour.