Mooli or Daikon, those icy white root vegetables that have a very distinct taste and flavor. These roots are used in different cuisines as ingredient. Visit an Asian restaurant, they will serve a pickled version of the root. In Bangladesh, they make a yummy mulo bhorta with daikin root, chilli and spices. In Northern India, mooli ke parathe, sabji, pickle and salads are common. In western India, gram flour mixed with daikon is a common preparation. In Southern India, sambar with mooli is common.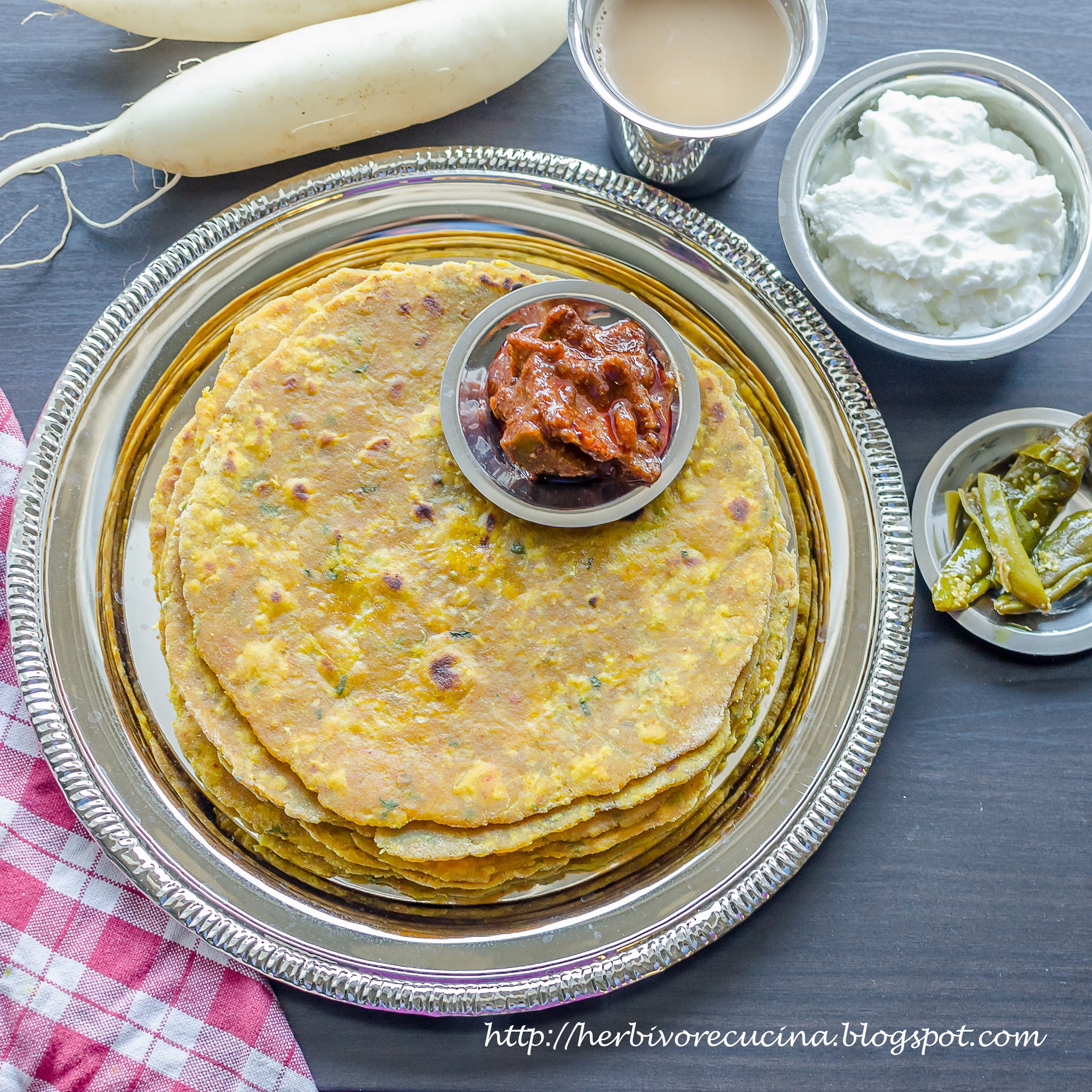 Amongst all the dishes, this mooli paratha is a simple one. Just mix all the ingredients like flour, grated mooli and spices. Make thin discs out of the flour and make parathas. The recipe can easily be changed as per your preferences. I added cilantro and ginger chili paste. Garlic paste gives this paratha a nice flavor but can be omitted if you do not like it in your food. Plus, if you can lay your hands on daikon leaves, adding them along with spinach is a good idea.
These parathas can be made quickly. One can make the dough and refrigerate it. On busy mornings, just roll out the parathas and enjoy with tea, coffee or pickle. For lunch or dinner, the same parathas can be served along with a vegetable, dal, rice, yogurt and pickle. The parathas are perfect to take along for a day trip this summer!




Ingredients
Whole wheat flour 2 cups
Green chilli,garlic and ginger paste 1 tbsp
Mooli/ Radish 2 medium
Cilantro ¼ cup
Red Chilli powder 1 tsp
Turmeric powder ½ tsp
Cumin seeds ½ tsp
Asafoetida a pinch
Salt, Sugar
Oil
Method
Wash and grate the radish in a mixing bowl. Sprinkle salt and let it rest for 10 minutes. Squeeze out all the water from the radish and reserve it. Finely chop cilantro and set aside.
Take the wheat flour in a large mixing bowl. Add the spices, a pinch of salt and sugar and mix well. Add the squeezed radish and cilantro, ginger chilli garlic paste and 2 tablespoon oil. Mix well and using reserved water as required, make a stiff dough. If the dough is soft, it will become too soft to handle in a while. Let the dough rest for 15 minutes.
Divide the dough into lemon sized balls. Take each ball, flatten it and sprinkle dry flour on it. Roll it out into a disc of about 8 inches and ¼ inch thickness. On a tava, put the paratha and let it cook on medium flame till small bubbles appear on it. Turn it over, apply oil on the top side and let it cook. Turn it over once more and apply some oil. Both the sides will be cooked with golden dots on them.
Remove from flame and serve either with sweet and spicy pickle or with yogurt. Enjoy it for breakfast with a cup of Masala Chai or Coffee.