Indian Chikki or brittle made from oats, dry fruits and power seeds. These bars of oats chikki are sweetened using natural honey.

Makar Sankranti, the harvest festival in India and Nepal is celebrated on 14th January every year. This day marks the winter solstice and also the arrival of spring season in the country. Sankranti is celebrated in different ways across the country. While the festival is celebrated as Makar Sankranti in most of the Eastern Indian states, Tamil Nadu has its own version of Pongal on that day. Gujarat on the other hand has Uttarayan and Haryana, Himachal Pradesh and Punjab celebrate Maghi. The neighboring country Nepal celebrates this day as Maghe Sankrant.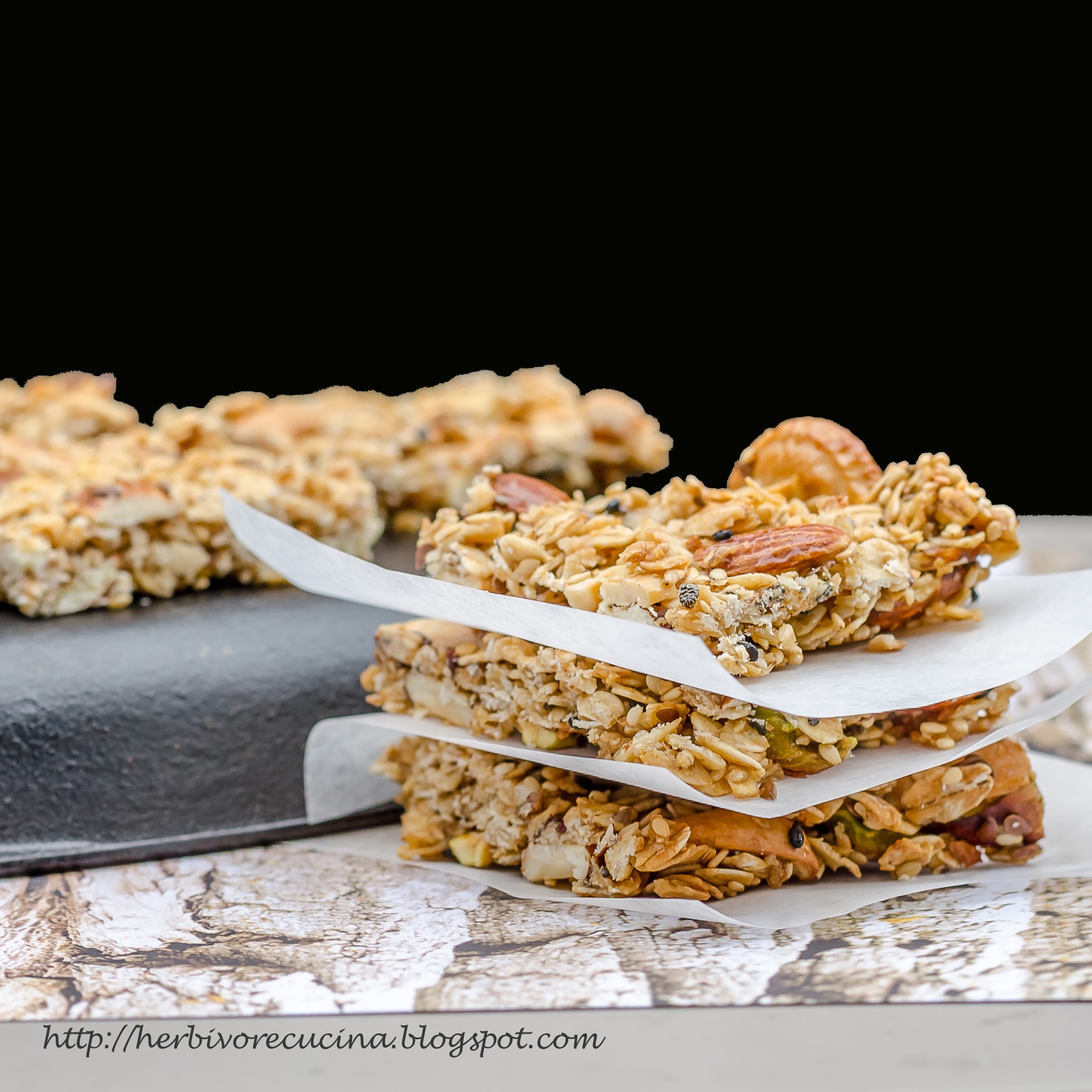 Concentrating on Gujarat, sankranti is celebrated with a combination of kites flying in the sky and preparing different types of chikki. Chikki is a famous Indian sweet generally made from different seeds like sesame, groundnut, dalia or dry fruits and a sweetener like jaggery or sugar. The ingredients are combined and shaped into thin sheets or round ladoos. The logic behind the sweet is to enjoy jaggery in the cold weather, and making the sweets from freshly harvested crop of sesame.
Over the years, chikki has evolved in a great way. If you visit a store selling chikki, you will be amazed to find varieties like strawberry and chocolate chikki. Apart from those, you will get peanut chikki made in different ways from whole peanuts to crushed peanut powder. Coconut chikki is another delicacy made from dried coconut and sugar syrup. Rose chikki is another great sweet that I thoroughly enjoy!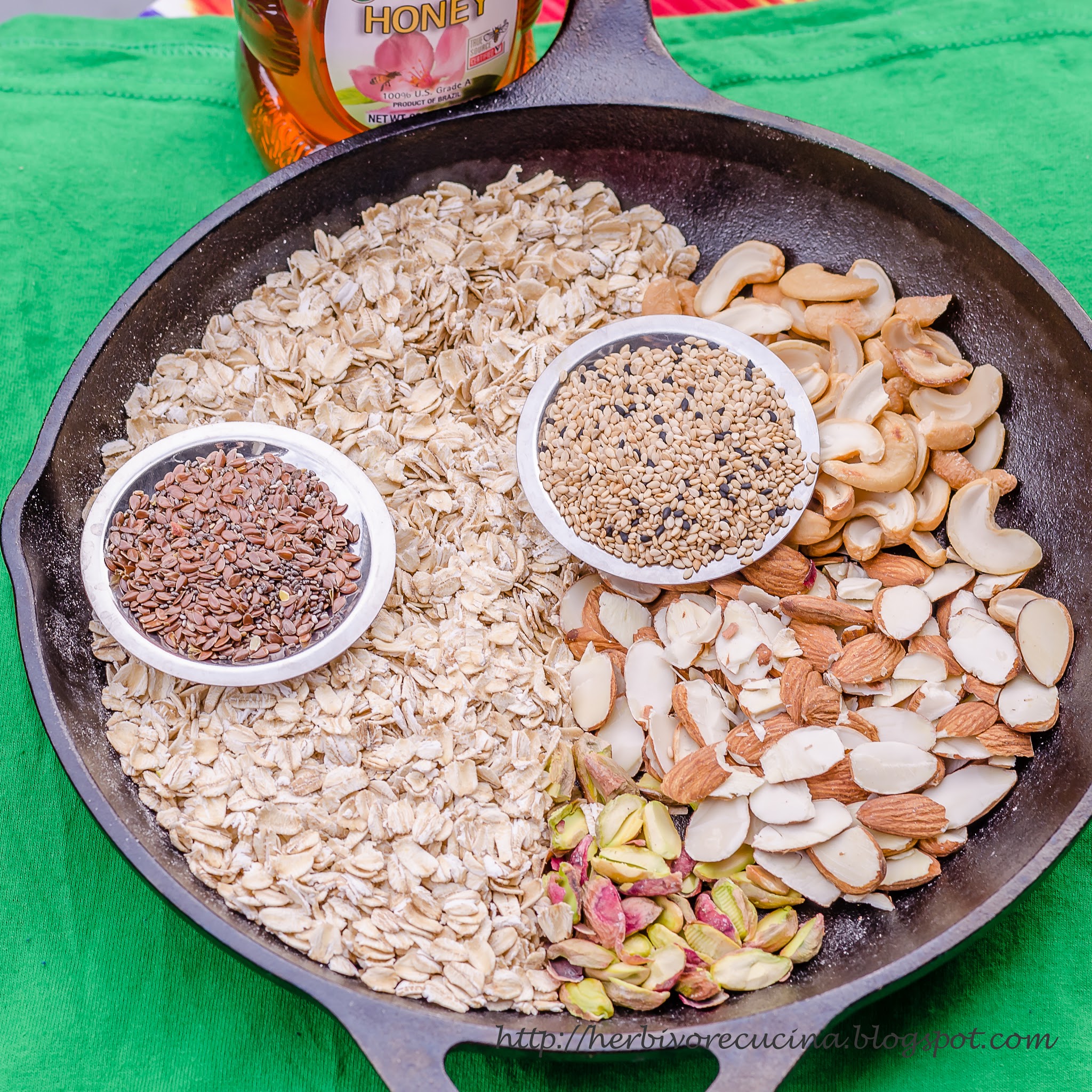 Given all these chikki recipes, here is my healthy version of the sweet. I combined oats, dry fruits and power seeds like black and white sesame, chia and flax seeds in this one. Instead of sugar or jaggery, I used honey; a natural sweetener. The method simply put is to roast the ingredients separately and then combining it with honey. Baking the chikki for half an hour helps to make it nice and crisp. Healthy and tasty chikki with a twist is ready in under an hour. Happy Makar Sankranti to all the readers!
Ingredients
Old fashioned oats 2 cups
Mixed Nuts ¾ cup
Flax Seeds 2 tsp
Chia Seeds 1 tsp
White and Black Sesame seeds 2 tbsp
Cardamom powder ½ tsp
Honey ¾ cup
Clarified butter/ghee 2 tbsp
Method
In a thick bottom pan, dry roast the nuts ( I used Almonds, Cashewnuts and Pistachios). Once roasted, make thin slices of the dry fruits. Set aside. In the same pan roast the oats till they are little crisp. Takes about 4-5 minutes. Remove and roast chia, flax and both the sesame seeds. Mix the oats, dry fruits and seeds in a bowl.
Now in the same pan, add ghee and heat. Add honey and cardamom powder, and heat on low flame till ghee and honey can start flowing. While the honey ghee mixture is heating, preheat oven to 375 F and line a 8*12 cookie pan with parchment paper. Mix the liquid honey and ghee in the dry ingredients and mix it in. Once it is thoroughly mixed, transfer everything to the cookie pan and using a wet spatula spread it in a thin layer.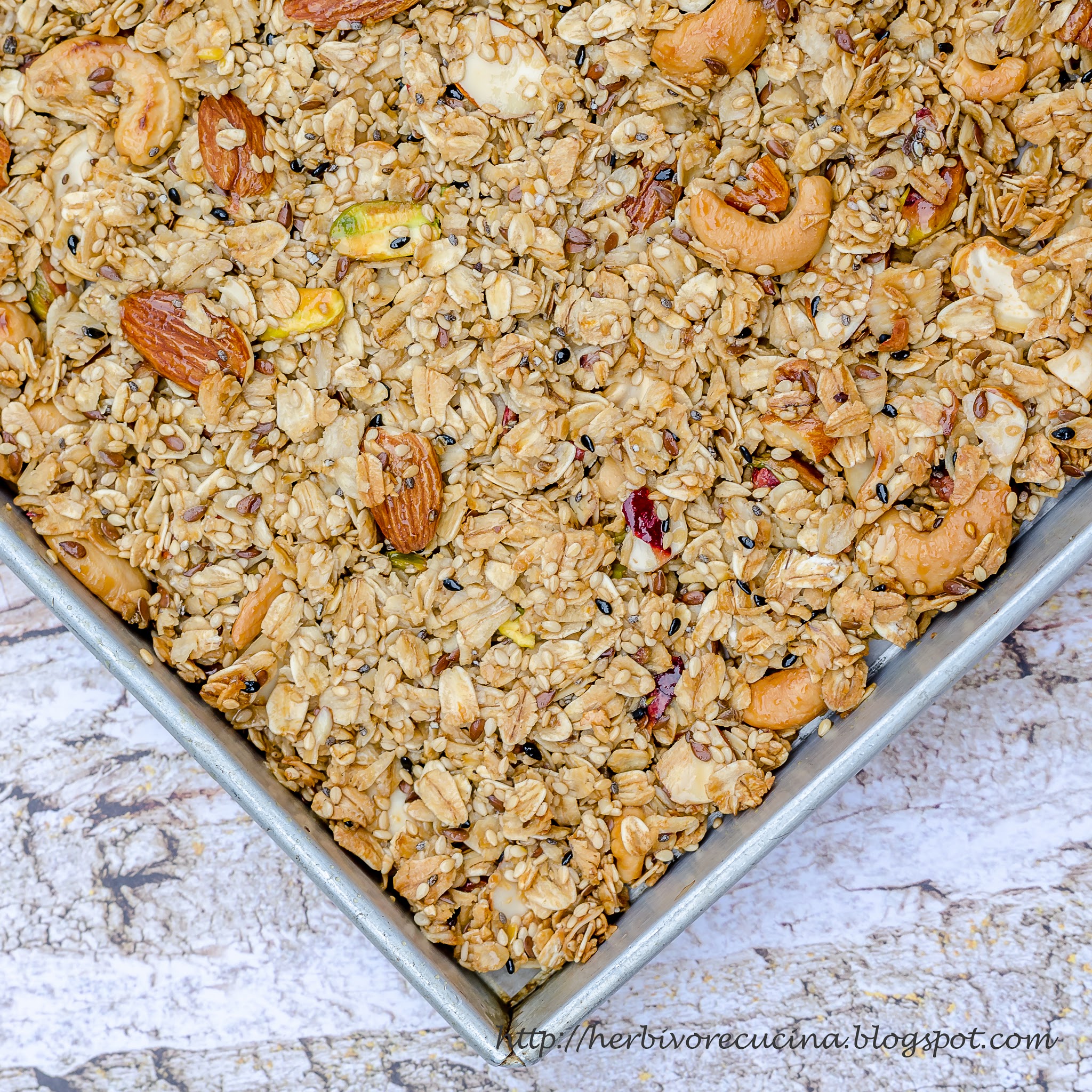 Bake the chikki for 20-25 minutes till the top is golden. Remove and let it cool. Cut it into pieces after it has cooled for at least an hour. Healthy chikki is ready!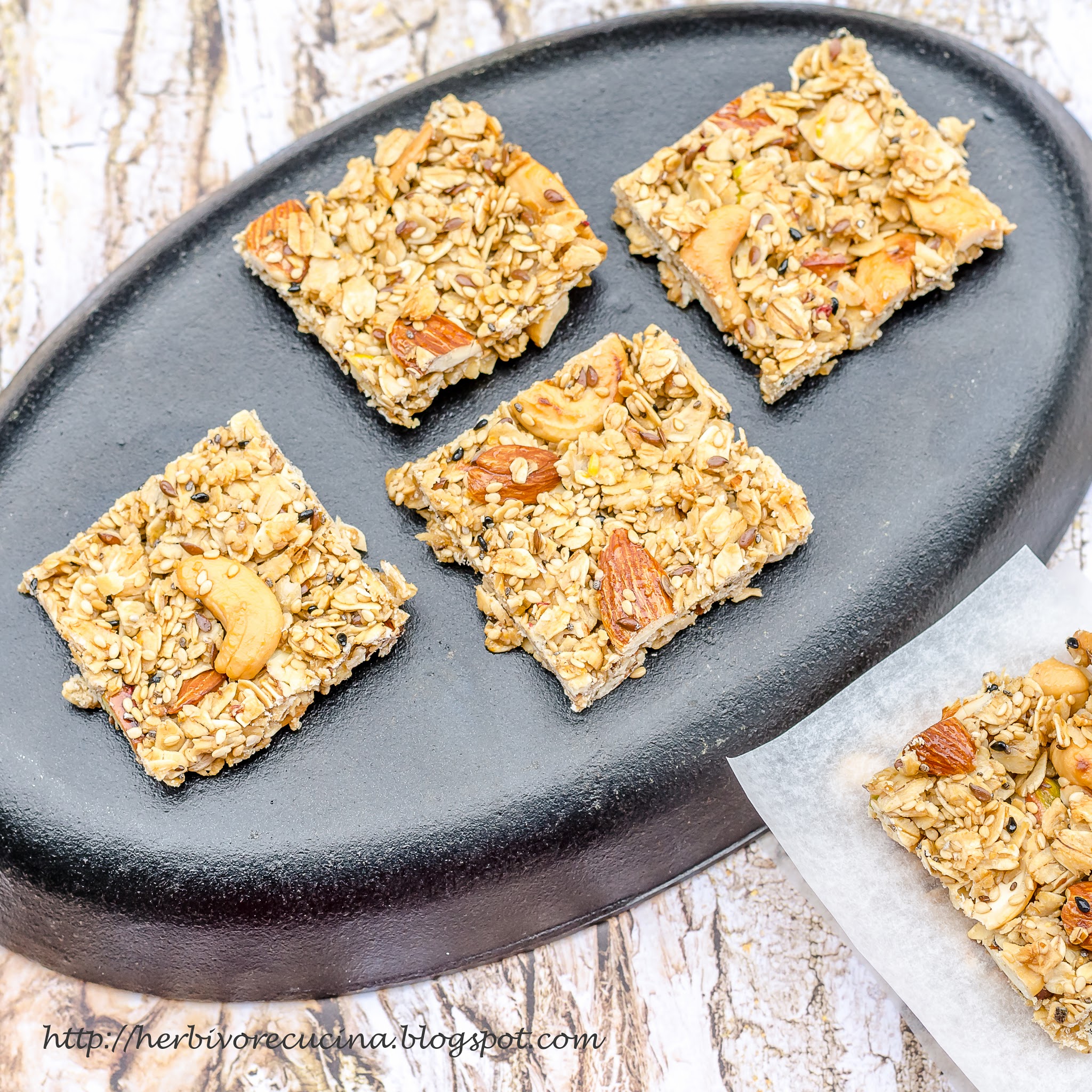 If you would like other chikkis, try these:
Peanut brittles or Shing Chikki here
Til Ladoo or Sesame Brittles
Puffed Rice Brittle or Mamra Chikki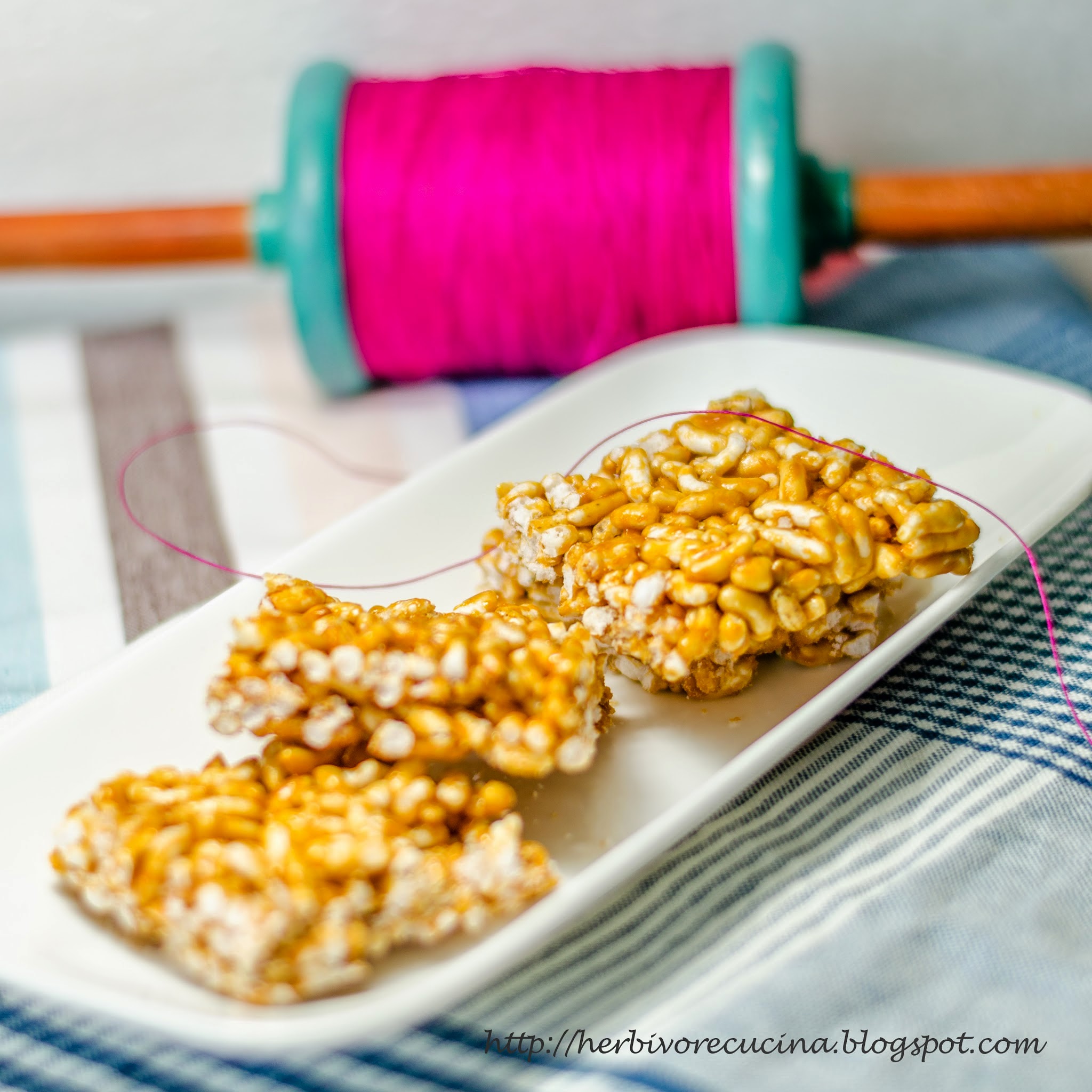 To complete the Sankranti meal, try this Surti Undhiyu too!!