Khichdi, a simple dish made from rice and lentil (dal) is very famous amongst Indians. Every state in India has their own way of making this dish. While Bengal has it's own version of Khichuri, people from Bihar make it with Garam Masala and enjoy it with Potato Bharta and tomato chutney. In the south, this dish takes the version of Bisibelle Bhaat and Pongal.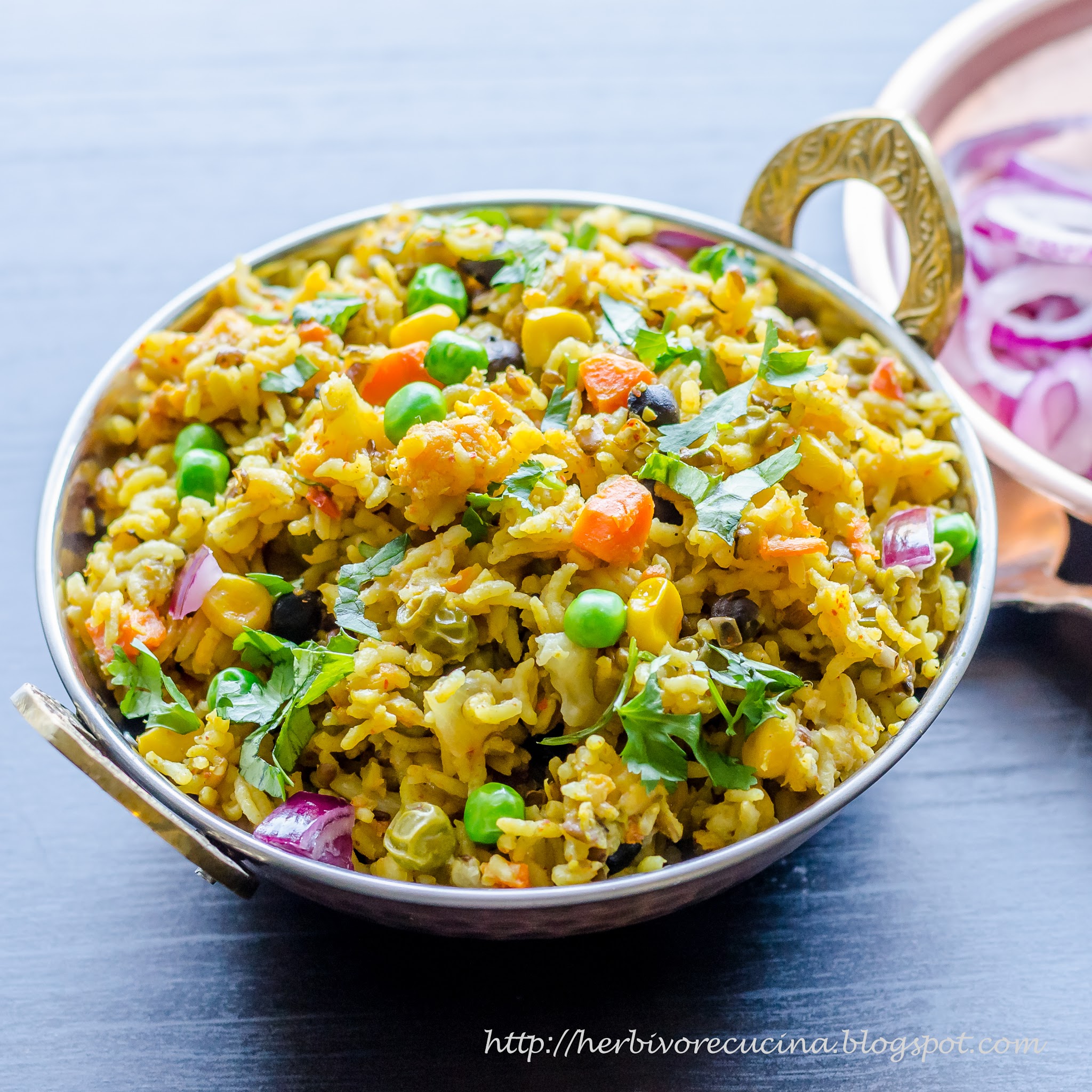 Khichdi is a very popular dish of Suratis in southern Gujarat. It is served with special kadhi and add on dishes such as Surati undhiya and vangan na ravaiya. In Bharuch district, Gujarat, khichdi is rice cooked with turmeric to make it yellow, served mixed with kadhi, a thin sauce made from gram flour, curry leaves, cumin, and mustard seeds and eaten as an evening meal. Khichari is the traditional diet and a daily meal of Kutchi people, and they can make several varieties of dishes using khichari. Khichdi, when well cooked with a little oil, is considered a light and nutritious dish, and is especially popular amongst many who follow an ayurvedic diet or nature cure.
Moving away from the traditional khichdi, we can easily make a one-pot meal by including vegetables in it. This is one such recipe. On days that you are pressed for time or plain lazy, whip up this masala khichdi and enjoy it with yogurt and papad. I make this khichdi very often for quick dinners. Made quickly in the pressure cooker, khichdi is full of good things and healthy ingredients. It is a meal that has everything from rice to dal and vegetables of your choice, all cooked at once in a pressure cooker. I have added moong dal, but you could add any dal of your choice. Also, the vegetables added depends more on the preferences of your family, and the availability in the refrigerator. Just add the things you love, leave the rest and enjoy this one pot meal with your family!
Ingredients
Rice 2 cups
Moong dal 1 cup
Vegetables 1 ½ cup (Carrots, Sweet Corn, French Beans, Potato, Sweet Peas, fresh chickpeas)
Onion ¼ cup
Green Pepper ¼ cup
Tomato ¼ cup
Spices (Cloves 1-2, Black Peppercorns 2-3, Cinnamon 1 inch, Cardamom 2-3, Bay Leaves 1-2)
Curry leaves 2-3
Red Chilli 1 dried
Green chili, garlic ginger paste 2 tsp
Masalas (Cumin seeds 1 tsp, Mustard Seeds 1 tsp, Asafoetida ¼ tsp, Red Chili powder 1 tbsp, turmeric 1 tsp)
Ghee 1 tbsp
Salt, Lime juice
Cilantro
Method


Wash and soak the rice and dal together in about 3 cups water. Dice all the vegetables and set aside. Heat 1 tablespoon ghee in a pressure cooker and add the mustard seeds. Once they pop, add asafoetida, cumin seeds and dry red chilli. Next add all the spices and curry leaves. Add the chili garlic ginger paste and mix well. Once the raw flavor vanishes, add the onion and green pepper and saute till soft.
Add all the vegetables except tomato and mix well. Season with salt and all the masalas. Next, add the soaked dal and rice and finally add the tomatoes. Mix everything one more time, add a cup of water and close the cooker. Cook for 3-4 whistles. Open once cool, add lime juice, garnish with cilantro and serve hot with yogurt, salad and papad.