Rajasthani food is incomplete without Dal Baati; fried wheat flour dumplings served with Panchmel Dal and sweet Choorma. What started as a dish that had a long shelf life, high nutritional value and required less water to prepare in the dessert, now defines the Rajasthani Cuisine!!
The traditional method to make baati is to fry the flour balls in ghee. However, here is a lighter version that tastes just as good; less the calories! Make the baatis of the size you prefer and bake them in a hot oven at 400 F to replicate the tandoor atmosphere. Serve the baatis with Panchmel Dal and Choorma along with some Garlic Chutney to complete the entire Rajasthani meal in minimum calories!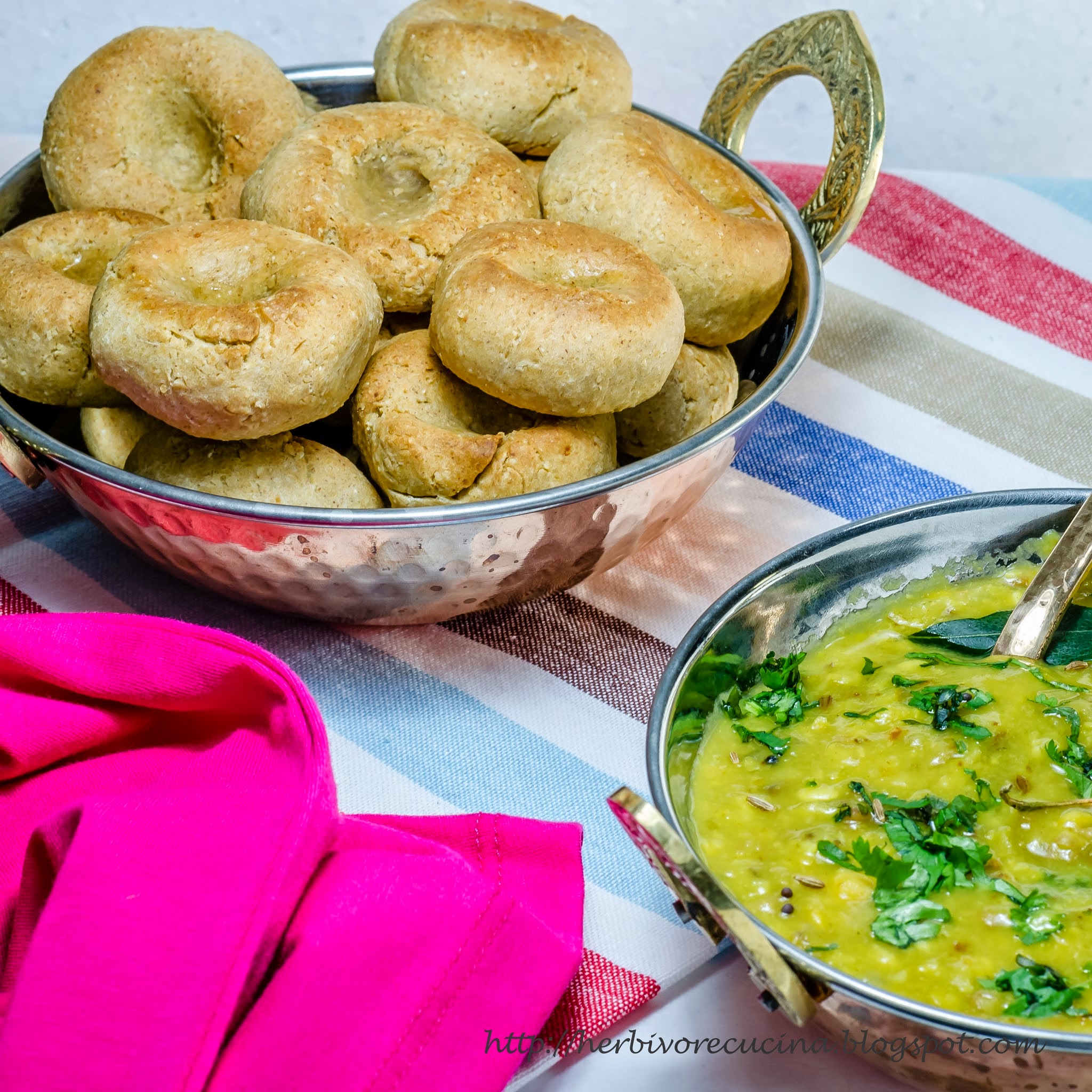 Ingredients
Whole Wheat Flour 3 cups
Semolina ½ cup
Clarified Butter/Ghee ½ cup
Salt 1 tsp
Water
Method
Mix together the flour, semolina and salt in a large mixing bowl. Add the clarified butter and slowly mix it in. Using about a cup of water or as per requirement, knead a firm dough. Do not add excess water else the baatis will become soft. Knead the dough just enough for it to come together and let it rest on the kitchen counter for 20-30 minutes.
Preheat the oven to 400F/ 210 C. Take the dough and make lemon sized balls out of it. The size of the baati is based on how you like it, but ensure that they are all of the same size for even cooking. Roll the dough between your palms to get a smooth ball. Flatten it from one side and press a thumb on the top.
Place the baatis on a baking sheet and bake for 12-15 minutes, till it is light brown. Then turn them over and bake for another 10 minutes till the top is brown. Once the baatis are brown on all sides, remove from oven and brush a little ghee on them.
Baatis can be prepared in advance and stored in an air-tight container. Just before serving, place them in a preheated oven for 5-6 minutes and serve warm. Enjoy these baatis with Panchmel Dal. To eat, break the baati into pieces and add dal on top. You might want to add some melted ghee to make it richer!
The recipe of Panchmel Dal/ Panchkuti Dal is here.