Rajasthani food is incomplete without Dal Baati; fried wheat flour dumplings served with Panchmel Dal and sweet Choorma. What started as a dish that had a long shelf life, high nutritional value and required less water to prepare in the dessert, now defines the Rajasthani Cuisine!!
This Panchmel or Panchkuti Dal gets it name from the combination of five (Panch) dals that go into making it. This dal goes best with Baked or Fried Baati and Choorma, served with a side of Garlic Chutney and Ghee. This dal can also be enjoyed with Roti or Rice if you do not want to make the Baatis. Enjoy the traditional taste of Rajasthan, right in your home!!
Ingredients
Yellow Pigeon Peas/ Arhar Dal ¼ cup
Split Bengal Gram/ Chana Dal ¼ cup
Green Gram/ Moong ¼ cup
Masoor Dal ¼ cup
Split Black Gram/ Udad Dal ¼ cup
Clarified Butter/ Ghee 2 tbsp
Spices ( Bay Leaf, Dry Red Chili)
Condiments ( Mustard seeds, Cumin seeds, Asafoetida, Turmeric powder)
Onion ½ diced
Curry leaves
Ginger 1 inch, grated
Garlic 2-3 cloves, minced
Cilantro
Salt, Lemon Juice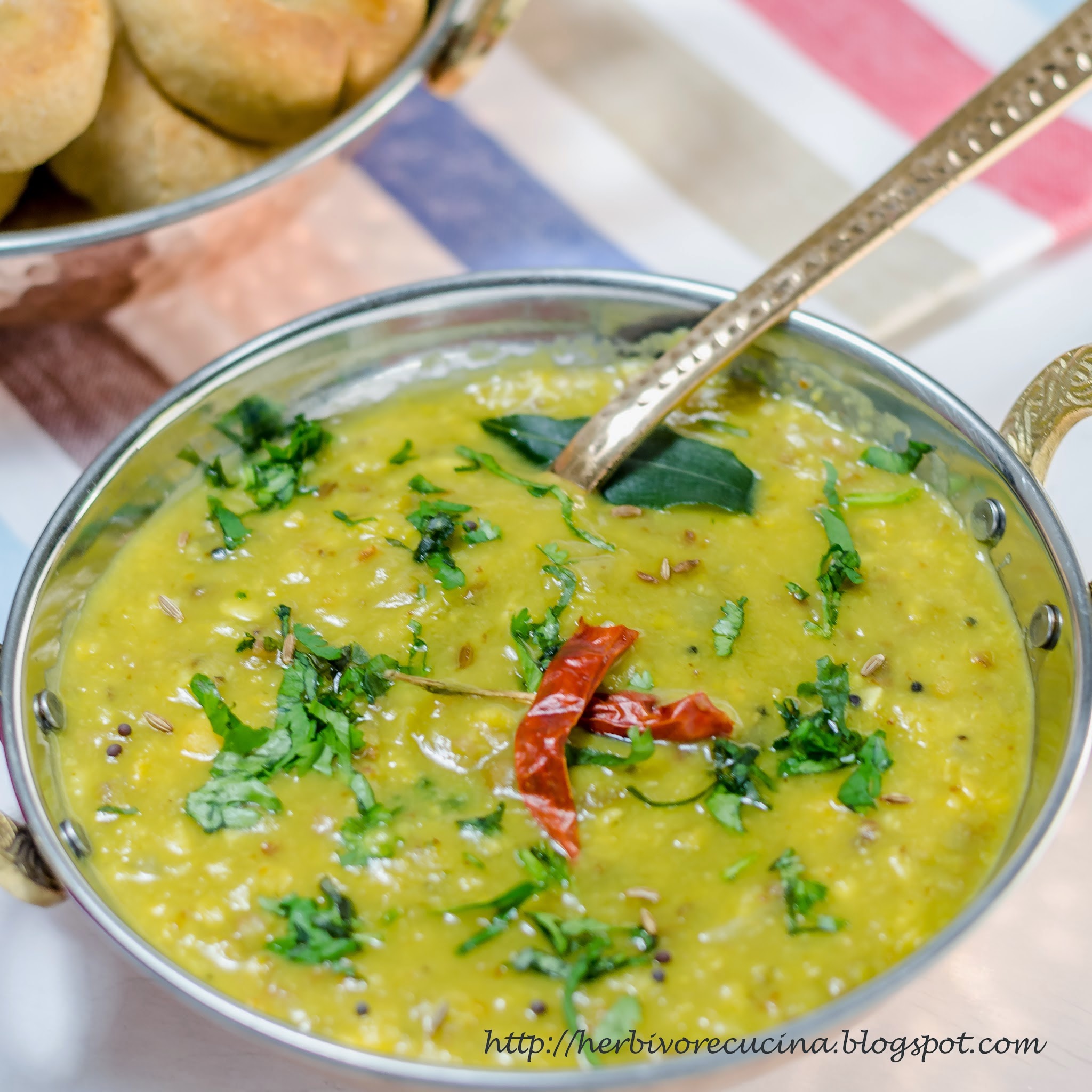 Method
Wash and soak all the dals and moong in 2 cups of water for about 30-45 minutes. Once soaked, pressure cook with a pinch of salt and turmeric powder. Cook till the dals are soft. Crush them lightly with a ladle and set aside.
In a pan heat ghee and add mustard seeds. Once they pop, add cumin seeds and asafoetida. Add Bay leaf, Curry leaves, Ginger, Garlic, red and green chillies and mix well. Next add the onions and saute till they are translucent. Add the dal and moong mixture and blend it all well. Adjust the salt and let the dal boil. Once boiled, turn down the heat and add lemon juice and cilantro.
Serve the Panchmel Dal with Rajasthani Baati. To serve, break the baati into pieces and add Dal to it. You might add some more ghee to make the dish richer.