Rich and creamy Sheer Khurma; an Indian dessert made from milk, vermicelli noodles and nuts. This recipe is easy to make and comes together in under 30 minutes!
Some of the links below are affiliate links, meaning, at no extra cost to you, I will earn a commission if you click through and make a purchase.
Eid is here and I am sharing a recipe that is made to celebrate. Sheer Khurma or Sheer Khorma literally means milk with dates. This sweet is made from whole milk, dates, thin noodles called seviyan and some nuts and flavors.
Though this is associated with Eid, Sheer Khurma the sweet is enjoyed throughout South Asia. It's popular variations are Vermicelli Kheer, Seviyan Kheer and Payasam. I remember eating this on special occasions in my childhood.
Sheer Khurma v/s Seviyan Kheer
For the longest time I have enjoyed a sweet version of milk, roasted vermicelli and nuts. That is the seviyan kheer which comes together quickly, either in a pan or in a pressure cooker.
Sheer Khurma on the other hand has less sugar, dried dates and a couple of other ingredients. Dates make the kheer sweet and slow boiling it makes a thick and creamy version that is delicious and addictive. Plus, there are nuts, raisins and poppy seeds to make it super flavorful.
Another popular sweet dish that is similar to Sheer Khurma is Seviya Payasam. This is made from similar ingredients but without dates. Sometimes jaggery is added as a sweetener to this one.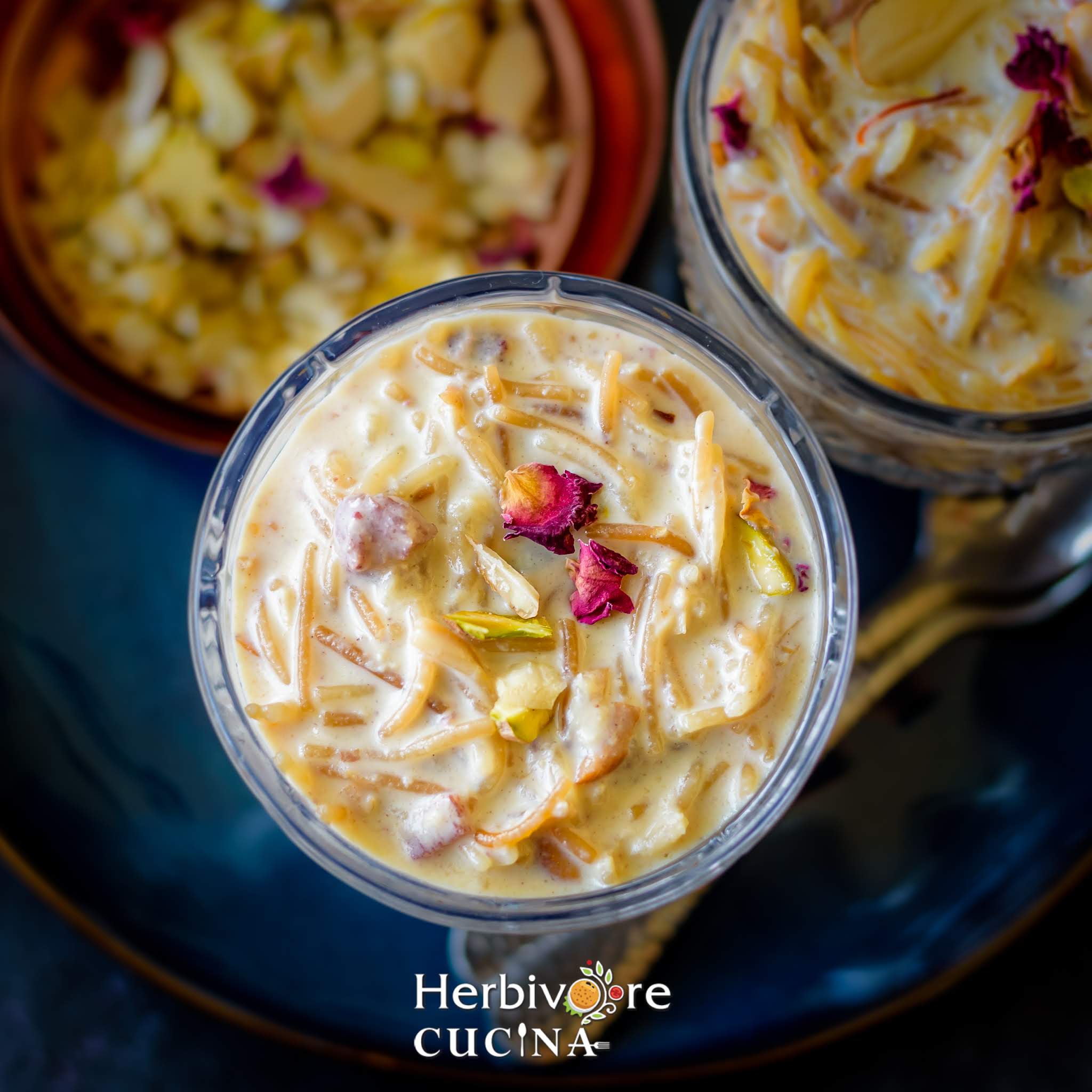 How to make PERFECT Sheer Khurma
This dessert is best enjoyed when it is creamy and the vermicelli melts in the mouth. In order to get it right, I use a few tricks and it works out great every time.
First is to use whole milk. Using 2% or fat free will not yield the same results as whole milk. So try and use whole milk only.
The vermicelli should be roasted just till it is golden brown. If it roasted more, it burns really easily and does not yield great results.
The proportion of milk to vermicelli yields a thick version of the kheer. If you like it thin, increase the milk by ½ cup. Better still, use 4 cups as mentioned below and after the khurma cools completely, add the remaining ½ cup. The noodles tend to absorb milk on cooling and might not remain soupy after a few hours.
Slow cooking the khurma is important so that it thickens and becomes creamy. Plus, the dates have enough time to cook and thicken the khurma further.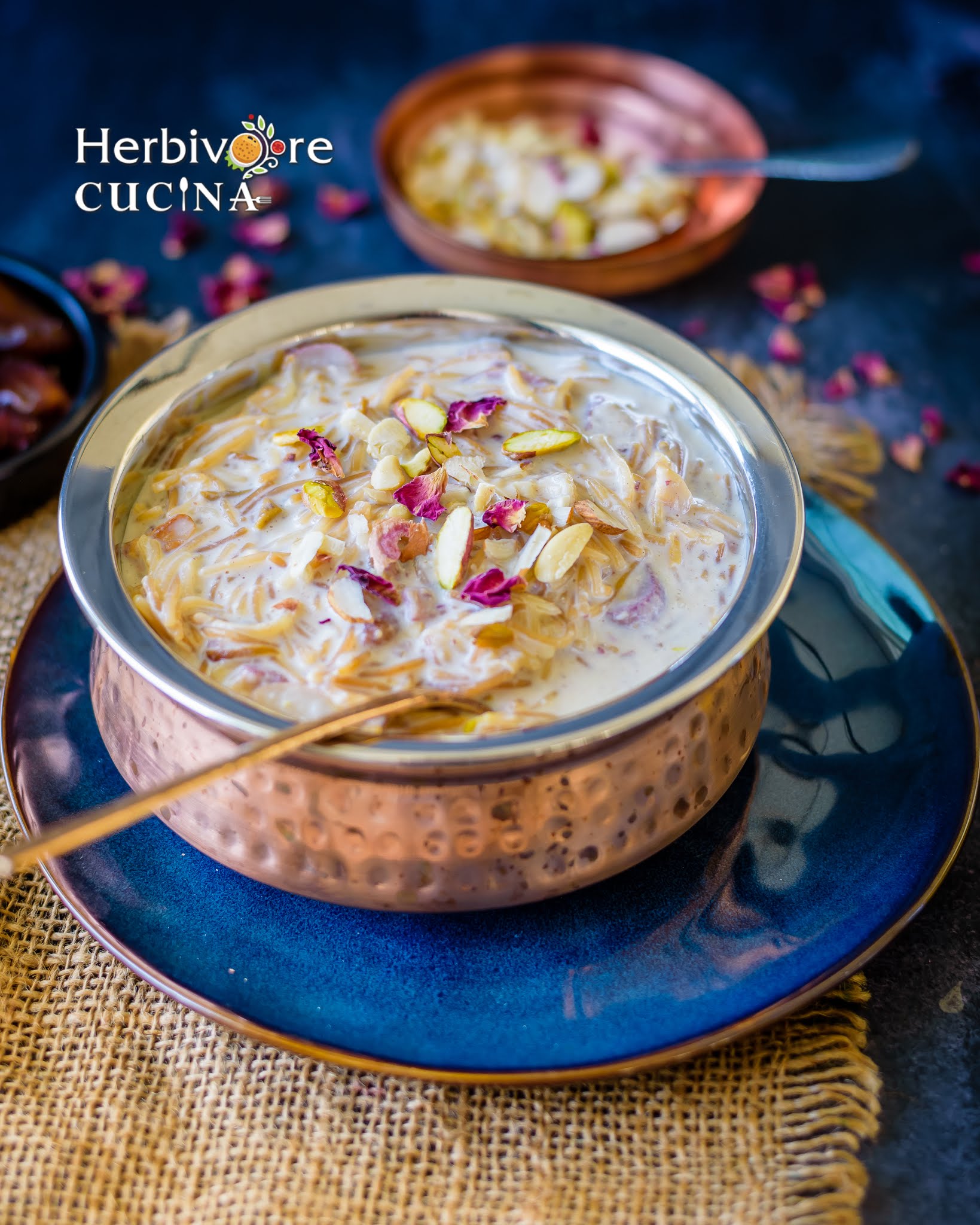 Serving Suggestions
Once the Sheer Khurma is made, it can be enjoyed immediately. It might be a little thin as it is warm. The Khurma thickens as it cools. It can be enjoyed after chilling it for a few hours too.
On the day of Eid, Sheer Khurma is enjoyed for breakfast with the family. It is a delicacy that is savored throughout the day. It can be served as a sweet dish as part of an Indian meal or served as a dessert.
I like to add roasted nuts and rose petals as garnish. Some chopped dates or raisins can be added too. Sprinlle some poppy seeds if you like a crunchy topping on the creamy Khurma.
Love Indian desserts? Try one of these too: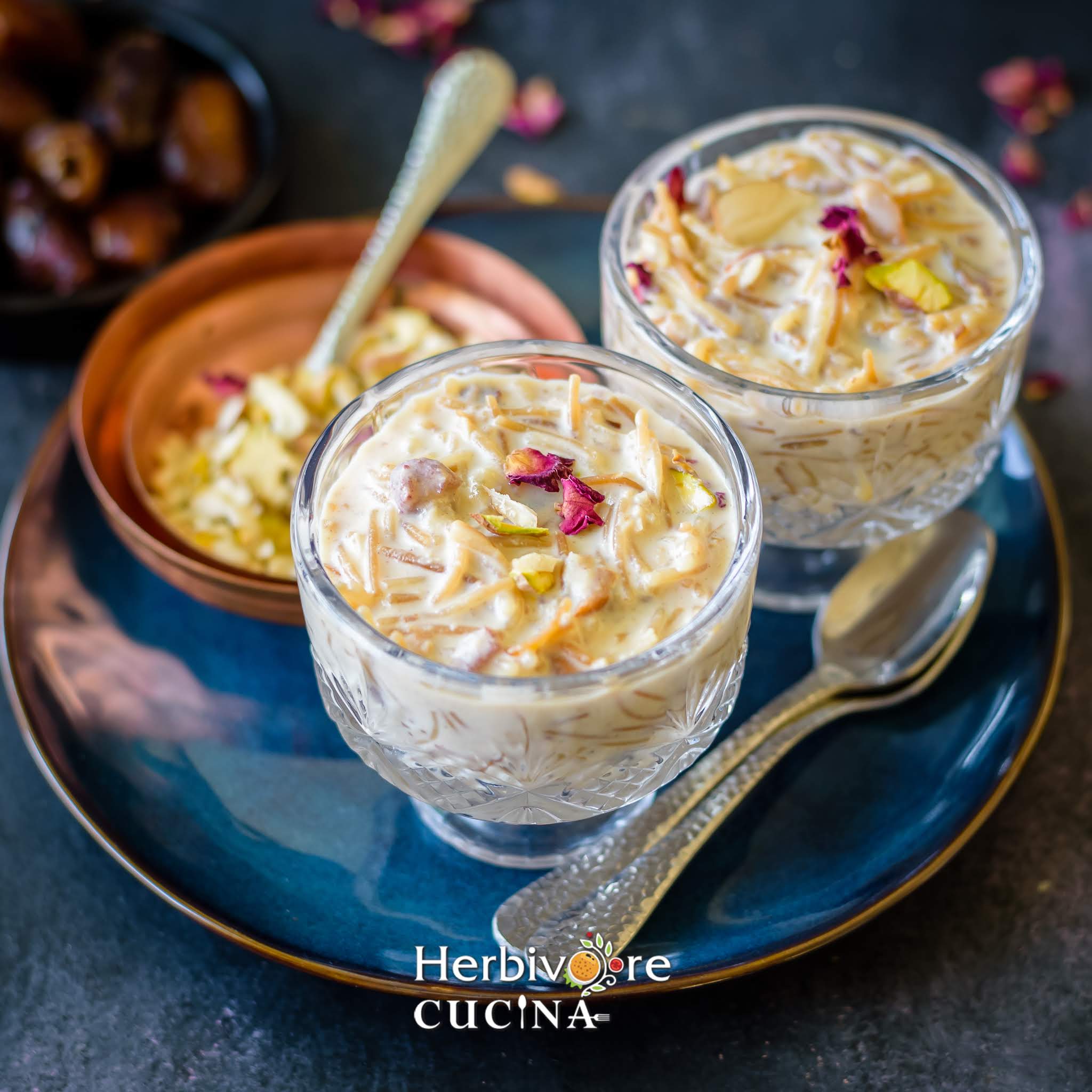 Variations
Every household has their own version of the dessert for Eid. The recipes differ by a few ingredients or method. This is the version I have had for years and may differ slightly from other recipes.
For this recipe I have used vermicelli that is not roasted. If you use the thin version that is pre roasted, skip the roasting step and continue with the recipe.
Adding a small can of evaporated milk helps adds to the creaminess of the khurma. Either that or a few tablespoons of milk powder is a great addition.
I added khus khus/poppy seeds to the recipe. This can be skipped if you cannot find them. This version uses saffron and cardamom. Adding some rose water or vanilla extract is a great idea too.
Ingredients
Vermicelli Noodles ½ cup
Whole Milk 4 cups
Sugar 2-3 tbsp
Dates 6-7 chopped
Almonds 5-6, slivered
Cashews 5-6, slivered
Pistachios 5-6, slivered
Golden Raisins 5-6
Cardamom powder ¼ tsp
Saffron a few strands
Khus Khus/ Poppy seeds ¼ tsp
Ghee 2 tbsp
Dried rose petals to top
Method
In a pan add 1 tablespoon ghee and heat it. Add Vermicelli Noodles and roast for about 5-6 minutes till golden brown. Make sure it does not burn.
Remove the roasted vermicelli from the pan and add the remaining ghee. Add the slivered nuts and raisins. Let the raisins plump up and let the nuts turn golden brown. Add the chopped dates and poppy seeds.
Roast for a minute and add the roasted vermicelli. Then add milk and mix well. Let the vermicelli cook for 7-8 minutes, stirring occasionally. Once the milk comes to a boil and thickens, reduce the flame.
Add saffron, cardamon powder and sugar. Mix well and cook for another 3-4 minutes. Turn down the flame and serve vermicelli immediately or let it chill.
The vermicelli is best served with some more slivered nuts and dried rose petals on top.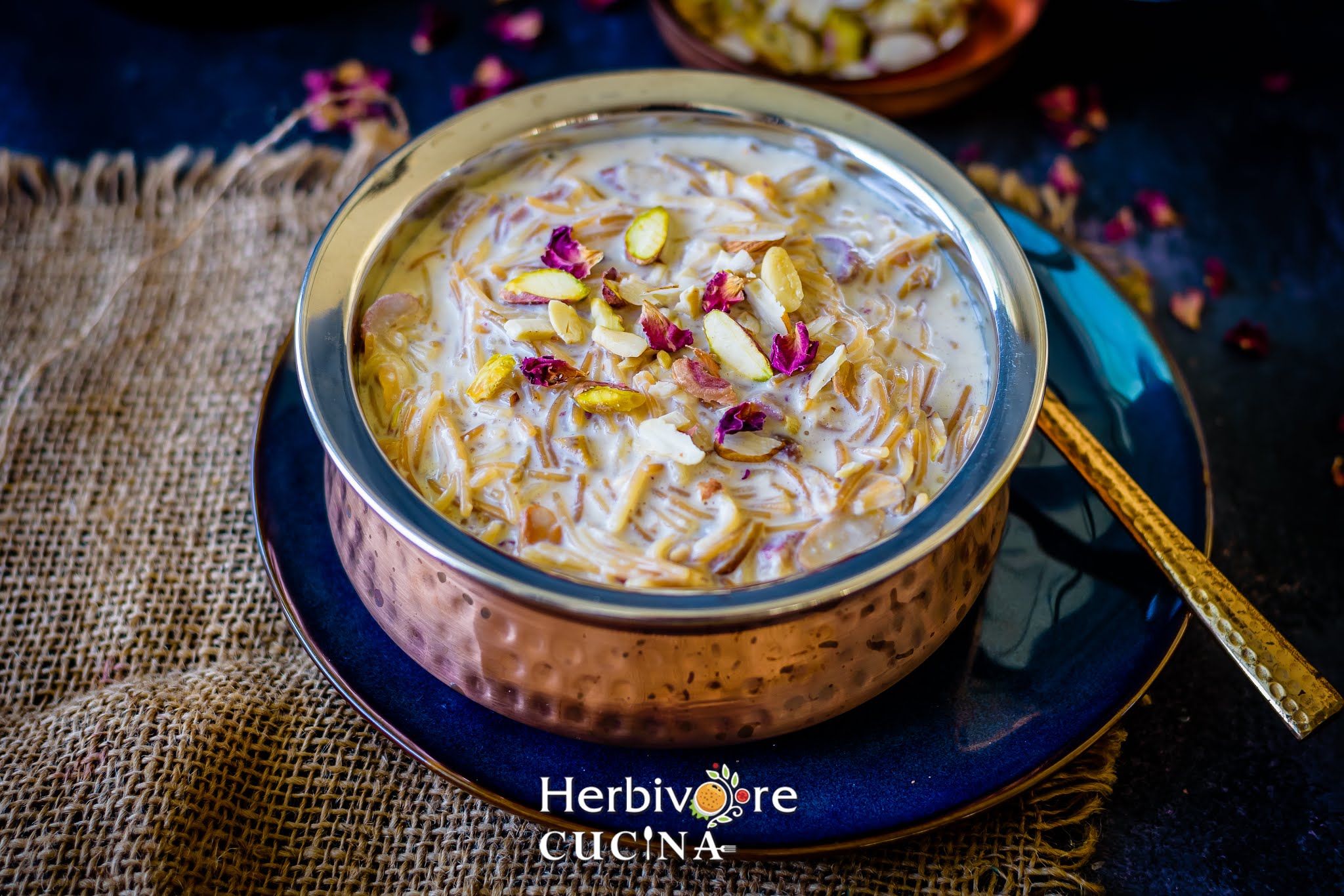 DISCLOSURE: WE ARE A PARTICIPANT IN THE AMAZON SERVICES LLC ASSOCIATES PROGRAM, AN AFFILIATE ADVERTISING PROGRAM DESIGNED TO PROVIDE A MEANS FOR US TO EARN FEES BY LINKING TO AMAZON.COM AND AFFILIATED SITES.