A THREE ingredient TEN minute snack made from dates. These Chocolate Covered Dates are super delicious and healthy!
Ramadan Kareem! The Holy month for Muslims is here and a large number of people are following the fast. This month holds a lot of significance in their religion and it is fascinating to see how they are able to fast all month long.
Through school and college I have had friends who keep the fast and that is where all my knowledge about Ramadan comes from. After a day long fast, they break their fast by dates and then consume other food items.
Dates has been an ingredient I have worked with in several recipes. From a Date sweetened Banana Bread to Sugar-Free Dates Anjeer rolls, I have used dates in other recipes too. The large size dates we get here are super juicy and full of flesh. I love to gobble them as is too, in case of a sudden sweet craving!
Last year we went to UAE and we visited a Dates market in Abu Dhabi. The market was super amazing, with a TON of varieties of Dates in every store and a lot of products made using them. From sweets made with dates to stuffed dates and best of all, stuffed dates covered with chocolate!
We instantly fell in love with this delicacy and bought ourselves a couple of packets. Since then we buy these 'Chocodates' every time we are at Dubai airport, either visiting or for a layover.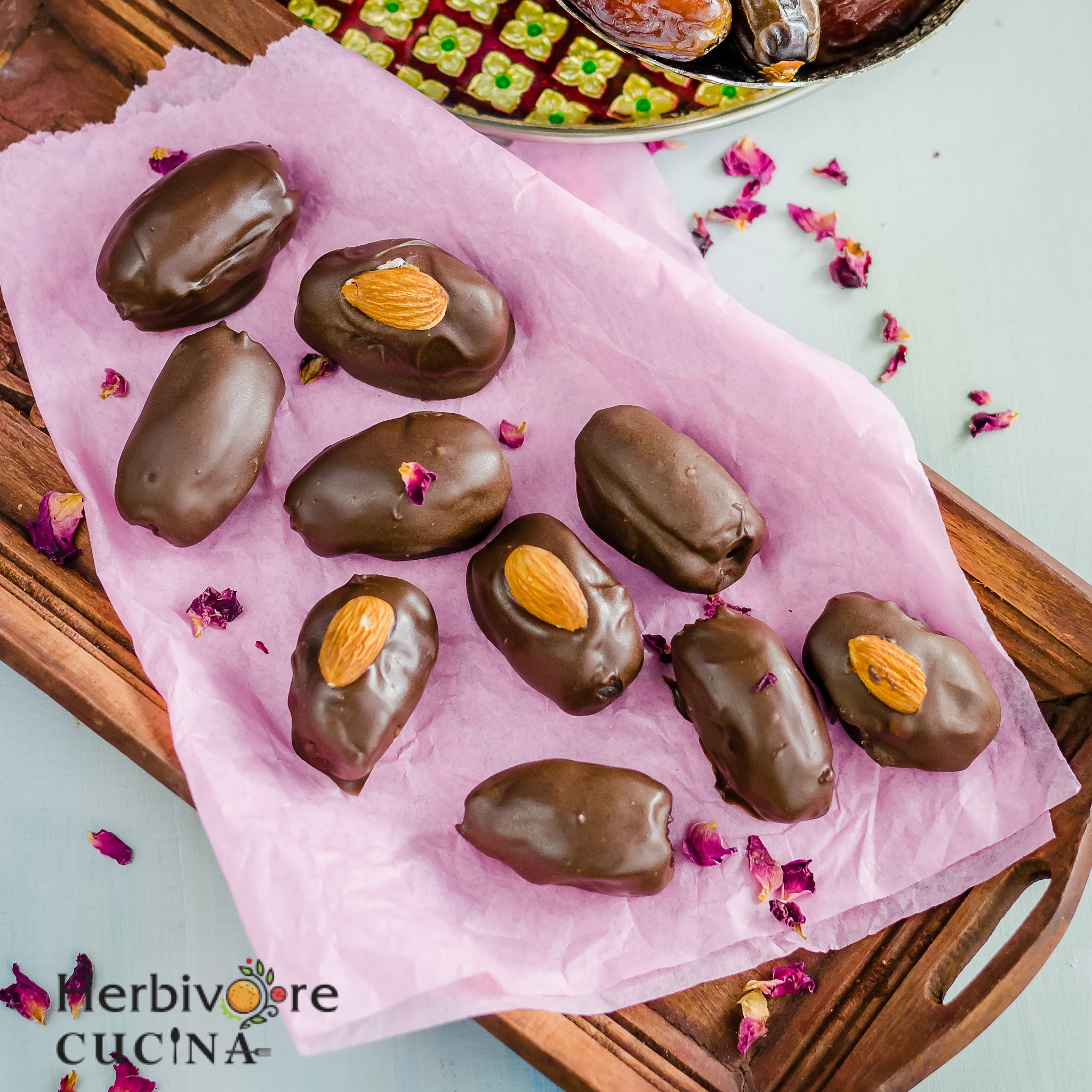 It has been a few months since we have had these dates. I was craving them and managed to find some super large Medjool dates at Costco. That is when I decided to make these at home. It needed just THREE ingredients, dates, almonds and chocolate. This one came together in under 10 minutes! The recipe was unbelievably easy and turned out super delicious.
Not only as a Ramadan recipe, this one works really well throughout the year as a healthy snack or post work-out quick bite! Plus, you can make a bunch in no time and store them at room temperature. So make a BIG lot and have a great time munching them all!
Variations
For this recipe I used the large size Medjool dates I got. However any kind of large dates work really well. Mine had pits that I removed. If yours are pit free, you have one step less to follow!
Besides, I stuffed them with just almonds. Choose your favorite nuts to stuff or even use coconut flakes or chocolate chips. They all taste delicious in the dates.
Lastly, if you like your chocolate butter, choose dark chocolate to make these. If you like a sweeter version, stick to semi-sweet. And yes, add white chocolate if you like your dates to be sweet and white. Decorate with sprinkles, almonds or coconut flakes!
Ingredients
Large Medjool Dates 12-14
Almonds ½ cup
Semi-Sweet Chocolate ½ cup, chopped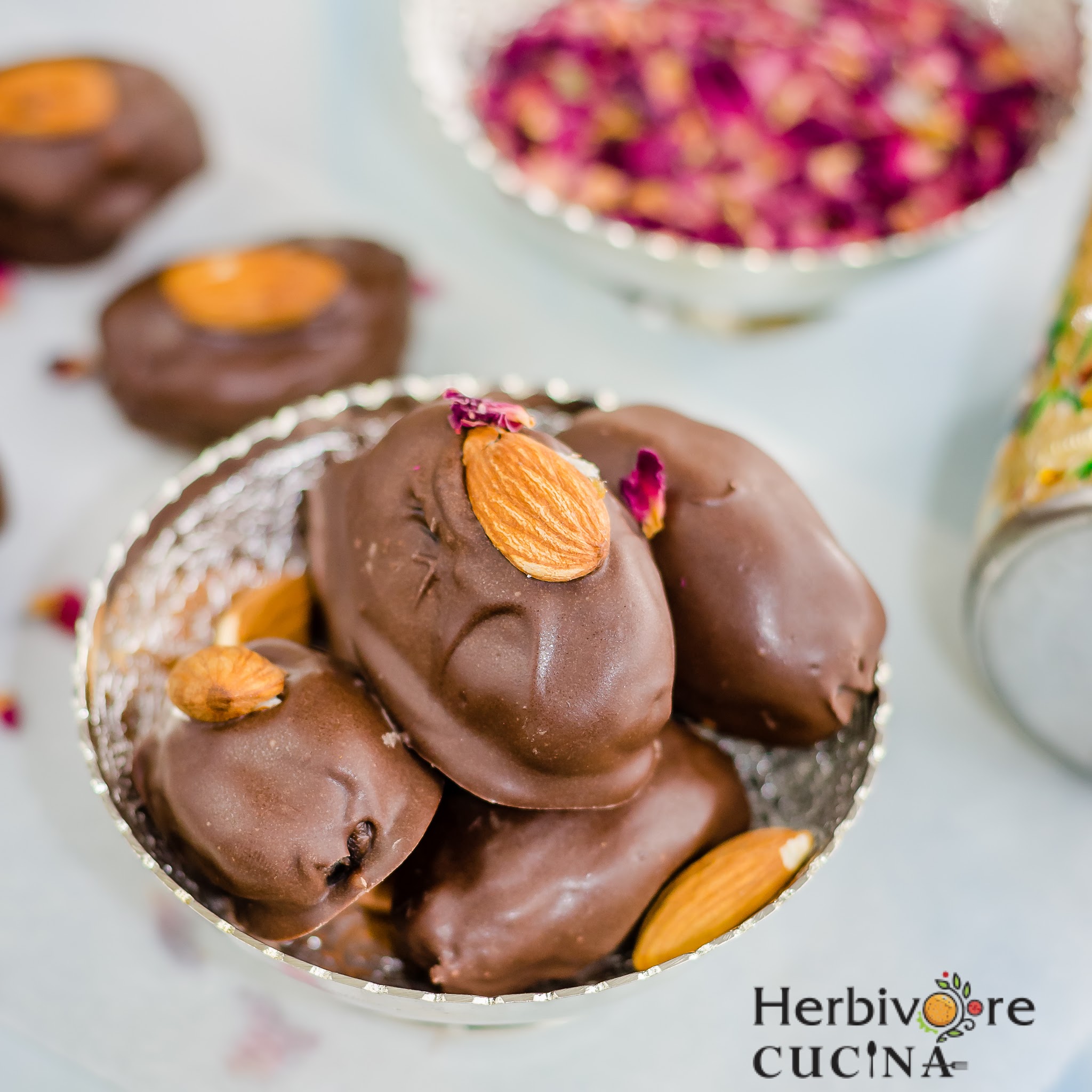 Method
Slit the dates on one side, making sure the halves do not get separated. Remove the pits. Put two almonds in each date, in place of the pit and close the date again, the sides will stick back.
In a large bowl add the chopped chocolate and microwave for 30 seconds. Remove the chocolate, mix well and microwave again for 30 seconds. Remove from microwave and check if the chocolate has melted. If not, heat in increments of 10 seconds, till it is all molten.
Alternatively, use a double boiler to melt the chocolate. Remove from heat, mix with a spoon or spatula. Continue till the chocolate is smooth and shiny.
Line a tray or plate with parchment paper. Using a spoon dip one date into the molten chocolate. Coat well and transfer to the parchment lined tray. Add a sliced almond on top if desired. Repeat for the remaining dates.
Once it is all done, transfer the plate to the refrigerator and let them set for 30 minutes or so. Remove and enjoy! Place the remaining in an airtight container and store at room temperature for 3-4 days.