A Vegan friendly Centerpiece for Thanksgiving, this Gobi Musallam Biryani is a complete meal ready in under 60 minutes!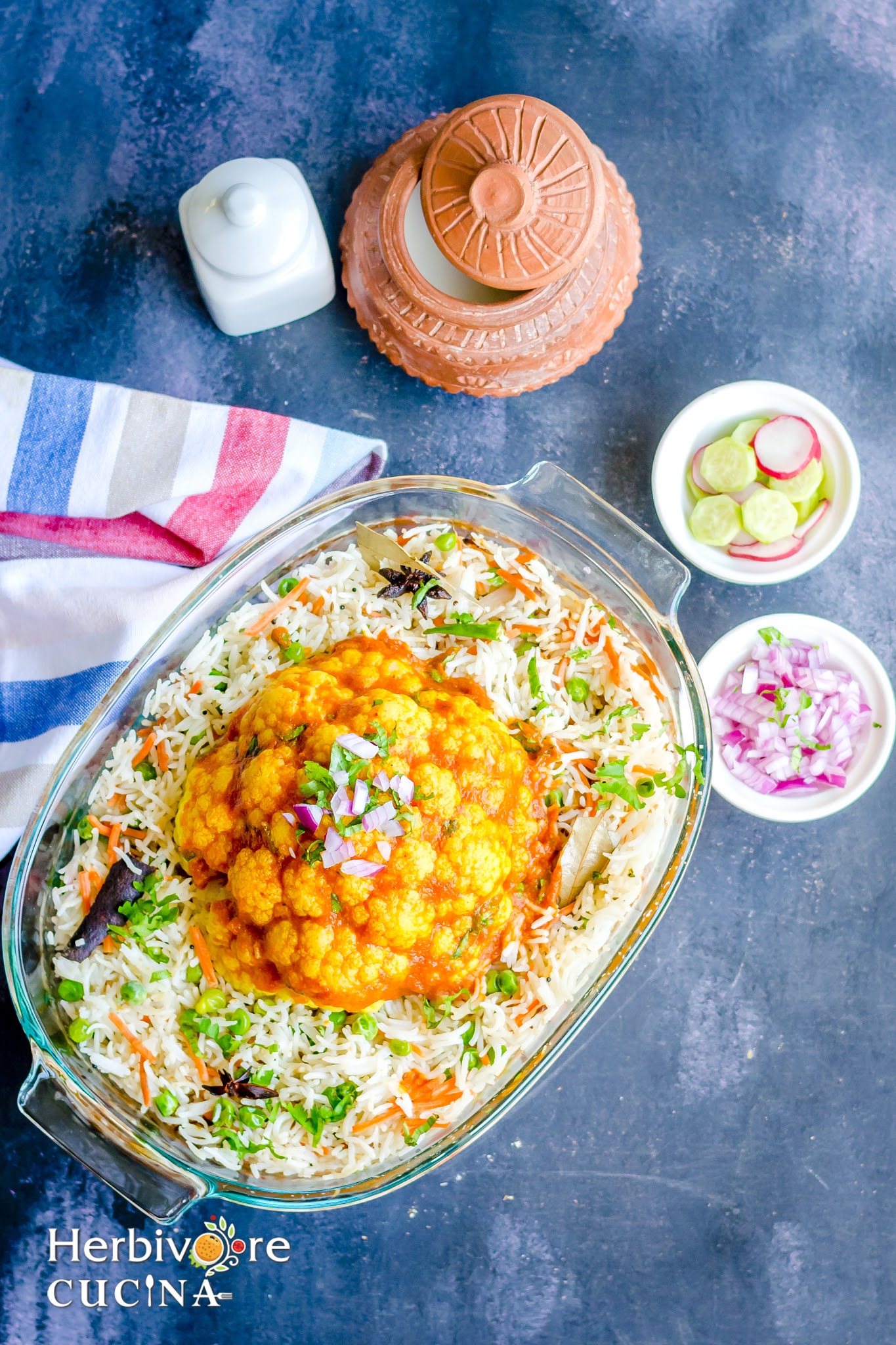 Can you believe it is almost Fall and everyone is getting started with their Pumpkin creations? I have started my train of all things Pumpkin this year with this Super Quick Eggless Pumpkin Bread and have a delicious recipe coming up before this week ends. And while it is pumpkin fever, I am also thinking of some recipe that would be PERFECT for Halloween and Thanksgiving.
Thinking of Thanksgiving, have you imagined a dinner table without turkey? Most meat eaters will strongly deny. However, for vegetarians, there is NO turkey to carve on the Holiday table. However, we now have options; like this Gobi Musallam and Indian Spiced Whole Roasted Cauliflower.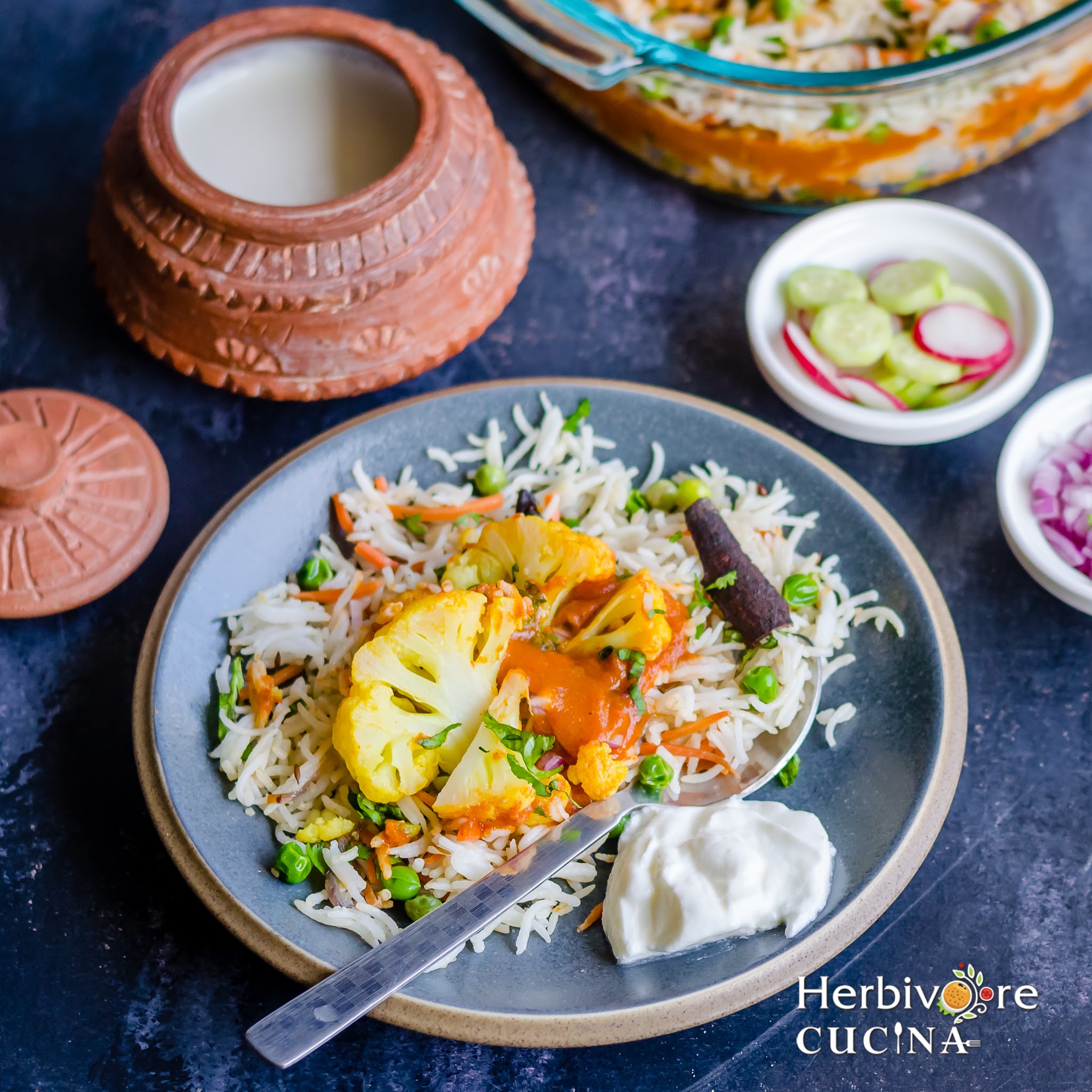 I made these cauliflower based Thanksgiving centerpieces last year. This Thanksgiving I am planning to make a Vegan version of the same. Plus while the earlier versions were baked, this is a rather quick version and needs no baking. You can actually make the entire dish in under an hour! Who knew Thanksgiving dishes could actually be SO EASY and QUICK to make?
Plus, this dish is actually a complete meal; vegetable, sauce and a bed of rice! You really do not need any other dish, I would make just this for Thanksgiving and enjoy to my heart's content! And yes, this one is Vegan. No butter, no milk, cream or ghee. All this one has is vegetables, spices, rice and a wee bit of oil!
I made this a few days ago and I can't wait to make this again for Thanksgiving. Now that I have three versions of a Cauliflower centerpiece, I have to pick and choose which one I will make each year.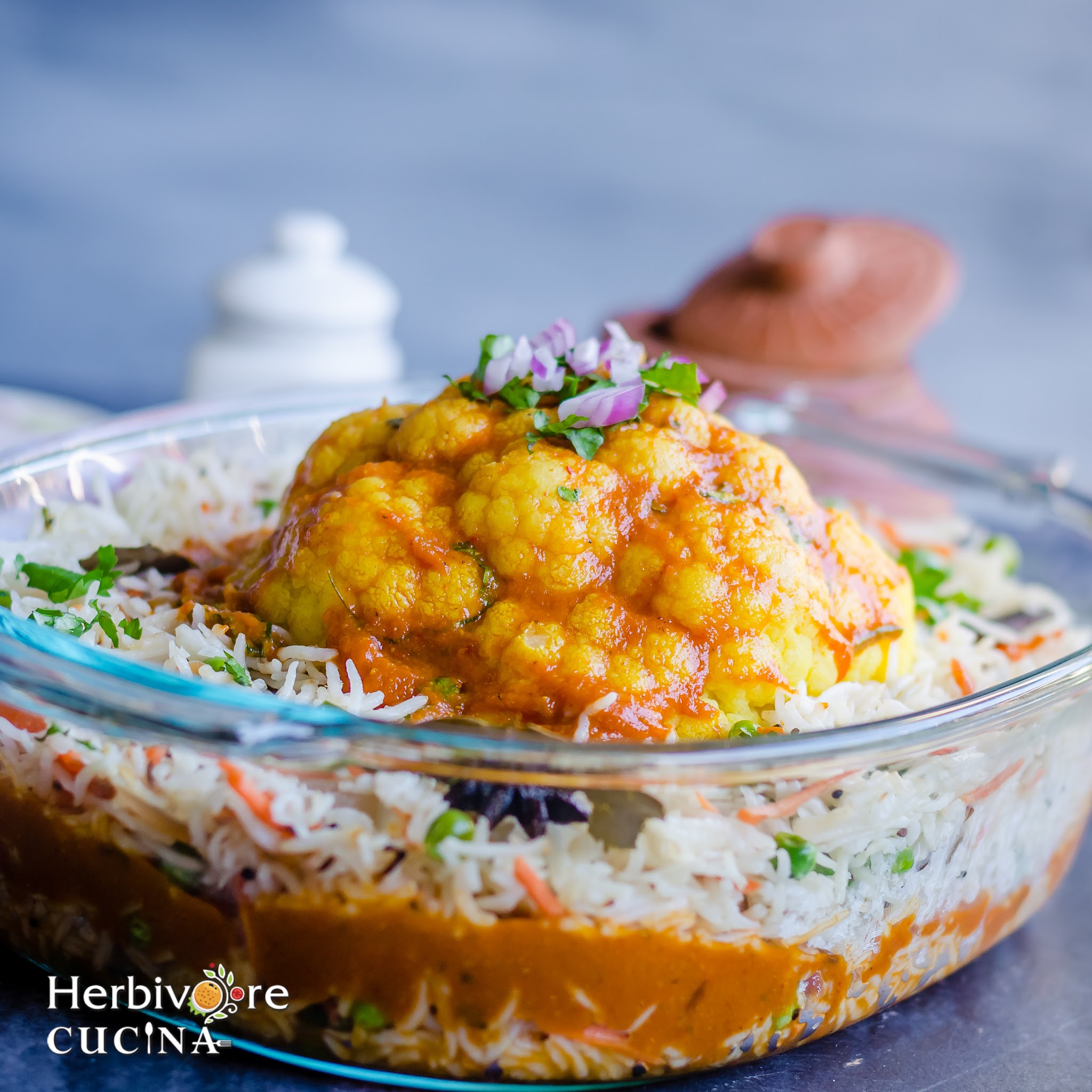 Why Cauliflower?


Wondering why cauliflower is the chosen one to replace Turkey on the dinner table? I would say it is because of how versatile it is to absorb flavors and it's size. The big mighty vegetable is awesome to 'carve'; each one gets to choose how big a piece they want and the amount of curry they would want.
And yes, it is a rather pretty setup seeing the cauliflower set with all the red tomato based curry on top. I LOVE how the table looks with everything Thanksgiving!
While we get good quality cauliflower in US year round, I remember how we used to get the BEST cauliflower in India in winters only. They are in season around Thanksgiving and they make a perfect candidate to whip up a Holiday dinner recipe!
Variations


I made a medium spicy curry and cauliflower and set it on a bed of non-spicy rice. If you prefer a super spicy version, spice up the rice as well. Adding some Biryani Masala or some chilli garlic paste should work well.
This recipe is a Vegan one. However, if you prefer a super creamy version, substitute the coconut milk with fresh cream. It not only makes the curry rich, it also makes it super delicious! Not a fan of coconut milk but want a vegan version? Soak ¼ cup cashewnuts in water for 12-15 minutes and purée. Add that to thicken the gravy well.
The same recipe can be used to serve alongside naan too. It makes a great curry for dipping. Also, if you like quinoa, serve the curry on a bed of quinoa.


Pin for later



Ingredients
For the Cauliflower
Cauliflower 1 medium head
Garlic 1-2 cloves
Ginger 1 inch piece
Onion ½ medium
Tomatoes 3 medium
Red Chilli Powder 1 ½ tsp
Turmeric Powder 1 tsp
Garam Powder 1 tsp
Kasoori Methi 1 tbsp
Salt 1 tsp
Sugar 1 pinch
Coconut Milk ¼ cup
Oil 2 tsp
Cilantro to top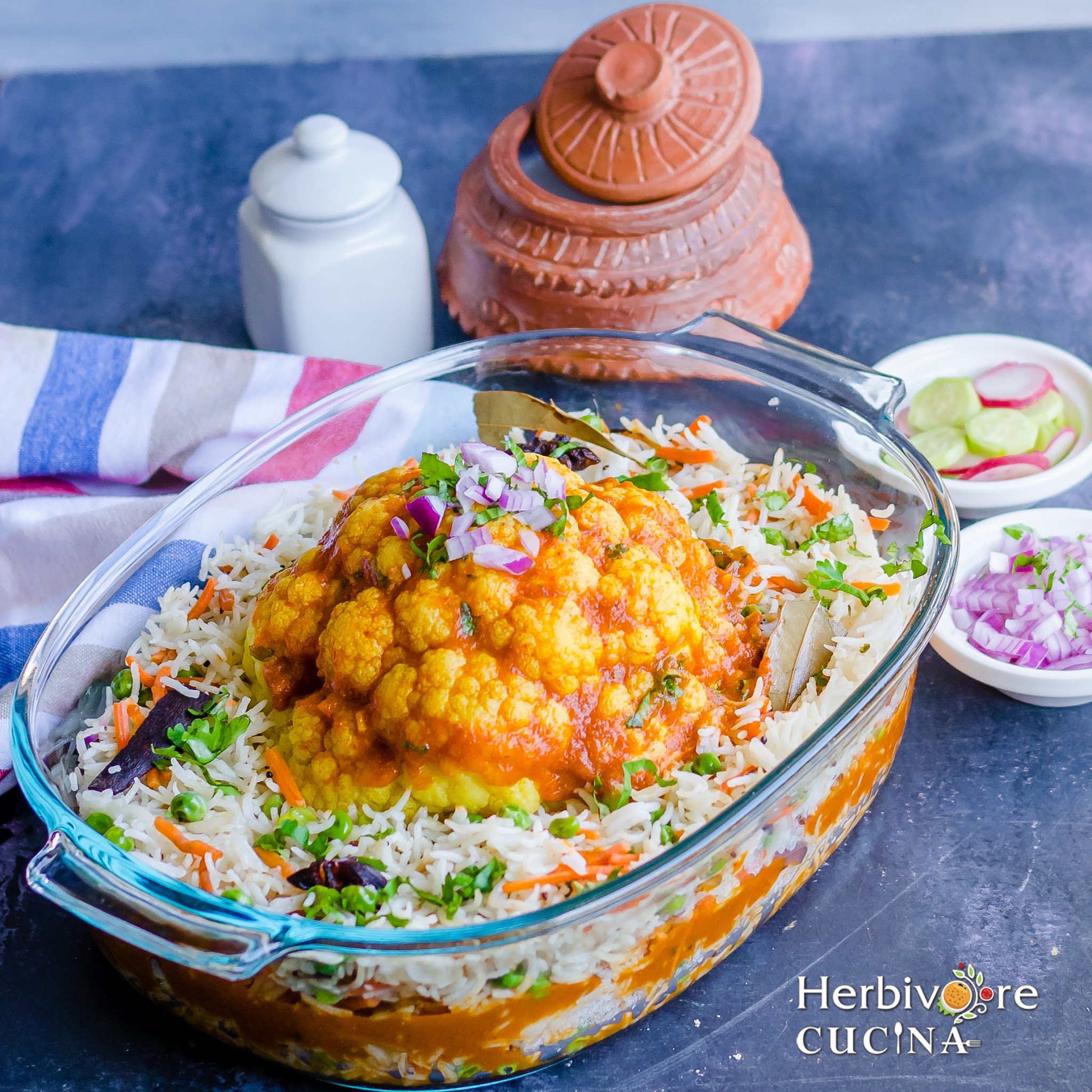 For the Rice
Basmati/ any long rice 1 ½ cup
Carrot 1 medium
Green Peas ¼ cup
Onion ½ medium
Green Chilli 1 medium
Cinnamon 1-2 pieces
Star Anise 1-2
Bay Leaves 2-3
Cloves 2-3
Salt 1 tsp
Oil 1 tsp
Method
Wash and soak the rice in 2 ½ cups of water for 30 minutes to an hour. Once soaked, add in chopped carrots, green peas, cinnamon sticks, star anise, cloves and salt. Mix well and cook open till the water is absorbed and the rice cooks.
In a small pan heat oil, add slit green chilli and bay leaves. Once the chilli pops, add onions and sauté till they are soft. Once they cook, add them to the rice and mix well.
To start preparing the cauliflower, remove the leaves from it and chop the stem so that it stands upright. Wash in water to clean it completely.
In a deep pot or base of the pressure cooker heat 4-5 cups of water. Add salt and a pinch of turmeric powder. Once the water starts to boil, place the cauliflower upside down in the pot. Cook for 5-6 minutes, till a fork easily pierces through the florets. Remove and drain. Set aside.
In a pan heat 2 teaspoon oil and add chopped garlic and ginger. Sauté till the raw flavor vanishes and add chopped onions. Cook till tender and add in chopped tomatoes. Also add in red chilli powder, turmeric powder and garam masala.
Sauté for a few minutes and add ½ cup water. Cook till the tomatoes are soft and turn down the flame. Process in a blender to a smooth paste. Sieve and set aside.
In a pan add the tomato gravy, kasoori methi, salt and sugar. Taste test and add what is required. Add the coconut milk, stir and cook for a few minutes. Turn down the flame.
In a deep casserole dish or bowl add ½ the rice. Then sprinkle some cilantro and add ¼ gravy. Layer the remaining rice and leave a small gap in the middle. Put the cauliflower in the center and pour the remaining gravy on top. Add some more cilantro and serve.
You may make this beforehand and let the rice soak in the gravy. When ready to serve, heat in the microwave for 2-3 minutes. I served it with yogurt, Vegans can use yogurt alternative.
Looking for more Vegetarian Thanksgiving dishes? Try one of these delicious Cauliflower based dishes: Gobi Musallam and Indian Spiced Whole Roasted Cauliflower.