Today is the 22nd day in the Blogging Marathon, and as you know, I am exploring the cuisine from the state of Tamil Nadu this week. For the letter V, the simplest choice would obviously be anything that starts from Vegetable. Coming to Tamil Nadu, I am beginning with an almost clean slate as I hardly have anything from the state on my blog. So the options were plenty; Vegetable Korma, Salna, Pulao and so on. But I decided to pick a recipe whose ingredient begins with V. So the obvious choice was Vermicelli.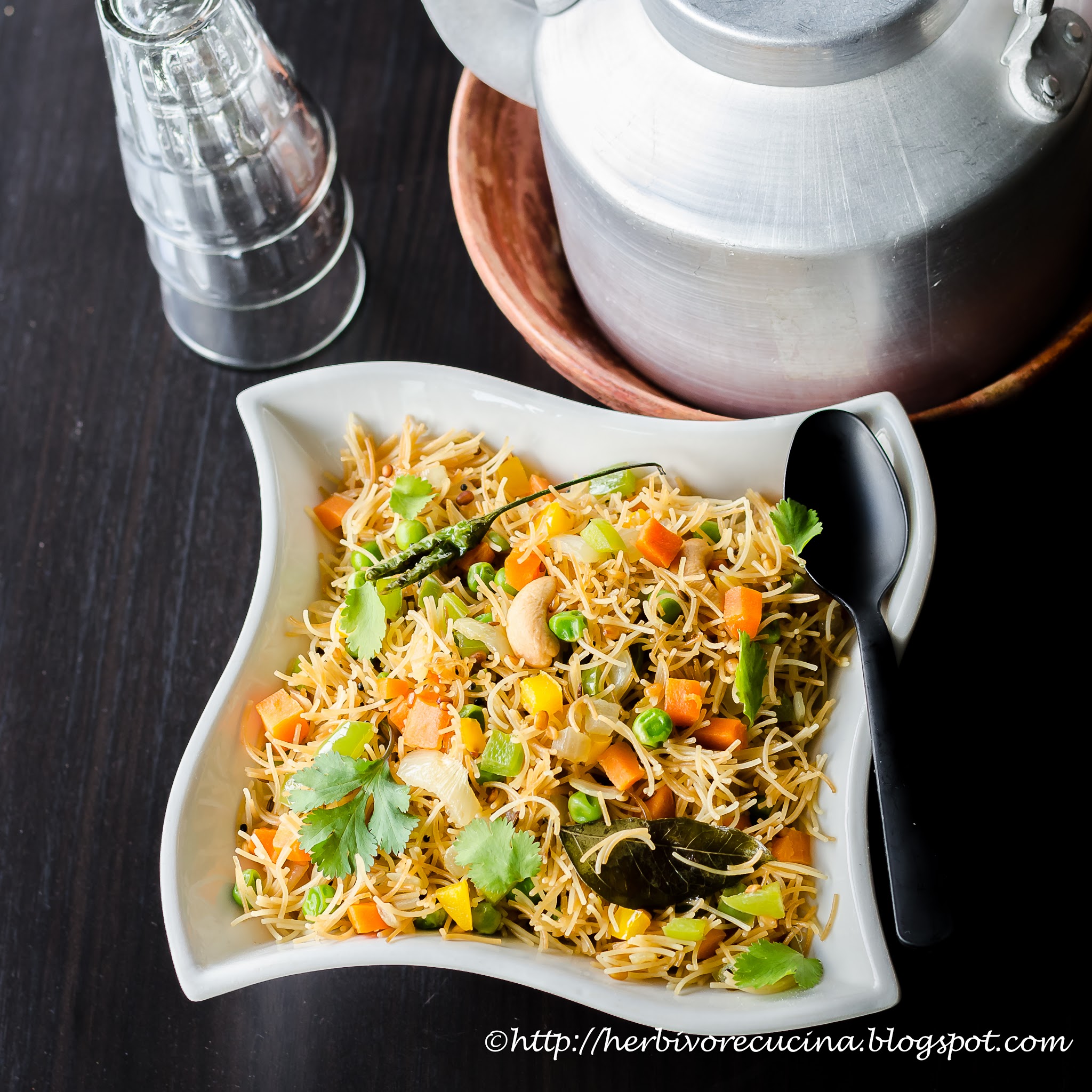 For a family that enjoys hot breakfast each day, it is sometimes tedious to think of a new item each day. While poha, upma, dhokla etc are pretty common in Gujarati households, it sometimes gets quite boring. That is exactly when we start exploring other cuisines and look for ideas. Vermicelli Upma is one such dish; borrowed from Tamil Nadu but commonly made in our house. Reasons are plenty: the dish is similar to the upma that we are fans of, the ingredients are easily available as Gujaratis love their Sweet Vermicelli and because it is pretty quick to make.
So coming to the dish, I looked up various sites for an 'authentic' recipe from the Southern state, but found that all the recipes differ from one another; only in terms of the vegetables added. The method to cook the vermicelli is pretty straightforward, one can follow it from the back of the packet and the spices are pretty similar to the ones used in rava upma. And so I decided to just make the dish the way my mom made it and added vegetables as per the picture on the packet of bambino vermicelli!
The recipe has two parts to it; first cooking the vermicelli and then adding it to the spices and vegetables. The entire process does not take too long, making this perfect for breakfast or evening snack. While I added onion, peppers, carrots and peas; one can add other vegetables like french beans to the upma too. I like to have it with chai, people sometimes prefer having it with coconut chutney too. The choice is completely yours.
Ingredients
Whole Wheat Vermicelli 1 ½ cups
Onion 1 medium
Green and Yellow Peppers 1 each
Peas and carrots ½ cup
Mustard seeds 1 tsp
Cumin Seed 1 tsp
Green Chilli 1-2
Curry leaves a few
Cashewnuts 2-3
Urad dal 1 tsp
Oil 2 tbsp
Salt, Lemon Juice
Cilantro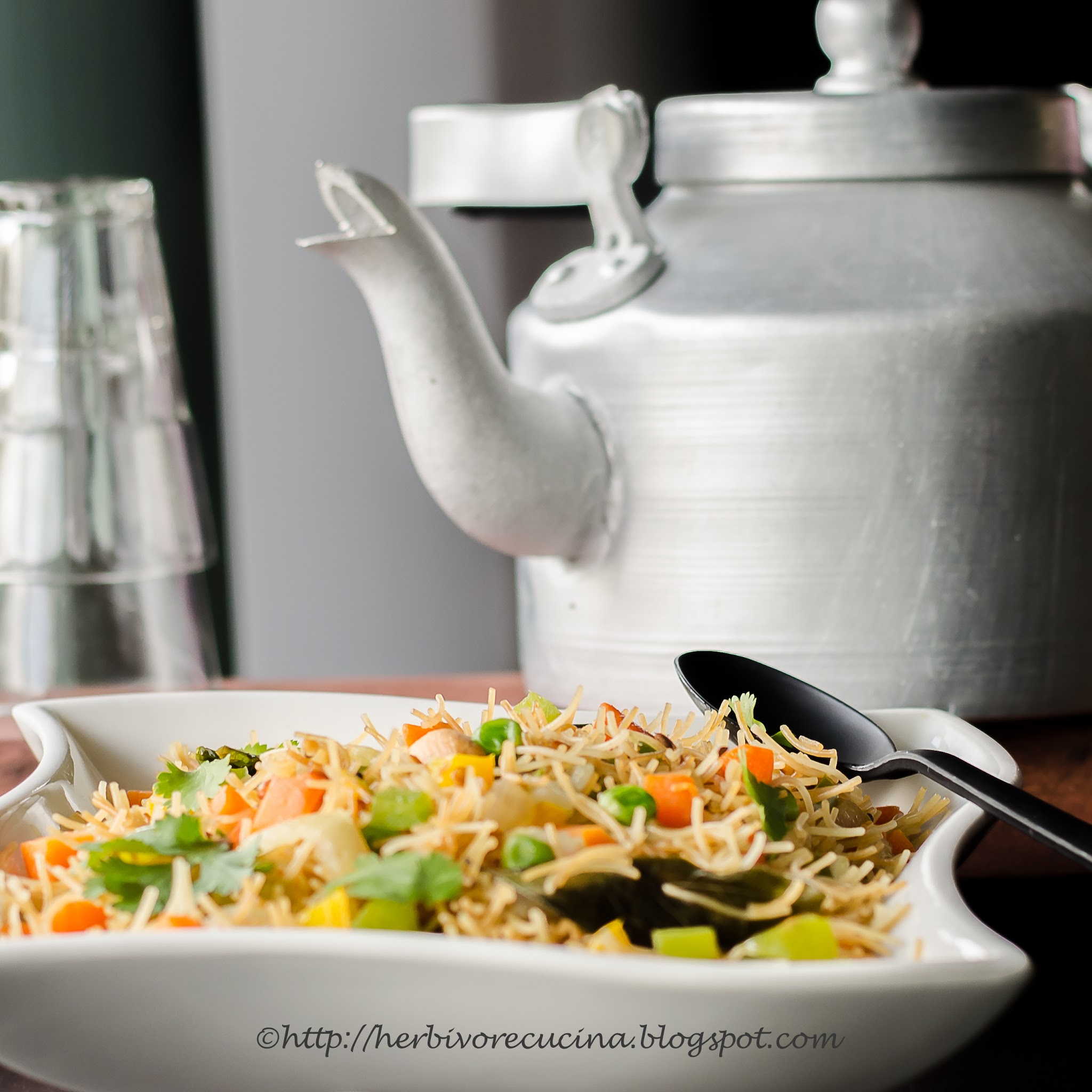 Method
Dry roast the vermicelli in a thick bottom pan. It just takes a couple of minutes, so keep an eye.
Boil two cups of water and add the vermicelli in it. Turn down the heat. Add half a tablespoon of oil and let it stand for a few minutes. Drain and set aside. Dice the onion and peppers. In hot water, add peas and diced carrots so they are partially cooked.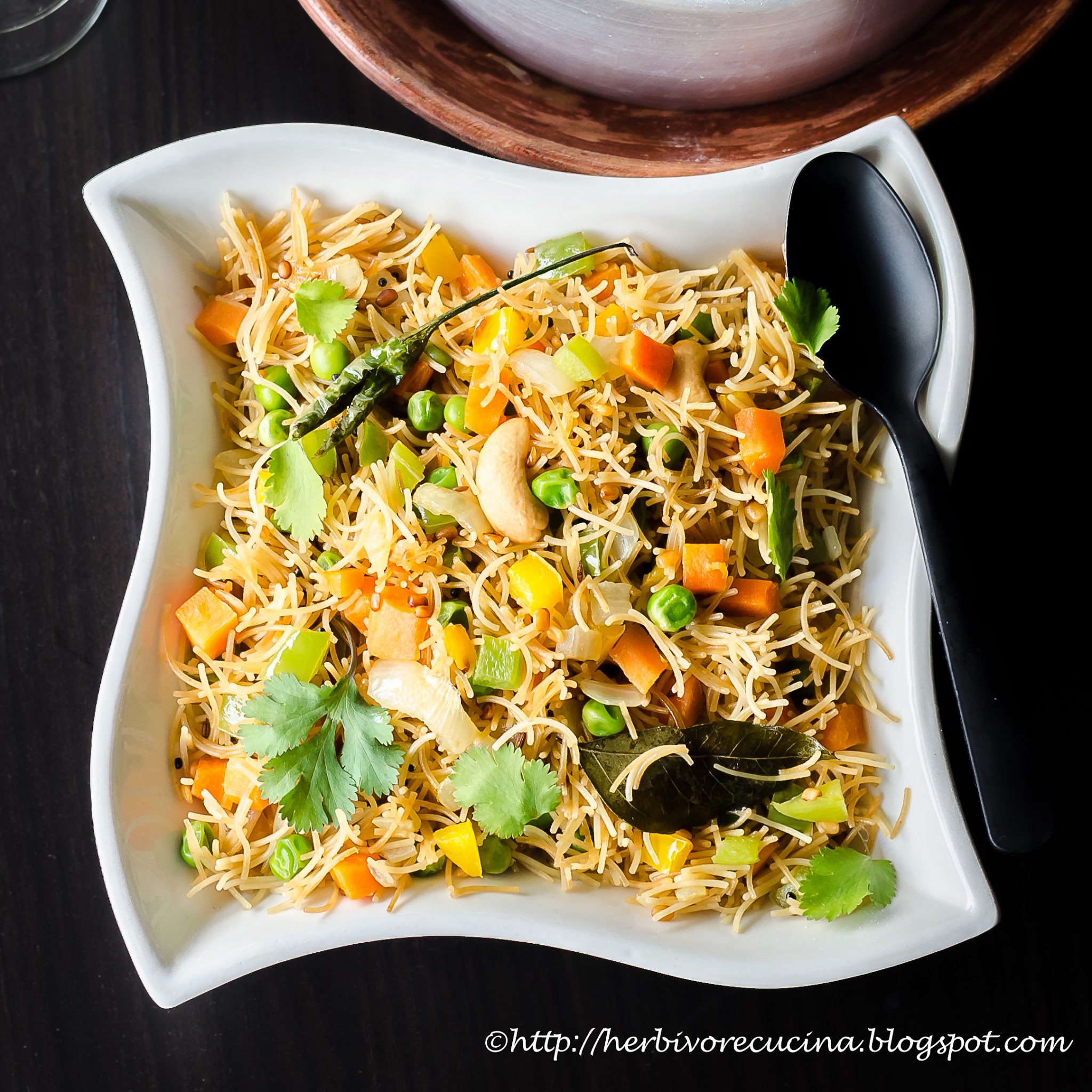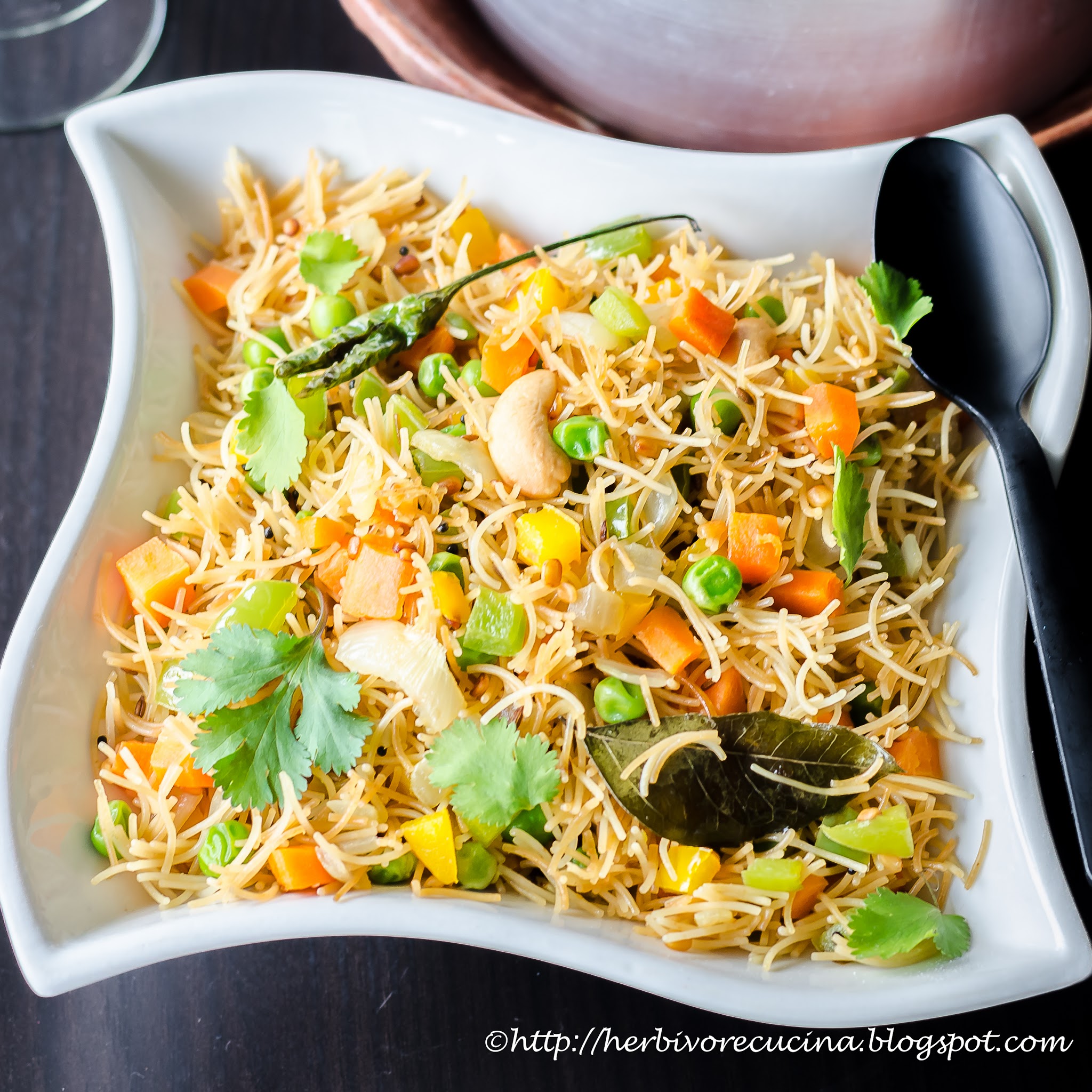 In a pan, heat oil. Add mustard seeds and once they pop add the cumin seeds. Let them pop and then add cashew nuts, urad dal, split green chilli and curry leaves. Fry the cashews and then add diced onions and peppers. Let them cook for a couple of minutes. Then add the drained peas and carrots.
Once the vegetables cook in about 3-4 minutes, add the vermicelli, salt, lemon juice and mix well. Turn down the heat and garnish with chopped cilantro before serving.