A very versatile Chinese appetizer as well as main course dish, Babycorn Chilli is an easy to prepare dish, loved by all. Serve it dry as a starter or make it with little gravy and serve with Fried Rice or Noodles. I have had this dish very often in India, but in US I haven't seen fresh babycorn at any store yet. Not at the farmer's market, or at any Asian or Indian store! So the only option is to buy the packed babycorn and make it. This dish tastes the same whether made from fresh babycorn or frozen ones, because the taste is more in the condiments than in the corn itself!
A very simple way to prepare this dish, without frying the corn as some restaurants do, this dish truly brings back the memories of Indo-Chinese food eaten in Mumbai.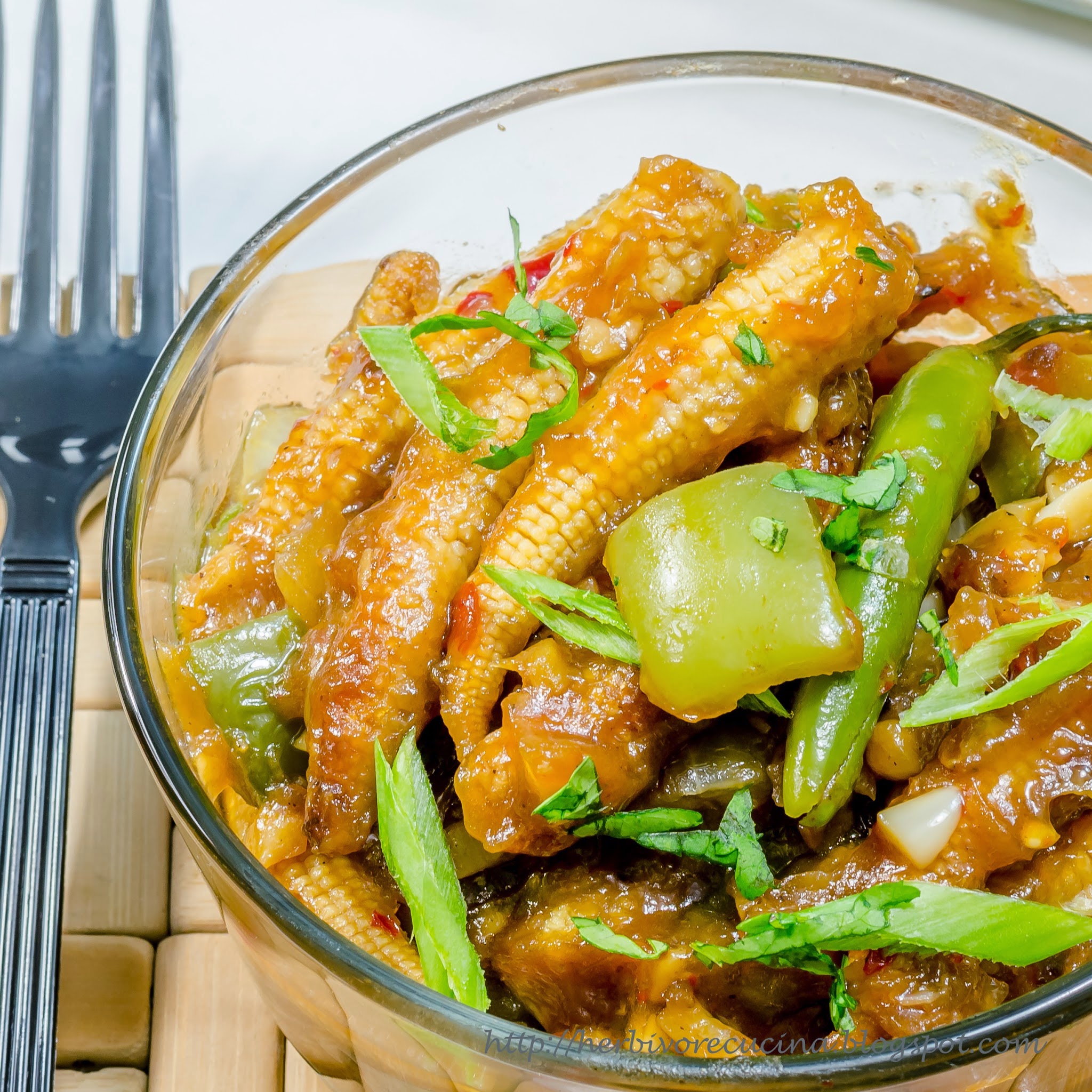 Ingredients
1 can babycorn, drained
1 medium bell pepper
2-3 cloves garlic, minced
1 inch piece ginger, minced
Green chilli, as per taste
Spring Onion greens
Soy sauce, Vinegar
Corn starch
Chilli and vegetable oil
Salt, Pepper
Cilantro
Method
In a deep mixing bowl, add half the ginger, garlic and some minced green chilli. Add salt and pepper along with the sauces. The babycorn can be used as it is, or cut it length wise if it is too thick. Marinate the babycorn for half an hour in this mixture. Do not add any water as we want to make a dry appetizer.
Heat 2 tsp. vegetable oil in a wok. Sprinkle dry corn starch on the babycorn and mix well. Ensure the mixture is not very moist. Sauté the babycorn in oil till the outer coat of corn starch is cooked. Remove from flame and keep aside. In the same oil, add the chilli oil. Sauté the remaining garlic and ginger. Add slit green chillies along with bell pepper and mix well. Add the cooked babycorn to the wok, mix well and serve garnished with spring onions and cilantro.
Serve this as an appetizer, or over a bowl of Vegetable Fried Rice. Also try a similar main course: Tofu in Chilli Garlic Sauce. Team with Spicy Chilli Garlic Noodles and bring home the taste of China town!!