Samosa, probably the most common appetizer and snack for Indians. This dish is not only popular amongst Indians from all states, but also amongst people from other countries. I have a non-Indian friend who wanted to learn Indian cooking and the first thing she demanded was 'Samosa'. It is so amazing that samosa is so popular everywhere.
This is probably one of the most versatile snack I have had. While a larger part of India likes to enjoy samosas dipped in hot cilantro mint chutney and sweet tamarind dates chutney, a small section of people have replaced the vada in their vada pav with this samosa. Now samosa has made it's way into the chaat section in most places too, with samosa chaat and chole samosa being common dishes on many menu cards of restaurants and street-food vendors alike. Samosa sandwich is by far the most outrageous creation I have seen with the timid appetizer! But it is a rage outside a lot of colleges in Western India.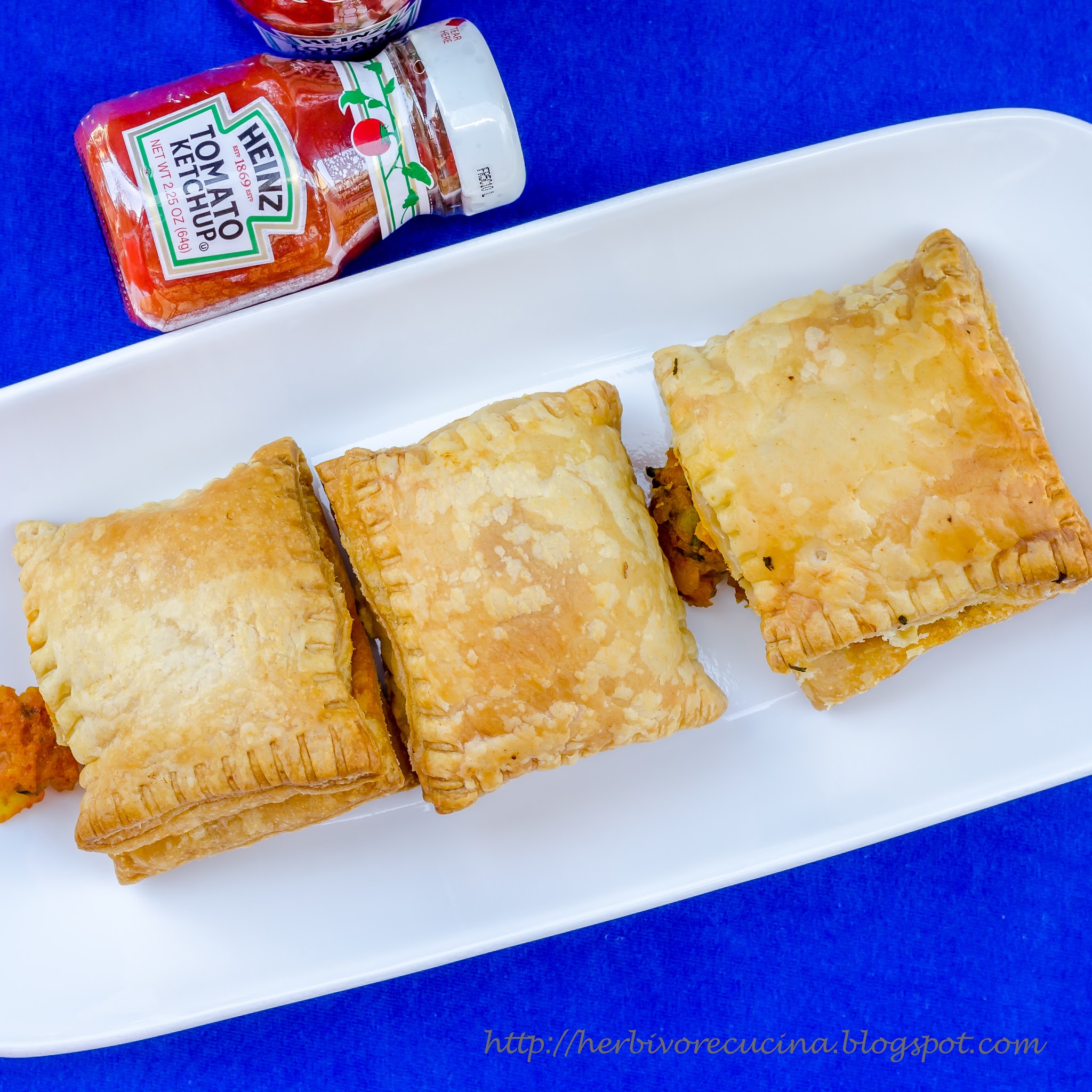 So back to the samosa, how many kinds of samosas have you seen? I can list a few here: Punjabi Samosa, the mighty father of all samosas; patti samosa, a timid cousin that has a less flaky cover and not as much filled, Cocktail samosa, probably the young kids of the samosa family and finally chinese samosa, those samosa patti filled with noodles and assorted vegetables. After this long list, here is a variation to the classic samosa, the NON-FRIED samosa.
Yes you read it right. This recipe may not completely qualify as a samosa, but it is really tasty and low on calories. It is absolutely no rocket science. Simply put, make the samosa filling as per your taste and preference, fill it in puff pastry sheets and bake them to perfection. These puffs can be enjoyed with chutneys, tomato ketchup and a cup of tea. Simple appetizer or snack that everyone in the family loves!




Ingredients
Puff Pastry sheets
Potato 2 medium
Spices (1 teaspoon turmeric powder, 1 tablespoon dhania jeera powder, 1 tsp cumin seeds, 1 tsp mustard seeds, a pinch of asafoetida, 1 tablespoon red chili powder)
Ginger Garlic Green Chili paste 2 tbsp
Garam Masala powder 1 tbsp
Curry leaves 2-3
Salt, Sugar, Lime Juice
Cilantro
Oil 1 tbsp
Butter 1 tsp
Method
Thaw the puff pastry on the kitchen counter as per the instructions on the packet. It generally takes 40-45 minutes to thaw the pastry sheets. Boil potato with a pinch of salt and 1 ½ cup of water in a pressure cooker for 3 whistles. Peel and transfer to a mixing bowl, and mash using a potato masher. Add a pinch of salt and set aside.
In a pan heat oil and add mustard seeds. Once they splutter, add cumin seeds and asafoetida. Next add the curry leaves and ginger garlic chili paste and cook till the raw flavor goes away (adjust the amount of chili depending on your preference). Add the boiled potato, turmeric powder, dhania jeera powder and garam masala powder. Mix well and add 1 teaspoon sugar, juice of one lime and adjust the salt. Turn down the flame, add 2 tablespoon of cilantro and let the mixture cool.
Preheat oven to 350 F. Now take the puff pastry sheet and cut it into half. In the halved pastry, place 2-3 tablespoon of potato filling and fold it over. Press the edges with a fork. This helps to seal the edges and gives a good look to the puffs. Apply some butter on the puff and bake them for about 10-15 minutes till the top is brown in color and crispy and flaky. Remove from the oven and serve immediately. Serve with your choice of Hot Sauce or green cilantro chutney and tomato ketchup. A cup of Masala Chai will complete the tea-time snack menu this afternoon!
These puffs taste best when eaten directly after making them. If left for a while post baking, they might tend to get little soggy. In case you have left them for a while and want to serve them, reheat them only in a preheated oven. Heating them in a microwave will completely ruin the crispy texture!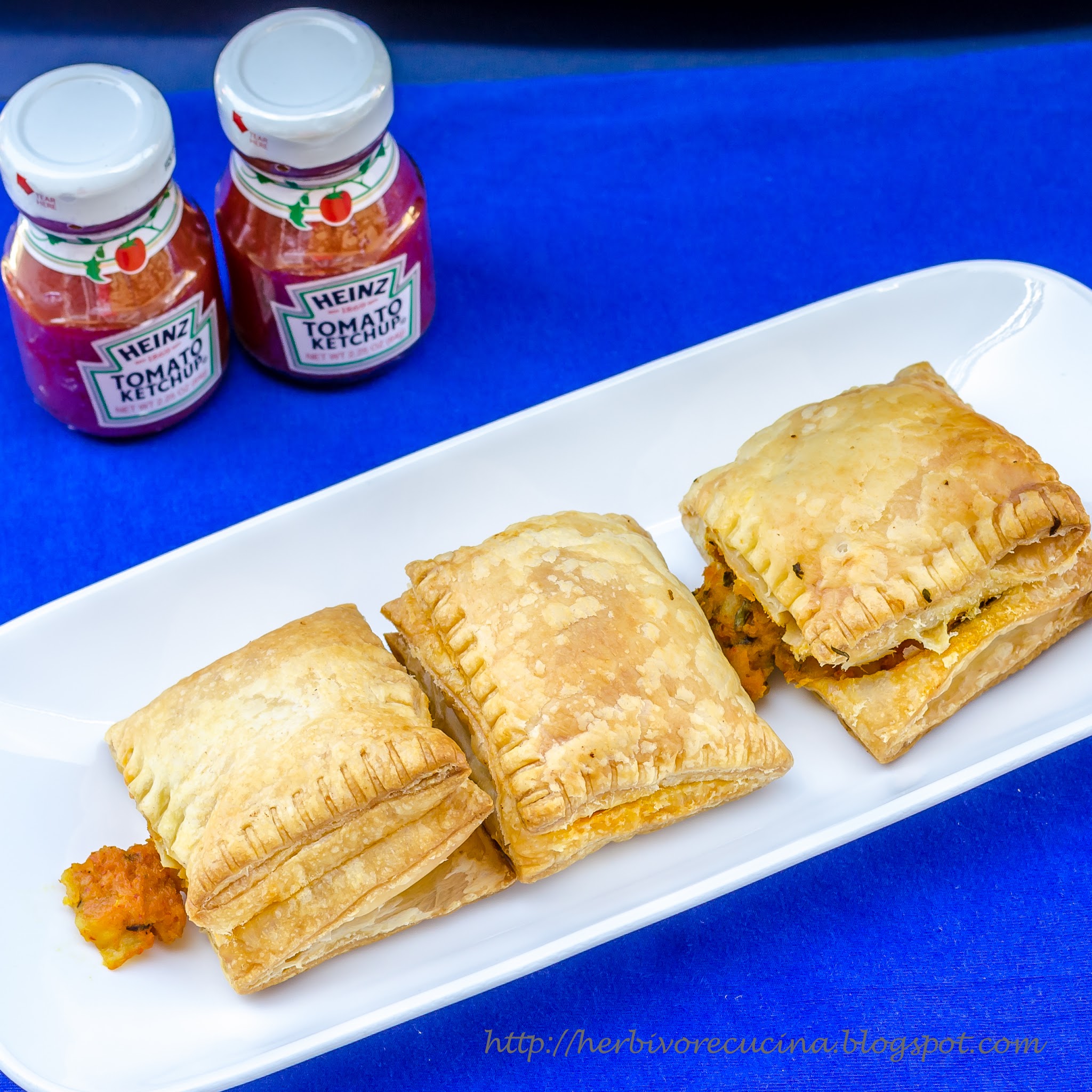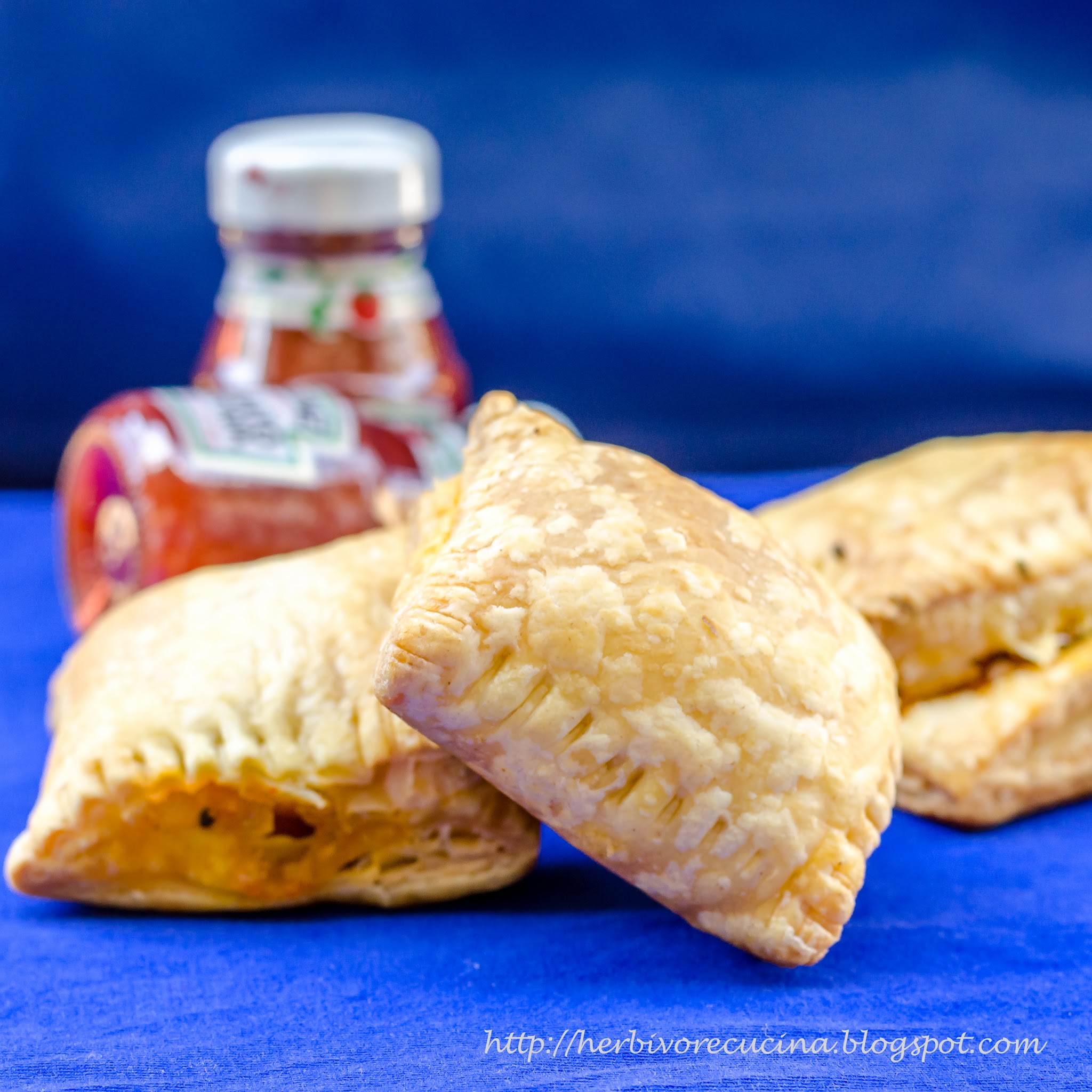 Wondering what to do with the remaining puff pastry sheets?? Try these easy to make Khari Biscuits or these Sweet and Savory Pinwheels. Or if you like puffs better, try this Greek Spanakopita or ricotta spinach and corn filled puffs.