Milk rusk; an amazing tea time snack can now be made at home using this recipe. Dunk one in Masala Chai and you WILL finish a dozen I promise!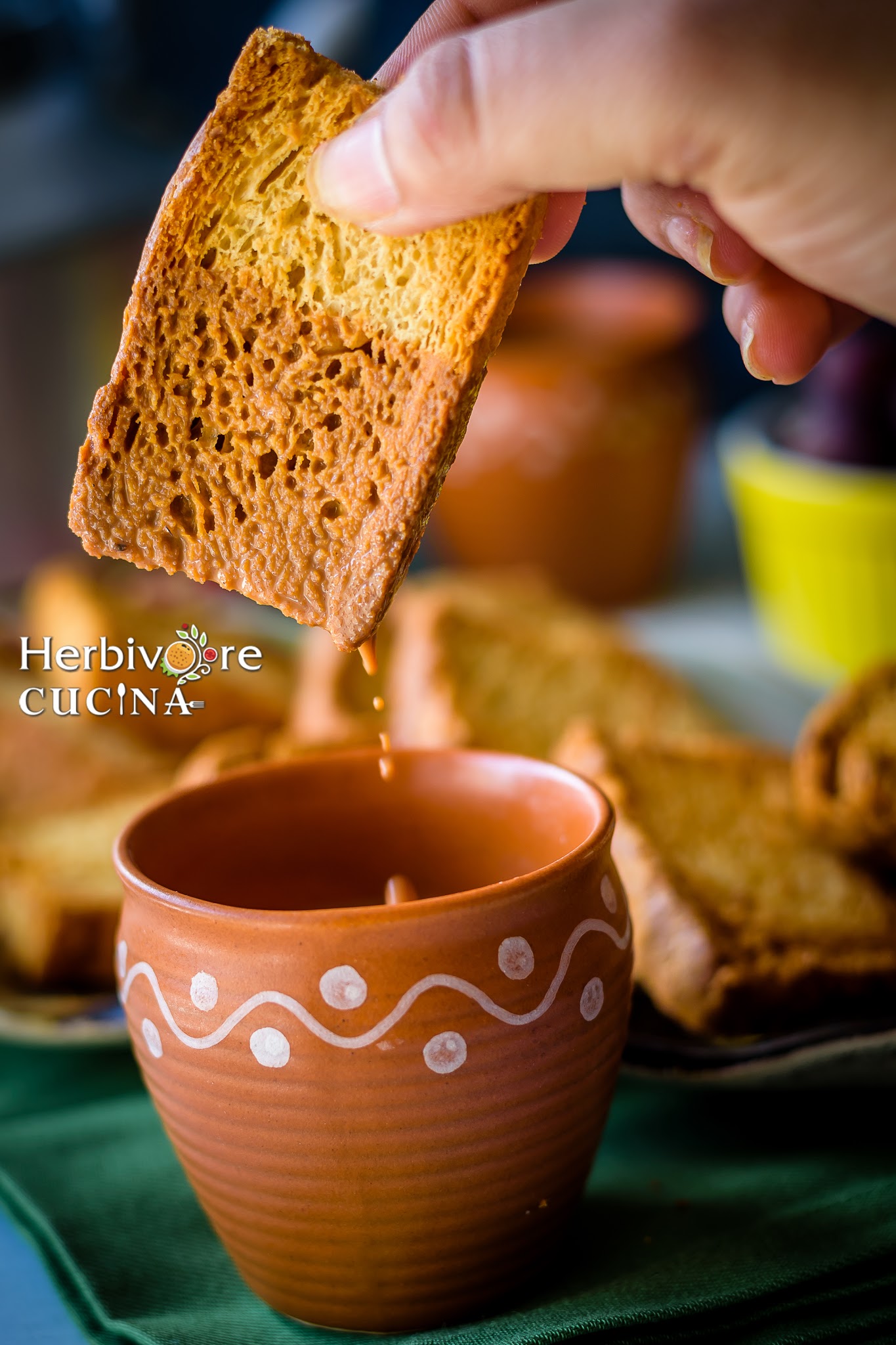 Have you tried Milk rusk yet? These toasts have an amazing vanilla flavor; are soft due to the milk and have the great fragrance and taste from the cardamom seeds. If you have not tasted these yet; I bet you are missing out something super delicious!
Crisp toasts that have a hint of sweetness are PERFECT with Chai or even otherwise. These toasts are sold at local bakeries and in stores as a packet. However, making them at home is the BEST!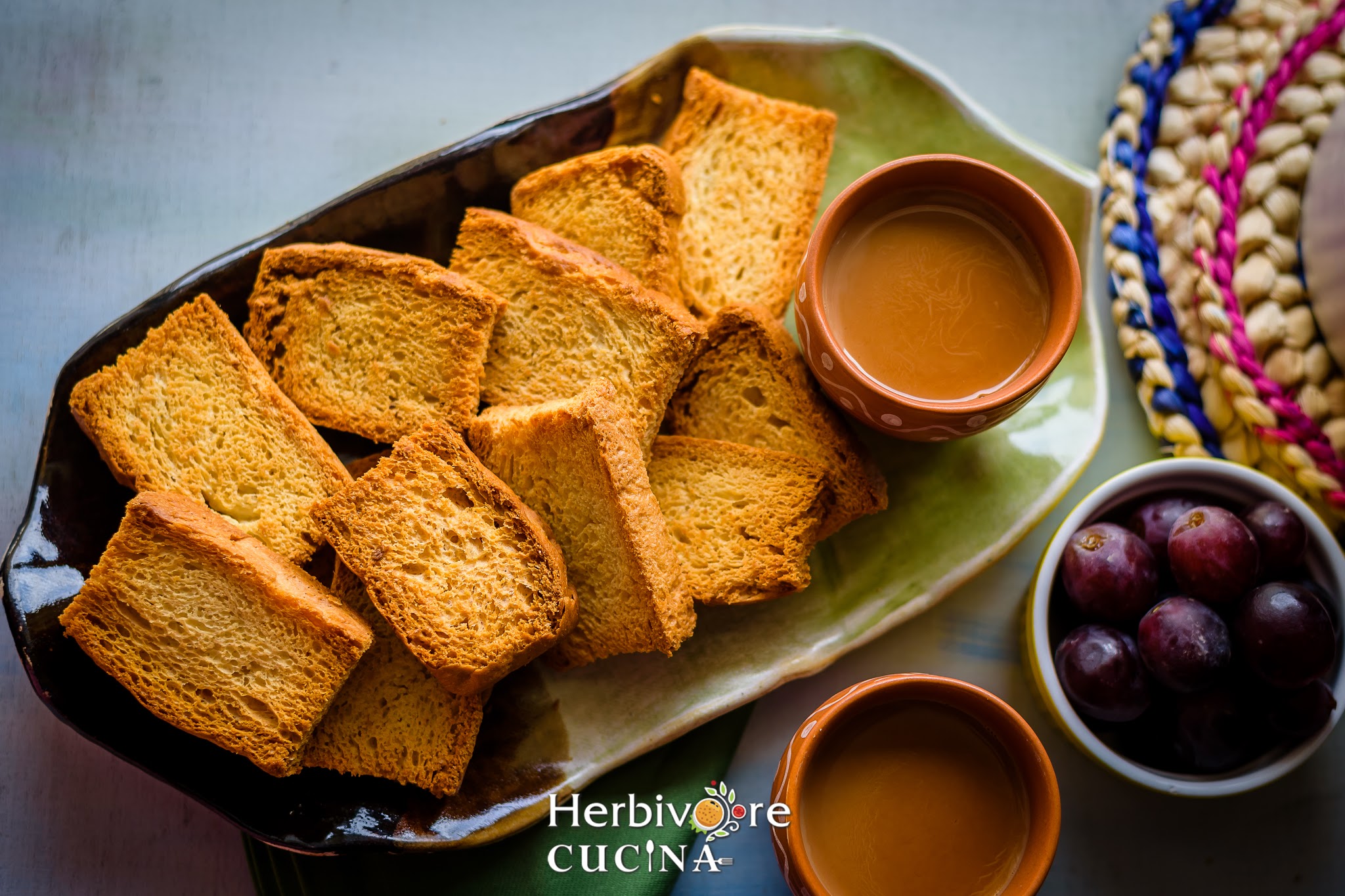 For a very long time I missed the toasts from the bakery in US. Though stores carry the packaged version, I would love a plate full of the bakery ones. So I ended up making a BIG lot myself. Though I must say I overdid it by making about 6 dozens of toasts in one go; but I do not regret it any more.
Now each time I am making these, I make them in a 9 inch pan and end up with 6 dozens! And I store them in an airtight container for up to a week. The airtight bit is REALLY important else they will become soggy and will need to be rebaked.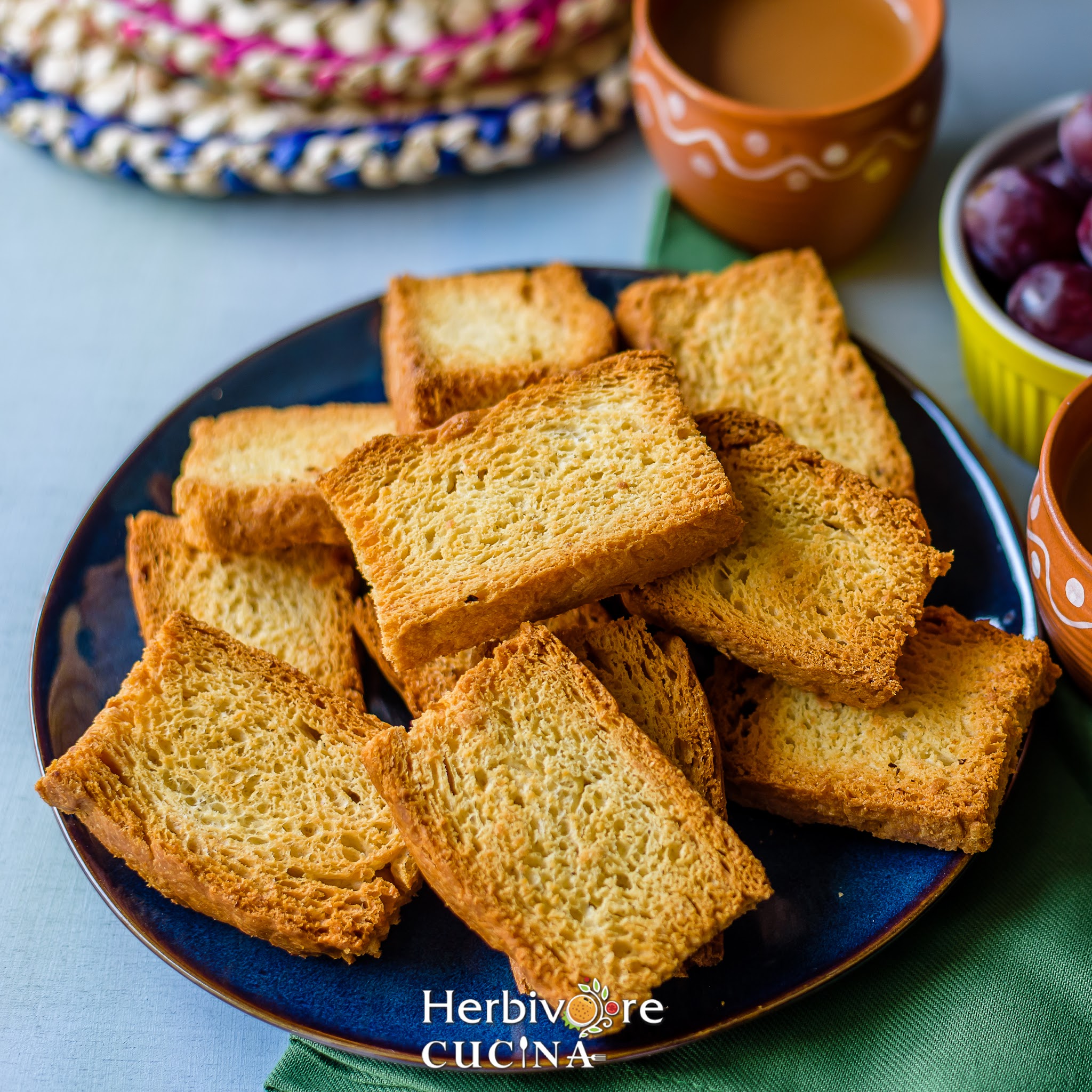 If you search for rusk recipes you will be able to find a TON of recipes online; each one made with a slightly different method. Some bake the bread with baking sods, some with yeast and some add milk powder.
From all the recipes I have tried and tasted; I like the one with fresh milk and yeast the best. They taste just like the ones from the bakery and easily available ingredients and are super easy to make. If you make milk bread or sandwich bread at home; this is just ONE extra step to make!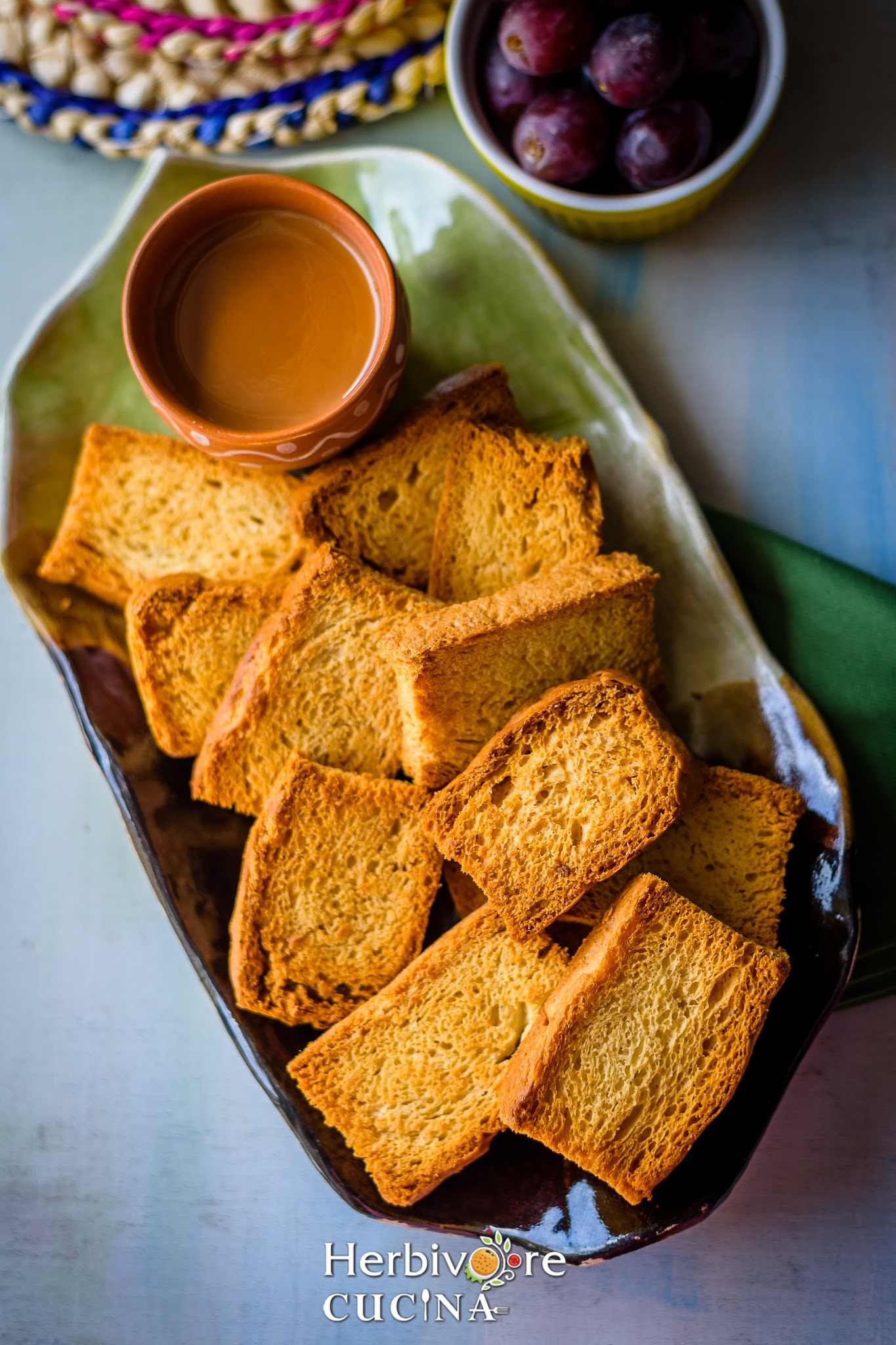 If you are a Chai addict like me; here is a great Masala Chai recipe for you. Plus, here are some tea time snacks that are on my list ALL the time:
Coming to the recipe; this rusk recipe needs just 9 ingredients and can be made really easily. I make a big batch and enjoy them over the week. These toasts make a great tea party side and taste awesome with tea. Once you make them; I am sure you will make them again and again. So wait no further and head straight to the recipe!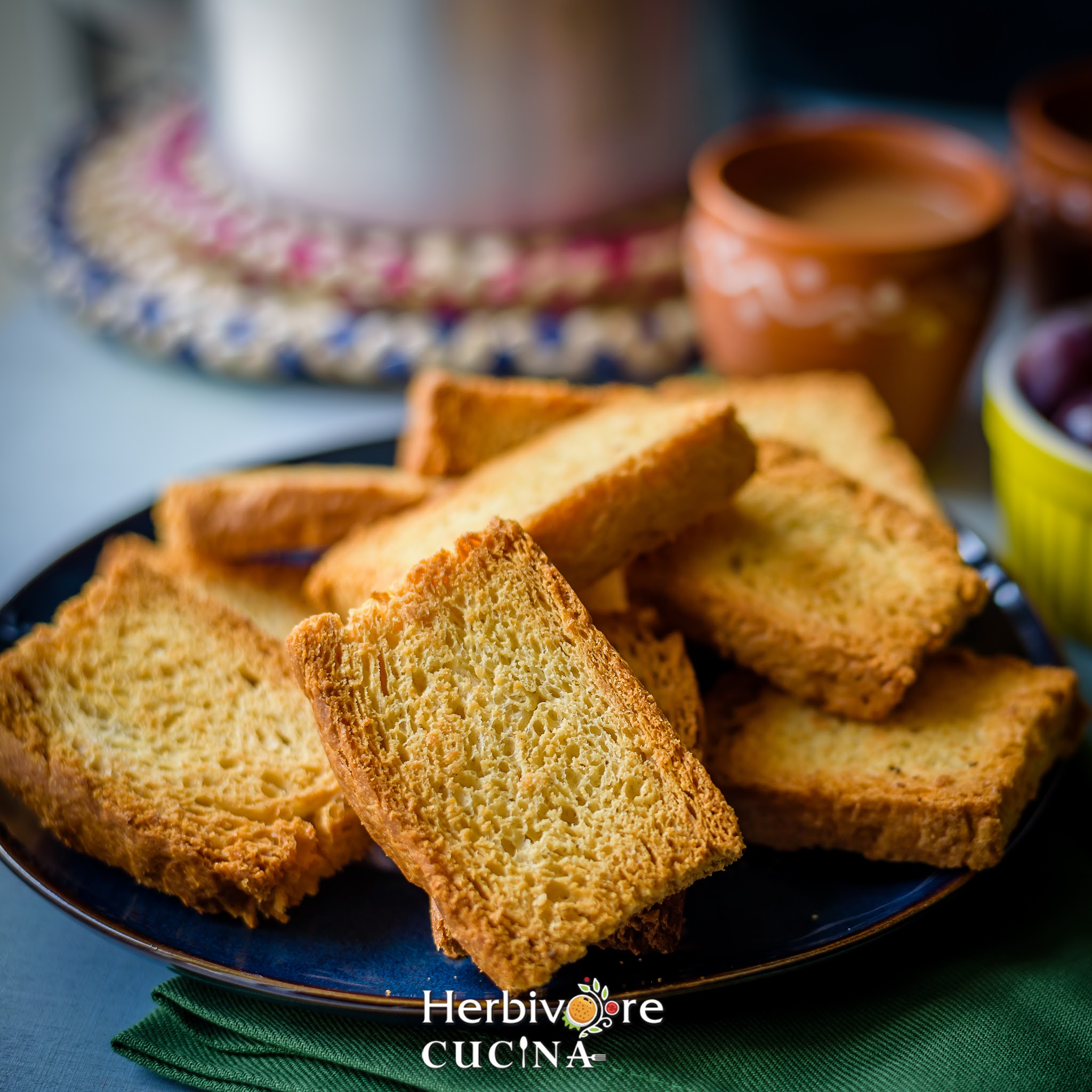 Variations
I made the bread in a square pan that made them about 1.5 inches tall and 4.5 inches length. However, if you have sandwich bread pan, use that to make the bread for the rusk. Just the shape might be slightly different but the taste will still be the same.
If you like tutti-frutti; add some of those in the dough. They make the bread slightly sweet and colorful. When baked again, the toasts studded with tutti-frutti are super awesome! Just make sure you do not bite into a hot one; the tutti-frutti might burn you!
If you would like to make the rusk with wheat flour; replace all purpose flour with wheat flour and essential wheat gluten. They will help make a soft bread that can be used to make perfect rusks.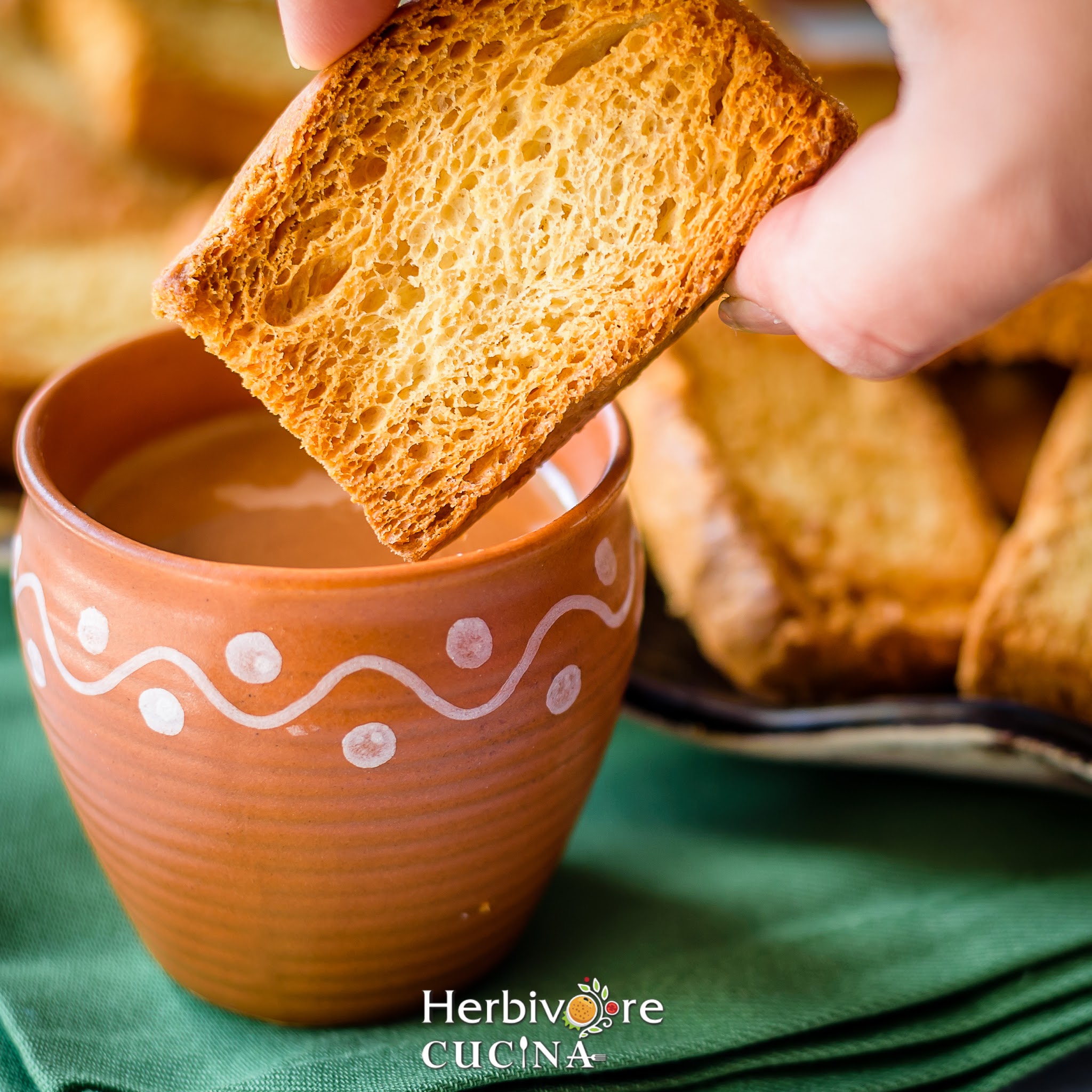 Ingredients
All Purpose Flour 3 cups
Milk ½ cup
Water ¼ cup - ½ cup
RapidRise Yeast 1 sachet (2 ¼ tsp)
Cardamom Seeds 1 tsp
Salt 1 tsp
Sugar 3 tsp
Vanilla Extract 1 tsp
Unsalted Butter 3 tablespoon (Room Temperature)
Pin for Later
Method
In a bowl add milk and ¼ cup water. To that add 1 teaspoon sugar and salt. Mix and heat to warm. When the water milk mixture is warm, add the yeast, mix and rest covered in a warm place. The yeast will bloom in 10 minutes or so.
In a mixing bowl or the base of the stand mixer add the flour, remaining sugar and vanilla extract. Mix well. Add the unsalted butter, cardamom seeds and bloomed yeast. Mix and make a dough adding warm water as required. Knead it to a smooth dough and keep working on it till soft. Once done, coat with oil or butter and rest covered for an hour in a warm place.
Meanwhile, line a 9 inch square pan with parchment paper or spray non stick spray. Set aside. After an hour or once the dough has doubled in size, punch it down and knead again for 5-7 minutes. Roll the dough out to a square of 9 inches. Place the dough in the bread pan and cover it. Rest for an hour.
When the hour is almost up, preheat oven to 400 F/ 210 C. Once the loaf rises till the top of the pan, place it in the oven. Bake for 15-18 minutes, till the top is nice and golden. Once it is, remove and cool for 10 minutes. Then transfer to a cooling rack and cool completely.
Slice the bread into equal sized slices. I divided the bread into half to get two loaves of 4 ½ inches length. Then I sliced the loaves into ¼ inch slices.
Place the slices on a baking tray and bake them in an oven preheated to 400 F/ 210 C. Make sure you turn them over every 7-10 minutes to ensure even baking and prevent burning.
Remove once the toasts are golden brown and store in an airtight container. Enjoy with some HOT Masala Chai.