Perfect for weeknight dinners; this Vegan Chipotle Sofritas is delicious and easy to make in the Instant Pot! Celebrate #Veganuary with this Restaurant Copycat recipe! 



It is January and it is time to eat all things tasty, healthy and delicious. For the longest time we have been enjoying TOFU as a great source of protein in our vegetarian diet. A super versatile ingredient, tofu tastes great in almost all cuisines. 
Replace it in meaty tacos to get a delish Vegan taco, add in in place of paneer to make amazing Indian curries, stir fry it for healthy Asian recipes or make dumplings using it. All these dishes are super yummy, easy to make and full of protein.



Today I have a recipe that we LOVE as a family. Inspired from Chipotle Mexican Grill; this tofu replacement for meat has been our favorite for years. It was one of the FIRST five recipes I added to the blog! A favorite among readers; today the recipe takes a new turn and comes back as a super quick recipe made using the Instant Pot!  
Check out the video here: 
Yes, the Instant Pot is amazing in making one-pot-meals. I have been in love with it and enjoy how easy it is to make some super complex recipes in it! If you love it too; here are some recipes that you can try:
Love Instant Pot recipes? Head here to see all the wonderful recipes from bloggers and food lovers!
Instant Pot Recipes Community
Public group · 3 members
This group is for sharing recipes made in the Instant Pot/ Electric pressure Cooker.
Today I am getting together with a few fellow bloggers and we are ready to celebrate #Veganuary. A movement to encourage everyone to try being Vegan for the month of January, it is a great way for folks to get out of their comfort zone and try something new. Everyone from the group is posting a Vegan recipe today. Make sure you check them out at the end of the post!

 


What is Sofritas?


A super popular variant if the Meaty fillings at Chipotle; Sofritas is a preparation made from firm tofu, spices and chipotle pepper. It is quite easy to make and needs a handful of pantry essentials. Served with rice, lettuce, beans, guacamole, tortilla and salad, this is filling and great for weeknight dinners! 
Plus, it makes a great addition to burrito bowls for a party. Make a big batch and serve it with toppings of your choice. This recipe freezes really well too; so you can make it and enjoy it for days!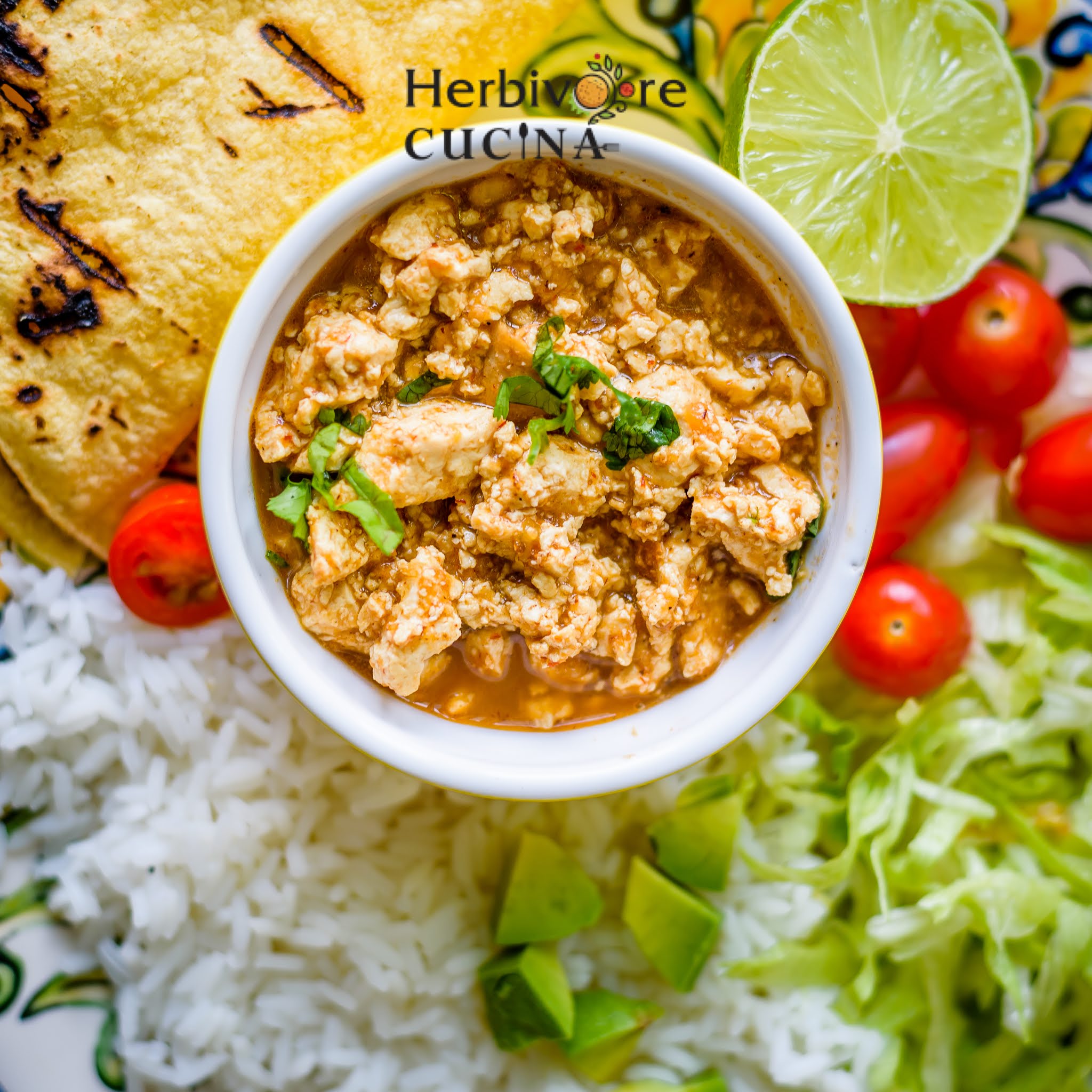 Why make Sofritas in the Instant Pot?

Many times I post a recipe made in the Instant Pot; I have folks asking me if the same can be made without an Instant Pot. Yes, most recipes can be made without an Instant Pot; just like this one.
I have been making sofritas for years, even before the Instant Pot was a thing. And it was a great recipe for sure. But now with the Instant Pot it makes it easy to make the same dish. I use the IP to make Sofritas now because I need just one pan for the entire dish and love how I do not have to babysit the tofu while it cooks. 
If you are looking for a non Instant Pot recipe; try this one: Chipotle style Braised Tofu Sofritas.



Variations
For this recipe I have used the MOST basic ingredients for Mexican cooking. Tofu, oil, onion, garlic, seasoning, water and chipotle sauce and pepper. While all other ingredients are easy, finding chipotle pepper might sometimes be challenging based on where you are based.
If you CANNOT find Chipotle pepper, use Japaleno or Poblano pepper. They work as an alternate to chipotle pepper. However I would not recommend an alternate for Chipotle Sauce. That is my favorite ingredient to get the perfect flavor in the tofu. I use this brand and LOVE it! 
Ingredients
Firm tofu 1 box (14 oz)
Vegetable Stock/ water 1 cup
Vegetable Oil 2 tbsp
Chipotle pepper 1 medium
For the sauce
Onion ½ medium, diced
Garlic 3-4 cloves, minced
Chipotle Sauce ¼ cup (this is my favorite)
Taco Seasoning ½ tsp
Cumin Powder ½ tsp
Water ½ cup
Sugar 2 tsp
Salt 1 ½ tsp
Lemon juice and cilantro to top
Method
Press the tofu between sheets of paper towel and remove the moisture. Once dry, cut the tofu into 5-6 equal size pieces.
Roast the chipotle pepper on an open flame. Once charred, remove from flame and peel it. Remove the seeds and veins and chop the pepper. leave the seeds if you like it hot! 
To make the sauce, blend together the chipotle pepper with the ingredients under sauce. Make a smooth paste.
Set the Instant Pot to 'Sauté' and Normal. In the base add the oil. Once the display reads 'Hot' add the tofu pieces. Let the tofu brown for a few minutes. Turn them over and let it brown.
Once it is slightly charred, break up the tofu using the spatula.
Add the sauce and vegetable stock. Mix well and close the lid of the Instant Pot. 
Press 'Cancel' and set the mode to 'Pressure Cook' and 'High'. Set time to 3 minutes and turn valve to sealing.
Once the timer goes off, turn the valve to venting and release the pressure. Open the lid and mix well. Add salt or Chipotle sauce if required. 
Serve with a side of steamed rice, shredded lettuce, tomatoes, avocado and tortillas.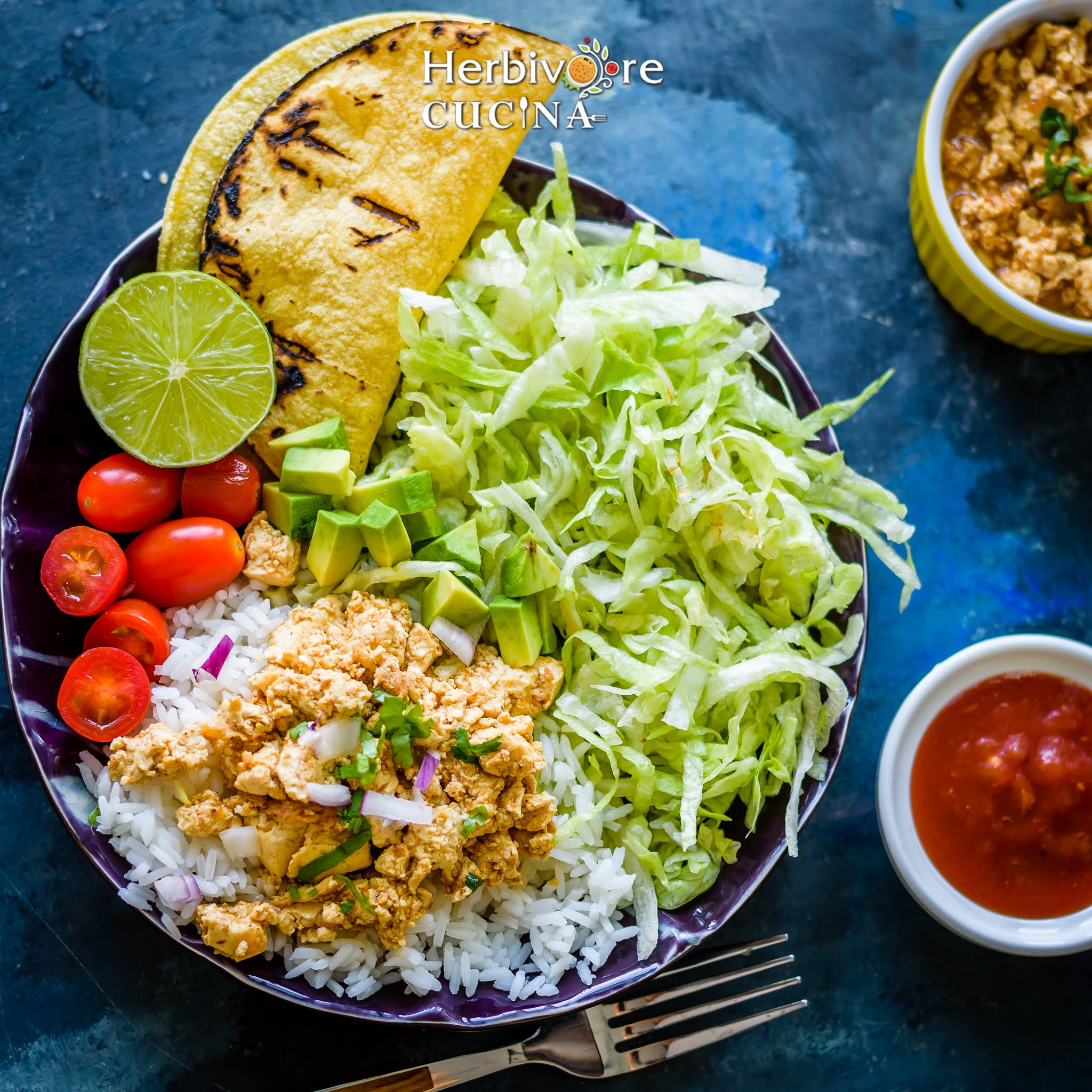 Looking for more Vegan ideas? Check these out by my fellow bloggers!