This post is sponsored by Montchevre but the content and opinions expressed here are my own.
A PERFECT recipe to make Mashed Potatoes in the Instant Pot; this one has delicious flavors by the addition of Montchevre Jalapeno Goat Cheese!

Thanksgiving is ALMOST here! Every year I make some recipes for the Holiday season that are easy, yummy and loved by my family. From roasted cauliflower and pan-fried Brussels Sprouts to Butternut squash soup and green beans; we LOVE it all.
This year I was looking forward to making some sides and started off with this recipe of Mashed Potatoes. Though potatoes is pretty common for Thanksgiving; I JAZZED it up with some Montchevre Jalapeno Goat Cheese! The log has perfect flavors of Jalapeño in it, to make Holiday recipes even better.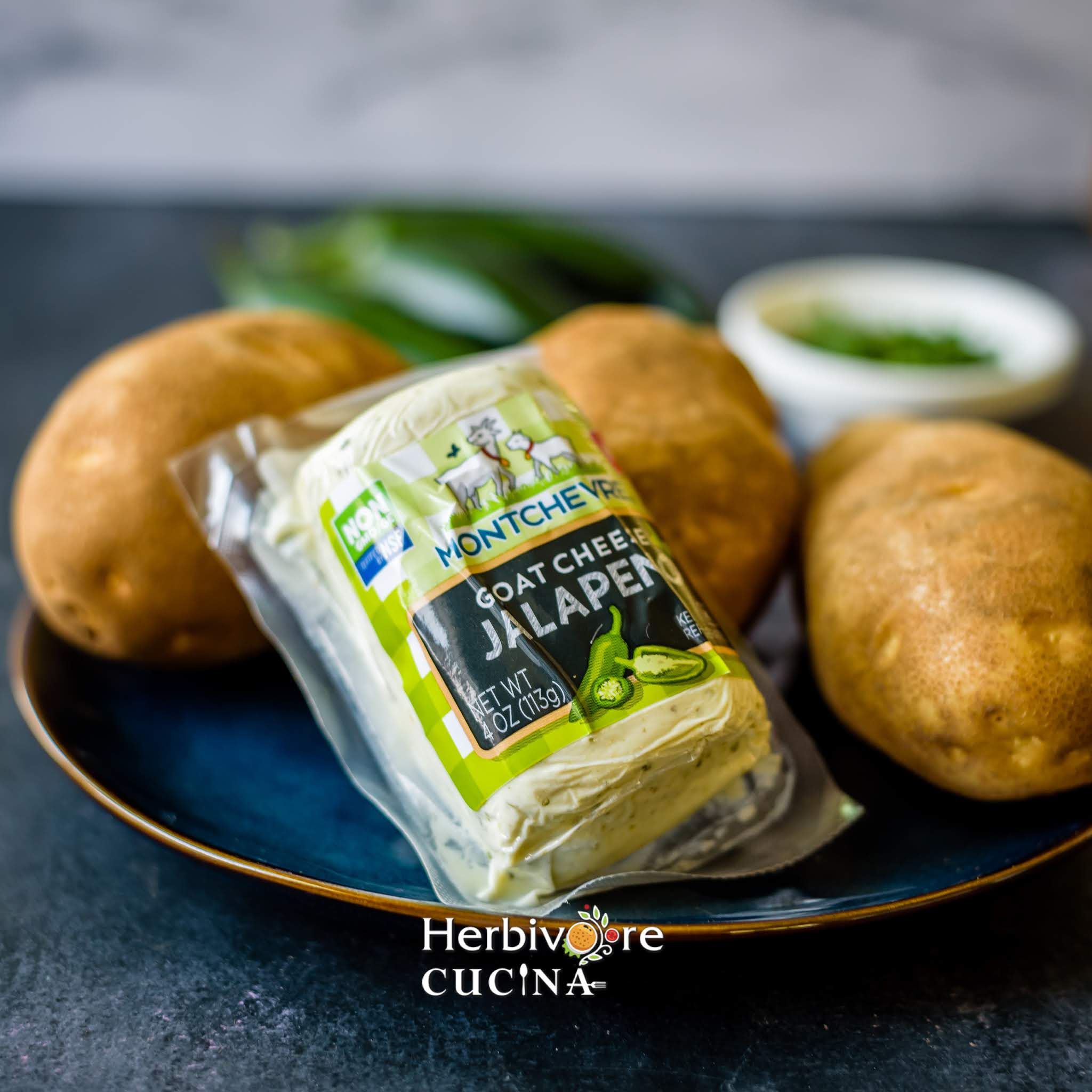 Why add Montchevre Jalapeno Goat Cheese to Mashed Potato?
Well, who does not like creamy potatoes? We all do, right? Goat cheese is just the right ingredient to make it awesome. And the one from Montchevre is super amazing! Made with fresh, high quality goat's milk collected from local, independent family farms, this cheese is high in protein, calcium and vitamin D, contains less lactose and is rich in nutrients and vitamins. All of these factors and its wonderful taste make it the perfect addition to your healthy and active lifestyle!
Its traditional French cheese-making expertise allow Montchevre to ensure the rich and smooth texture of their logs, along with their fresh and mild flavor that chefs and consumers know and love. I love to add mine to Mashed Potatoes, sandwiches, cheese platters and more! They have some really awesome flavors; all of which you can find at a store near you!
How to make PERFECT Mashed Potato
There are SEVERAL ways to make Mashed Potato. From oven and stove top to pressure cooker and grill; we have tried it all. While every method gives a great flavor, my favorite is definitely the one in the Instant Pot! The quickest; most delicious and NO-FAIL; this method never gives soggy results!
When making Mashed Potatoes, you can either make them with skins or remove them. We love our potato white and so I remove the skin before cooking them. Making small pieces of the potatoes goes a long way in making smooth Mashed Potatoes. Big pieces sometimes remain hard from the centre making the final result lumpy. Smaller pieces cook evenly and make the best mashed Potatoes.
The essential ingredients of Mashed Potatoes are potatoes (of course!), salt and a creamer. The creamer can be anything from butter or sour cream to milk or cheese. It can be a mix of these or ALL of them for a fully loaded version. I add sour cream and cheese as I like mine with some flavors from the cheese and tartness from sour cream. Make your pick based on what your family likes!
Once you have the potatoes and creamer selected, you select your favorite add-ins. I love mine with minced garlic or jalapeño. They give the perfect crunch to the otherwise smooth mash. Bacon bits work well for those who eat it; and for the rest there is always Spring Onions, more cheese and parsley. They all taste great!
Now that we have ALL the ingredient options with us; we get to making the PERFECT Mashed Potato for the Holidays. Once it is done as per the recipe below; serve it as is at room temperature or place in a hot oven for a few minutes before serving. It tastes amazing with other Instant Pot recipes like these: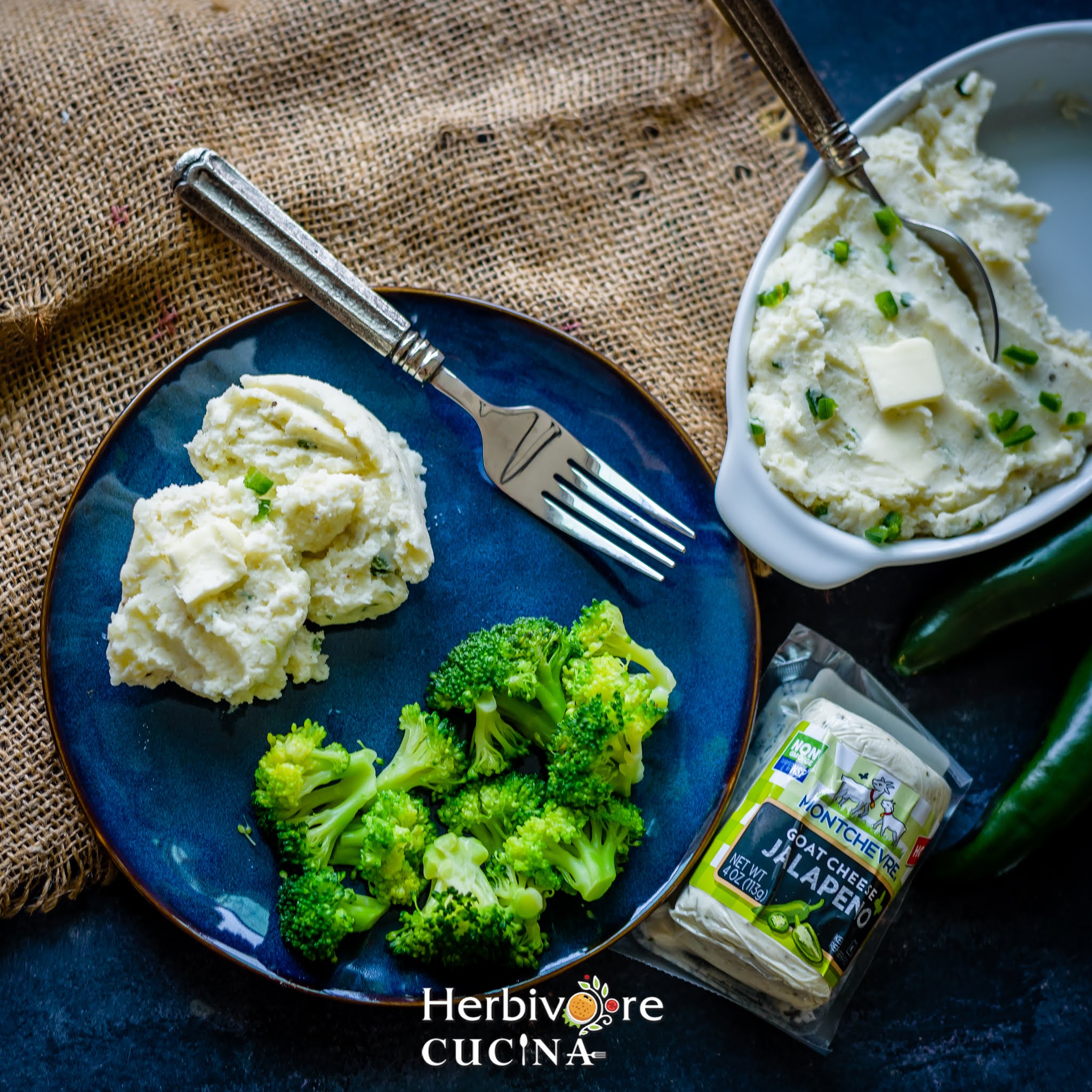 Ingredients
Russet Potatoes 2 medium
Montchevre Jalapeno Goat Cheese 2 tsp
Sour Cream 3 tbsp
Jalapeño 1 teaspoon minced
Unsalted Butter 1 tbsp
Flat leaf Parsley ½ teaspoon minced
Salt 1 tsp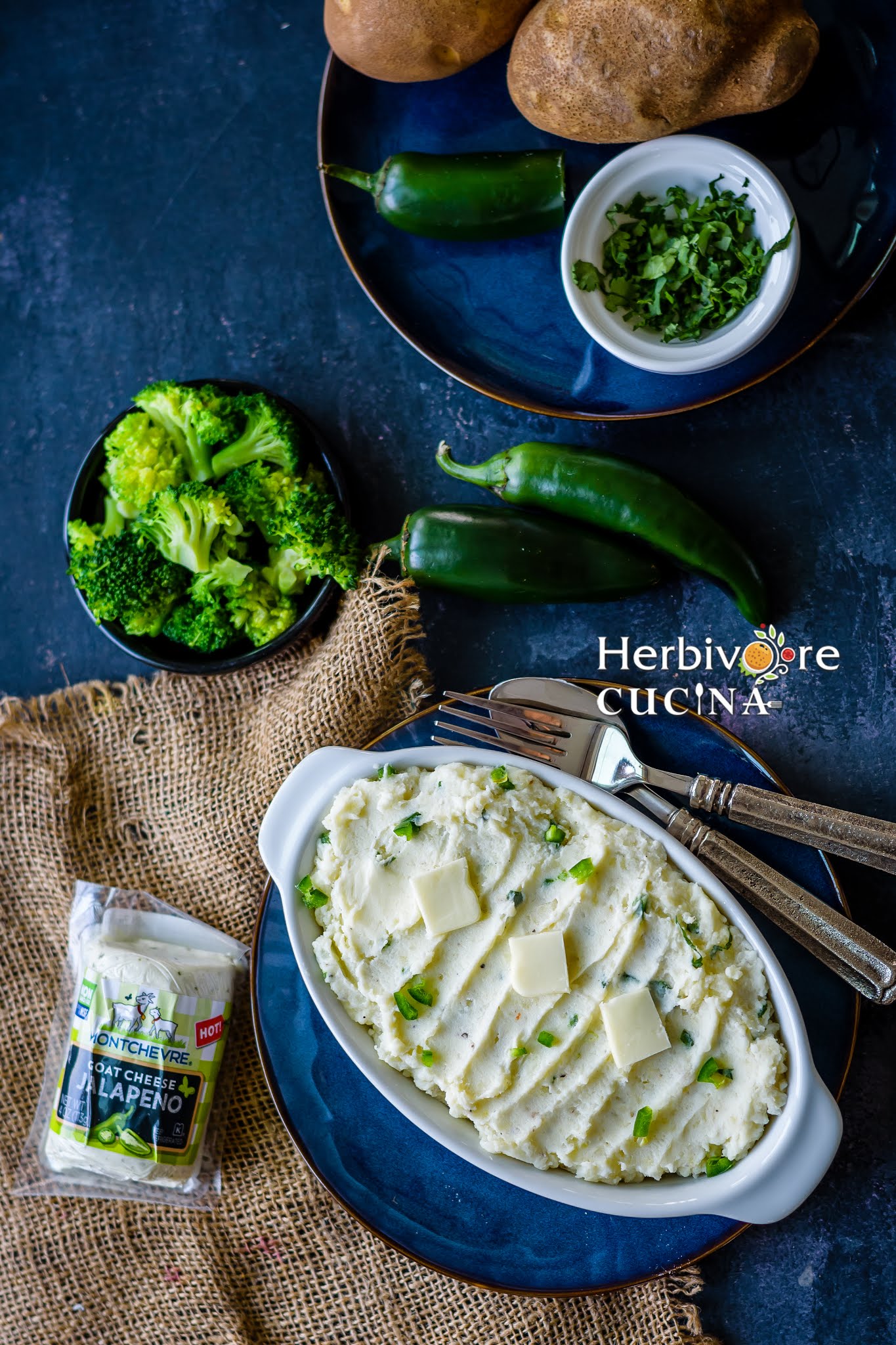 Method
Peel and dice the potatoes. The smaller the pieces, the quicker they will cook. In the base of the Instant Pot place a steaming basket. Arrange the potatoes and close the lid.
Set the mode to 'Pressure Cook' and pressure level to 'High'. Adjust time to 5 minutes and move the vent to 'Sealing'.
Once the Instant Pot beeps; release the pressure instantly. Remove the potatoes and place them in a bowl. Add in the Sour Cream, Montchevre Jalapeno Goat Cheese, half the minced Jalapeño, Flat leaf Parsley and Salt.
Mash with a potato masher or hand held blender. Once the mixture is smooth; transfer to the serving platter. Smoothen with the back of a spatula and sprinkle remaining minced Jalapeño. Slice the butter and place on top.
The mashed potato can be served as is or heated in the oven before serving.