An easy to make Indian dessert; this Kesar Shrikhand is made using Greek yogurt, powdered sugar, saffron and nuts. It is a great dish to make for festive season!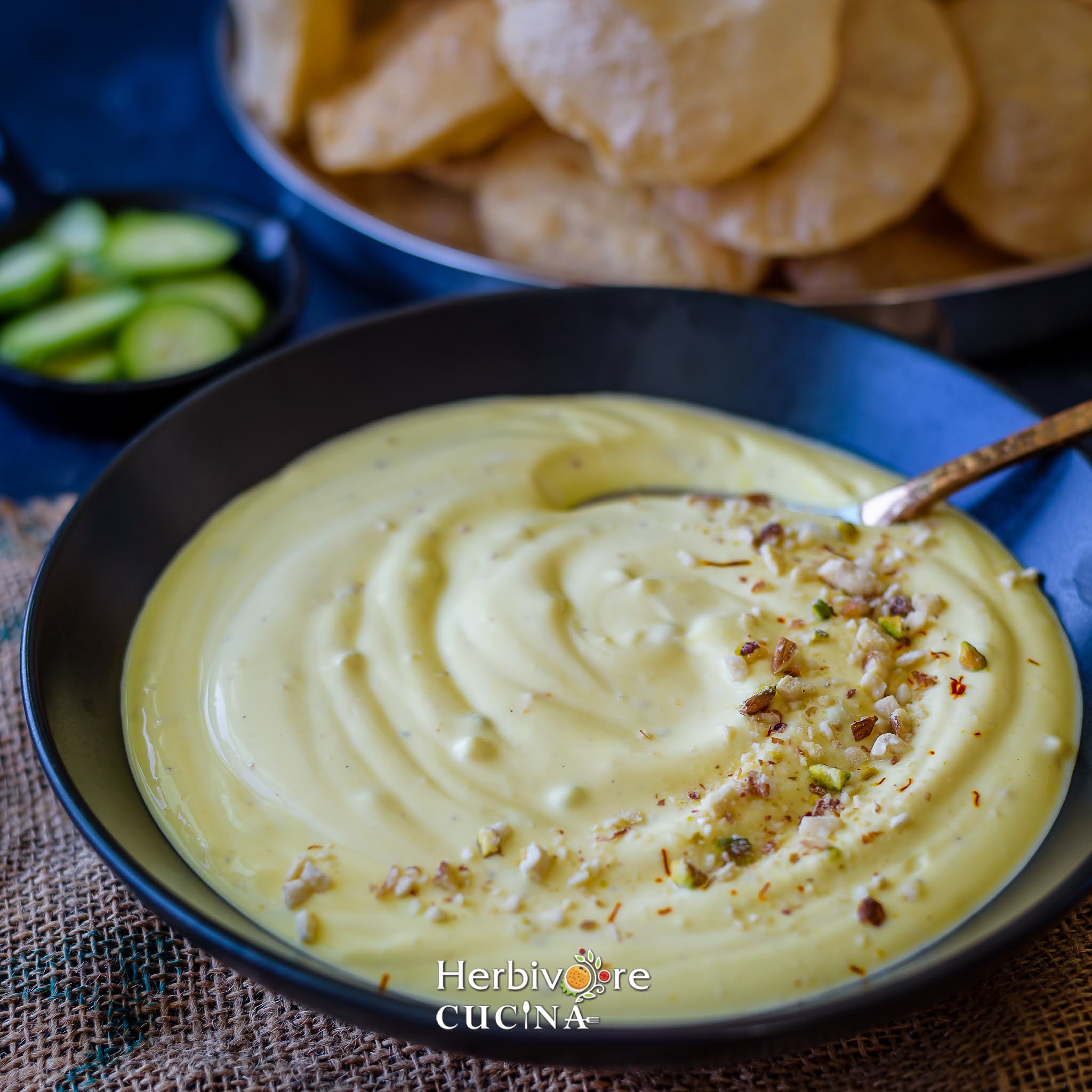 Some of the links below are affiliate links, meaning, at no extra cost to you, I will earn a commission if you click through and make a purchase.
What is Shrikhand?
Shrikhand is an Indian sweet made of hung yogurt. A super popular dessert in Maharashtra and Gujarat; this is a commonly served dish for weddings and other celebrations.
To prepare shrikhand, plain yogurt is tied in a muslin (cotton) cloth and left under pressure to drain.
In the past, it used to be hung from a wall to achieve the desired thickness.
The strained yogurt (Chakka) and sugar are mixed thoroughly and cardamom, saffron or other flavors are added to it.
It is then left in the refrigerator for the sugar to dissolve. The dish is served chilled.
Shrikhand is eaten as either a side-dish with breads such as poori (usually khaaja poori, which is a savory fried flaky bread) or as a dessert.
It is commonly served as part of a vegetarian thali in Gujarati restaurants and is popular as part of wedding feasts. It is often served chilled as a counterpoint to hot and spicy curries. Dried and fresh fruit such as mango are also added.
Using Greek Yogurt to make Shrikhand
As mentioned above, the traditional method is pretty laborious. First making the yogurt, then straining it and adding in flavors.
This recipe is for a quick version made using Greek Yogurt.
Greek Yogurt is thick yogurt available in stores. It is already strained and the steps for removing excess moisture from the yogurt can be skipped.
The steps for this recipe include adding the sugar and flavoring and enjoying!
Tips to get it right each time
In this recipe I have used plain yogurt and added sugar to it. If using powdered sugar, it melts quickly and the shrikhand can be made in a matter of minutes!
Make sure the yogurt is not very old. Yogurt has a tendency to become sour over time. If it is old, it might be sour; needing a TON of sugar.
The saffron added to the yogurt is first crushed a little using the mortar and pestle and added to some milk. Let it stand for a while to get the BEST color from the strands.
Adding saffron directly to the yogurt will not bring out any color at all. It will only remain as strands in the yogurt.
Cardamom is the other spice used here. It has a characteristic flavor that goes very well with Indian sweets. Do not skip or skimp on that! A fat pinch is great to flavor the yogurt!
Serve the shrikhand cold with piping hot puris (fried wheat flour breads) and dry potato sabji. It is the BEST combination ever!
Variations
A popular variation of shrikhand in Maharashtra is Amrakhand (आम्रखंड), which is shrikhand blended with mango pulp. Add some mango (frozen or fresh) to the yogurt and add nuts if desired.
Another variant of shrikhand, Matho (મઠો), is served as a sweet dish or dessert particularly in Gujarati cuisine. This is a pretty thick version that is not flowy at all. This version is BEST made the traditional way!
Want to skip the sugar step? Buy some Greek yogurt with honey in it. The honey is already blended into the yogurt and all you need to do is add some cardamom, saffron and nuts!
This post has been updated from the recipe archives in 2020; first posted in 2016.
Ingredients
Greek yogurt 2 cups
Sugar ¾ cup
Milk 2 tsp
Saffron 1 tsp
Cardamom Powder ⅛ tsp
Chopped Almonds, Cashews, Pistachios 2-3 tbsp
Method
Using a mortar pestle crush the saffron. Add milk and let it stand for 10-15 minutes.
In a mixing bowl add the yogurt and sugar. Mix well with a spoon or use an immersion blender to do the mixing in 30 seconds.
Add the saffron infused milk, cardamom seed powder and 1 tablespoon nuts. Mix well. Taste for sweetness and add more sugar if required.
Refrigerate till ready to eat. Sprinkle the remaining nuts and some more saffron strands just before serving. Enjoy with roti or piping hot puris.
DISCLOSURE: WE ARE A PARTICIPANT IN THE AMAZON SERVICES LLC ASSOCIATES PROGRAM, AN AFFILIATE ADVERTISING PROGRAM DESIGNED TO PROVIDE A MEANS FOR US TO EARN FEES BY LINKING TO AMAZON.COM AND AFFILIATED SITES.