Breakfast, an important part of the daily meals differs from country to country. Also within the country, every place has it's own traditional breakfast. In India, the Northern regions enjoy Parathas, Chole etc for their breakfast while the Southern states boast of their Idli, Upma and Dosa. The eastern states enjoy Sattu paratha, Dal paratha and the western state of Maharashtra have their own Thalipeeth, Masala Poha and Misal Pav. Gujarat is a state known for its food and they are true to their reputation for breakfast too! They enjoy Khaman Dhokla, Poha, Thepla or Masala Puri and Pickle early morning.
Masala Puri is a type of unleavened bread made from whole wheat flour and spices. The bread is fried in oil and served with either potato sabji, yogurt, pickles or just a cup of tea. This breakfast is pretty high and calories, but makes a great dish for weekends, when lunch is generally had at a later time than usual. The puris are best enjoyed fresh from the oil and is a dish that people can eat without stopping!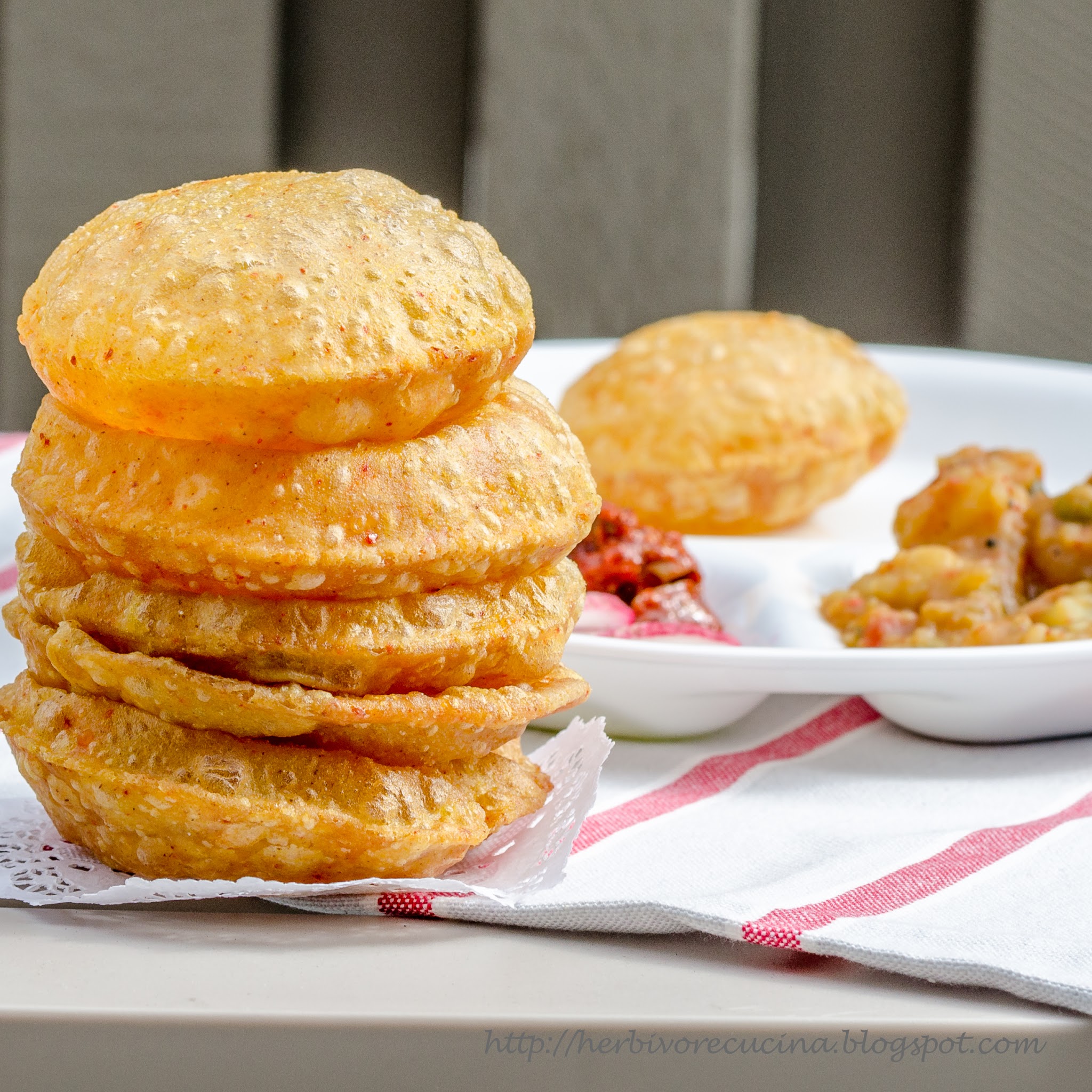 If you think puri is too much for you and your family for breakfast, enjoy it as a dinner recipe. The puris have to be soft and fried just right. Between perfectly fried and burnt, the puri only takes a couple of seconds, so do watch out! Some puris may not rise if the rolling pin has moved too hard on it, but generally most puris should puff up. Whether it is breakfast or dinner, enjoy these puris and do not forget to leave a comment on this recipe.
Ingredients
Whole wheat flour 2 cups
Spices (Red Chilli powder, Turmeric powder, Asafoetida)
Salt
Water ½ cup
Oil for frying
Method
Take the wheat flour in a large mixing bowl. Add the spices, a teaspoon salt, 2 tablespoon oil and mix well. Add the water as required and make a stiff dough. If the dough is soft, it will become too soft to handle in a while. Set aside for 20-25 minutes.
After 20 minutes, knead the dough again and divide it into small sized balls. Take each ball, flatten it and roll it out into a disc of about 3-4 inches and medium thickness. To ease the process of rolling out the dough, apply a drop or two of oil on it. Do not use dry flour as the flour particles will separate from the puris in oil. Roll out the puris and set aside.
Heat oil in a pan and once the oil is medium hot, slide a puri in oil and use a slotted spoon to press it little. This ensures the puri turns into a ball. Turn over once the puri has a few brown dots, and press again. Remove from flame and drain on kitchen towel or paper. The puris is enjoyed most with potato sabji. Serve the puris either with sweet and spicy pickle or with yoghurt. Enjoy it for breakfast with a cup of Masala Chai or Coffee.
Recipe for the potato sabji: Cut one potato into cubes and set aside. Also chop ½ tomato and ½ onion. In a pressure cooker add a teaspoon of oil, saute mustard seeds, asafoetida, cumin seeds and curry leaves. Add the onion, mix well and let the onions cook. Once they are light pink in color, add a teaspoon of red chili powder and increase the flame to high. In a couple of seconds add 3-4 tablespoon of water to get the rich red color. Mix well and let the water evaporate. Now add the potatoes, salt, sugar, turmeric powder and mix well. Add the tomatoes next and ½ a glass of water. Pressure cook for 2 whistles. Open the pressure cooker and add a teaspoon of dhania jeera powder. Taste and adjust salt and sugar. Squeeze lime juice, garnish with cilantro and enjoy with Puris.
For other Indian Breads, click here.