Hosting a Chaat party? Want to include an unconventional Chaat? On a diet and want to skip the fried Puri, Rice kurmura and still have a bhel? The answer to all these questions and a few more is this Sprouts Bhel. A portion size enough to serve four, it is made with 1 teaspoon of oil and topped with little sev which too can be done away with! If you like, add some spicy mint chutney and some sweet Imli chutney and serve with a flat puri to complete the Bhel experience. Want to serve it with a baked Puri? Find the recipe here.
Not just as a Chaat, I love this dish as a salad too. Just add an extra dash of lime juice and serve it as a salad. It makes a great dish and can be made in less than ten minutes once you have the sprouts ready. I make it with just moong sprouts, but you could very well go ahead and add mixed sprouts to it. Making this dish makes me believe that salads can be tasty, even without the unnecessary sauces that are so full of calories!! Try this out soon, it is a great way to break free from repetitive salads and chaat ideas.
Ingredients
Moong 2 cups
Onion 1 medium, diced
Tomato 1 medium, diced
Carrot 1 medium, diced
Cucumber 1 medium, diced
Thin sev
Chaat Masala
Salt, Pepper, Lime Juice
Oil 1 tsp
Cumin seeds
Cilantro
Method
Using 2 cups Moong and following the method mentioned here, make Moong Sprouts.
In a microwave safe bowl, add 1 ½ cup water and a pinch of salt. Add the sprouts and microwave for 2-3 minutes. Drain water and set sprouts aside. In a pan heat oil and add some cumin seeds. Once they pop, add the sprouts. Let the sprouts saute for a couple of minutes, and then adjust the salt and also add the Chaat Masala. Mix well and turn down the flame.
In a mixing bowl, add diced onions, tomatoes, cucumber and carrots. Add some salt, pepper powder and lime juice. Mix well. Now add the sprouts, and homogenize the mixture. Remove in serving bowls, add some thin sev on top and garnish with Cilantro.
This dish can be enjoyed as an appetizer or snack. It can also replace the conventional Bhel in a Chaat party. Made with just 1 teaspoon of oil, the portion is enough to serve four people as an appetizer.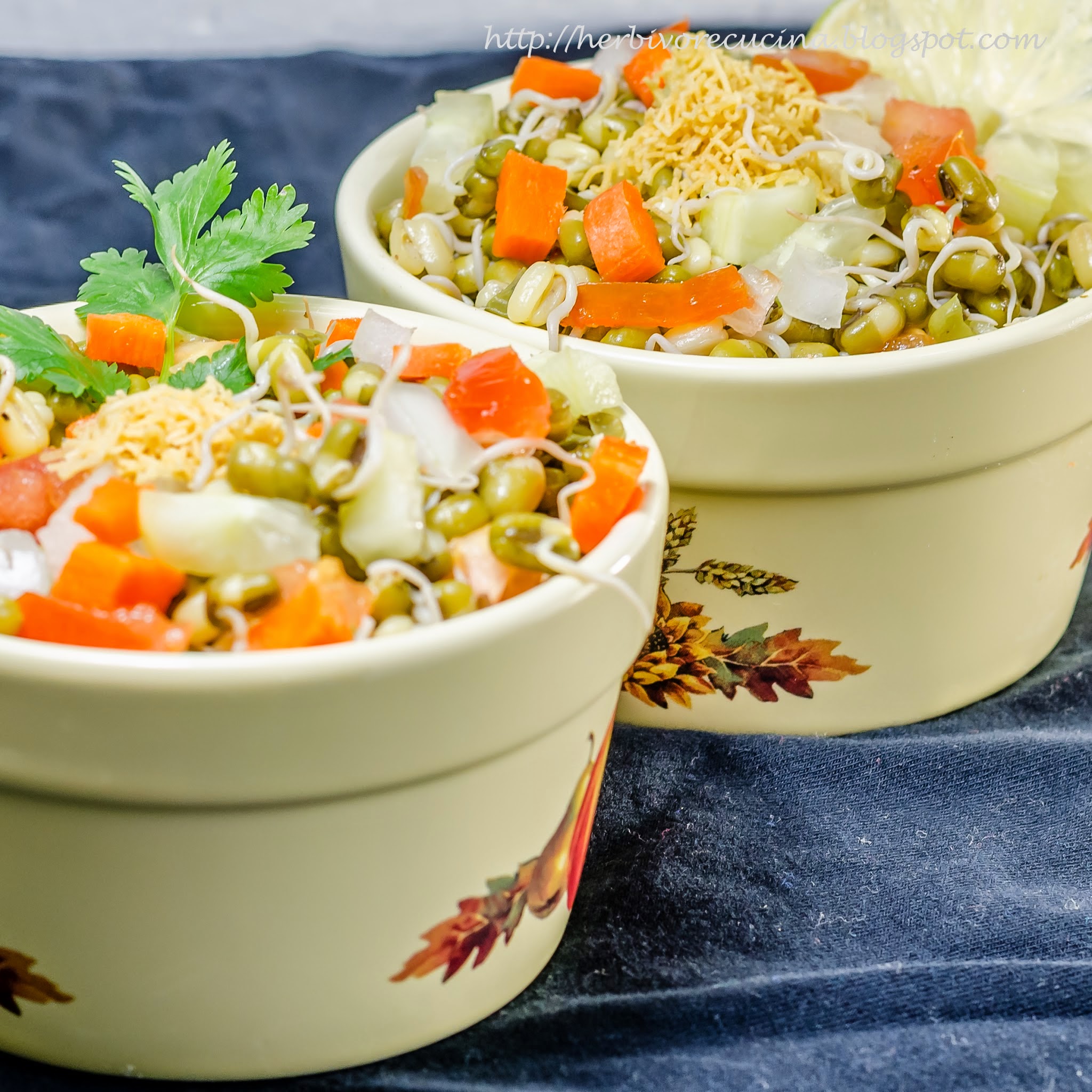 Have extra sprouts? Try this amazing Brown Rice and Sprouts Pulao.
Still craving for Bhel? Try it here: Bhel Puri