A perfect snack or appetizer, Sandwich Dhokla combines two Indian favorites to make a yummy recipe! Dunk them in your favorite chutney and enjoy!
Calling all Indian food lovers! If you have tried Indian food and loved it, here is a dhokla recipe from the state of Gujarat, India. Steamed cakes made from rice or lentil flour is something we LOVE for breakfast or for tea time snacks!
Dhokla makes an appearance in MOST weddings and is a snack that is perfect for any tea party. Made from rice and/or lentils; these are a great appetizer that is not fried, easy to make and easy to scale. Plus, they are liked by most people who like Indian food. So it is pretty easy to make an appetizer for any party.
We are in September and the months to follow will have a TON of parties; Indian festivals like Diwali and Dashera as well as other parties like Halloween and Thanksgiving. And you definitely need some yummy dishes for family and friends! I made these for a party recently and it was LOVED by everyone.
For those not familiar with dhoklas; this is an Indian snack or appetizer made from rice or lentils. Now a days a lot of recipes can be found to make these from quinoa, oats etc. However the most famous versions are white dhokla; made from fermented rice batter and yellow dhokla; made from chickpea flour. And of course there is this recipe; that brings both the dhoklas in one platter.
As the name suggests sandwich dhokla is made of two layers or more; each stuck together by some kind of chutney. Here, I made the two layers of different colors using different ingredients, but the same recipe can be used to use only one kind of better and layer with chutney.
While the dhokla batter can be switched as per your choice, chutney or sauce forms an important part of the dhokla. The concept is to steam one part of the dhokla till a thin skin forms; then layer the second. Chutney or sauce of some kind is required to stick the top layer to the skin of the bottom dhokla. So do not skip that!
Finally coming to the serving suggestions for the dhokla. These taste BEST with some cilantro chutney, red chilli and garlic chutney, masala chai and mango ras. Ras and dhokla is a really famous Gujarati combination. It works well as a complete meal for weekends. I tempered the dhoklas but that is optional.
If you like dhokla and dhokla based recipes, check these out:
Read on to find how to make these yummy dhoklas and have a great party or meal!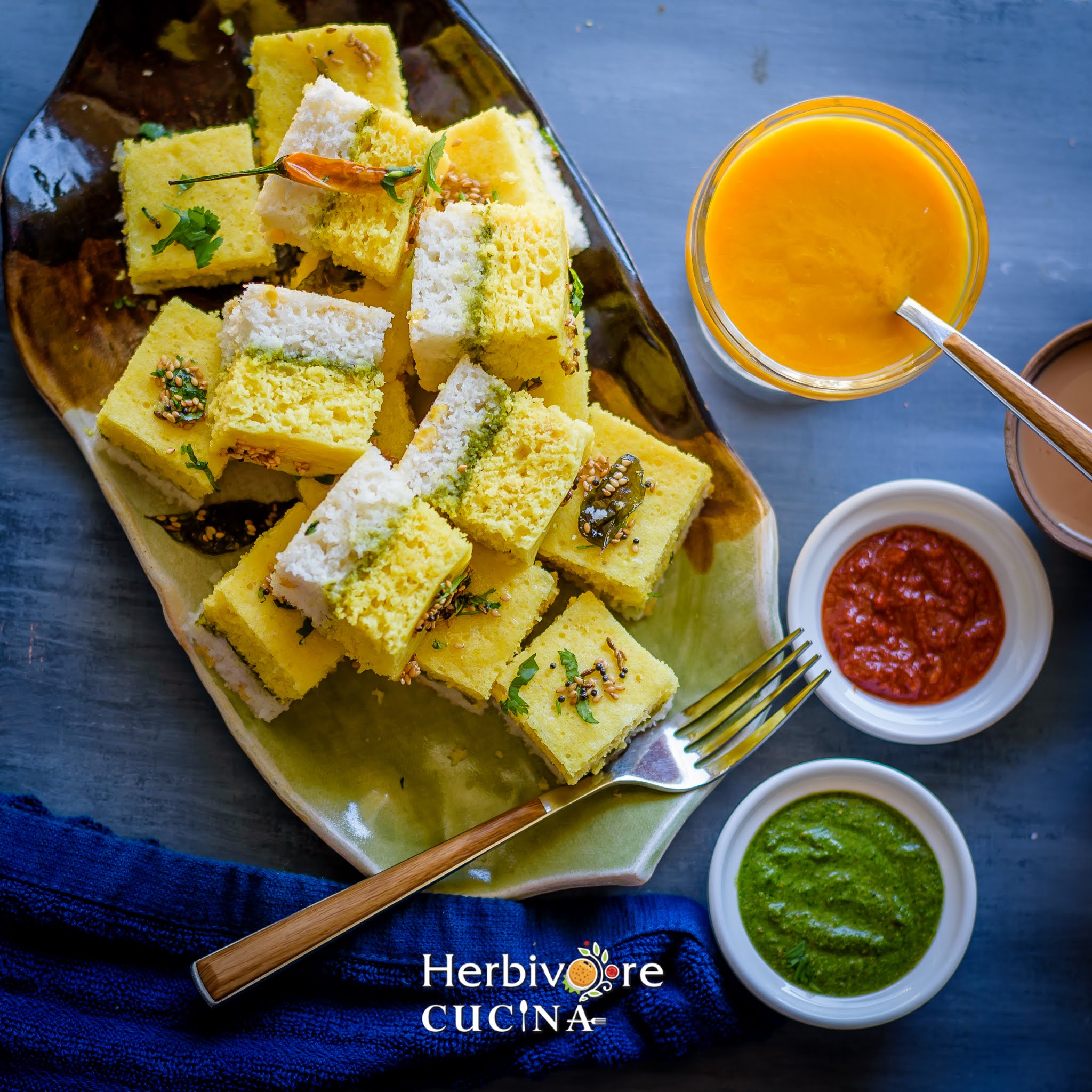 Ingredients
2 cups of white dhokla batter made using this recipe: Khatta Dhokla
2 cups of yellow dhokla batter made using this recipe: Khaman Dhokla
Cilantro to garnish
For the Chutney
Cilantro 1 cup
Mint leaves ½ cup
Green Chilli 2 medium
Ginger 1 inch piece
Cumin seed powder ½ tsp
Lemon Juice 1 tsp
Salt ½ tsp
For the Tempering
Oil 2 tbsp
Mustard Seeds ½ tsp
Cumin seeds ½ tsp
Asafoetida a pinch
Sesame seeds 1 tsp
Green Chilli 2-3 split lengthwise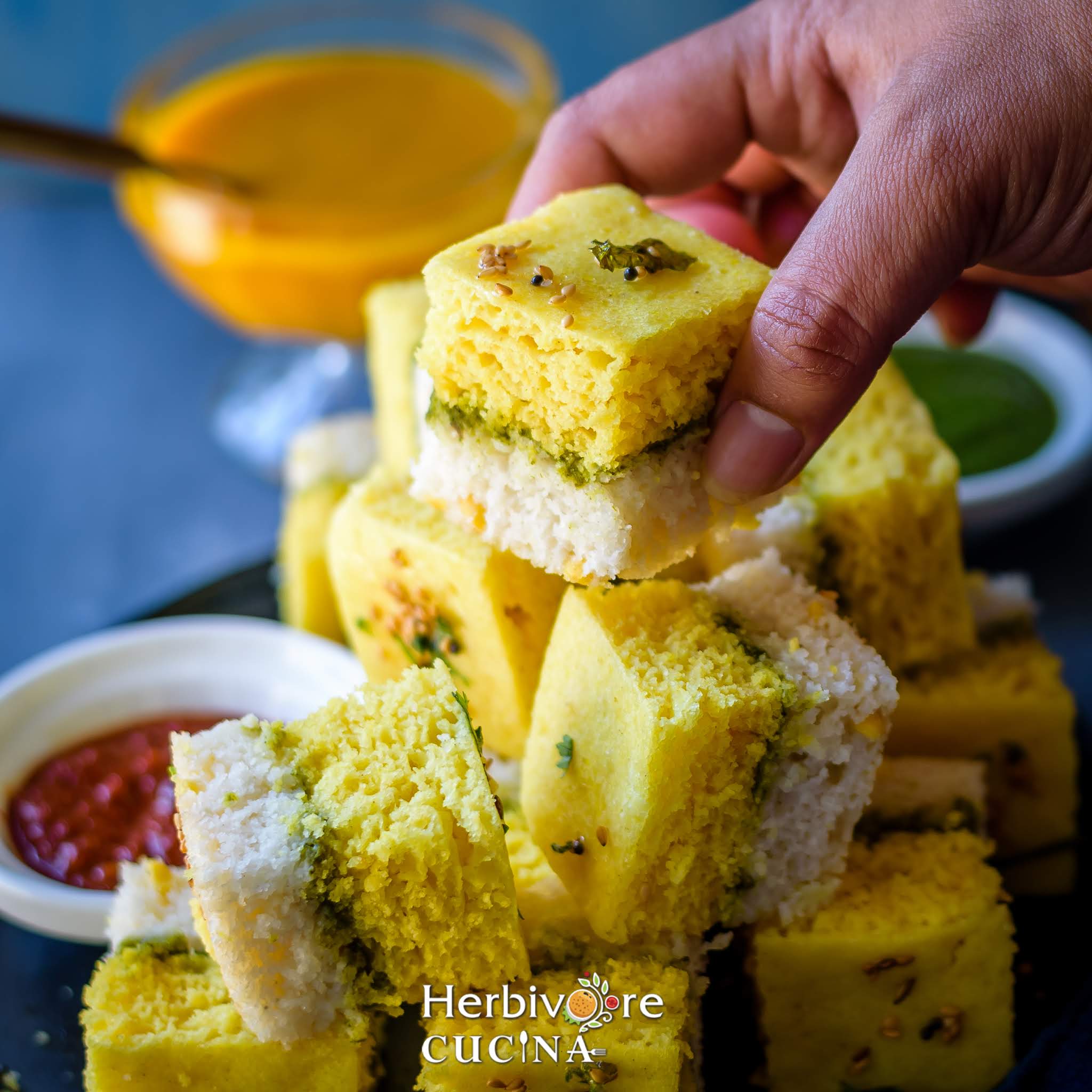 Method
Prepare the batter for white dhokla from scratch as shown in this recipe. You can halve the ingredients or make the entire batter and use about 2 cups from it. Adjust the consistency so that it is of a pancake batter consistency.
To make the chutney, add all the ingredients in a blender and blend to a smooth paste. Set aside.
Once the white dhokla batter has fermented and is ready to use start the process.
To do so, place a greased tall plate of 8-9 inch diameter or 9 inch spring form cake pan on a trivet in a pan of water. Make sure the water does not touch the plate cake pan. Place on the stove and let the water heat.
Once the pan is hot and the water starts to bubble, add the white dhokla batter to the plate and cover the pan. Let the dhokla cook on medium flame for 7-8 minutes.
Meanwhile, get the batter for yellow dhokla ready. Mix all the ingredients as per this recipe and keep the batter ready.
In about 7-8 minutes open the lid of the pan and check if the white dhokla has developed a skin on top. Once it does, spread 2-3 tablespoon of chutney evenly on it.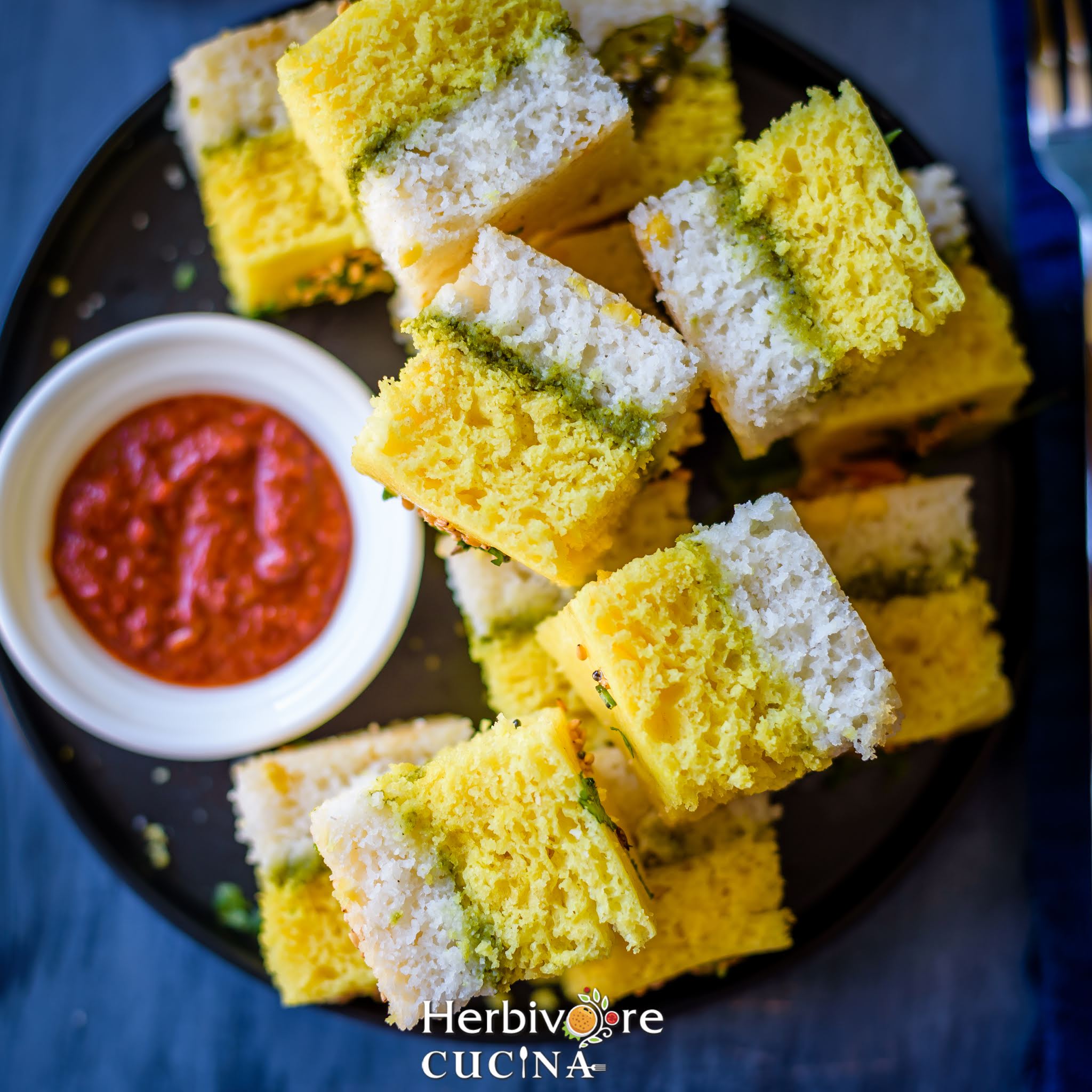 Add the yellow dhokla mixture on top and cover the pan again. Steam for 12-15 minutes. Check if both the dhoklas are cooked through. If not, steam for a couple of minutes. Check by inserting a knife or toothpick in the middle of the dhokla. If it comes out clean, the dhoklas are cooked.
Once done, turn down the heat. If using a springform pan, open it up to allow the dhokla to cool a little. If using a plate, over turn in on to another plate.
Once the dhoklas are a little cool, heat oil in a small pan. Add all the tempering ingredients and let the seeds pop. Once they do, sprinkle the oil and the spices on the dhokla.
Cut the dhokla into equal size pieces and serve with Chai or Mango ras. You can also use the leftover chutney or garlic chutney to serve with the dhoklas.