This shop has been compensated by Collective Bias, Inc. and its advertiser. All opinions are mine alone. #KingofFlavor #FlavorRocksNTL #CollectiveBias
Buns made from scratch stuffed with tofu, spices and hot sauce, this recipe will become your go-to snack and appetizer for parties and picnics!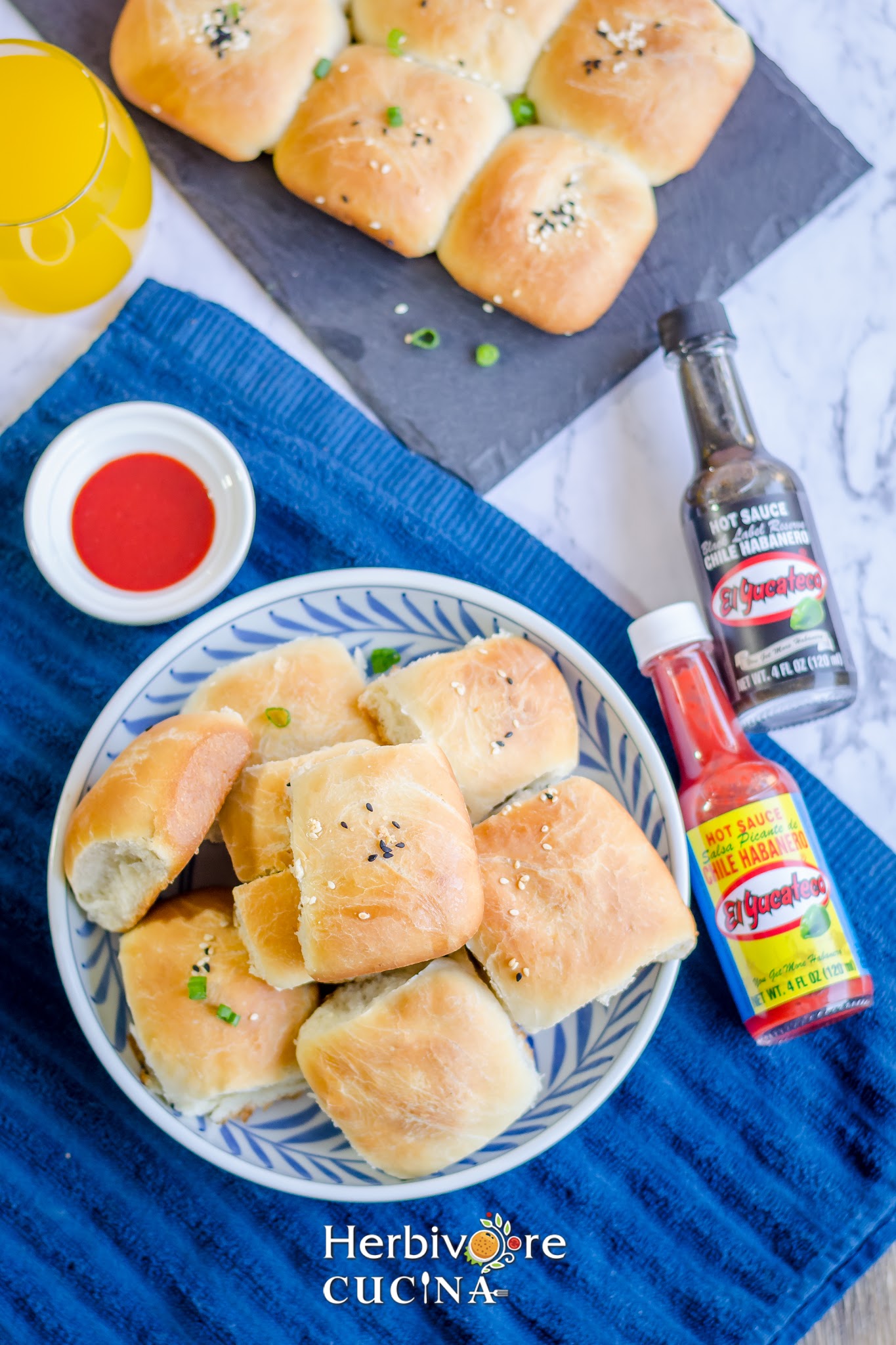 We are racing through May and it time to plan Summer activities for everybody in the family. One of the most amazing things to do is to go for concerts in your area. While the most important thing to plan for these events is the ticket to the concert; the second MOST important is to plan the food for the trip!
Everytime we go for any concert around here, we take a TON of food for the drive. Everything that is in my car has to follow these rules: It should be easy to make, easy to eat and easy to clean. Plus it should be something that can be enjoyed at room temperature.
Keeping all these things in mind, I thought of making buns stuffed with tofu. These buns are full of tofu, seasonings and El Yucateco® Hot Sauce. Make these buns and have a great drive to the concert. And yes, don't forget to slip in a bottle or two of the sauce to drizzle over the buns before enjoying them!
Speaking of these sauces, El Yucateco will now be available at select stadiums and The House of Blues, and since they are music lovers just like us, they want to give you the chance to win a once-in-a-lifetime musical experience. To enter this draw to win a once-in-a-lifetime opportunity and to win gift cards every week, head here:
#KingofFlavorSweepstakes (5/9 to 7/4)

Variations
Coming to the recipe, these buns are one of our favorites. Really easy to make from scratch, these buns are super addictive! The outer bread dough is really easy to make. It is almost like any regular white bread. The filling is what makes the dish super! Small pieces of tofu flavored with Asian sauces, pepper powder and El Yucateco® Hot Sauce , these stuffed buns are filling, delicious and flavorful all at once!
Not a tofu lover? Make the same with paneer (Cottage Cheese) or potato. You can use the same seasoning and a dash of El Yucateco® Hot Sauce. I picked these #1 authentic habanero hot sauces from Walmart.
About the sauce
The market is flooded with hot sauces. But from all the ones available, El Yucateco® Hot Sauces are my favorite. Made from habaneros hand picked from our own fields, these sauces are handcrafted to deliver rich flavor with just the right amount of heat. Here are my favorites from the lot:
Black Label Reserve Hot Sauce - Created from fire roasted habaneros this rich smoky sauce stands out from all others with it's unique flavor and appearance. This is our newest addition to the line and best used when cooking. This sauce has an earthy smoke flavor without the sweetness of a chipotle sauce. The smokey flavor of this sauce brings depth, habanero flavor and the perfect amount of heat to any dish without adding an overpowering smoke taste. Best paired with red meats and hearty stews or chili. Also amazing with chocolate! No artificial coloring added.
Red Habanero Hot Sauce - Made with fresh red habanero peppers, tomato, and select spices and seasonings. Our red habanero sauce is the perfect "all purpose" sauce. It packs a little more kick then the average hot sauce but with far less vinegar, so you get the true flavor of the pepper when you add this sauce to any dish. Our red habanero is a great fit for everything from a Bloody Mary to Shrimp Cocktail or Wings.
Finally, before you head to the recipe, grab this Print at Home coupon for El Yucateco® that is valid from 5/9 through July and check out the social hub to download the music for free as well.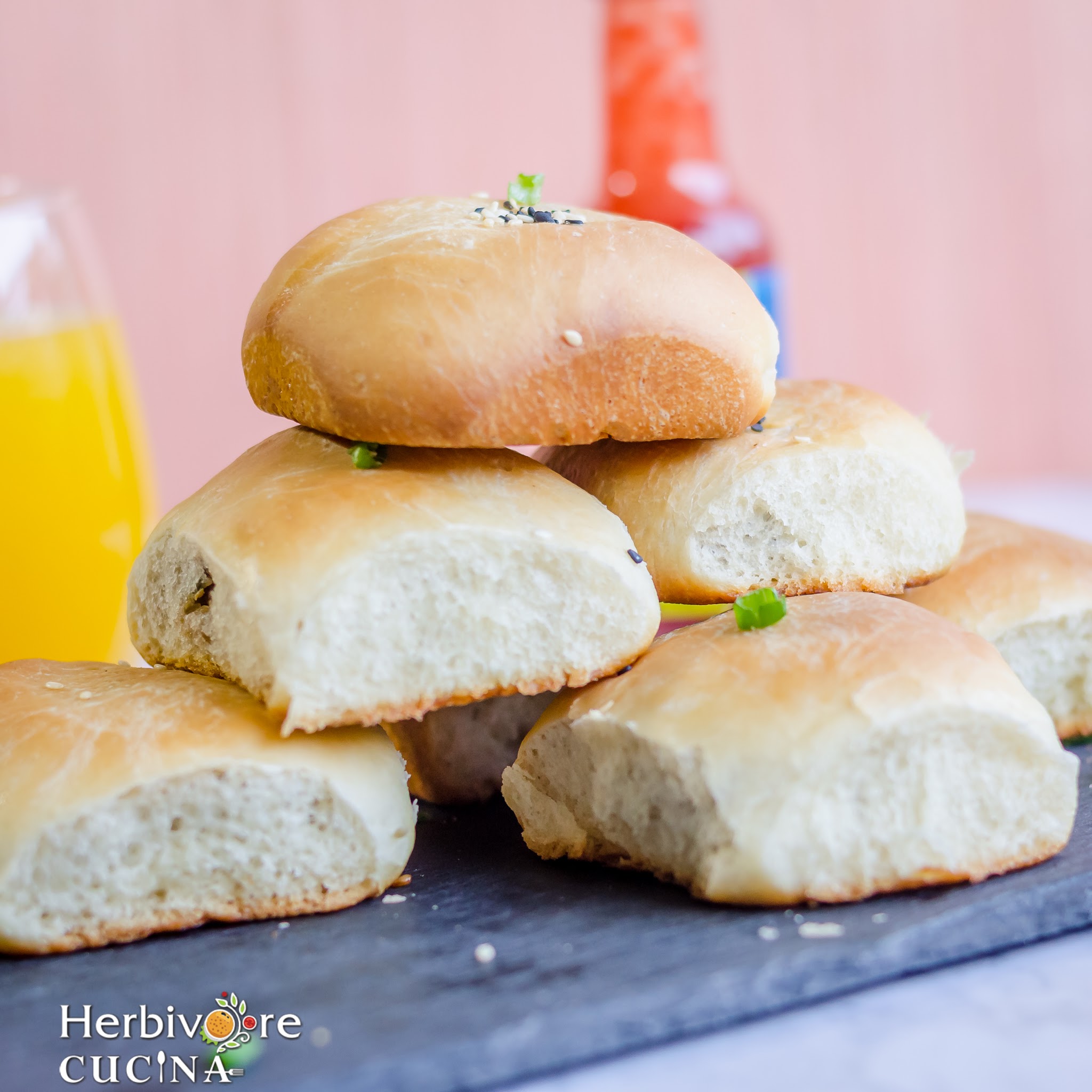 Looking for more inspiration using these sauces? Also, make sure to check El Yucateco® out on: Facebook Twitter Pinterest Instagram YouTube
Ingredients
For the dough
All purpose flour 3 cups
Active Dry Yeast 2 ¼ tsp
Unsalted Butter 3 tbsp
Salt 2 tsp
Sugar 1 tsp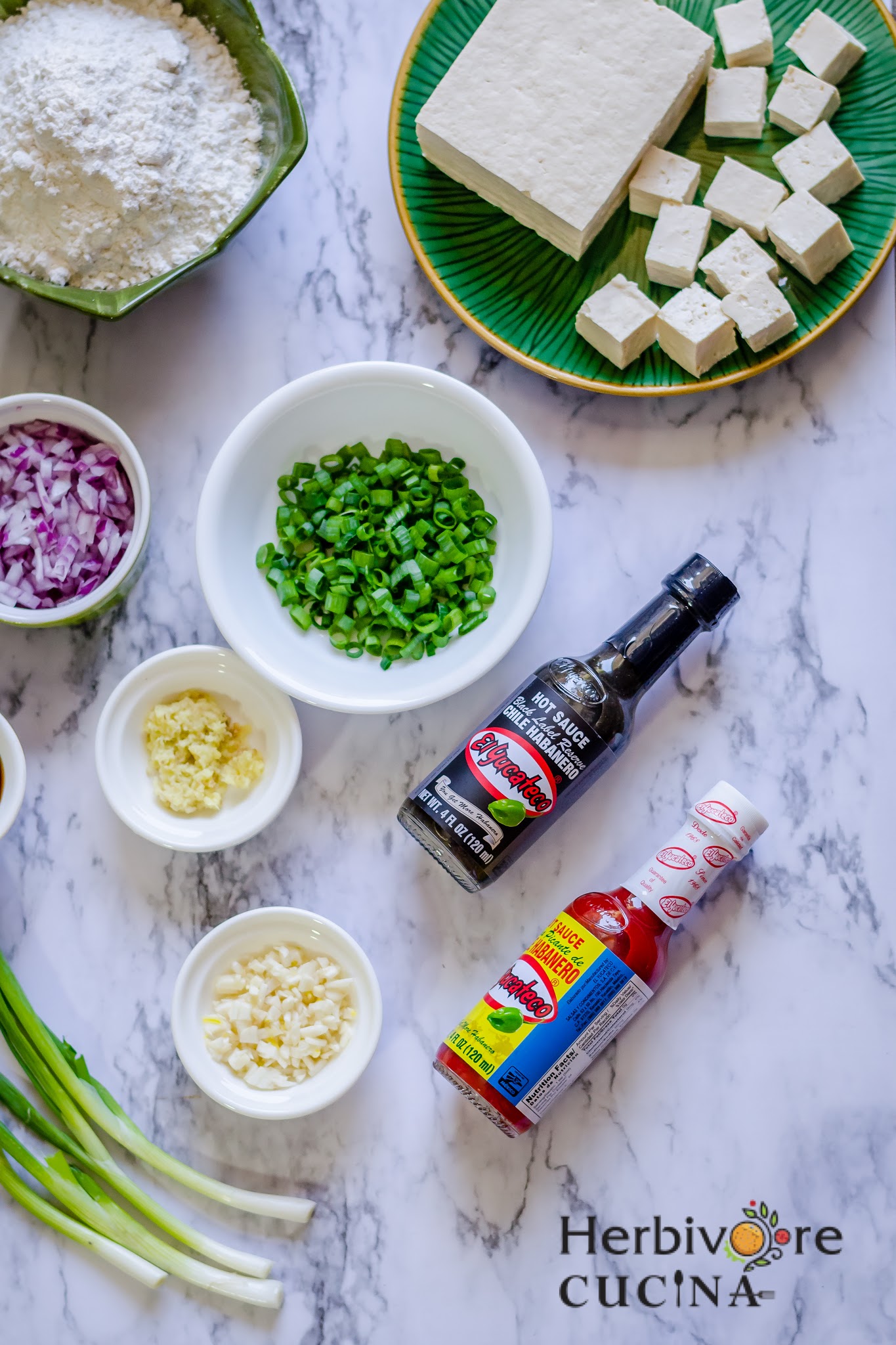 For the filling
Firm Tofu 1 block 14 oz
El Yucateco® Black Label Reserve Hot Sauce 2 tbsp
Garlic 3-4 cloves, minced
Ginger 1 inch piece, grated
Pink Onion ½ medium, diced
Spring Onion greens ½ cup
Sesame (or Vegetable) Oil 1 tbsp
Soy Sauce 2 tsp
Vinegar 1 tsp
Salt 1 tsp
Pepper powder 1 tsp
Sesame seeds 1 tsp
Method
To make the bread dough
Heat 1 cup water till just warm (105-110 F). Mix in 1 teaspoon salt, sugar and yeast. Set aside till the yeast blooms.
In the base of a stand mixer or a big bowl add flour, remaining salt and unsalted butter. Mix well and add the bloomed yeast.
Mix on medium speed till it all comes together. The dough should be soft to touch. Coat the dough ball with some oil/butter and rest for an hour in a warm place till it doubles.
To make the filling
While the dough rises, make the filling. To do so, heat oil in a pan. Add the garlic, ginger and onion. Saute till the onions are soft.
Press the tofu between paper towels to remove all the water. Squeeze out the remaining water and cut to cubes. Add it to the pan. Season with salt and pepper and cook till the tofu is slightly brown. It took me 5-6 minutes to do so.
Add soy sauce and vinegar and mix well. Also add the spring onions, sesame seeds and El Yucateco® Black Label Reserve Hot Sauce. Turn down the flame and cool to room temperature.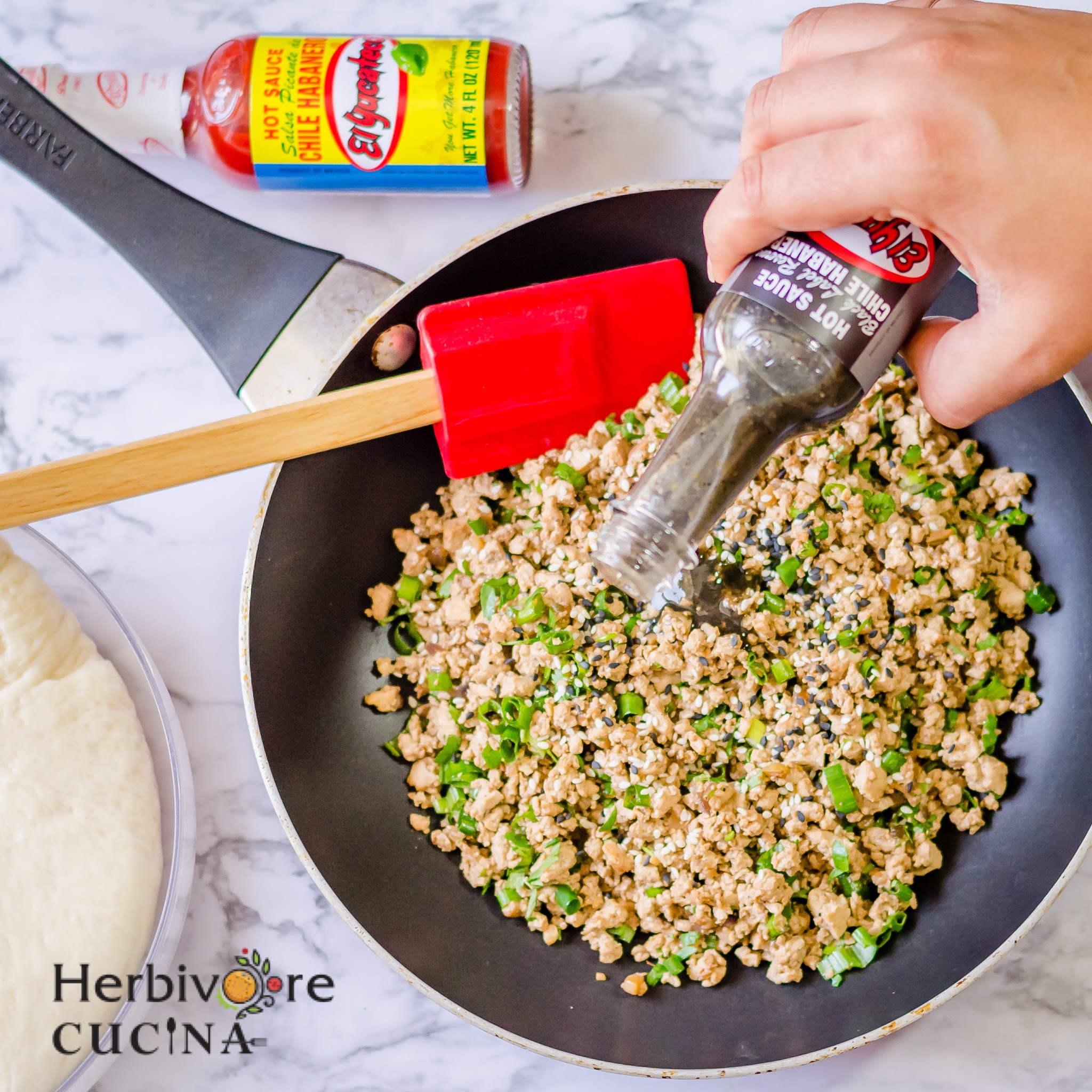 To make the buns
When the dough doubles, punch it down and divide into 12-15 equal size parts. Roll out each piece to a disc and place 2 tablespoon of the filling.
Fold the edges and make a smooth ball. Line a baking tray with some oil and place the dough ball on it. Repeat for all the remaining dough balls and place them one inch apart.
Brush some oil on top and let the breads rise for an hour. Meanwhile preheat oven to 400 F.
Once the breads rise, sprinkle sesame seeds on top.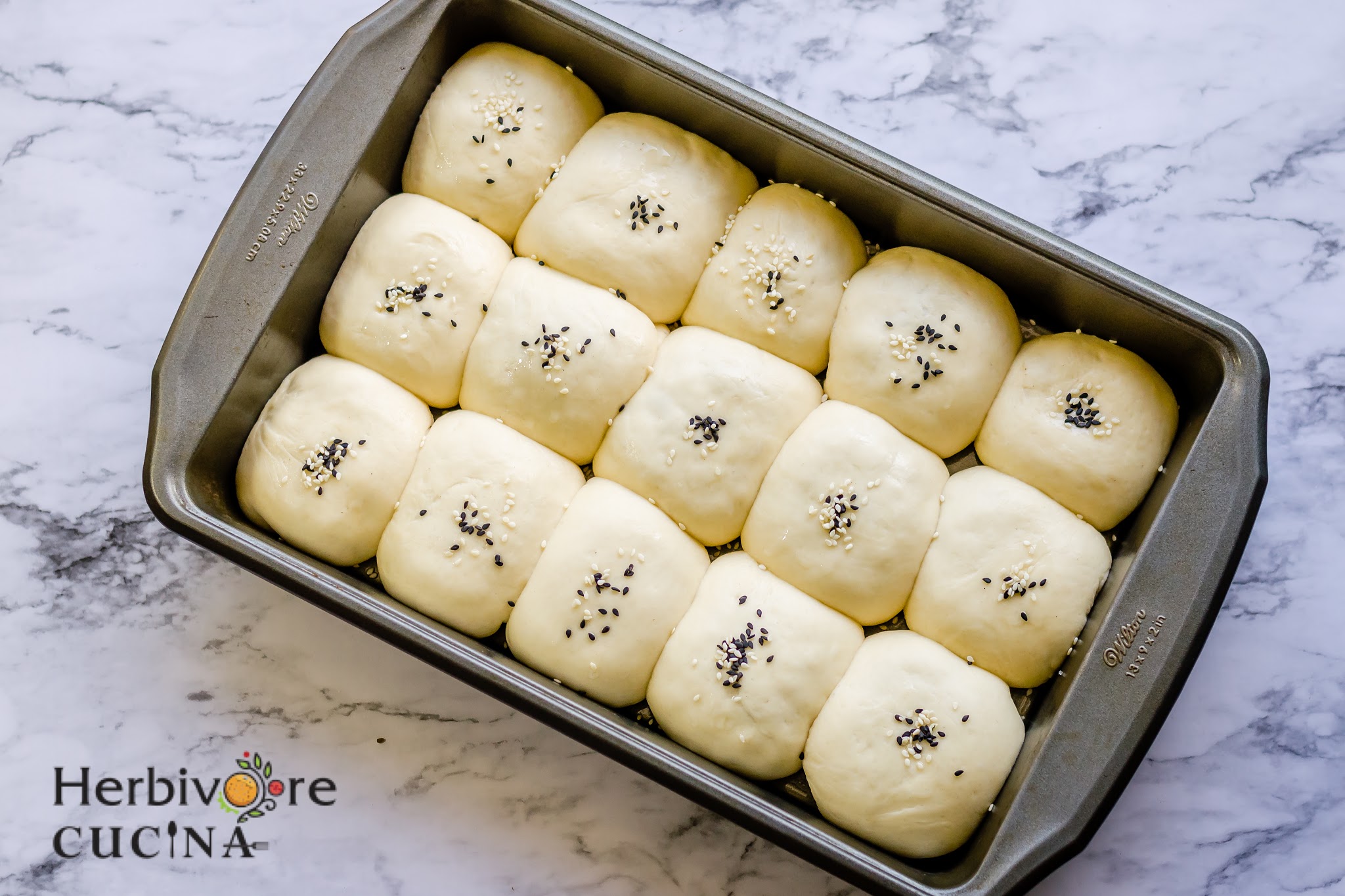 Bake for 15-18 minutes, till the tops are light brown.
Enjoy immediately or pack for your next trip! The breads taste awesome with some El Yucateco® Black Label Reserve Hot Sauce or El Yucateco® Red Habanero Hot Sauce on top.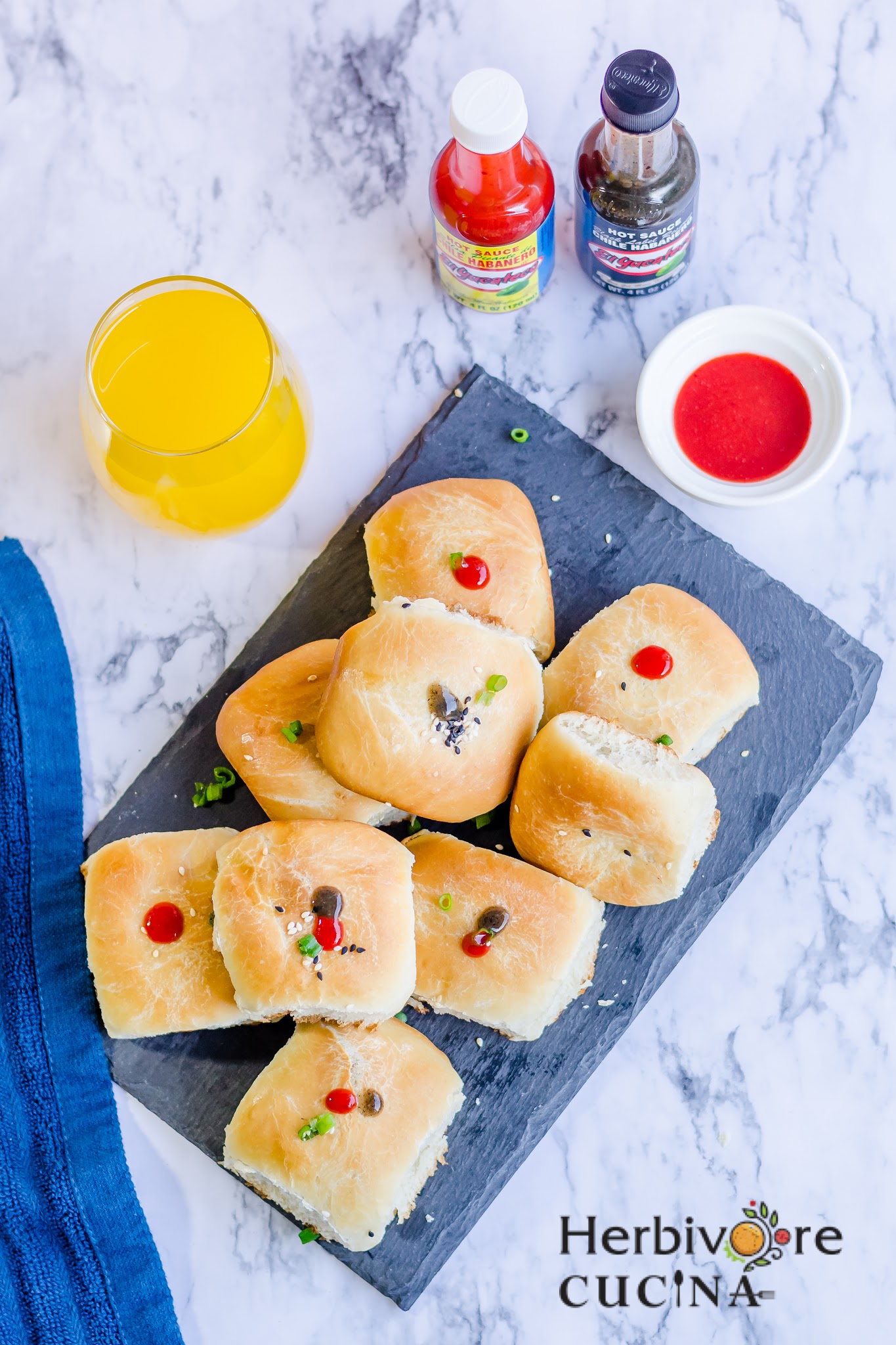 Pin for later:
Looking for more stuffed bun recipes? Check these out: