An addictive yet easy recipe to make Barfi (Sweet Fudge) using FIVE ingredients. A great addition to any celebration, this Milk Powder Barfi is a keeper!

Some of the links below are affiliate links, meaning, at no extra cost to you, I will earn a commission if you click through and make a purchase.
Barely any time left for Diwali and here is a super delish and easy recipe to make to celebrate. This recipe of Milk Powder Barfi uses ONLY FIVE ingredients and comes together rather quickly.
To understand what the sweet is, barfi is any kind of sweet fudge. Made from a variety of ingredients, milk is the most popular ingredient used to make barfi. Coconut, bottle gourd, besan, nuts or various lentils are also used to make different kinds of barfi recipes.
Diwali is the perfect time to enjoy Indian sweets. The celebration that continues for a week is enjoyed with a lot of grandeur in most parts if the country. Unique sweet and savory recipes are prepared, lights are lit, homes are decorated and everyone adorns pretty clothes to celebrate.
Food forms a LARGE part of the celebration and LOTS of sweets are made. While there are some traditional recipes that are prepared, certain new recipes that are quick and easy appeal to many folks. Keeping that in mind, here is an easy to make addictive barfi recipe.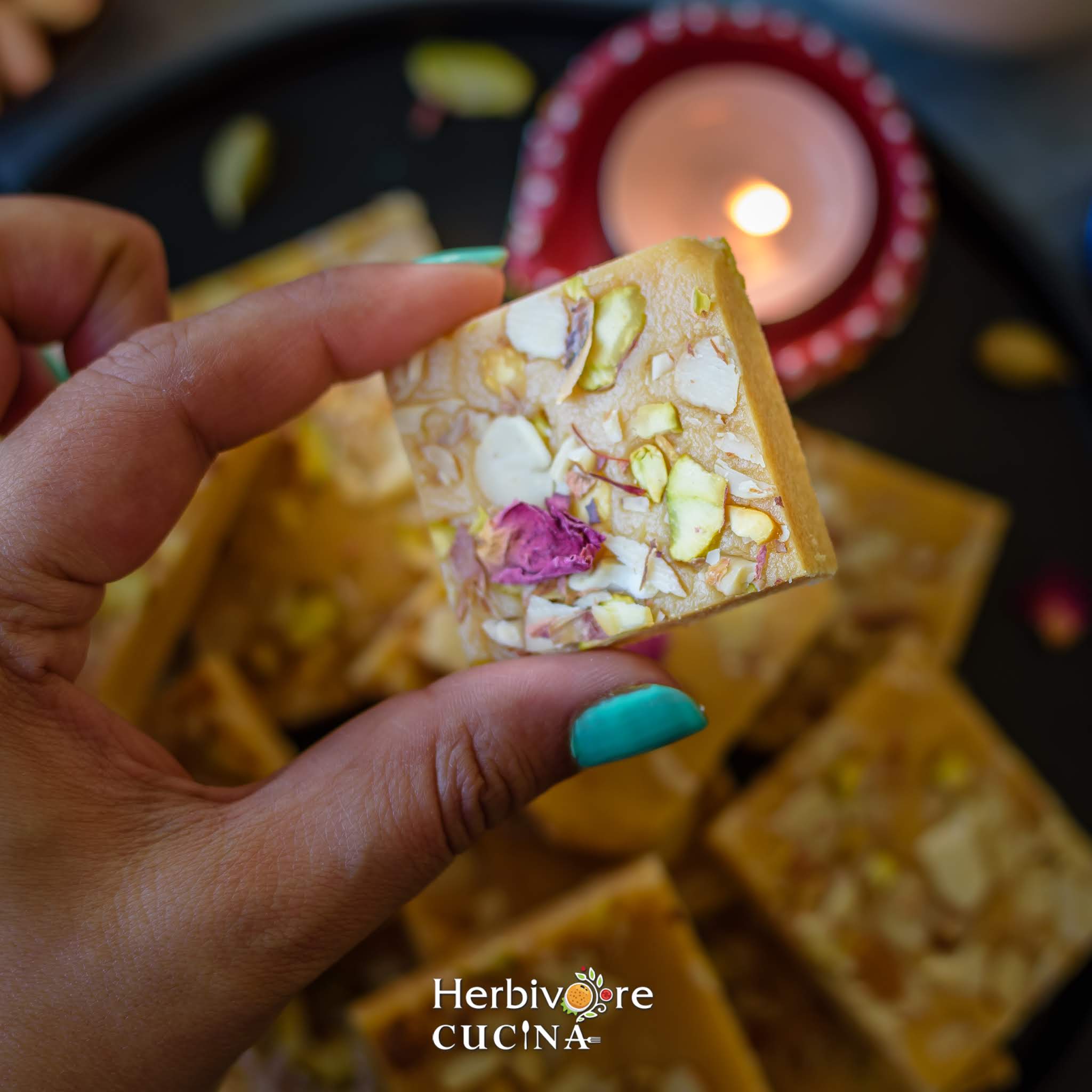 How to make Milk Powder Barfi?
Milk barfi is a family favorite and I make it pretty often. However, it does take quite some time to thicken the milk and convert it to barfi. An easy way to make a quick version of the same recipe is to use milk powder. The powdered form enables making the recipe in under 30 minutes, and the taste is almost like the milk version!
To make this recipe all you need is five pantry essentials, a handful of add-ins and 30 minutes. The process is super simple; mix everything, cook everything and make pieces using the dough.
This recipe is simpler than a lot of other recipes that need a specific consistency of sugar syrup. Here, we are only looking for the sugar to melt. This makes the recipe really easy compared to many fudge recipes.
Tips to make Milk Powder Barfi
This recipe is super easy. However, keeping a few things in mind will help make it perfectly.
Avoid any lumps from forming at all the stages. From the step of adding milk powder to ghee to the step of mixing in sugar. If the mixture turns lumpy, turn the flame to the lowest level and break them all before proceeding to the next step. Else the lumps will get hard and spoil the texture of the barfi.
Maintain the flame at medium to ensure the mixture does not stick to the pan. Using a non-stick pan works best for this recipe.
Cook the mixture only till it comes together as a ball. Do not over cook else the barfi will turn chewy.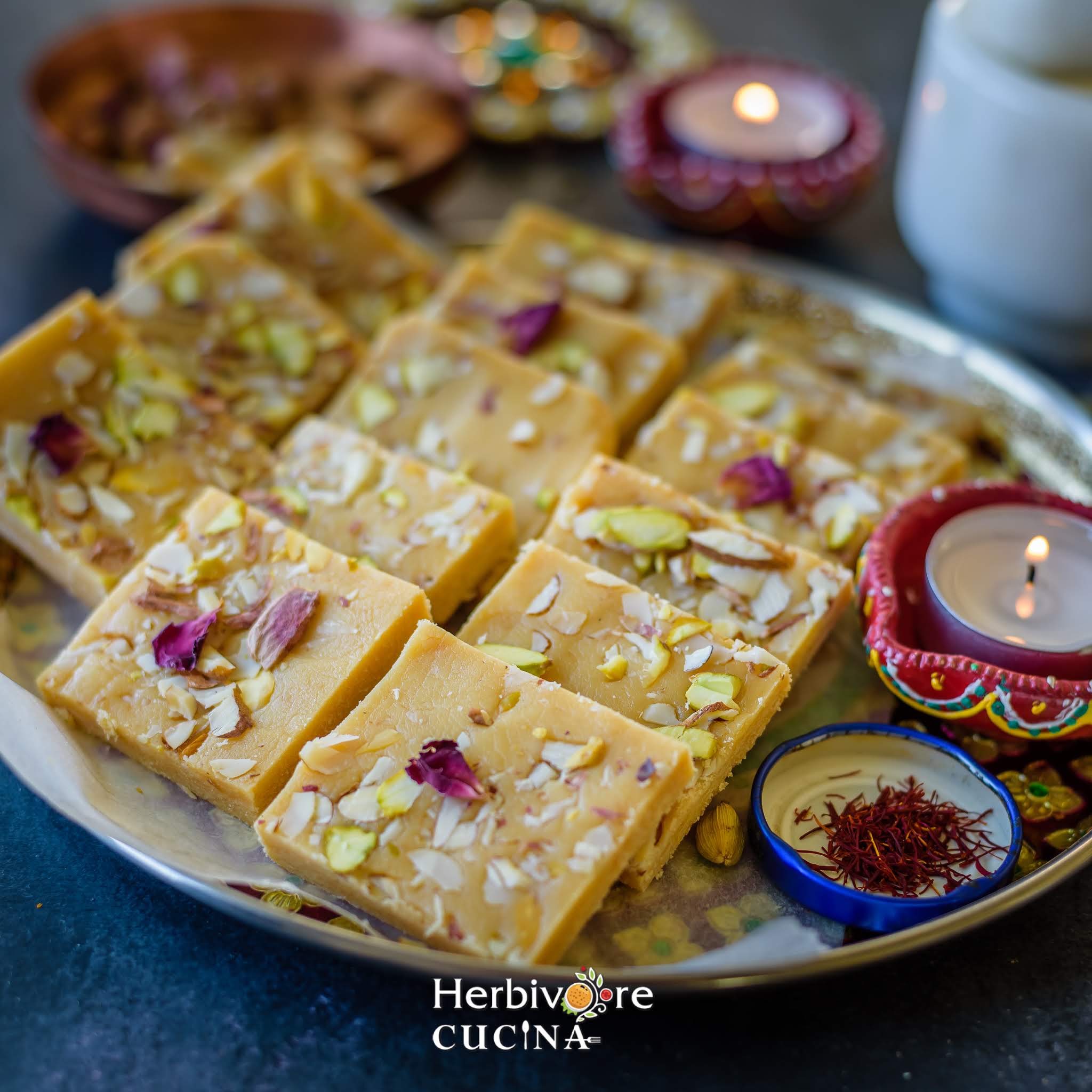 Variations
I added a handful of nuts, saffron and cardamom to the barfi. If you like you can add other ingredients like chocolate, rose syrup, mango puree too. It makes the barfi taste great and have plenty of variations.
Another common variation to the recipe is to add condensed milk to the barfi. This gives the barfi a richer texture than sugar and is a great idea too. Skip the sugar and adjust the time if you decide to use condensed milk.
Following these easy tips will definitely help make perfectly melt in the mouth barfis. They are perfect to bring to a Diwali party or just enjoy them through the festive season. Not just Diwali, these barfis are great for all celebrations throughout the year!
If you like Indian sweets, here are some really easy sweets that you can try this Diwali:
Ingredients
Milk Powder 2 ½ cups
Ghee ¼ cup
Milk ¾ cup
Sugar ¼ cup
Cardamom Powder ¼ tsp
Slivered Nuts ¼ cup; I used almonds, cashews and pistachios
Saffron a pinch
Method
In a thick bottom pan heat milk and ghee. Once hot, turn the flame to low and slowly add in the milk powder. Mix well to avoid any lumps.
Add the sugar and stir continuously till it comes together. The sugar will begin to dissolve. Keep mixing to keep lumps away.
In about 10 minutes, the mixture will thicken and finally form a dough. As the ghee starts to separate add in cardamom powder and saffron and mix.
Transfer the dough to a plate lined with parchment paper or ghee. Using a spatula make the top layer smooth and add the slivered nuts. Press them down gently and let the barfi cool for a couple of hours.
Using a sharp knife cut squares and store in an airtight container. The barfi can be refrigerated for up to 10 days.
DISCLOSURE: WE ARE A PARTICIPANT IN THE AMAZON SERVICES LLC ASSOCIATES PROGRAM, AN AFFILIATE ADVERTISING PROGRAM DESIGNED TO PROVIDE A MEANS FOR US TO EARN FEES BY LINKING TO AMAZON.COM AND AFFILIATED SITES.