A wonderful combination of caramelized fruits on top of a soft, spongy Vanilla and butter cake. Well, that is aptly the definition of the classic Pineapple upside-down cake. This cake is unique in flavor and can be made in a jiffy. No fondant or butter cream toppings for this one and yet it has a tasty and colorful top! The smell in the house while baking this cake is almost as great as the taste while eating it.
This Upside-down cake is a perfect blend of almost everything. Soft buttery cake infused with pineapple juice and Vanilla, slightly tart and chewy pineapple on the top along with the sweet and eye-catching maraschino cherries perfectly caramelized in butter and brown sugar. Whenever you need a break from the Chocolate cakes, try this fruity Pineapple cake or Strawberry cake. And not to miss the flavorful blend of Cranberries and Orange that come together in this one.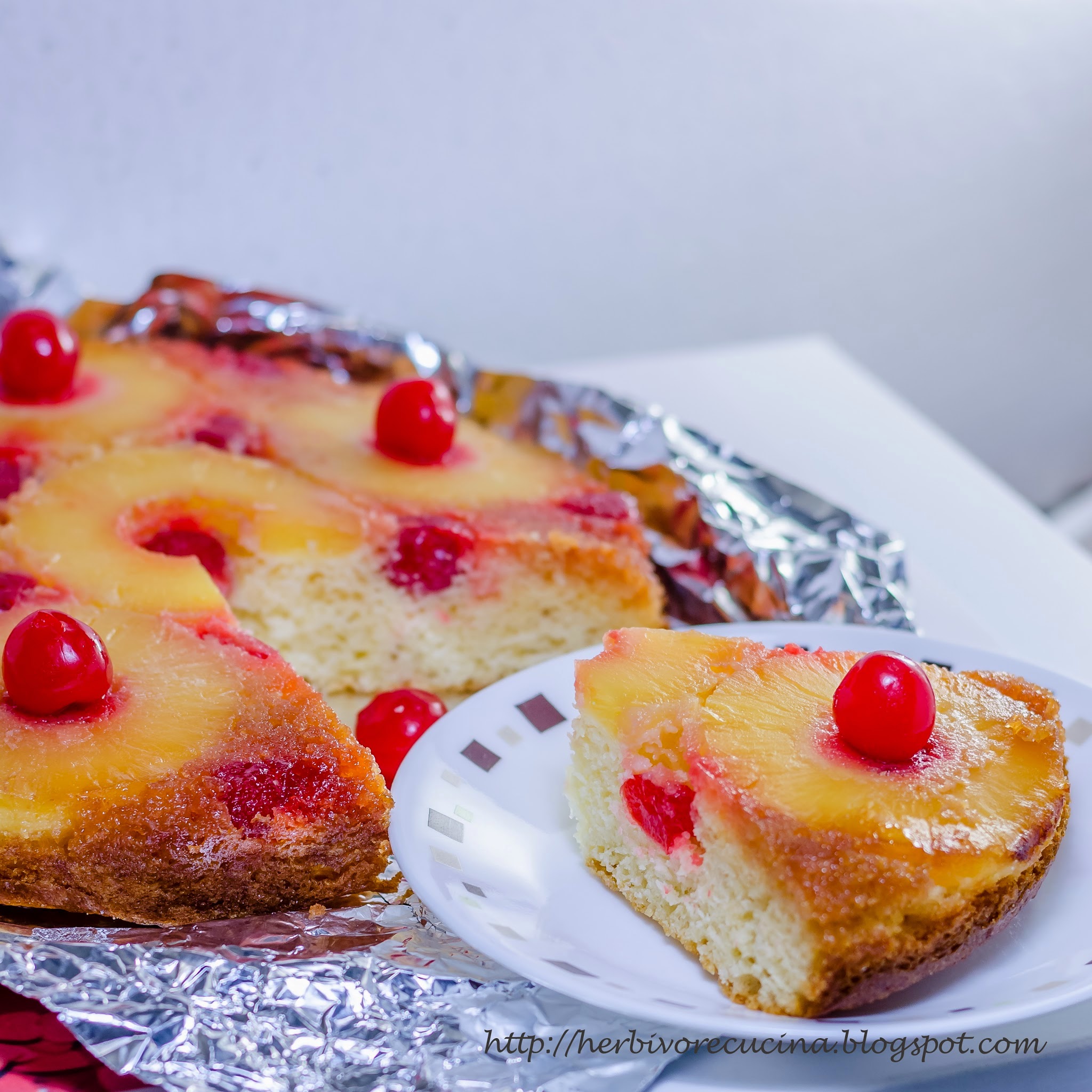 Ingredients
For the Pineapple layer
¼ cup brown sugar
¼ cup unsalted butter
Pineapple slices
Maraschino Cherries
For the Cake Batter
1 ½ cup Allpurpose flour
1 cup Confectioner's Sugar (Powdered Sugar)
½ cup Pineapple Juice
¼ tsp. Baking Soda
2 tsp. Baking Powder
¼ tsp. Salt
2 Eggs
½ cup Unsalted butter (at room temperature)
1 tsp. Vanilla Extract
Method
Preheat oven to 350 F. In a 9 inch Spring form pan, place pieces of unsalted butter at the bottom and place the pan in the pre-heated oven for 2 minutes to melt the butter. Next, evenly distribute the brown sugar to coat the base of the pan. Place in preheated oven for 3-4 minutes till the sugar and butter mix well. Now place slices of pineapple evenly on the base and place Maraschino Cherries in the cavities and around the pineapples.
In a large mixing bowl whisk the flour, baking soda, baking powder and salt to form a homogeneous mixture. Set aside. In another mixing bowl whisk sugar with eggs and butter. Ensure that the eggs and butter at at room temperature. Add vanilla extract and pineapple juice and homogenize into a smooth mixture. The amount of sugar can be adjusted based on the sweetness of the pineapple juice. If using pineapple juice from the canned pineapple, dilute ¼ cup of juice with ¼ cup of water. Pour the wet mixture into the dry ingredients and whisk.
Pour the batter over the pineapple and bake the cake for 20-25 minutes or until a toothpick pressed in the centre of the cake comes out clean. Let the cake cool for 10 minutes, and then over turn the cake to expose the caramelized pineapples and maraschino cherries. Decorate with extra cherries and enjoy!!
Cake base adapted from JoyofBaking.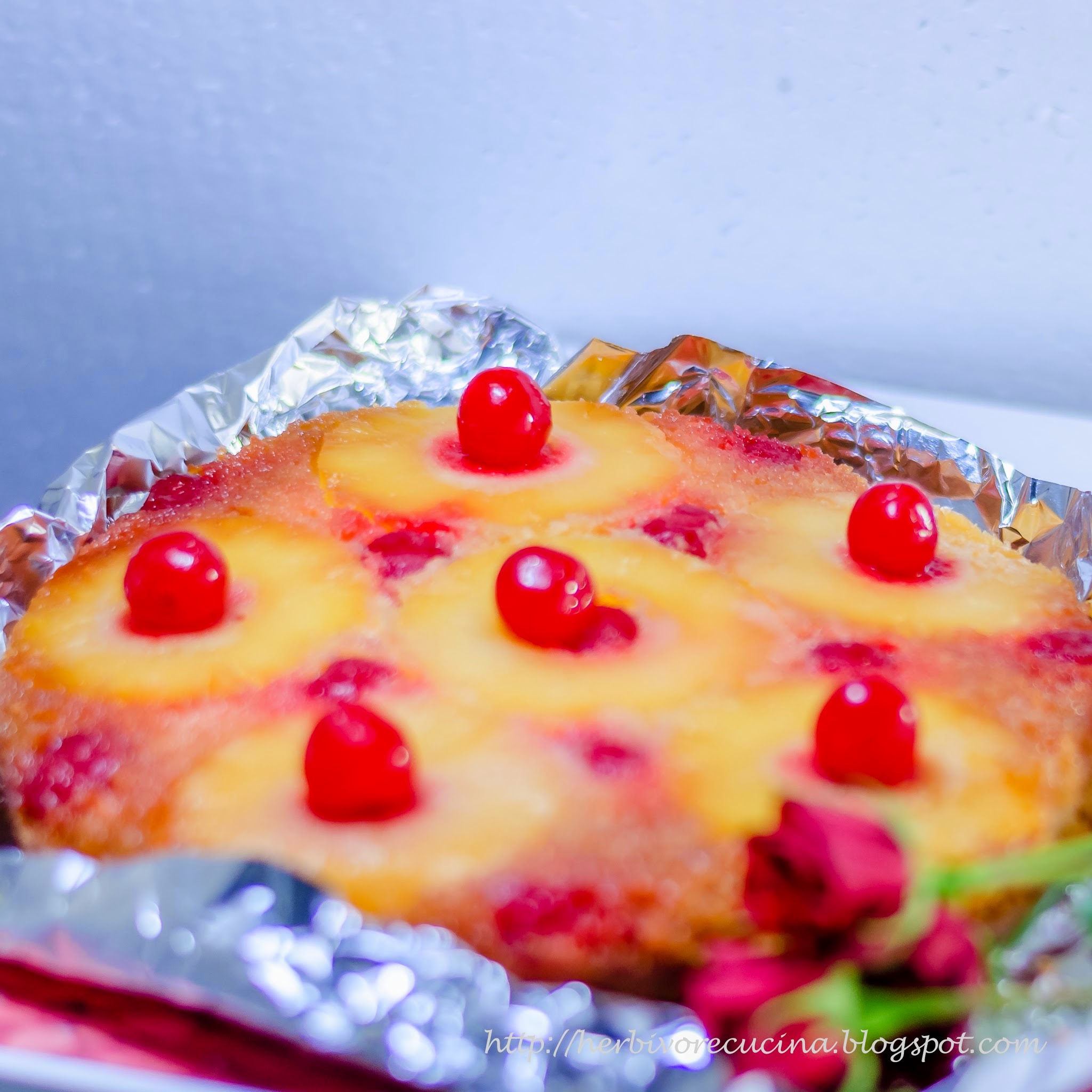 Also try these fruity combinations that are absolutely delicious!!
The perfectly tart and sweet Cranberry and Orange Cake
Or these Strawberry muffins.