The general belief about most soups like Tomato and carrot soup, Celery Soup, Spinach and Asparagus soup or even the French onion soup is that you need a ton of utensils ranging from a pan to saute the ingredients, blender to blend it all, sieve to get the peels and seeds out and another thick bottom pan to simmer the soup. Apart from the ton of utensils, you also need enough time to let the mixture cool before you blend and some more time to sieve the soup etc.
What if you crave for a bowl of soup but want to make it in a jiffy? Well, it is obvious that it cannot be done from scratch, but using just one canned ingredient, you can have a bowl of soup from start to end in just under 20 minutes!! Don't believe it? Check the recipe below. I have made a simple Sweet Corn vegetable soup from store bought Cream Style Corn can and assorted vegetables. The soup comes together quickly and is enough for 3 people, or two extremely hungry souls!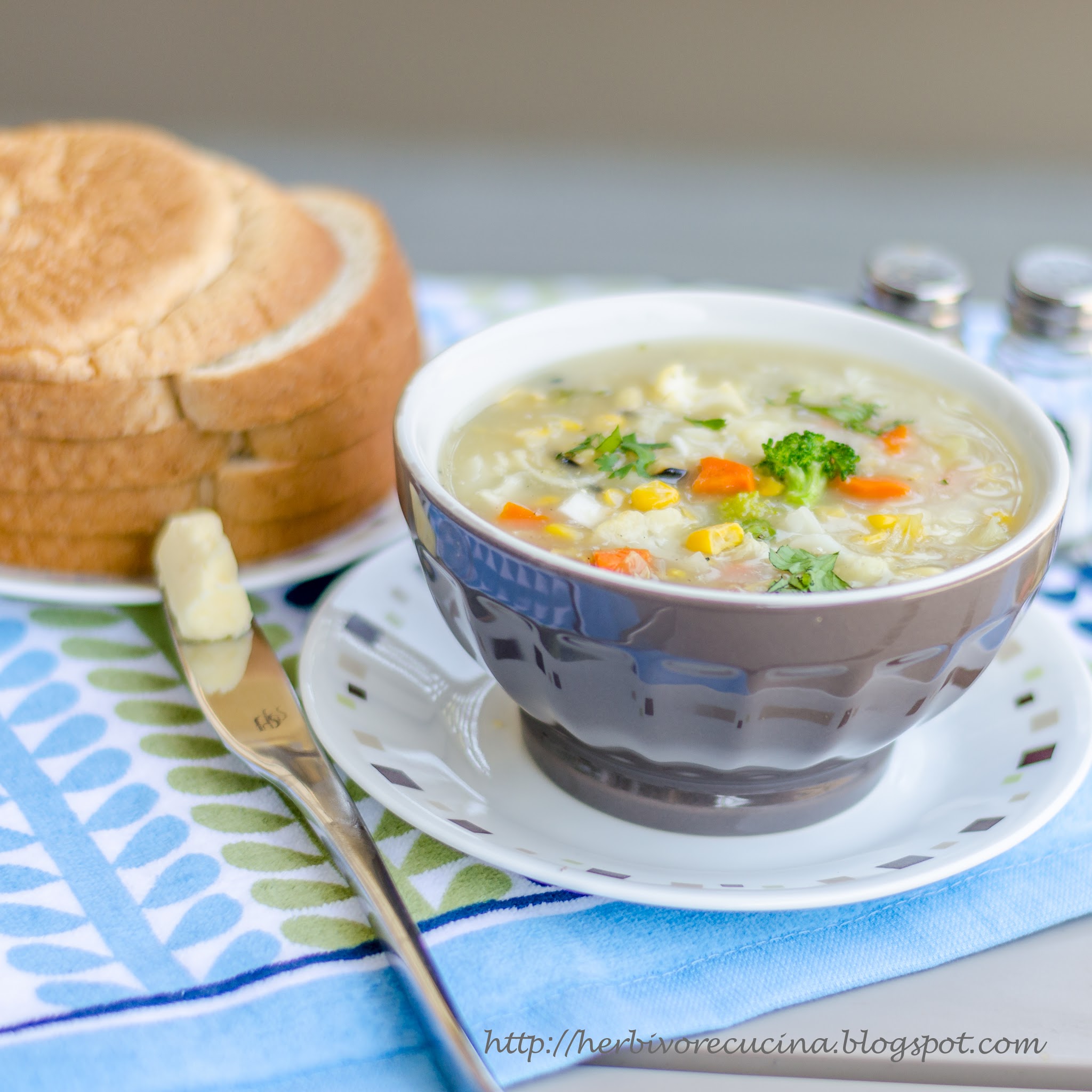 A few words of caution before you dive into the recipe: I have used the sweet corn cream style that had no salt. The amount of salt you add to the soup will largely depend on the the contents of your can. There are multiple variations available at the store right from salted to sea salt to no salt. Make sure you check the can contents and prepare the soup accordingly. Some people might also like to add a little Soy Sauce, Vinegar and Hot sauce to the soup to make it more flavorful. However, I made this soup in peak summer and chose to leave out the spicy ingredients. If you like it, go ahead and add them. Enjoy this bowl of soup with bread or something like this Braided Garlic Bread. It tastes truly divine!
Ingredients
Assorted Vegetables (Baby Corn, Sweet Corn, Broccoli, Sweet Peas, Carrots, French Beans, Cauliflower, Cabbage) 1 ½ cup, diced
Cream Style Corn 1 can, 14 oz. (No salt added)
Onion ½ cup, diced
Garlic, 1-2 cloves minced
Black Pepper, Salt
Water
Cilantro
Butter (olive oil if desired)
Method
Wash and dice all the vegetables separately. In a heavy bottom saucepan sauté garlic in ½ teaspoon butter or Olive oil. Add diced onion and sauté. Season with salt and black pepper. Cover and cook for 2-3 minutes. Once the onion is soft, add the vegetables in the following order: Baby Corn, French beans, Cauliflower, Broccoli, Sweet Peas, Carrots and finally Sweet Corn. Leave about a minute between adding the next vegetable. Now let the vegetables cook for a couple of minutes.
Next, add ½ cup of water, 1 teaspoon salt, mix well and let the soup simmer. Once it simmers, add in the cabbage and the entire can of cream style corn and bring the soup to a rolling boil. Once boiled, turn down the flame. Check for salt and pepper and adjust as per taste. Garnish with cilantro and serve with toast or any bread of your choice.