Blogging Marathon #70 Week 3 Day 2
Theme: Shot glass Desserts
Dish: Black Forest Sundae
Taking a cue from the classic Black Forest Cake, this shot glass dessert is all you need to wow your guests for any party!!
Who doesn't like Black Forest cake? Those layers of cream between rich chocolate cake? And the tart cherry jam in between and sweet cherries on top? The combination that was once the most popular is slowly losing ground to the more innovative flavors and modern decorations. However, for the vast majority of people, Black Forest still remains a personal favorite.
I have had these mini glasses of black forest cake sundae on my mind for a long time. So when Valli chose the theme for this month as shot glass desserts, I simply HAD to make this one. Crumbled chocolate cake interleaved with vanilla ice-cream and freshly made cherry jam, and finally topped with a vanilla cream and cherry.

This dessert is all you need to wow your guests this holiday season or enforce portion control on your family! Because when it comes to cake, portions go totally haywire. I devised a recipe for a Cake for Two sometime back and now I made this dessert. So much to do just to keep the portion size in check!
Coming to the recipe, I made this one in a jiffy just before I left for my vacation a couple of weeks ago. I made a few of these yummy chocolate cupcakes for a party and had a couple leftover. Plus, I always have vanilla ice-cream and whipping cream in my refrigerator. You never know when you might need something amazing, right? So all that came together and I had these cups ready in no time. Plus, I had the cherry jam I made not long ago.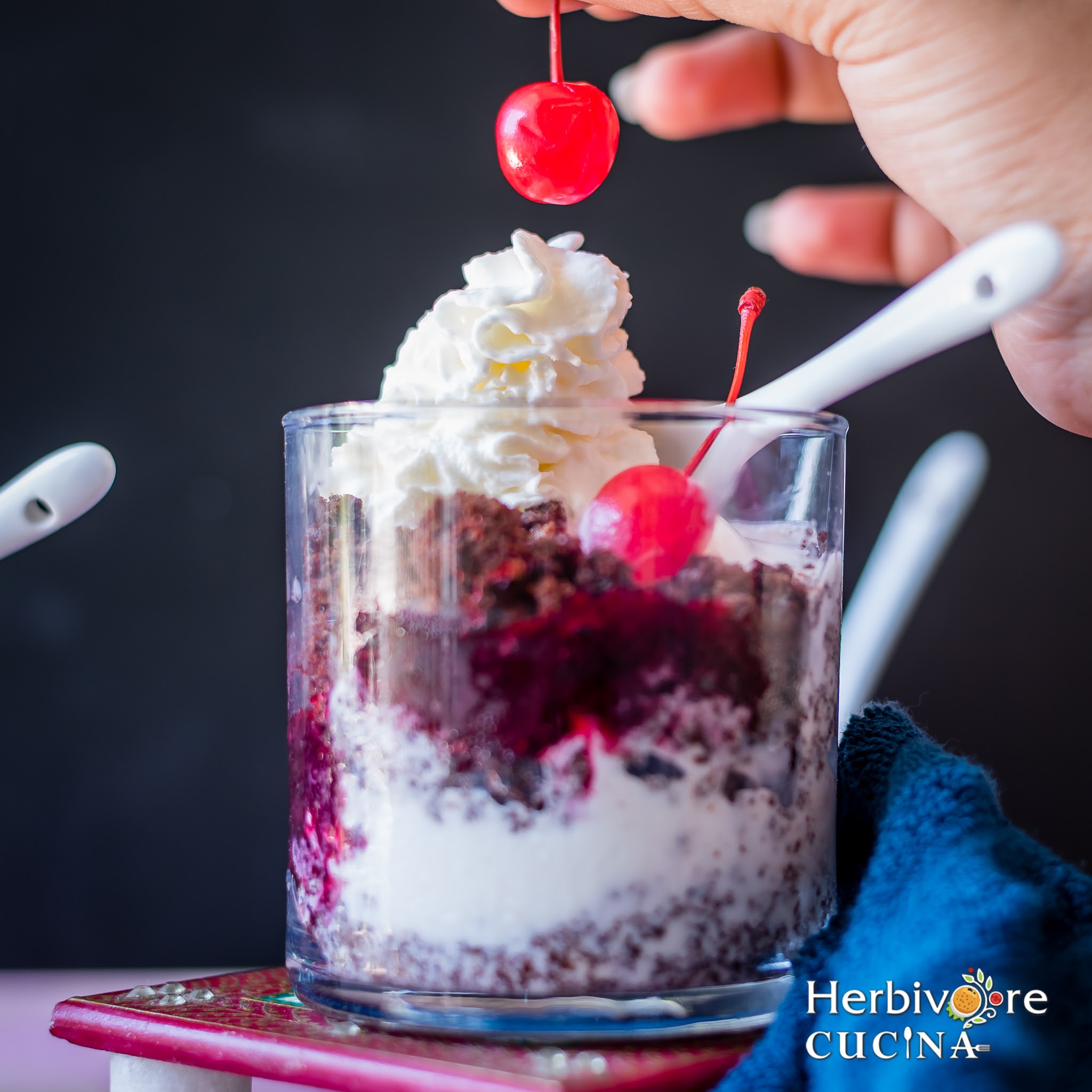 Variations


For this recipe I made the cake from scratch for this recipe. However, if you have any store bought chocolate cake, you can use that. I made the layers more or less even but if you like either cake or ice-cream more than the other, you may choose to change the proportions.

The whipping cream on top is from a can, but it is really easy to whip some cream with vanilla extract and use it too. Plus, I used home-made cherry jam but any store bought works well too.

Adding the cherry on top is optional but highly recommended. All together this dessert is totally yummy and addictive. It was difficult to stop at one glass the day I made these!!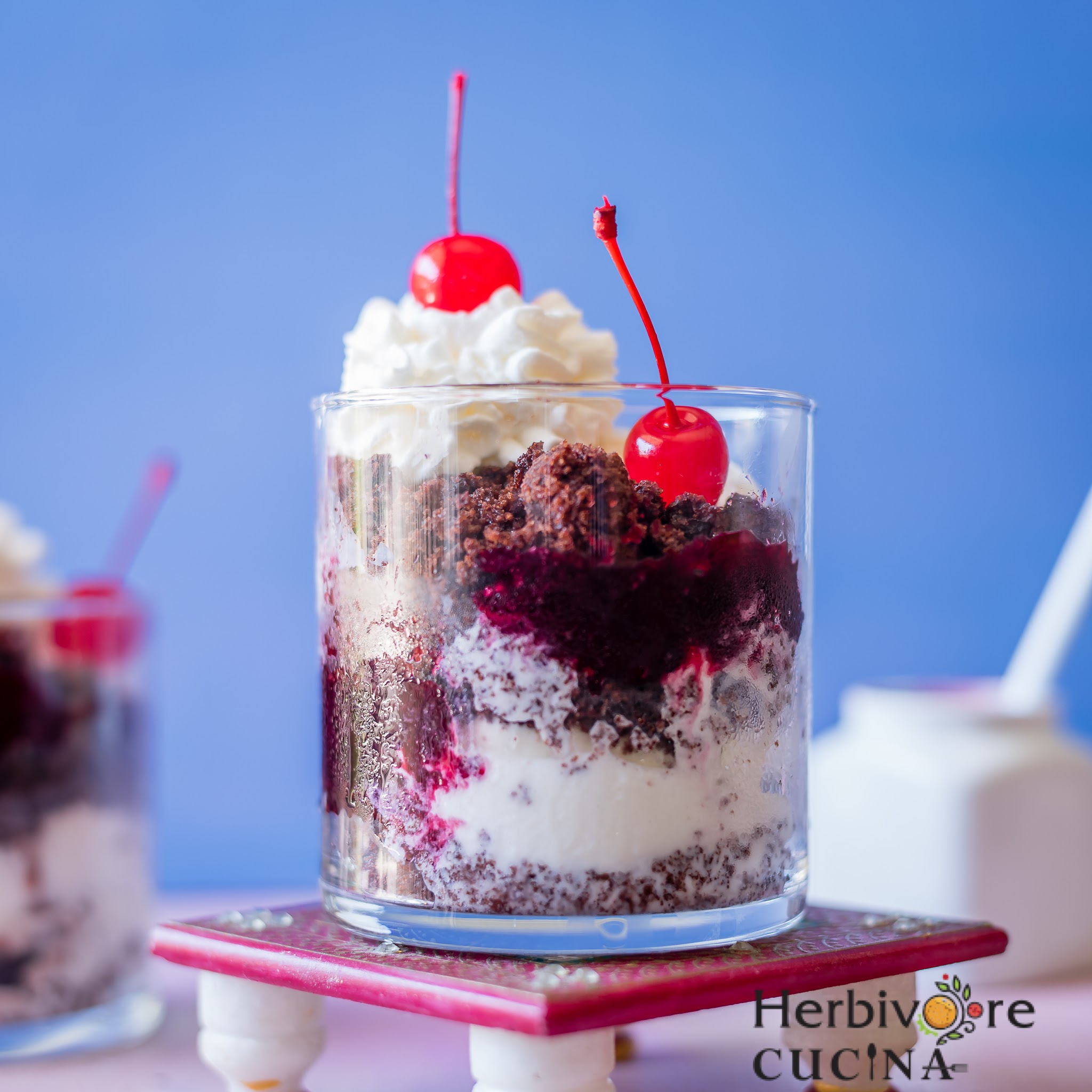 Ingredients

Chocolate Cake 1 small
Vanilla Ice Cream 2 scoops
Cherry Jam 2-3 tbsp
Whipping Cream as required
Maraschino Cherries a handful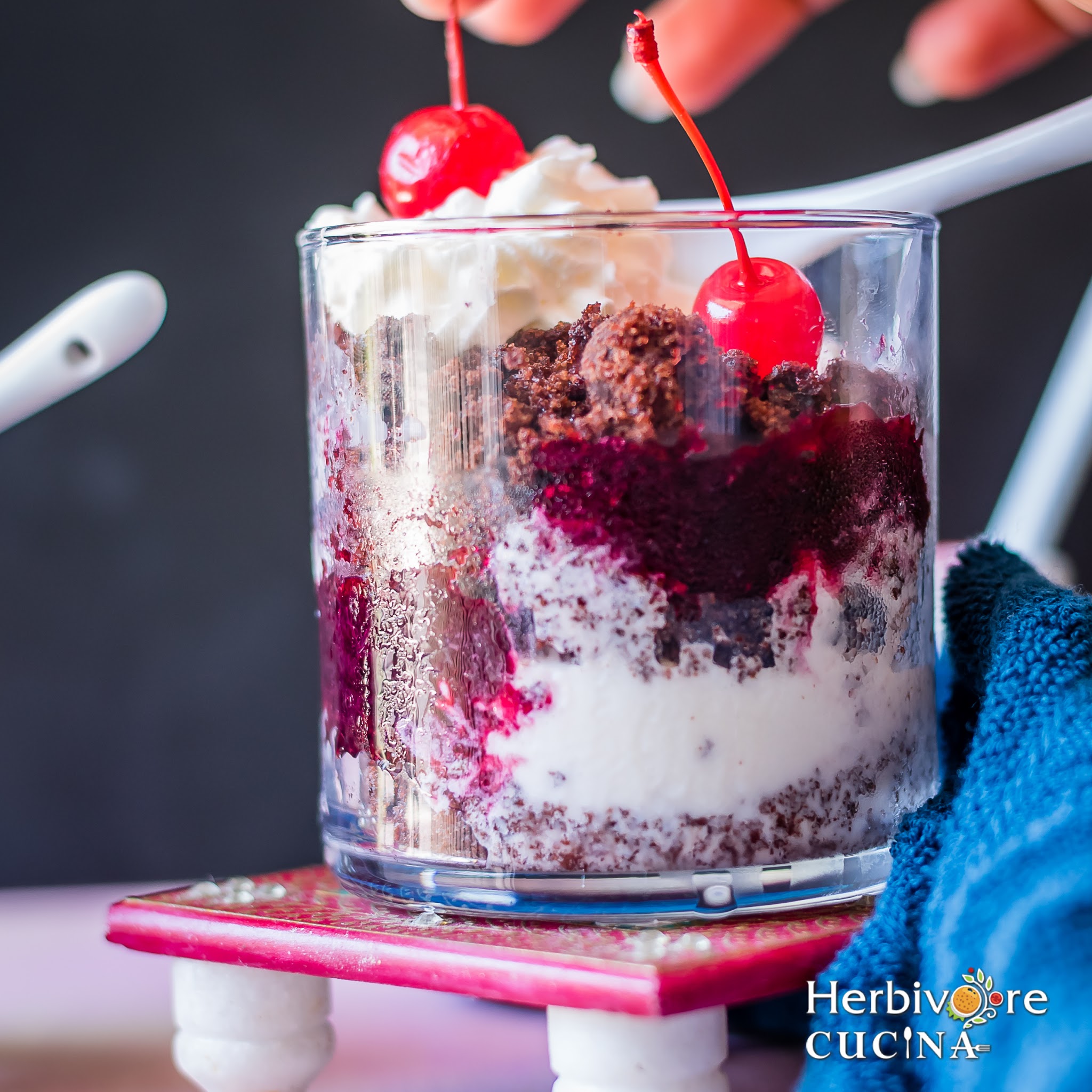 Method


Make the chocolate cake as per this recipe (or this if you prefer your cake eggless). Crumble it and set aside.

To assemble the dessert, take 2 glasses. Add some cake to the glass, then ice-cream. Add some cherry jam on the other side. Add some chopped cherries and then add another layer of chocolate cake and ice-cream.

Top with a little whipped cream. Finally add a couple of cherries on top and serve.
Check out the Blogging Marathon page to see what the other Blogging Marathoners are doing for this BM#70