This post is sponsored by Thoughtfully Gifts. All opinions are mine alone. #sponsored #thoughtfully
Try infusing your Olive Oils with dried herbs. These oils are not just flavorful, they are super easy to customise and fun to make!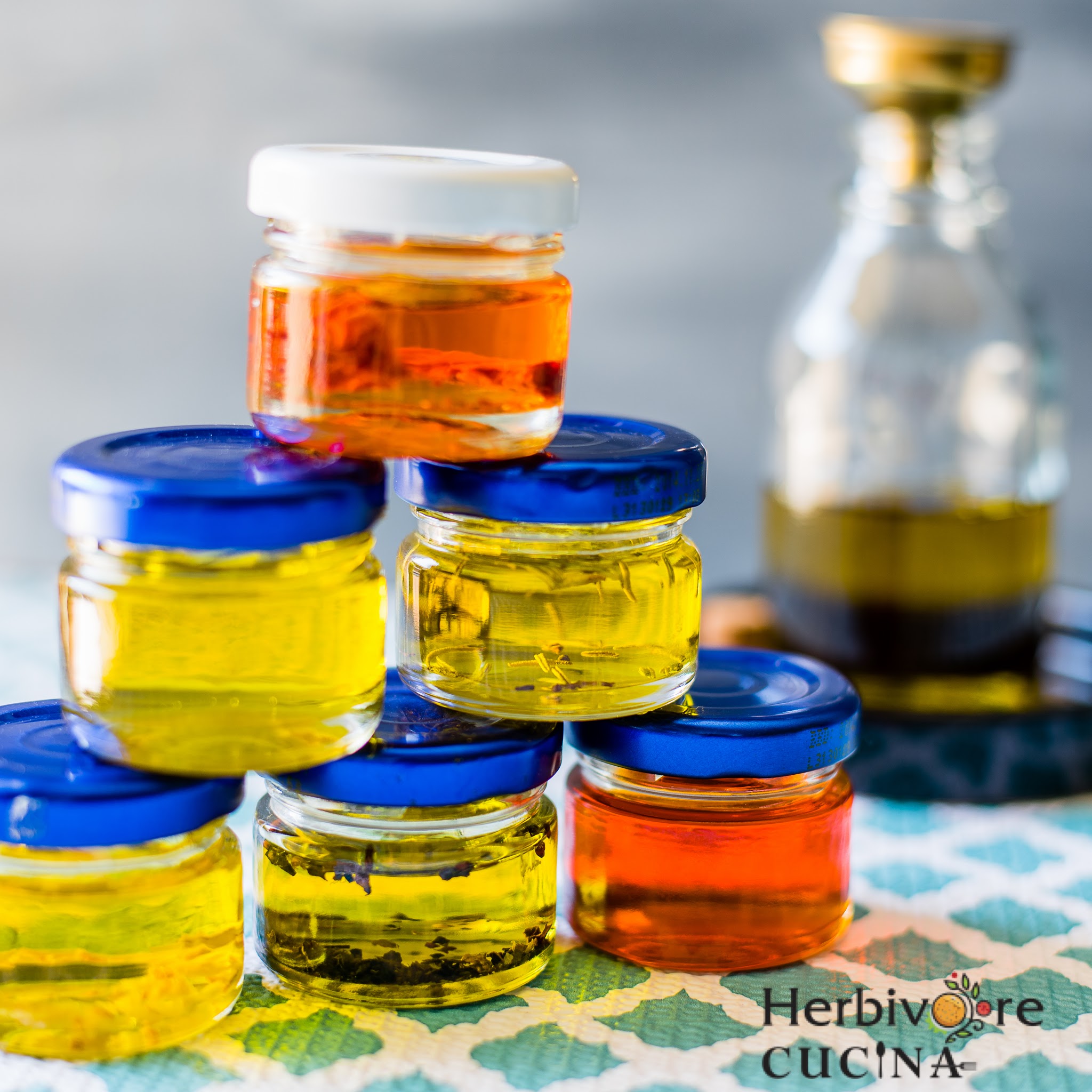 Have you been to an Italian Restaurant and had some delicious flavorful Herb infused Olive oil with bread? Or had a soup topped with Basil infused Olive Oil? Have you had the amazing Gilroy Garlic infused oil? If you like any of these, this post is MADE FOR YOU!
My husband and me love all sort of infusions. From infusing water with mint and cucumber to infusing oil with varied flavors, we do it all. I have been doing it for a while, but it got way simpler after I got the Olive Oil Shoppe from Thoughtfully Gifts. So I finally put up a post on infusing!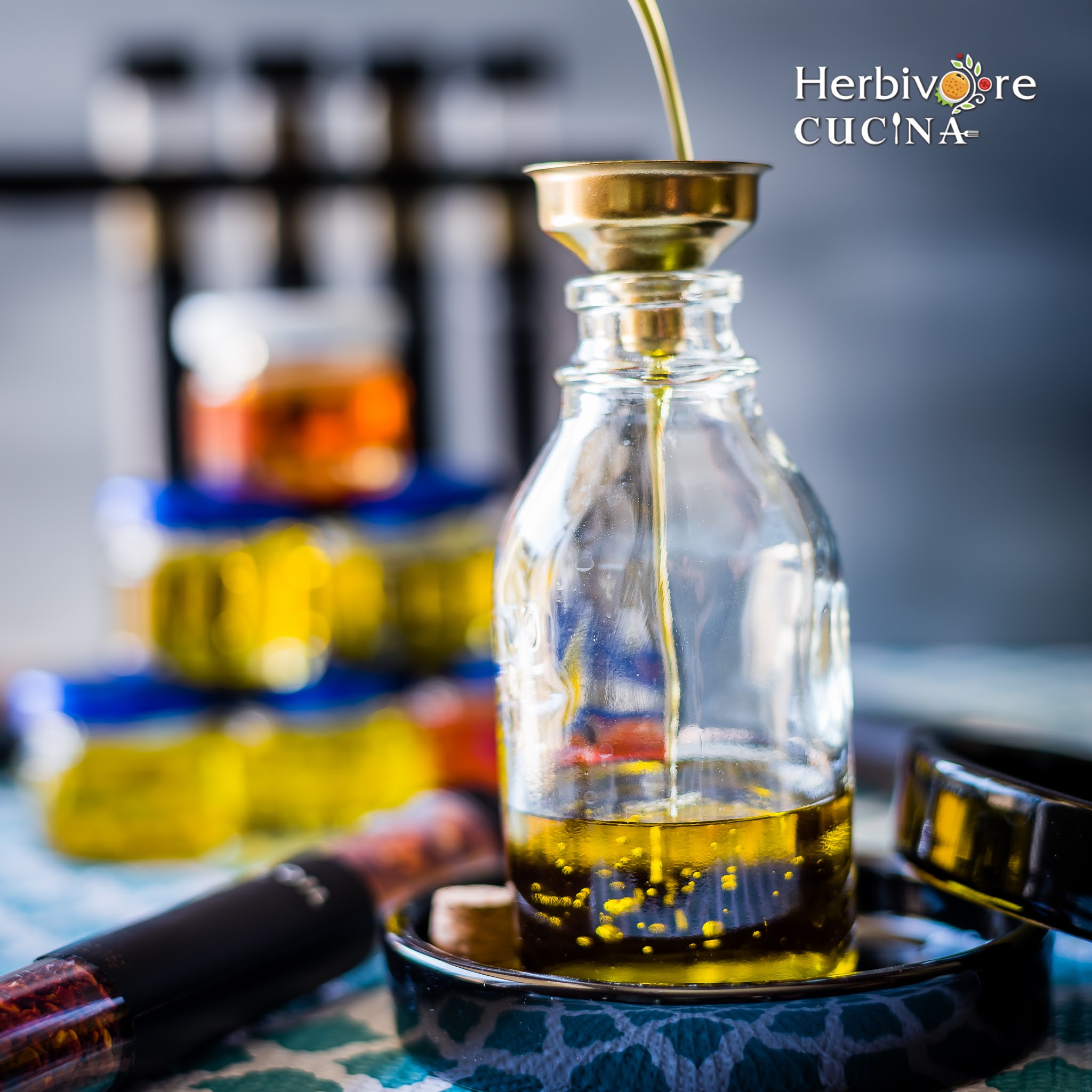 All about Infusing Olive Oil
Infusion is the process of soaking dried herbs, tea or flowers in a liquid like water or oil to extract flavor. Infusing makes the liquid flavorful, often colorful and super tasty. Oils generally pick up the flavors pretty quickly, but the flavors intensify over time. It is perfectly okay to leave the herbs in there for a long time.
The ingredients required for infusing oils is rather simple; oil and herbs to infuse. The apparatus I used comes from the set from Thoughtfully Gifts. There is a fusti (container to store Olive Oil) with a wooden stand, funnels, glass bottles, spice rack and dipping plates. Having all this helps in making infused Olive oil in a clean and quick way!
The process of infusing Olive Oil is rather simple, but one has to ensure everything is clean before you start. If the funnel or bottle is not clean, it can easily contaminate the oil as it stands for weeks in the bottle. And yes, use the BEST quality ingredients to make your oil. It does make a difference, I promise!
I made SIX tiny bottles of Infused oils with varied uses. The result was PERFECT in a week, yet I am going to wait to try the oils post another week. I already used the Basil Oil on my Roasted Tomato Soup and we instantly fell in LOVE with it! I am so glad I used my Fusti et al to make the oils. No mess, no wastage and a fun activity to spend a lazy Sunday with hubby!
Heads up to the upcoming Wedding Season!
Can you believe we are planning for the upcoming wedding season already? This season is going to be great for us because my brother gets married to his love this year. I can hardly wait for his BIG DAY!
If you are also planning a wedding, yours or that of a close one; I would suggest you head straight to Thoughtfully Gifts. I would have happily added them to my wedding registry when I got married! They have some really unique and fun products, this Olive Oil Shoppe being my favorite and The Tea Lab following close!
Though I did not get any of these special gifts on my big day, I am glad to be trying it out now. We got the Olive Oil Shoppe and had such a wonderful time last Sunday; infusing oils and mixing flavors to make our personal favorites!
When this BIG package from the company arrived, I was overwhelmed. Neatly packed, well curated and easy to understand instructions define them! All their products are fun and they definitely make a gifts that last and are remembered throughout the year!
So with all this information, you need to head straight to the instructions and start infusing! Don't forget to share your infusion ideas with me in the comments below!
Ingredients
Good quality Olive Oil 2 cups
Infusion Herbs like Oregano, Rosemary, Garlic, Chilli flakes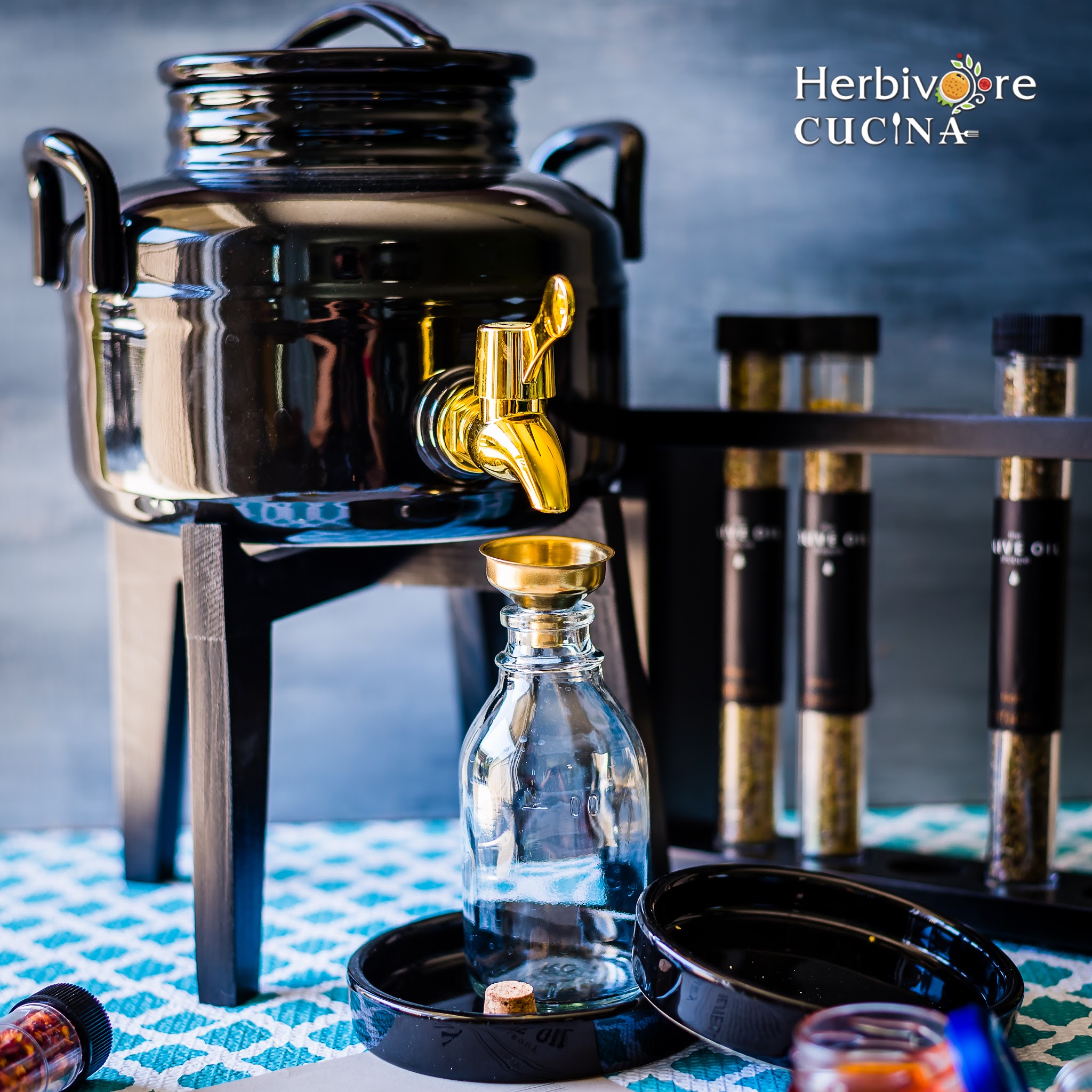 Method
Wash and dry the bottles, funnel and fusti well. Fill the fusti with olive oil. You can store oil in the fusti for upto a year, so don't worry about the remaining oil post infusing.
Using a funnel add 1 teaspoon of herbs you want in the bottle. You can mix and match from basil, oregano, chilli flakes, garlic, rosemary and thyme.
Pour the olive oil into the bottle, close the bottle and shake well. Store the bottle in a cool dark place for 1-2 weeks to allow the flavors to infuse well.
Do a taste test after a week and keep it for longer if it still does not taste as you like. Enjoy this oil with the following: