A Sandwich Bread loaf full of vegetables. Plus, this one looks really chic for a tea party or for a sandwich!
We have into August now and it is the month full of festivals and celebrations. From Friendship Day to Raksha Bandhan and from India's Independence Day to Janmashtami and Ganesh Chaturthi, this month is packed with fun! To start off, I posted this Instant Microwave Peda recipe a few days ago and it is time to post something for August 15th.
India celebrates it's Independence Day on August 15th and I like to post something Tricolor to celebrate the day. I have posted Tricolor Dhokla and Carrot, Spinach and Garlic Bread over the past couple of years and today it is yet another orange, white and green recipe!
While it is really easy to color any food item with edible color, I prefer to make it with naturally colored products. Roasted pepper, carrots and orange juice work really well for orange color; any any of the leafy greens give a bright green color to food.
This year I made a bread with vegetable puree added. I was pretty skeptic when I set out to slice the loaf, not knowing if the colors would come out as I wanted. The bread had just orange on top, with a tinge of white and green. See how it is so pretty inside!
I do not think I am waiting another year to make it again. I HAVE to make another loaf as soon as I can! I think I should add Beetroot next time! Would LOVE a little pink in my bread, how about you?
The first time I saw a bread made using vegetable puree was at a bakery in Mumbai. The place is called Gaylord's and they have some of the best breads and bakes. They had a signature loaf that was orange and green. They used tomatoes and spinach to color the bread and I used to LOVE sandwiches made from that loaf. The bread would even be great with just butter on top!
I have been hoping to make something like that for a while, and what better than Independence day to make it. I added the white bread to signify India's flag and swirled them all together. The final product has a flavor from the vegetables, softness from the butter and an amazing texture.
Variations
I made this bread with all purpose flour as I was not sure wheat flour would work well with all the purees. However, if you are making just one colored bread, you can definitely use whole wheat flour or multigrain flour. Here are a few breads I made using them: Whole Wheat Pizza Braid and Multigrain Pumpkin Bread.
Not a fan of Peppers? Use tomato or carrot puree as I did in this Carrot, Spinach and Garlic Bread. However, roasted pepper gives the bread a bolder flavor compared to carrots or tomatoes. Plus, if you prefer pesto or kale or any other greens, you can add those too. Plus, if adding garlic paste to the white dough works well too.
Last, if you do not want lo make a loaf, you can make tiny buns using the dough too. And if you are in a rush or want a different kind of bread, just let the doughs rise and then mix them together before rolling the loaf. It makes a beautiful pattern in the bread post baking!
Ingredients

All Purpose Flour 3 cups
Olive Oil/ Unsalted Butter 3 tbsp
Red Bell Pepper 1 medium
Spinach 1 cup, packed
Sugar 1 tsp
Dry Active yeast 1 sachet (2 ¼ tsp)
Salt 2 tsp
Water as required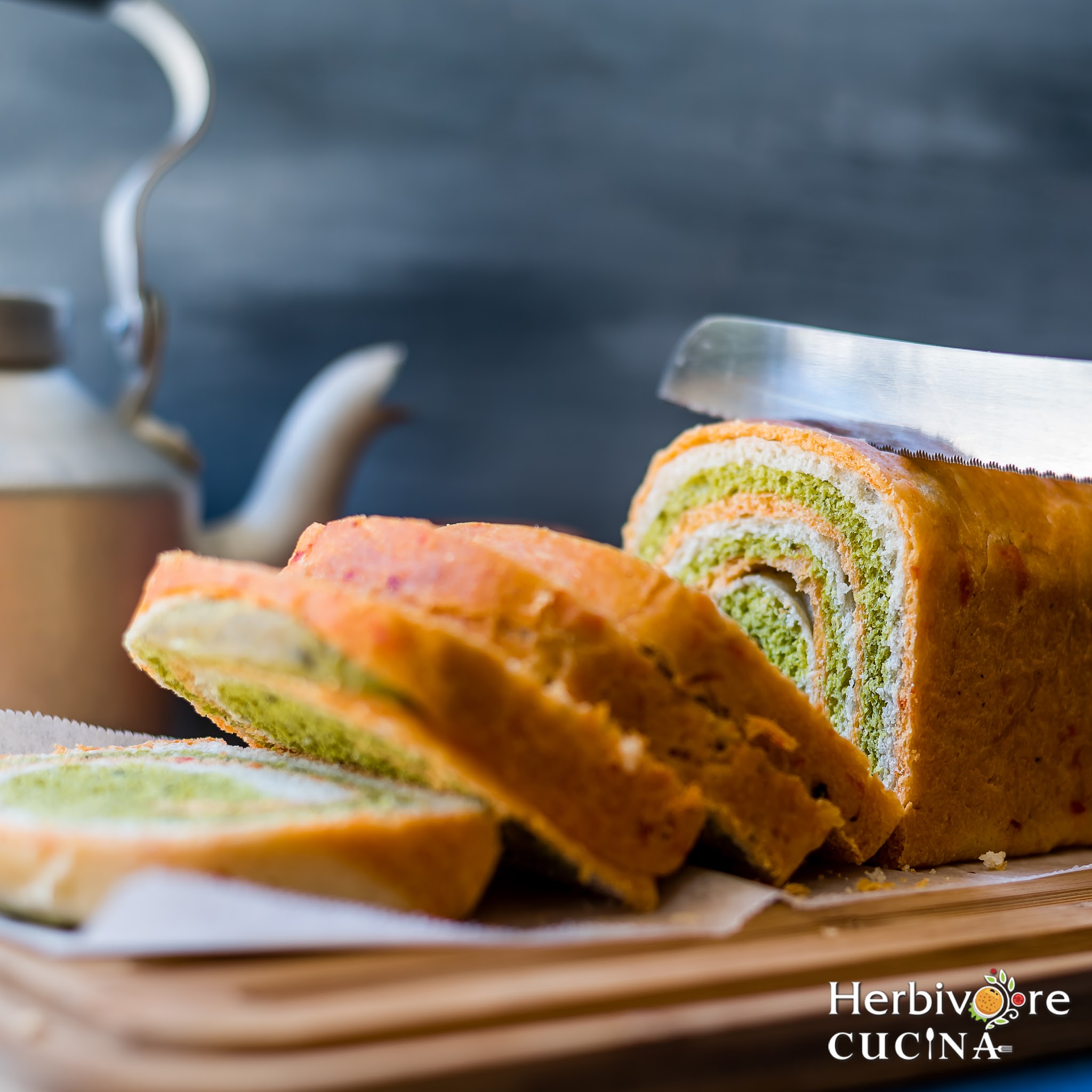 Method


Coat the bell pepper with oil and wrap in a piece of foil. Roast on open flame or in the oven. Keep rotating and roast the entire surface. Turn down the flame and keep wrapped for a few minutes.
Remove the foil and peel the pepper. Also remove the seeds. Place the flesh in a blender and process to a smooth paste. Add some water if required. You should have about ¼ cup puree.
Next, puree the spinach leaves with as little water as possible. You should have ¼ cup spinach puree.
In a bowl heat ½ cup water. When just warm, add sugar, 1 teaspoon salt and the yeast. Let the yeast bloom for 10 minutes.
In a large bowl, add 1 cup all purpose flour, ¼ teaspoon salt and 1 tablespoon unsalted butter (room temperature) or olive oil. Mix everything together and add ⅓ of the bloomed yeast. Knead for 8-10 minutes till the dough comes together and is soft.Coat the dough with some oil and place it in a bowl.
Repeat with red pepper puree and then with spinach. You should have 3 cups of dough, orange, white and green.
Cover all the doughs and rest in a warm area for an hour till they double in size. Line a bread pan with parchment paper or with non stick spray. Set aside.
After the doughs have doubled, punch down and knead for a minute or two. Roll out the orange dough into a large rectangle of ¼ inch thickness. I did that on a cookie sheet.

Roll out the white dough into a rectangle of almost the same size. Place the white dough on the orange. Repeat with green and place it on the white layer.

Roll the dough into a tight loaf, ensuring the layers stick together. Carefully transfer the loaf to the prepared tin and rest covered for an hour.
Preheat oven to 400 F/ 250 C. Place the bread and bake for 20-22 minutes, till it is no longer wobbly and the top is darker in color and crisp. It will become soft once it cools down.
Remove and cool completely on a cooling rack. Slice the bread and enjoy with a side of butter or warm marinara sauce. Or use them to make sandwiches.