Bite size bread made from carrots, spinach and garlic. Serve these breads as an appetizer or with a bowl of soup. These beauties are eggless and super easy to make too!
The smell of fresh bread baking in the oven is one of my favorite fragrances around the kitchen. A perfectly soft and well baked bread adds a visual appeal. The kind words of family and friends on how wonderful the bread tastes completes the circle with immense satisfaction in the heart! I baked this bread a couple of days ago, and it managed to live up to my expectations completely. This Saturday there was a meet-up with some wonderful girls from around the Bay Area. The occasion was to celebrate 69 years of India's Independence and so the theme was tricolor: Saffron, white and green!
I looked up the list of attendees and a quick glance made me realize two things; one, all the easy and most obvious dishes like rice, cake, idli, salad and jelly was already picked by someone; and two, the menu has too many desserts. So I decided to make these breads. Not intending to use any food color, I was hoping my carrots and spinach do not disappoint me. A quick trip to the farmer's market and I had everything I needed to bake these cuties.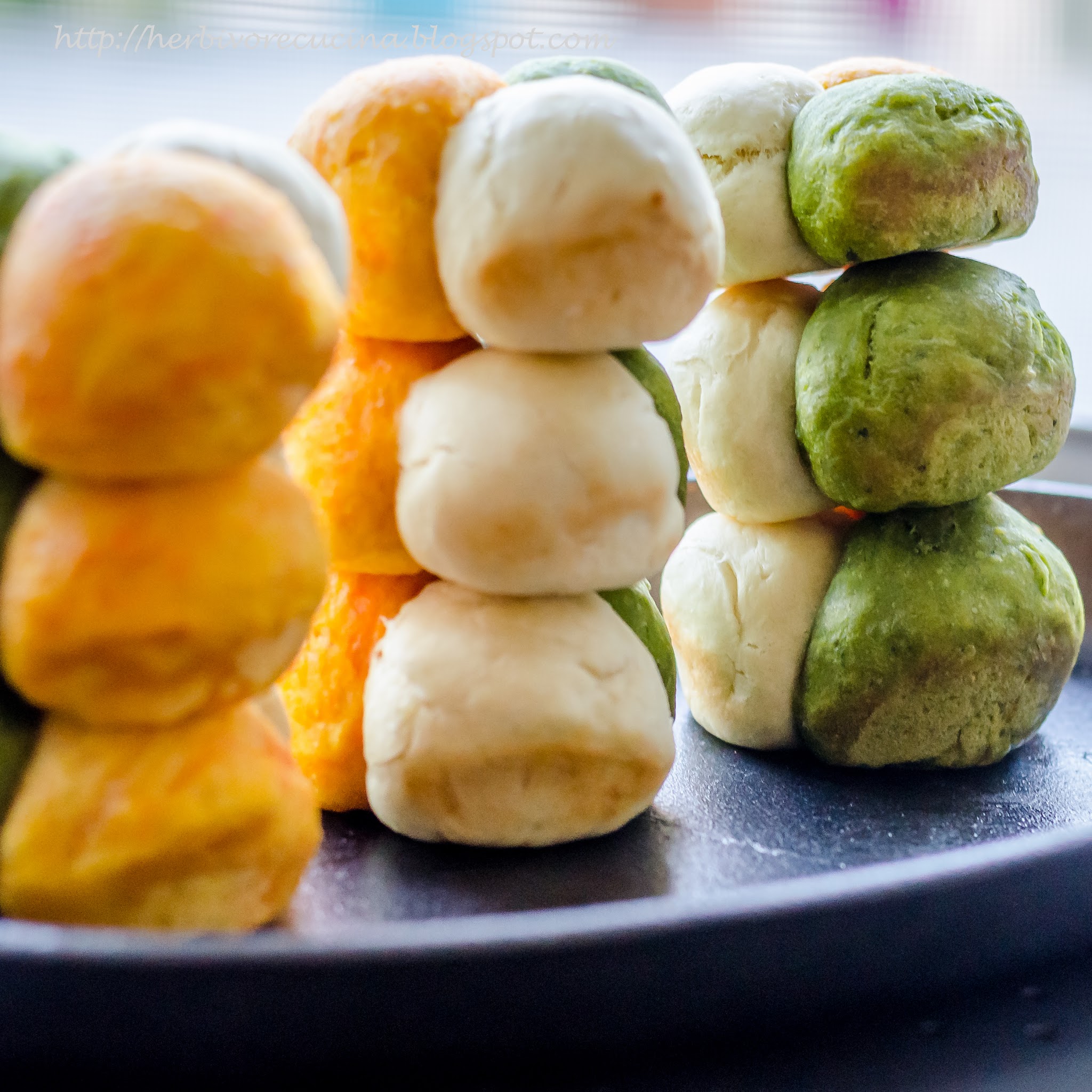 The recipe for this bread is on the same lines as the breads I have baked earlier, like these Rose shaped buns, Garlic Braid and Subway Sandwiches. The only difference is that here there are three doughs to be made with different add-ins.
I pureed the carrot, garlic and spinach and let the yeast bloom. Then get the dough, divide into three and make the tricolor dough. I was thinking of making a layered loaf but then the colors would only be revealed when I cut it into slices. So instead of the loaf, I decided to make these single serve balls of bread. To ensure that they are of the same size, I used a muffin pan to shape them.
The result was really great, brightly colored breads with vegetable flavors and absolutely no artificial colors. If you are making these for a kids party, you can change the vegetable to get the color of your choice. Simple substitutions would be: Beetroot for pink, tomato puree for light red and purple cabbage for light violet. Make them on the day of the party or make them ahead of time and store them in an air-tight container, the choice is yours. Hope you enjoy this simple recipe that is bright and colorful!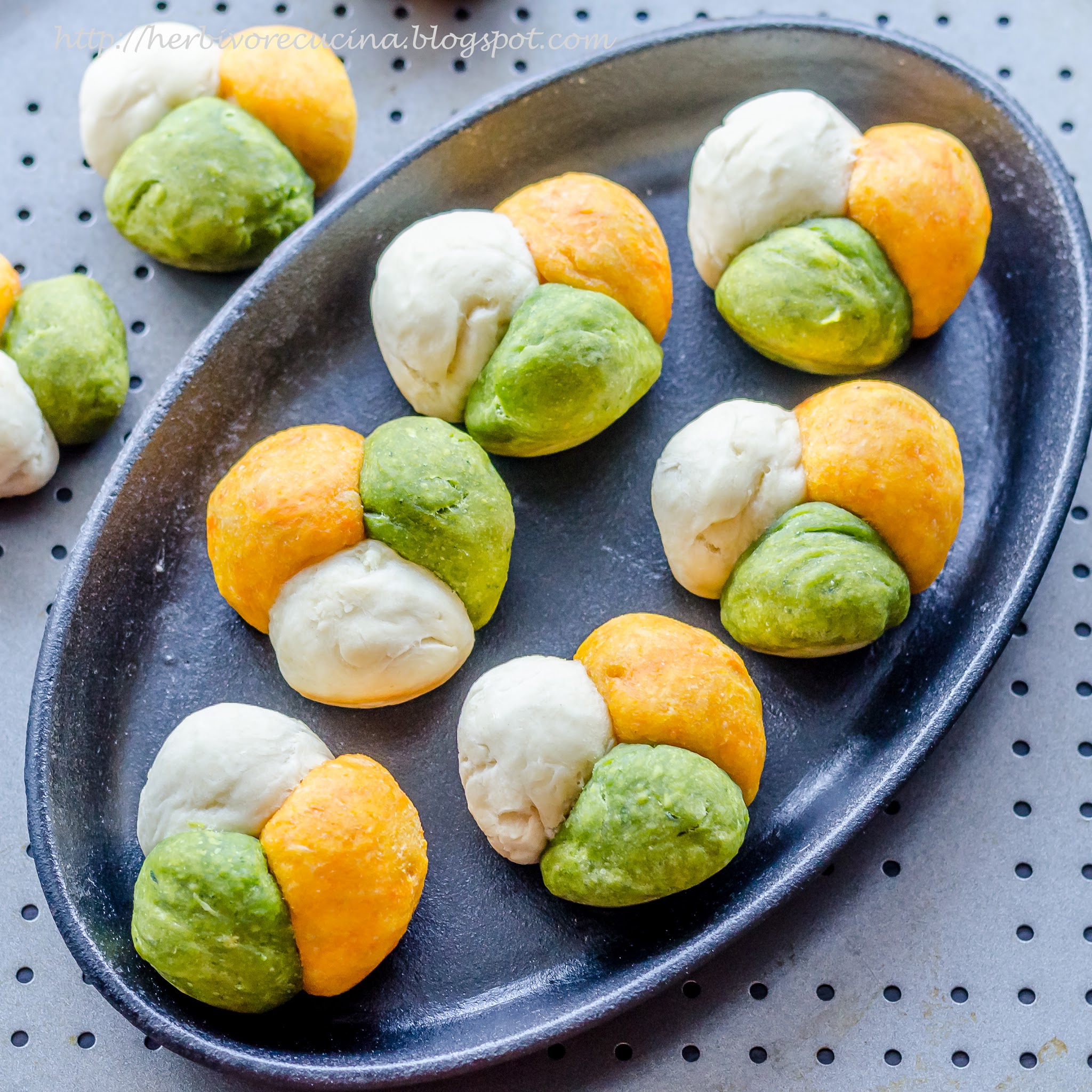 Pin for Later

Ingredients
All Purpose Flour/Maida 3 cups
Rapid Rise Dry Yeast 1 sachet (2 ¼ tsp)
Unsalted Butter 3 tbsp
Salt 1 tsp
Sugar ½ tsp
Warm Water 1 cup (100-110 F)
Garlic 3-4 cloves
Spinach 1 cup
Carrot 1 cup
Method
This pull apart bread is made from three colored dough. To start, crush garlic to a smooth paste, and set aside. Next, blend the spinach to a smooth puree without any water and remove in a cup. Also, make a smooth carrot paste without water and set aside.
Heat ½ cup of water to 100-110 F. Add a sachet of yeast, sugar and 1 teaspoon salt. Let the mixture stand for ten minutes till it foams. Melt the unsalted butter in a bowl. In a large mixing bowl, take one cup of flour, 1 tablespoon butter, garlic paste and ⅓ bloomed yeast. Use a little water and bring it together to a dough. The mixture may be sticky at first, knead it well till it converts to a soft dough. Apply some oil over the dough and place it in a large bowl, cover it with a moist cloth and let stand for 45 minutes.
Similarly, make the other two doughs. The carrot and spinach will release moisture on standing, so take the carrot puree from the top of the bowl and add it to 1 cup flour, 1 tablespoon butter and ⅓ yeast. This dough will come together without any extra water as there is moisture in the carrots. Make a smooth dough and set aside. Repeat with spinach puree, make a green dough and set aside for 45 minutes.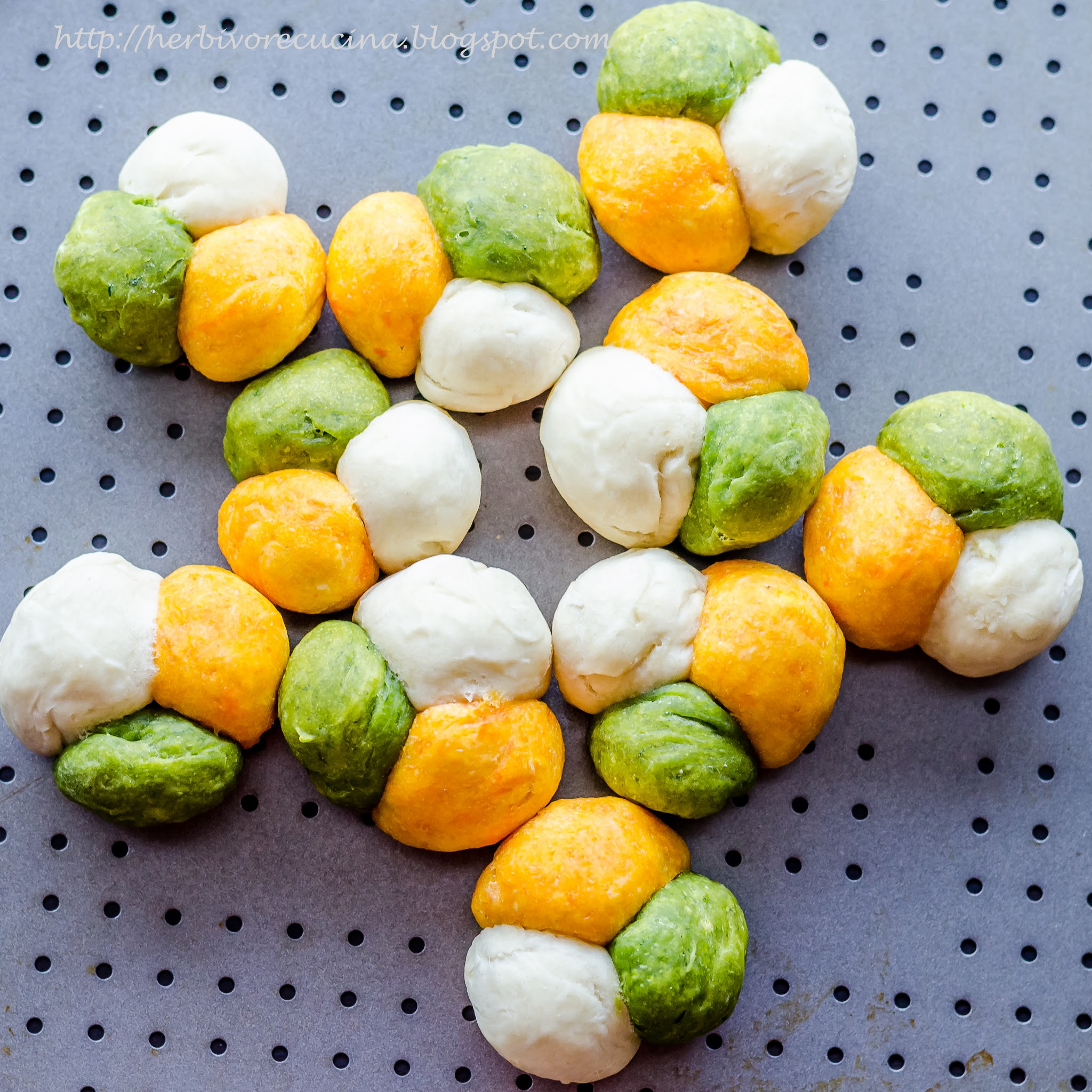 After 45 minutes, all the dough balls will be almost double it's size. Punch down the dough and knead it for 5 more minutes. Now, start with the oven and preheat to 375 F/ 180 C. Using a muffin pan, apply some oil/ butter in each cavity and place 1 inch ball of all the three doughs in each of them. The balls will almost touch each other. Let the balls rise again for 7-10 minutes.
Bake the bread balls for 15-18 minutes. Remove from oven and let them cool little in the pan. Then, remove and cool them on a cooling rack. Serve them as an appetizer or even as a snack with either butter or herbed olive oil.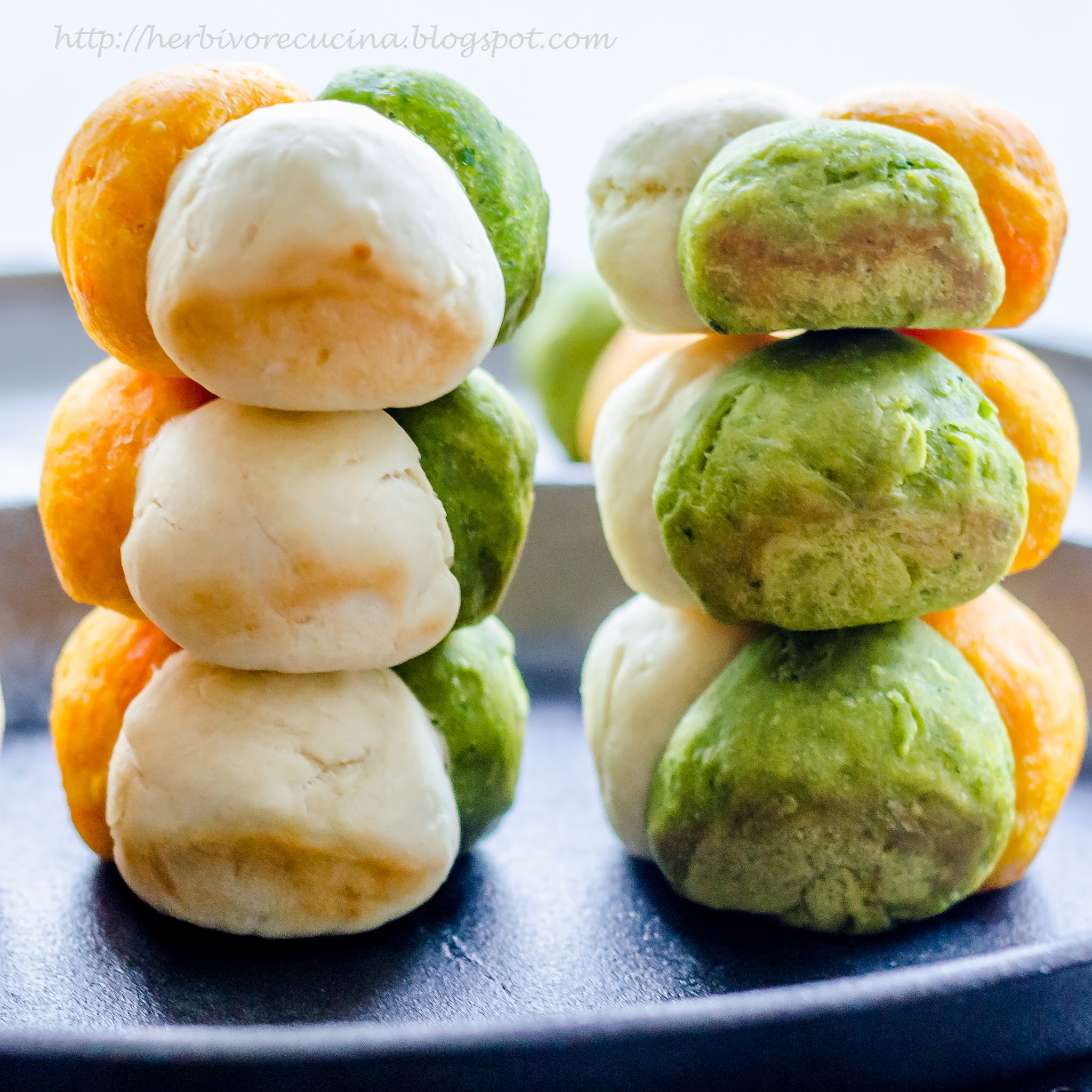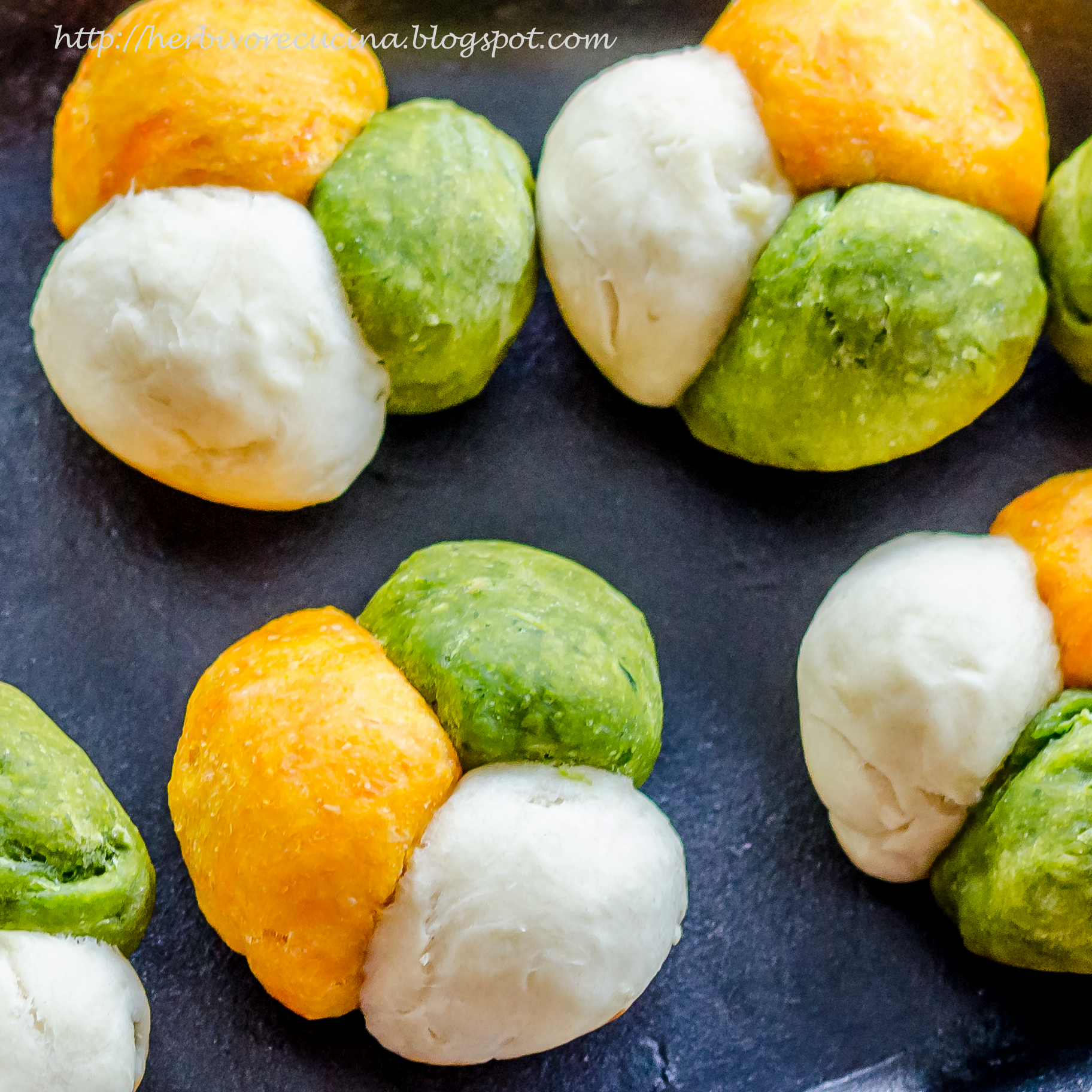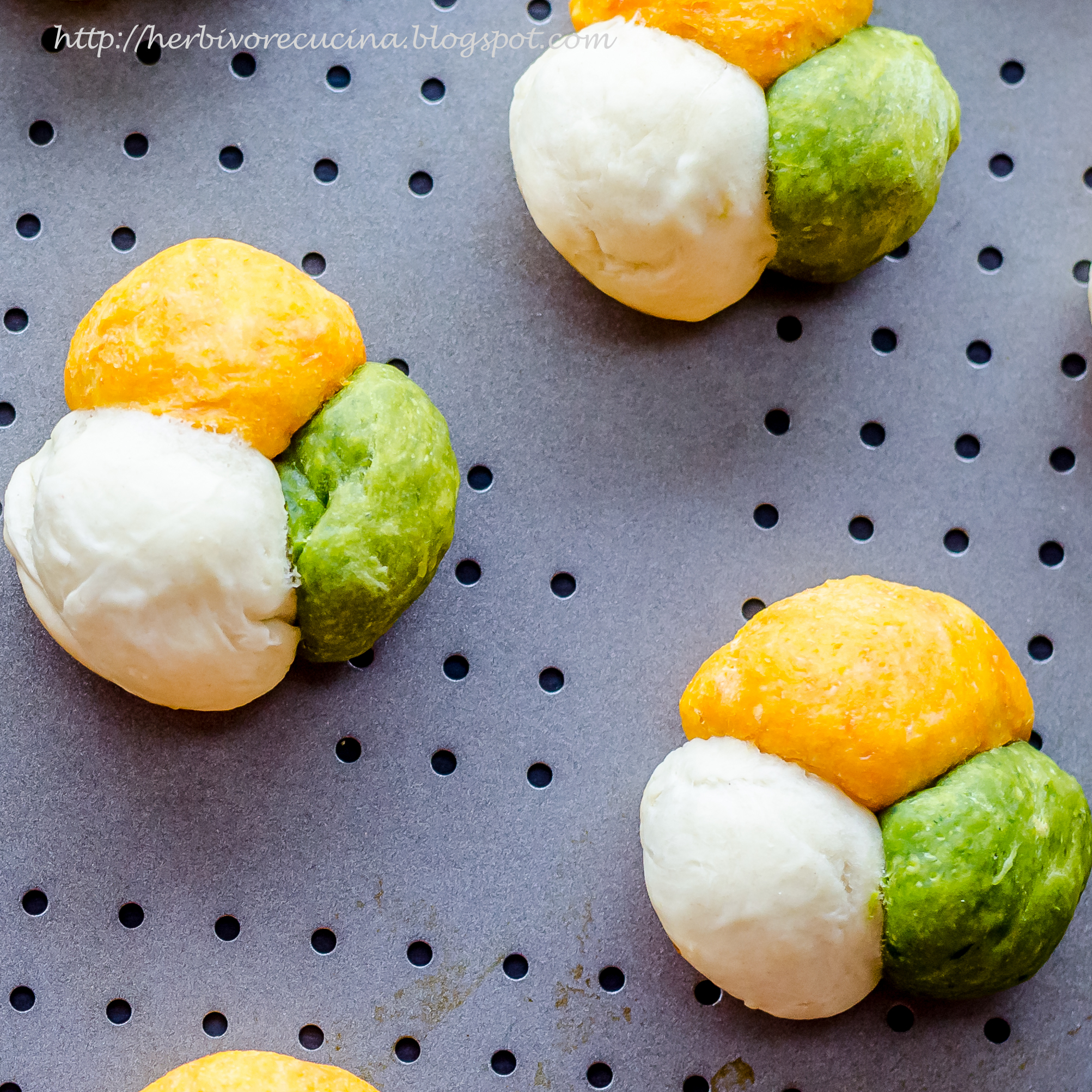 Looking for more tricolor food? Try these: Tricolor Swirl Bread, Layered Baked Casserole and Tricolor Dhokla.