Today is the second day of this week's Marathon, and my theme for the week is Rajasthani food. What is Rajasthani food without Dal Baati? This dish is probably the most famous and loved dish from the state. While the traditional recipe is to make dough dumplings, boil them, fry them and serve them with Panchmel Dal. However, sometimes we feel that it is too much dough. So this recipe, Masala Baati is a slight variation by filling the baatis with a spicy and tasty stuffing.
The first time I had these stuffed balls of goodness was when my sister in law made them for us almost a year ago. It was a perfect brunch and been on my mind since then. But somehow, I never ended up making it. Finally, when I chose Rajasthan for this week, I was definitely going to make them. To make these, I used the baati recipe from my baked baatis. While the stuffing we had there was predominantly potato, I decided to change it a little and add a lot of peas too. The result was great and we thoroughly enjoyed the peas and potato stuffed baatis.
Another striking feature of these baatis is that they are baked. No hassle of boiling or frying. This recipe can be easily made in just three steps: Make the stuffing, make the dough and bake the stuffed baatis. While they are tasty, they are healthy as well; atleast healthier! Along with the baatis, we enjoyed the panchmel dal and a simple form of churma made from flour and sugar. The combination was perfect!
Ingredients
For the cover
Whole Wheat Flour 2 cups
Semolina ½ cup
Clarified Butter/Ghee ½ cup
Salt 1 tsp
Water
For the filling
Potatoes 2 medium
Green Peas ½ cup
Onion 1 medium
Garam Masala 1 tsp
Aamchur Powder ½ tsp
Turmeric Powder 1 tsp
Oil 1 tbsp
Salt, Sugar and Lime juice to taste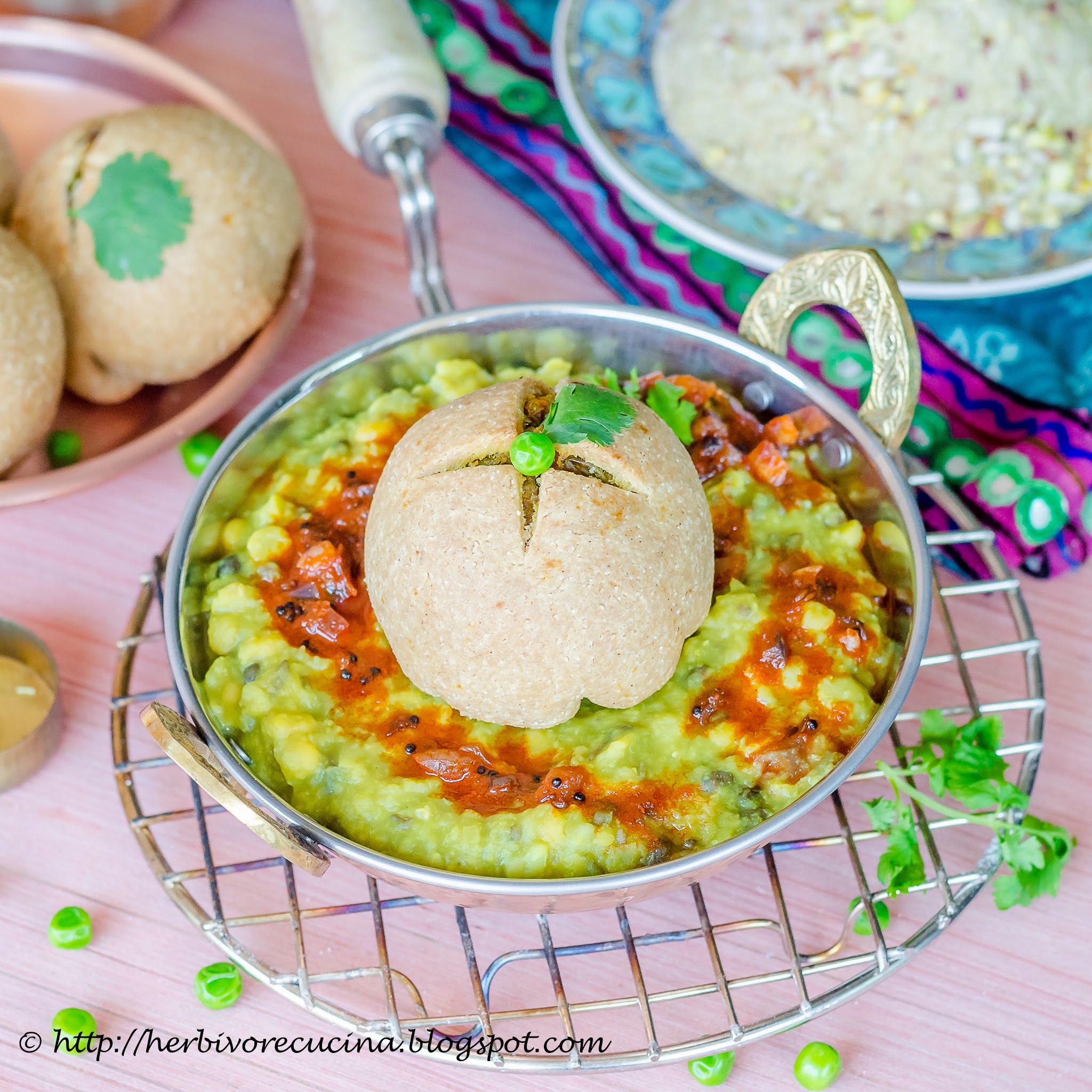 Method
Mix together the flour, semolina and salt in a large mixing bowl. Add molten ghee and slowly mix it in. Add water slowly and knead a hard dough. Do not add excess water else the baatis will become soft. Knead the dough just enough for it to come together and let it rest on the kitchen counter for 20-30 minutes.
To make the stuffing, boil and mash the potatoes and boil the peas. Dice onions. Take oil in a pan, add onions and saute till they are translucent. Add the mashed potatoes, peas and garam masala. Mix it together, add turmeric powder and amchur powder. Add salt, sugar and lime juice to taste. Turn down the heat and let the filling cool.
Preheat the oven to 400F/ 210 C. Divide the dough into lemon sized balls. The size of the baati is based on how you like it, but ensure that they are all of the same size for even cooking. Flatten the dough balls, add a tablespoon of the stuffing and roll them to a smooth ball. Using a knife, make a plus sign on top.
Place the baatis on a baking sheet and bake for 12-15 minutes, till it is light brown. Then turn them over and bake for another 10 minutes till the top is brown. Once the baatis are brown on all sides, remove from oven and brush a little ghee on them.
Baatis can be prepared in advance and stored in an air-tight container. Just before serving, place them in a preheated oven for 5-6 minutes and serve warm. Enjoy these baatis with Panchmel Dal and Churma. To eat, break the baati into pieces and add dal on top and enjoy the churma on the side.