Pizza, as most of my regular followers would know, is one of our favorite weekend menu. Over the past I have made some mainstream pizzas like the veggie pizza and the paneer pizza, some unique pizzas like pav bhaji pizza and spinach artichoke pizza. After those pizzas, it was time again to make something tasty. This time I fused Mexican cuisine with pizza and make a Mexican Pizza.
In my opinion, there are just four elements in a pizza; the base, sauce, toppings, cheese and an optional drizzle. Because it was going to be a Mexican Pizza, the base had some taco seasoning added to it. The sauce was a mild salsa made from scratch. The toppings were onions, corn, olives and colored peppers. Adding pinto or kidney beans would be a great idea too. The cheese I used was a Mexican blend cheese and added a drizzle of sour cream on top. Add some crushed tortilla on top and the result is a crunchy, yummy and fulfilling pizza!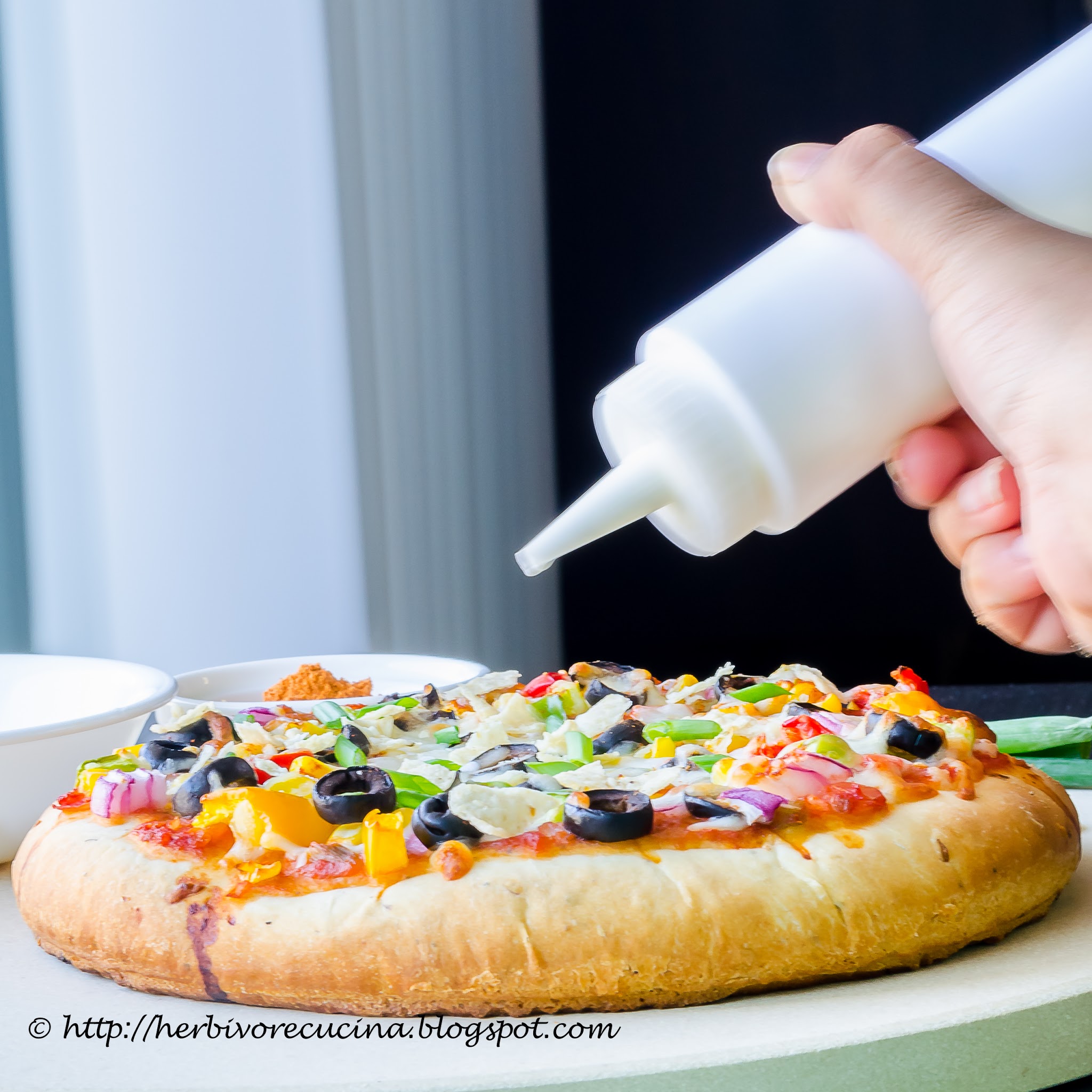 This time I used my new Pizza stone to bake the pizza. While baking breads without a stone does not have any significant impact on the taste, the crunch you get with baking the pizza on a hot stone is unmatched! I was sent a 15" pizza stone by Culinary Couture. The stone is ¾ inch thick and heats up so well! The stone crisped my pizza base really well. It can be used to bake everything from pizzas to breads to cookies. The stone is super heavy and they come wit a few instructions to prepare it for the first time. Cleaning this stone involves scraping the crumbs of bread away and washing it with just water. Soap should never be used on any porous stone as it will seep in. I loved mine, and you can get yours here.

Ingredients
For the Pizza
Salsa homemade or store bought
Onion 1 medium
Colored Peppers ½ each color
Corn ½ cup
Olives ½ cup
Three Blend Mexican Cheese
Taco Seasoning
To Top
Crushed tortilla chips
Spring Onions
Sour Cream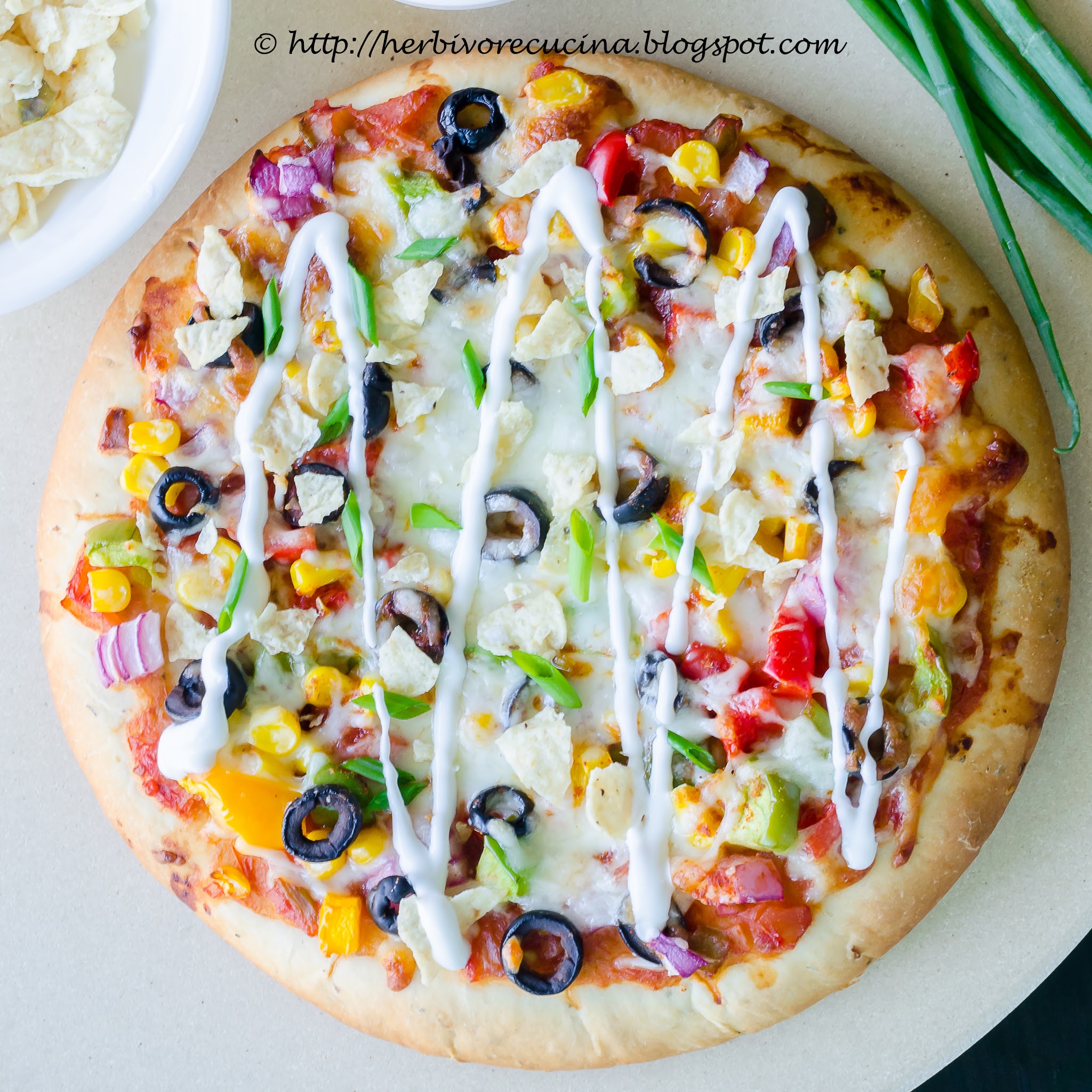 Method
Make the pizza dough as per the recipe here. To add a mexican touch, add some taco seasoning to the dough. Once the dough rises, divide into two or three parts depending on you thick you want the base. I divided into two parts and rolled out each pizza 11-12 inches and ½ inch thickness.
While the rolled pizza dough is rising, preheat the oven to 400 F with the pizza stone placed on the centre rack. Also, to prepare the toppings, dice peppers and onions. Boil the corn seeds for 2-3 minutes in water. Drain and set aside. Slice the olives thin. You can also add boiled kidney beans or pinto beans to enhance the taste.
Once the stone is hot, bake the base for 3-4 minutes. Remove, spread salsa all over the base and top with all the toppings and cheese. Sprinkle some taco seasoning on top and bake the pizza for 10-12 minutes, till the cheese melts and the base is crisp.
Once the cheese has molten, remove from oven. Add some sour cream, chopped spring onion and crushed tortilla chips on top. You can also add sliced avocado.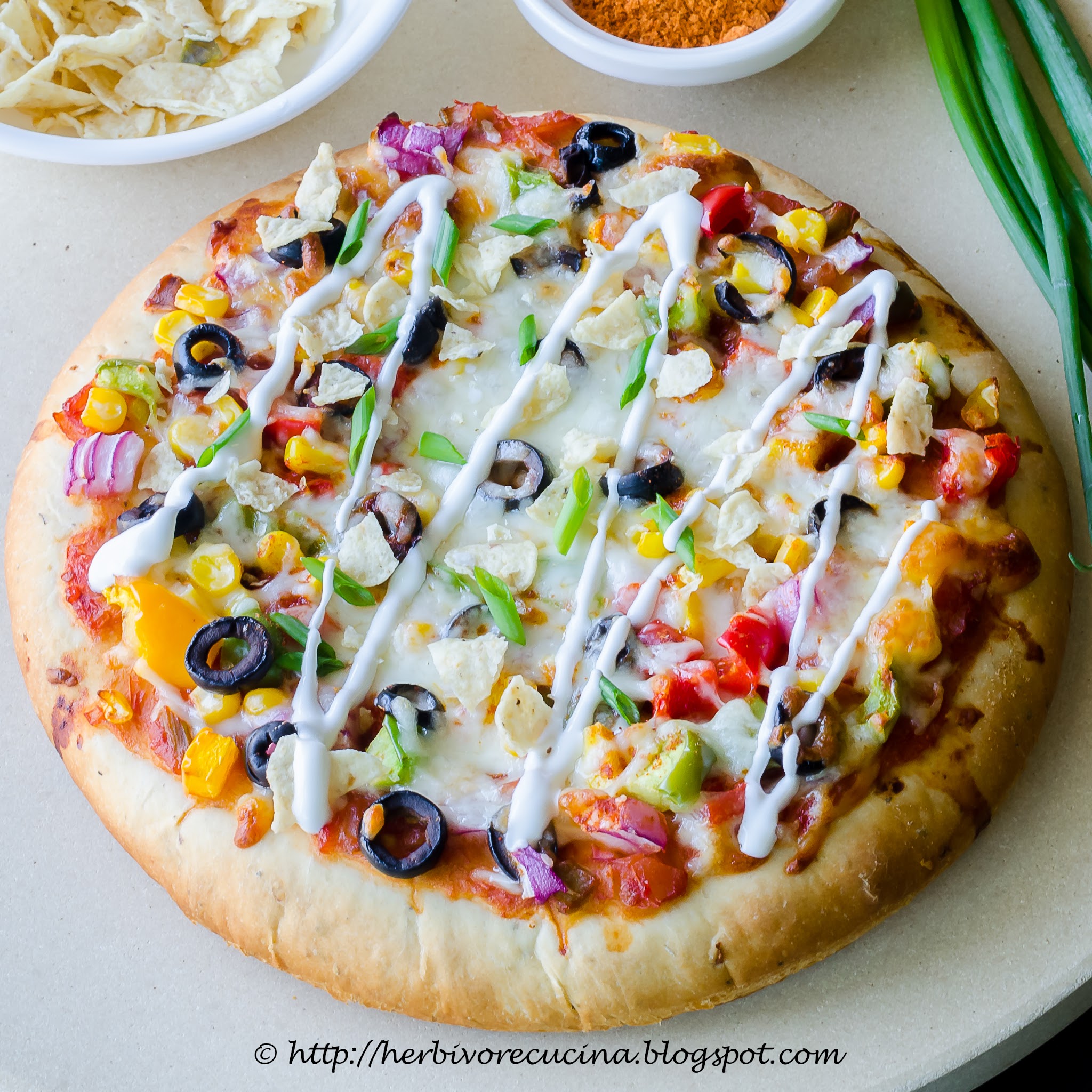 **One or more items in this post were sent to me for a deep discount/ free for review purposes. However, all opinions in the post are completely mine.