This post is sponsored by Barilla but the content and opinions expressed here are my own. #TeamCleanPlate
30 minute weeknight meal; this Red Lentil Pasta with Sundried Tomato Pesto is addictive and easy to make! Vegan and Gluten free too!

Shouldn't all meals be easy to make? Such that everyone on the family can enjoy as a one pot meal? Yes, right? If this is what you think everyday; this post is tailor made for you, I promise!



Pasta has always been a special ingredient in my pantry. Different shapes and sizes of dried pasta, colorful sauces and varied add-ins have always found a favorite spot on our dinner table. We love our baked casseroles with pasta, pesto based sauces, pasta salads and minestrone soup with pasta in it.
Today's recipe is something we have loved for a while now. An easy to make pasta recipe that takes only 30 minutes from start to finish; this is a FULL meal made in just one pot! And did I tell you, this one has ZERO cheese or butter?
How to make cheese-free Pasta?
If you think pasta HAS to be laded with cheese, butter or cream; think again. Pasta recipes can be GOOD for you; just like this one. This recipe uses just a few ingredients that are balanced, easy to source and makes a great dinner recipe.
The recipe has a pesto in it; but mind you, it is not your regular pesto. This pesto has sun-dried tomatoes added to it. The flavor that it adds to the pesto is so awesome; that I am not making the regular pesto again! The creaminess from pine nuts and tomatoes is enough to NOT add any cheese to it. Plus, no sprinkled cheese on top. So the recipe is Vegan!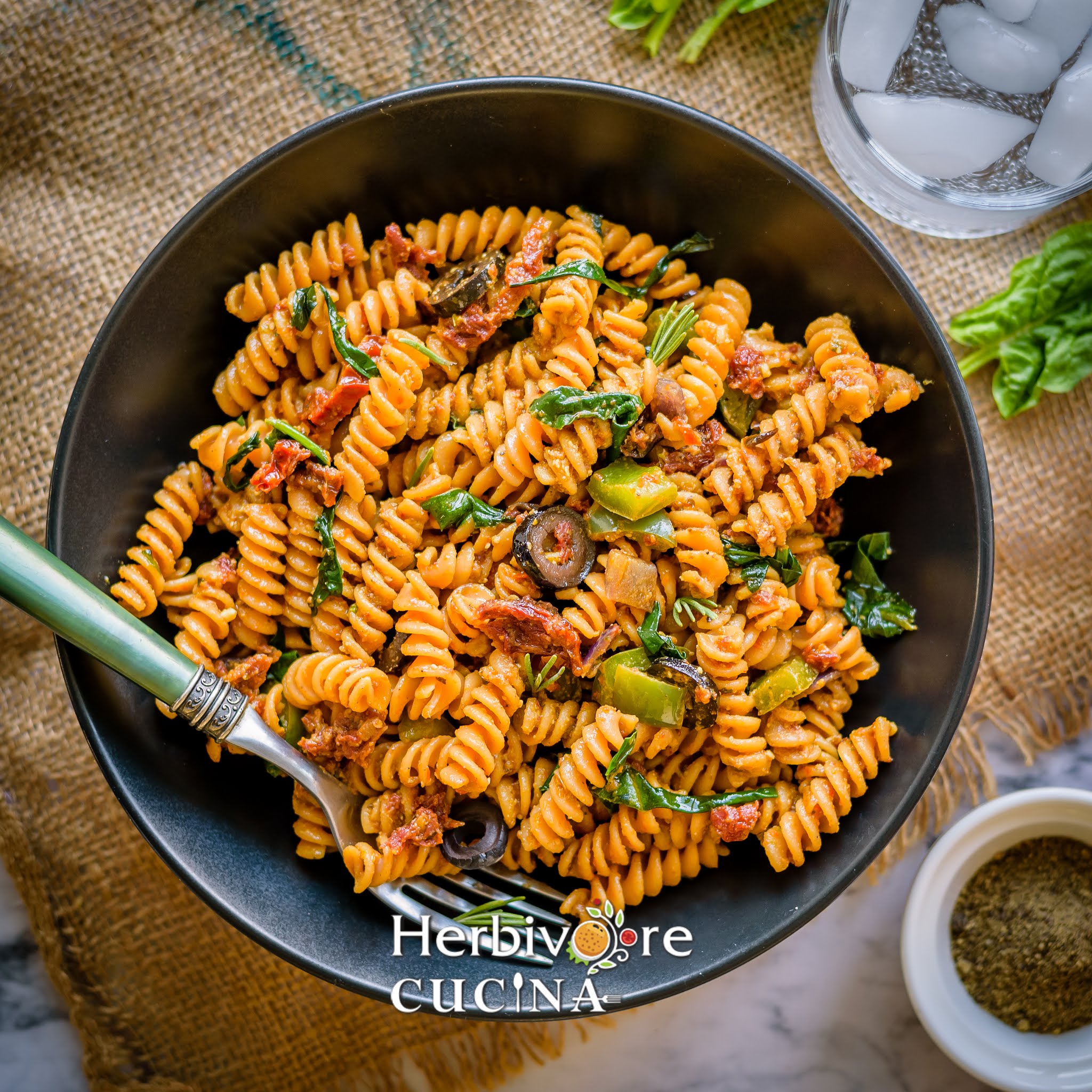 What ingredients go in this recipe?
The STAR of this recipe is the RED LENTIL PASTA from Barilla. A grain free recipe made from JUST one ingredient; this pasta has superior taste and texture. Plus, it matches perfectly with a variety of sauces (another addictive recipe tomorrow!) and is good for you, I promise!
I am still imagining how wonderful it is that Barilla picked Red Lentil and converted it to pasta. What was once just a lentil; now is an ingredient to make the most delish pasta! If you like this one; you should check out the Barilla Chickpea Pasta on Amazon too. They are both super addictive!
Buy yours HERE!!
The pesto sauce is the next ingredient in the recipe. One notch higher than the regular sauce, no cheese and no preservatives, this pesto is made from scratch and takes less than 5 minutes to whip together. Not just for pasta, this one is great to dip breadsticks too.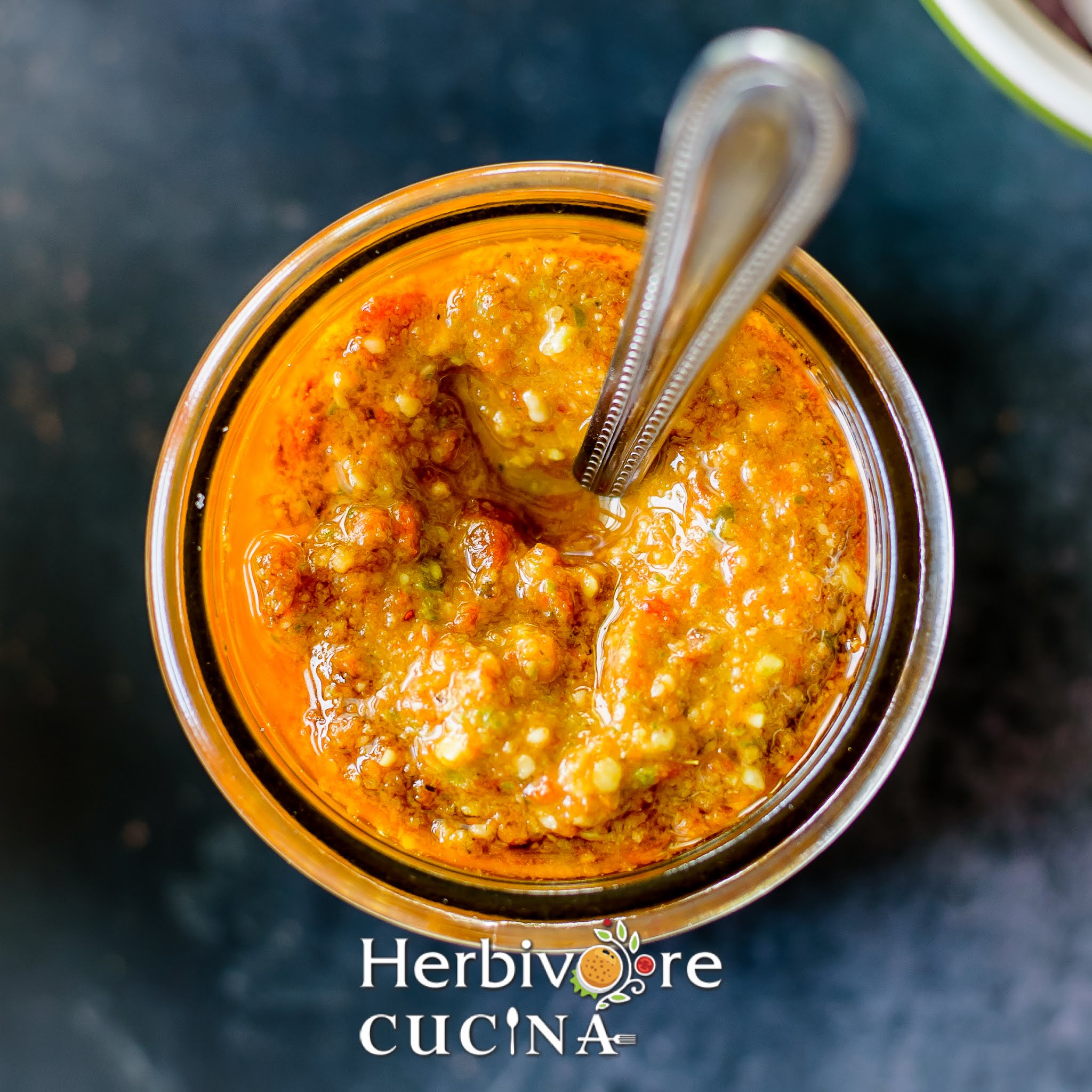 We love our pastas full of garlic and so I added a couple of tablespoons. Modify it based on your preference. I added just a couple of vegetables but you can add more for sure. Broccoli, carrots and mushrooms work great in the recipe!
Why you should make this one?
The above should have convinced you to make this recipe for weeknight dinners. But if you are still thinking and debating, here is why you should make it:
Comes together in under 30 minutes

Vegan and Gluten-free

Delicious and easy to make

Zero cheese, butter and heavy cream

Great for weeknight dinner




So, now, head straight to Amazon; get your set of Barilla Red Lentil Pasta and start this recipe. You will be hooked for sure!
Ingredients
For the Pesto
Sun-dried Tomatoes ½ cup, drained
Basil 1 cup, packed
Pine Nuts 2 tbsp
Extra Virgin Olive Oil 2 tbsp
Salt ¼ tsp
Pepper Powder ¼ tsp
Red Chili Flakes a pinch
For the Pasta
Barilla Red Lentil Pasta 2 cups (Get yours HERE)
Garlic 2-3 cloves, minced
Onion ½ medium, diced
Pepper ½ medium, diced
Sun-Dried Tomatoes ¼ cup
Spinach 1 cup, chopped
Black Olives 6-7, sliced
Dried Oregano ½ tsp
Salt ½ tsp
Extra Virgin Olive Oil 1 tbsp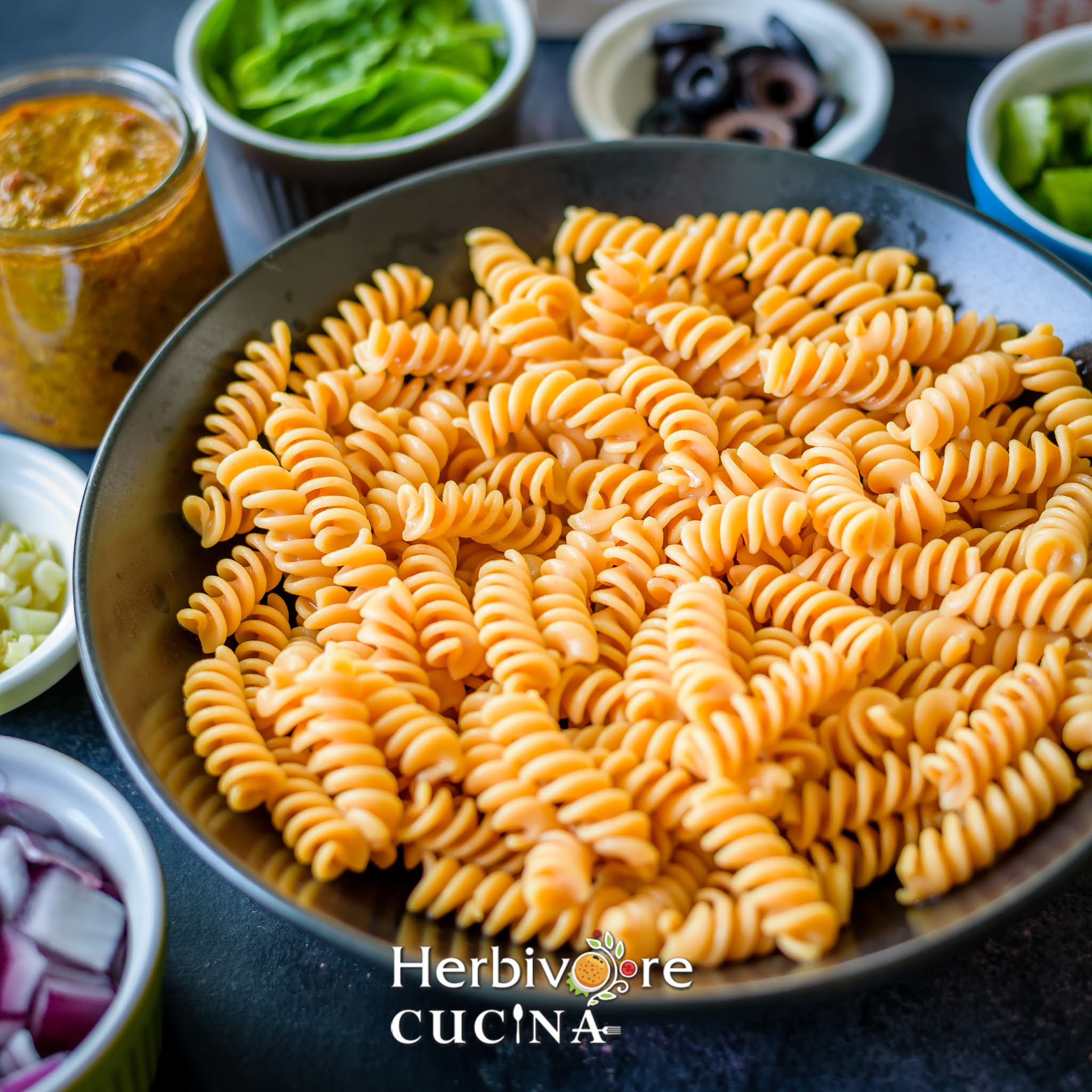 Method
To make the pesto, blend together all the ingredients under 'pesto' except olive oil in a high powerful blender. Once the texture is coarse, add the olive oil and blend till smooth. Use some water if required. Transfer the pesto to a jar and let it rest.
Boil the Barilla Red Lentil Pasta in boiling water for 7-8 minutes. Remove and drain. Set aside.
In a pan add 1 tablespoon of extra virgin olive oil. Once hot, add garlic. Sauté till fragrant and add onions and peppers. Let them cook for a couple of minutes and add the spinach leaves. Cook till the leaves wilt and add the cooked pasta. Add olives and sun-dried tomatoes.
Season with salt and dried oregano. Mix well and turn down the flame. Toss the pasta in prepared pesto and serve.