This post is sponsored by Barilla but the content and opinions expressed here are my own. #TeamCleanPlate
A great recipe for weeknight dinner; this Eggplant and Mushroom added Red Lentil Penne is super easy and delish. And yes, it comes together in under 30 minutes!
Some of the links below are affiliate links, meaning, at no extra cost to you, I will earn a commission if you click through and make a purchase.
Pasta lovers; have you tried eggplant in your pasta yet? If you haven't, the end of this recipe will convince you to make it! I have made this recipe several times and it has been great each time!
Whenever we enjoy pasta for dinner; it would generally be the regular white sauce, pesto sauce or marinara. Some time back I tried this version because I had a HUGE eggplant in my refrigerator and now it has become one of our favorite recipes.
I posted a pasta recipe a couple of days ago (here: Red Lentil Pasta in Sundried Tomato pesto) and here is another variation for using Barilla Red Lentil Pasta. This time I used penne and paired it with an amazing tomato based sauce. I added a LOT of eggplant to the dish and it tasted super yum!
Eggplant in pasta?
If you have folks in the house who DO NOT like eggplant, this recipe might help you change that. One big eggplant diced and added to this red lentil pasta makes a super delish dish. For meat lovers, the addition of eggplant and mushrooms makes the Vegetarian dish 'meaty'.
I have read about a lot of pasta options online and it is wonderful to find that there is a traditional Sicilian recipe called Pasta Alla Norma. This dish uses eggplant as a star and makes a wonderful weeknight meal.

I started off with that and modified the recipe to suit my family. Fried eggplant replaced with pan fried eggplant, diced tomatoes from the can substituted with fresh tomatoes and added some extra veggies like mushroom and spinach. Yet, eggplant is the STAR here and shines through all the flavors!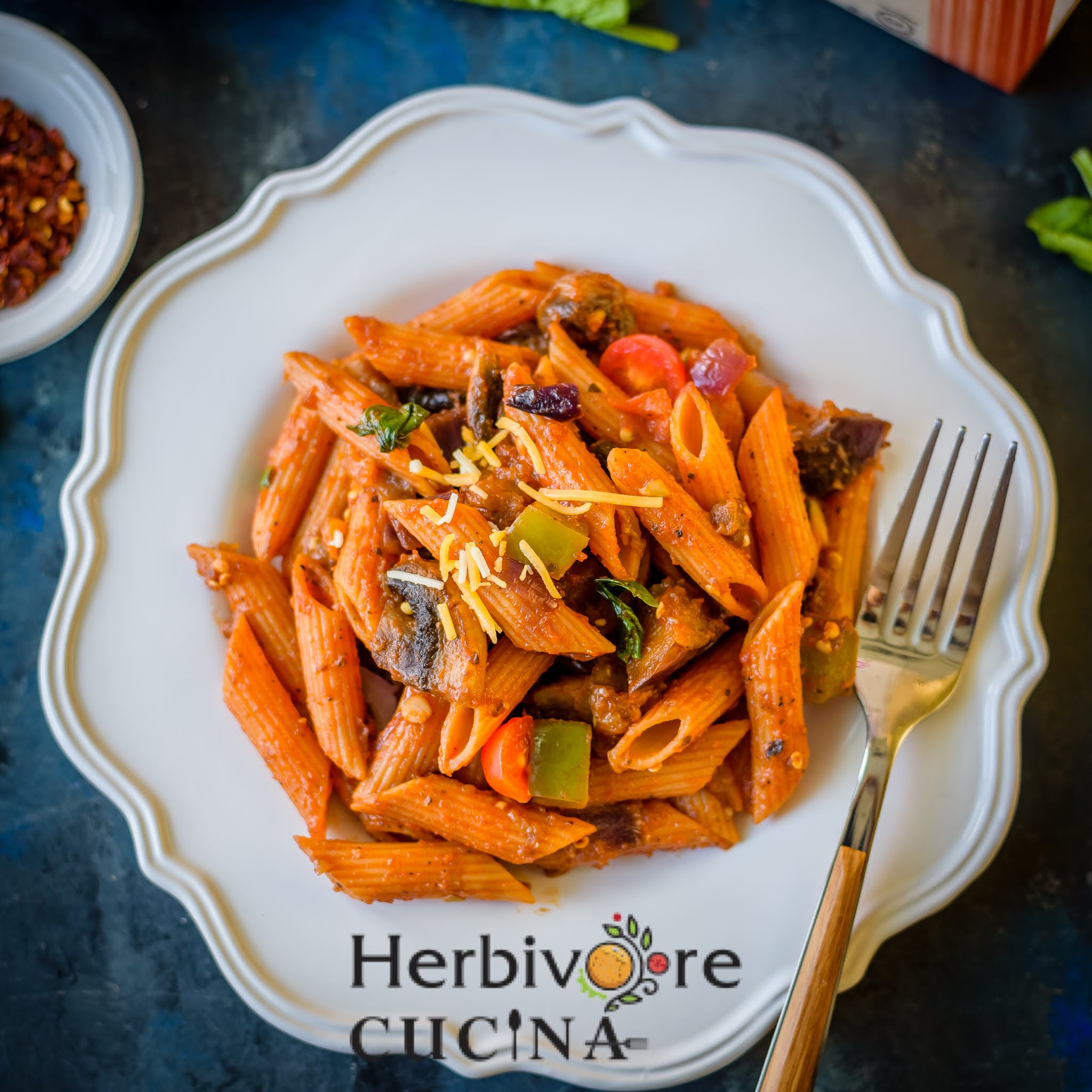 If you are an eggplant lover, these recipes are PERFECT to check out:
Red Lentil Pasta anyone?
For this recipe I used Barilla Red Lentil Pasta. This Penne is made from JUST one ingredient; red lentil flour. Gluten free, grain free and perfect for Vegetarians and Vegans; this pasta has a permanent spot in my pantry!
After I posted the last recipe; some of my readers messaged me to ask how difficult it is to get this to cook. They tried some and never made it right 🙁 This one is different; al-dente in just 7-8 minutes using boiling water! I love this one so much, I need to try their other variant; Chickpea Pasta real soon!
Why make this recipe?
Weeknight dinners might be challenging to plan. If you need a recipe that comes together quickly and is delish, you must make this recipe. Need more reasons? Here they are:
The recipe is gluten-free

A great source of plant based protein

The recipe can be made Vegan easily; just skip the cheese on top

Needs only a handful of ingredients

Comes together in under 30 minutes!
Variations
I used Barilla Red Lentil Penne for this recipe. However, Barilla Red Lentil Rotini works well too. The grooves in either of them helps hold the sauce.
I had a BIG eggplant in my refrigerator, so I used that. However, Chinese eggplants or small Indian eggplants can be used too. Plus, I used mushrooms and spinach. Adding some more vegetables is a great option too.

The marinara sauce in the recipe can be made at home or bought from the store. Both work equally well. Finally, I added some shredded cheese on the pasta. However it can be skipped to make the pasta Vegan.
I hope you try this one really soon. If you LOVE pastas; try more recipes from here:
Now head straight to the recipe! Hope you enjoy it!
Ingredients
Barilla Red Lentil Penne 2 cups (buy it HERE)
Eggplant 1 medium, diced
Mushroom 8-10, chopped
Tomato 1 medium, diced
Onion ½ medium, diced
Green Pepper ½ medium, diced
Spinach leaves 5-6, chopped
Garlic 2-3 cloves, minced
Extra Virgin Olive Oil 2 tbsp
Barilla Marinara Sauce ¼ cup
Salt 2 tsp
Black Pepper powder ¼ tsp
Dried Oregano/Basil 1 tsp
Shredded cheese of your choice 2 tbsp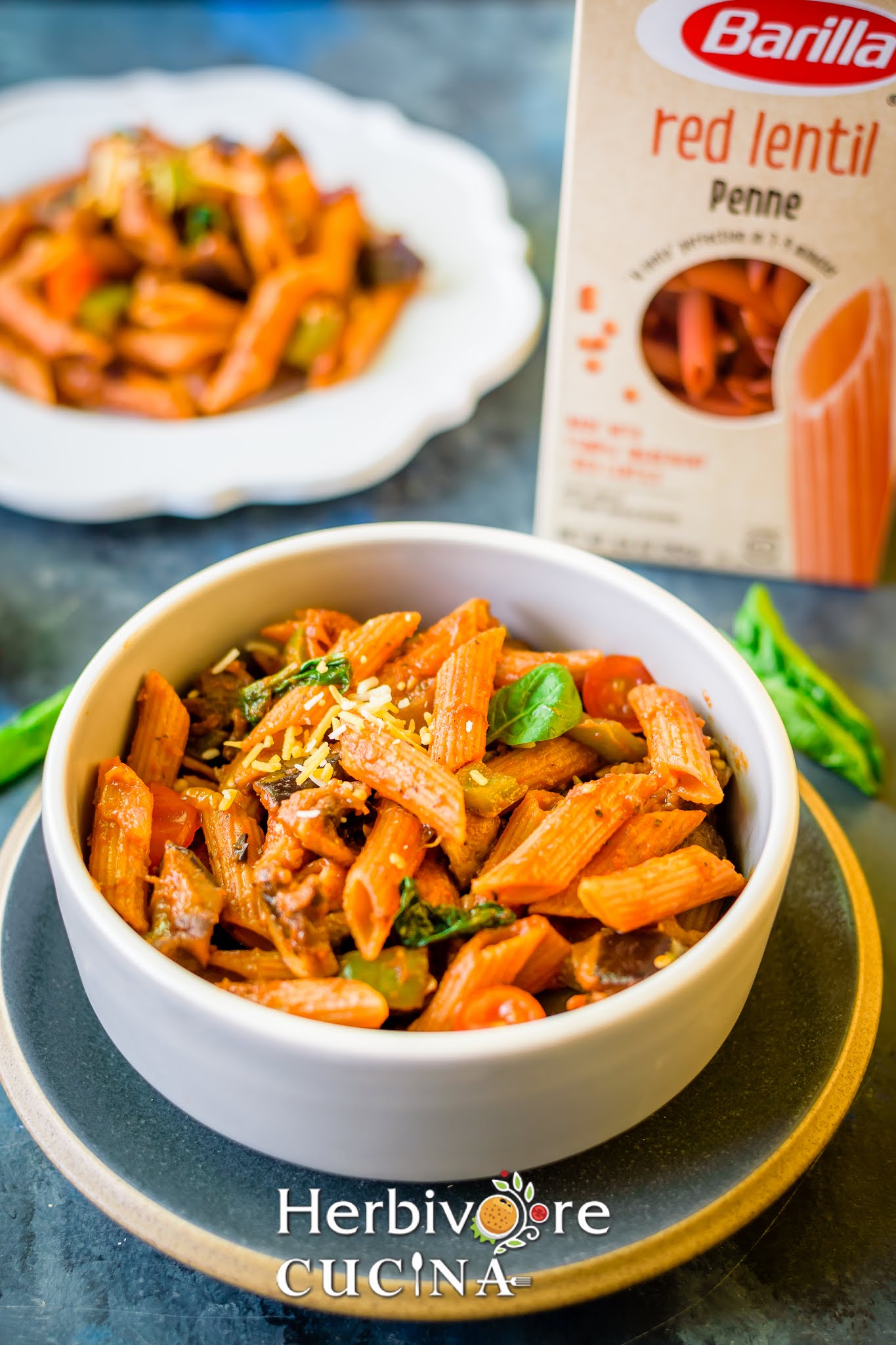 Method
In a large pan of boiling water, add 1 teaspoon salt and penne pasta. Cook for 7-8 minutes till al-dente. Drain and set aside.
In a heavy bottom pan add 1 tbsp Extra Virgin Olive Oil. Once hot, add the eggplant and mushrooms in a single layer. Let them become crisp for 4-5 minutes.
Move the cooked eggplant and mushrooms to the side of the pan or remove in a plate.
Add the remaining oil. Sauté garlic till flavorful and add in onions and pepper. Mix well and let them cook for 4-5 minutes. Mix in the eggplant and mushrooms.
Add spinach leaves and cook till they wilt. Season with salt, pepper and oregano. Mix well.
Add the tomatoes and marinara sauce. Let everything simmer for a couple of minutes. Add the cooked penne and toss till the pasta is coated with the sauce.
Serve topped with shredded cheese. Enjoy with a side of salad or garlic bread.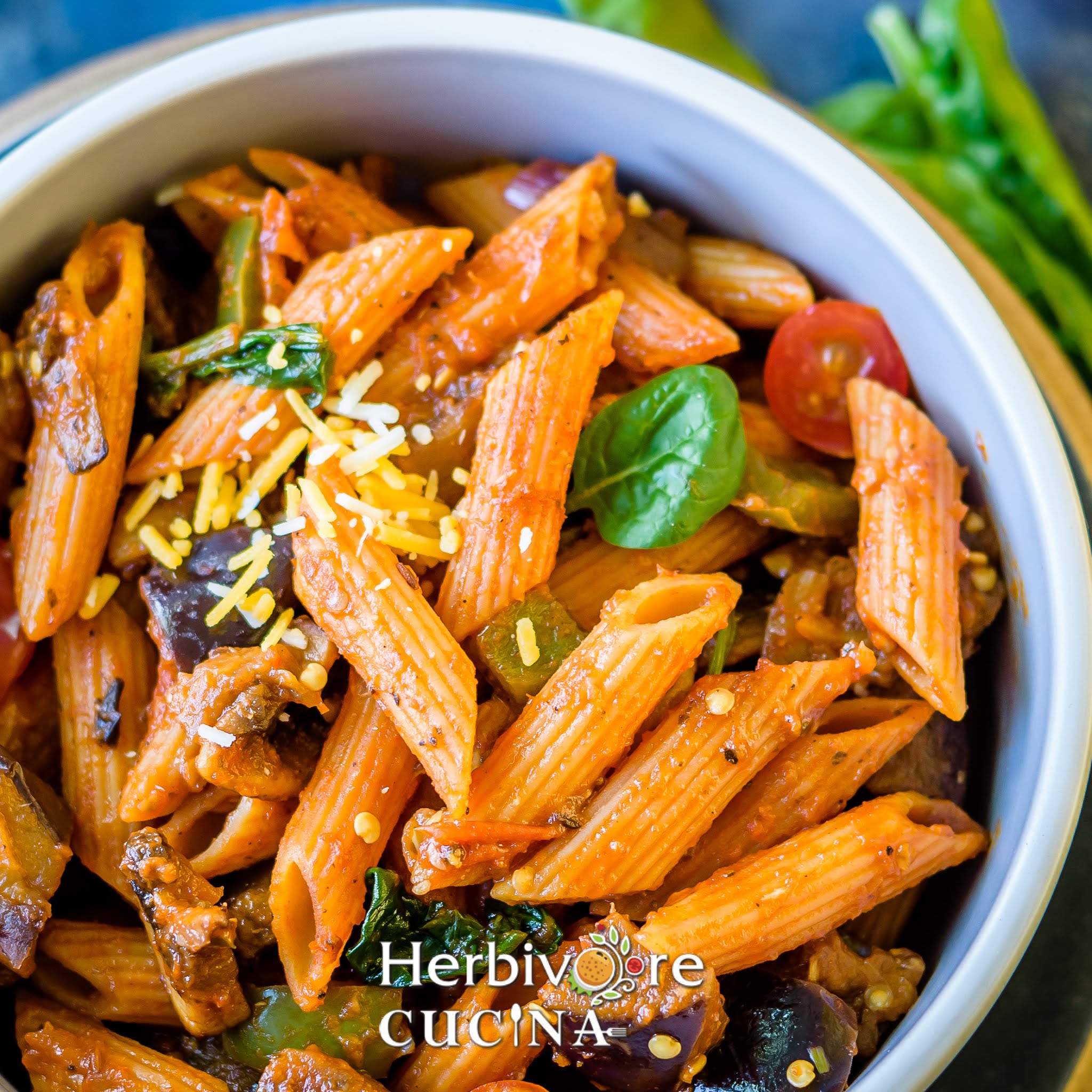 DISCLOSURE: WE ARE A PARTICIPANT IN THE AMAZON SERVICES LLC ASSOCIATES PROGRAM, AN AFFILIATE ADVERTISING PROGRAM DESIGNED TO PROVIDE A MEANS FOR US TO EARN FEES BY LINKING TO AMAZON.COM AND AFFILIATED SITES.