This post is written on behalf of Cello Cheese. All opinions are mine alone. #CelloMusicToYourMouth
Single serve variation of the traditional Italian Eggplant Parmesan; this recipe has the same flavors but super quick and easy to make!
I cannot believe we are zooming towards 2019! I am already planning how to celebrate Christmas and bring in the New Year. This year my party will feature some yummy recipes and I am sure this is something I am making!
Eggplants; the vegetable that some folks love in any form and some hate it completely. If you have some one who is not a fan; read on and you might just be able to convert them to LOVE eggplants.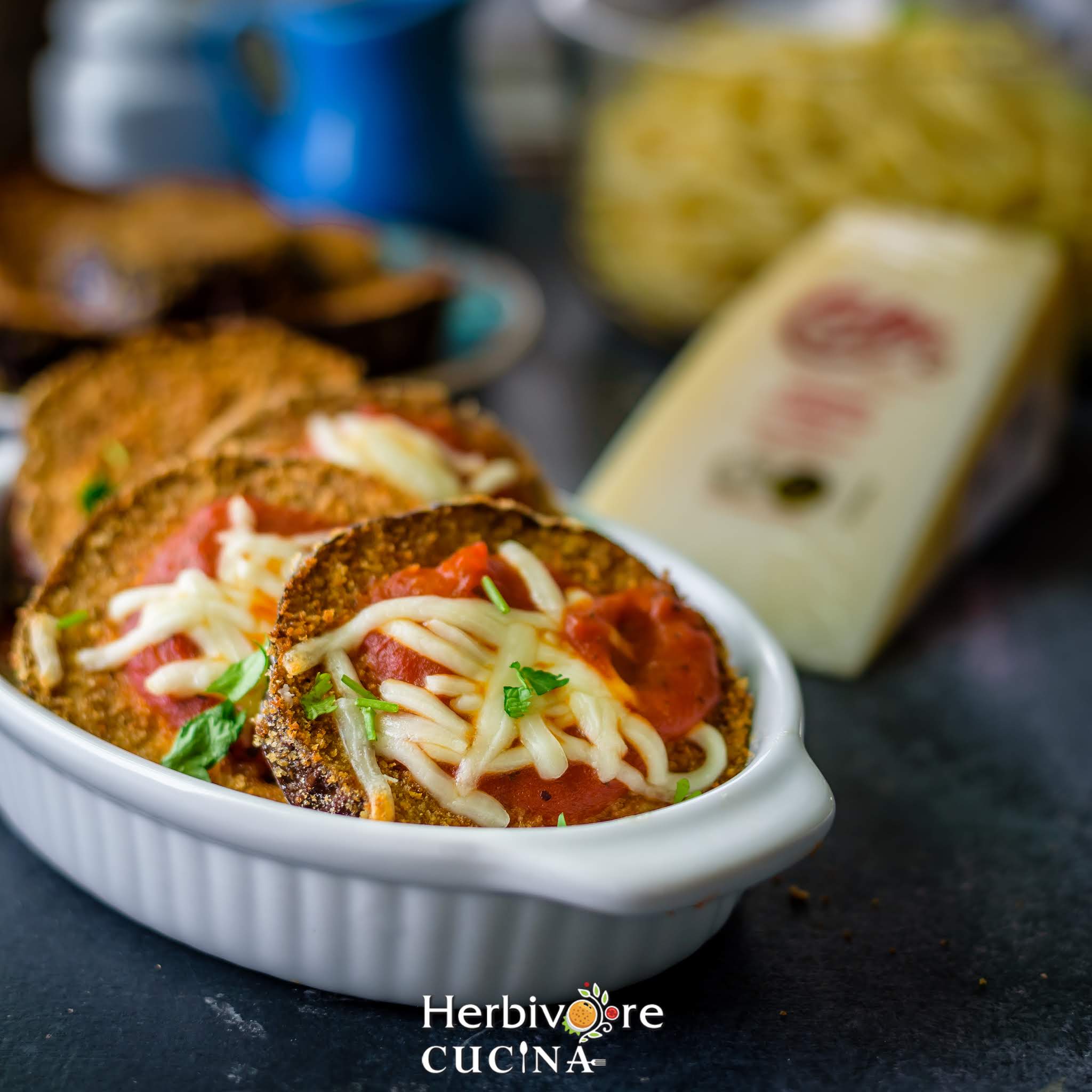 Italian cuisine has a TON of delicious recipes from soups, salads and pastas to super amazing desserts. For the longest time I would order a pasta dish off the menu at any Italian Restaurant and make some kind of pasta with sauce for parties. One day I discovered Eggplant Parmesan and there is no way it was getting out of my mind!
I have tried various variations of the Eggplant Parmesan and I must say; this recipe has been my favorite! Stacks of eggplants, rolls of eggplant or a casserole made from a lot of slices have been the ones I have tried. But this recipe of BAKED Eggplant parmesan is the best.
What makes this recipe the BEST?
This recipe of Eggplant Parmesan yields SUPER crisp eggplants without a lot of effort or add ins. Plus; it freezes beautifully and comes handy for weeknight dinners. Another advantage is that it can be scaled up or down effortlessly! A great recipe for parties too, this Eggplant Parmesan is perfect as a make-ahead appetizer or dinner dish.
All the ingredients here are easy to find and most people might have them in the pantry. All it needs is Eggplants (of course!), breadcrumbs, marinara sauce and good quality Parmesan cheese!
I have tried several cheese brands for this recipe and more. As the recipe name suggests; this one has to have a good tasting Parmesan to make the recipe PERFECT. My latest find has been Cello Artisan Parmesan Cheese from Sprouts. It is also available at Shop-Rite. Aged 12 months, this cheese has bold, nutty flavors with notes of crushed apple. This cheese is delicious and is a great addition to your Holiday table as is or in your favorite recipe.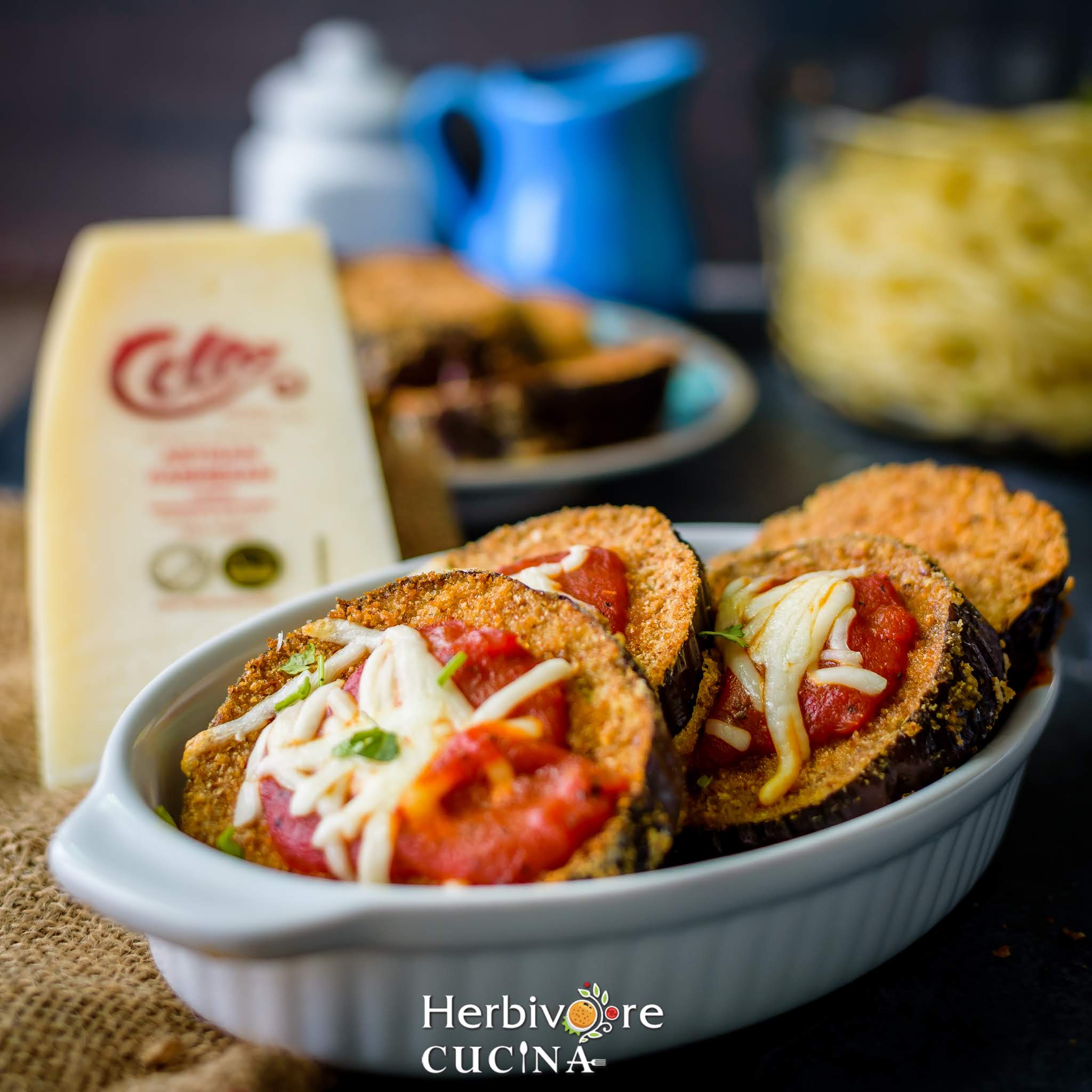 A PERFECT make-ahead recipe that is great for freezing
My favorite part about this recipe is how easily it can be made earlier and used enjoyed in a few minutes for dinner or as an appetizer.
The recipe below mentions all the steps of making it. Once the rounds have been drained, coated in breadcrumbs and baked; they can be cooled completely and frozen on a cookie tray. Once frozen, they rounds can be transferred to a bag and kept frozen.
When ready to serve, remove the frozen rounds and bake them with marinara and cheese. No need to thaw them; this recipe helps make dinner super quick and easy!
Variations
I used a large eggplant and sliced it with the skin. There is really no right or wrong thickness of the slices or if the skin should be kept on or removed. It depends on what you like. My experience with the recipe is that the skin helps bind the eggplant without becoming mushy. But it is entirely up to you.
Here I have used regular breadcrumbs and seasoned them with dried oregano. Using Italian breadcrumbs is a great idea too. A lot of folks prefer panko but they are best suited for deep frying. baking them does not always result in crisp coating, so I stay away from that.
If you would like a super thick coating of crumbs on the eggplant, either double coat the slices with cornstarch and breadcrumbs or use egg instead of cornstarch. Both methods help achieve a thicker coat of breadcrumbs.
Ingredients
Eggplant 1 medium sliced into ½ inch slices
Breadcrumbs ½ cup
Oregano 1 tsp
Corn Starch 2 tbsp
Marinara Sauce ½ cup (homemade/store bought)
Olive Oil/ non-stick spray as required
Cello Parmesan Cheese ½ cup, shredded
Salt as required
Method
In a bowl add the eggplant slices and sprinkle salt. Mix well so that the slices are coated. Place the slices on a wire rack and let the moisture drain out for an hour or so.
Once the slices are a little dry, preheat the oven to 425 F. In a bowl mix together corn starch and 2 tablespoon water. In another bowl mix together breadcrumbs, ¼ teaspoon salt and oregano.
Pat the eggplant slices on a paper towel. Dip a slice in the cornstarch mixture and coat using breadcrumbs.
Press well and transfer to a parchment lined baking tray. Repeat for all the slices. Spray non stick spray or spread olive oil on the slices.
Bake the slices for 18-20 minutes, turning them over once mid way. Once the slices have brown dots and the crumbs are baked; remove and set aside.
When ready to serve, add 2 tablespoon of Marinara sauce on each eggplant and sprinkle parmesan cheese.
Bake the rounds in a preheated oven at 425 F for 8-10 minutes. Remove and serve over a bed of marinara sauce. I love to sprinkle some extra Cello parmesan cheese on top.