A delicious combination of charcoal grilled Tofu Tikka and Basmati rice makes this amazing Biryani. A great option for weeknight meals!
Some of the links below are affiliate links, meaning, at no extra cost to you, I will earn a commission if you click through and make a purchase.
Biryani is one of my favorite Indian take-outs. A mix of rice, vegetables or paneer and flavorful spices; the variations possible for biryani are endless. From a North Indian style biryani to the South Indian version and from a cheater version made quickly to a patiently made dum biryani, the options are plenty.
If you are looking for a weeknight meal, consider biryani and raita. A perfect blend of flavors, this is our go-to meal for busy weeknights. I like to serve mine with plain yogurt or Burani Raita.

Traditionally vegetables or meats are marinated in a spicy yogurt based marinade and then cooked with the rice. The flavors blend in well and the result is a flavorful biryani. However, this version takes a lot of time and needs quite a few ingredients.
Instead of that, I cooked the marinated tikka on coal and cooked the rice separately. Then I mixed everything with spices and the result was awesome. The flavor of coal grilled tikkas with the flavorful rice resulted in a delicious biryani. Plus, it requires little time as the preparation can be done in parallel.
How to make a quick version of Biryani?
For this recipe I marinated tofu, peppers and onion in a spicy yogurt mixture. I let them rest and prepared the rice in that time. Once the rice was done, I let it cool completely. This helps in keeping the rice grains from breaking.
Then I grilled the tofu tikka and continued with the recipe. In about an hour from start to finish, I had a BIG pan of piping hot biryani ready for my family! Perfectly spiced, super flavorful and addictive; this biryani is now our favorite.
After the success of this recipe, I think I am going to take along some rice on our next camping trip and use anything we make from paneer tikka or mushroom tikka to grilled vegetables to make a version that would be great for camping dinner! The flavors of coal that are infused in the recipe give it a characteristic fragrance and enhances the taste too!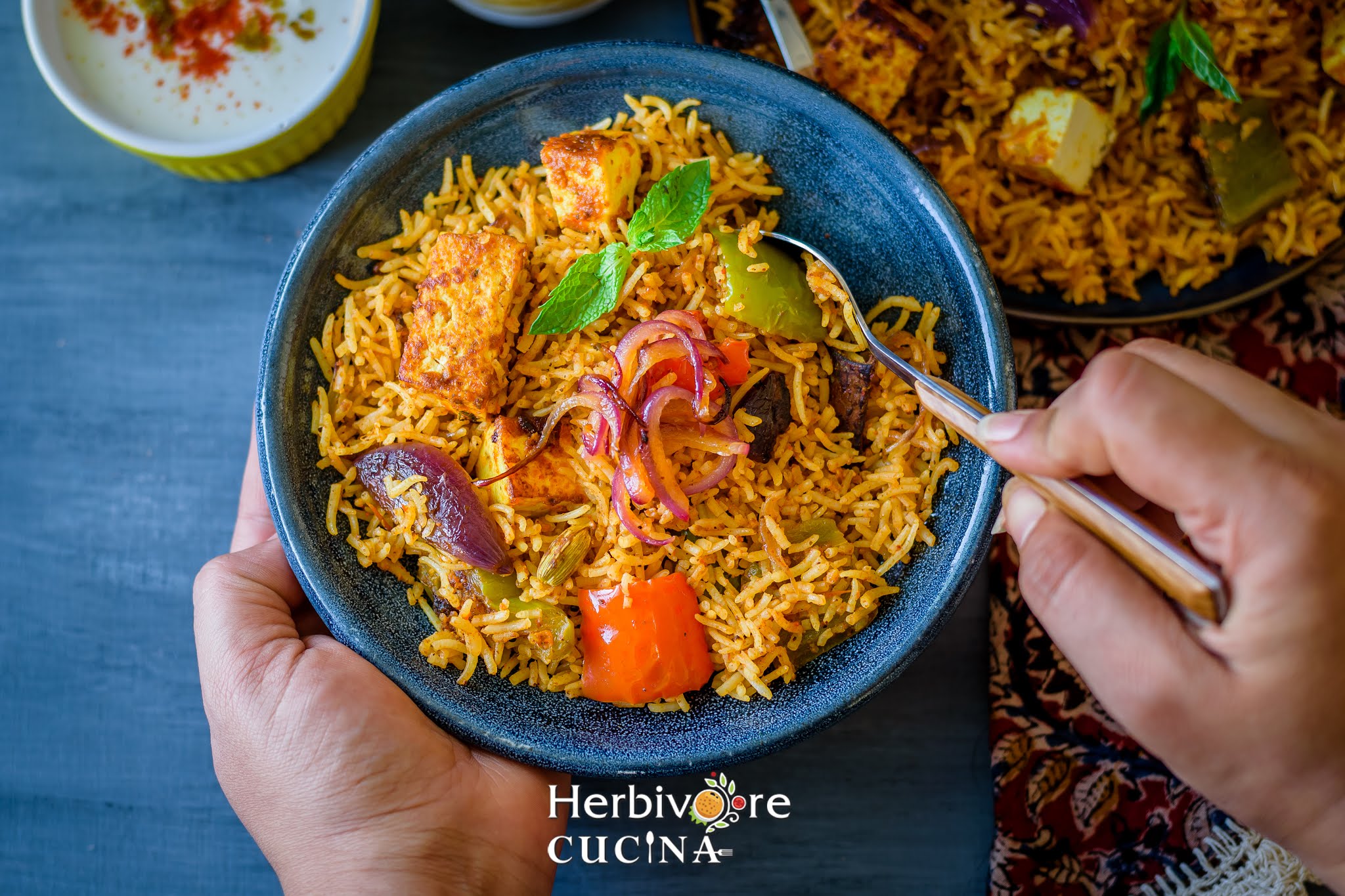 Easy Tofu Tikka Biryani ingredients
The ingredients used for the recipe determine how good the outcome is. For the best tasting and flavorful biryani, use the right ingredients to make it right each time.
The MOST important ingredient is Rice. Use good quality Basmati rice to make the best biryani. The fragrance from basmati cannot be achieved from other kinds of rice, so make sure you use basmati only.
Tofu, a key ingredient in the recipe needs to be of the firm type. Using medium firm or soft will result in the tikkas breaking apart and sticking to the grill. It makes quite a mess then.
The spices used in the recipe are popularly found in any Indian pantry. If you like Indian food, you should have these in the pantry. Most Indian recipes call for them.
Biryani Masala, a flavorful spice mix in the recipe can be made at home or bought. I like this brand as it gives an amazing flavor.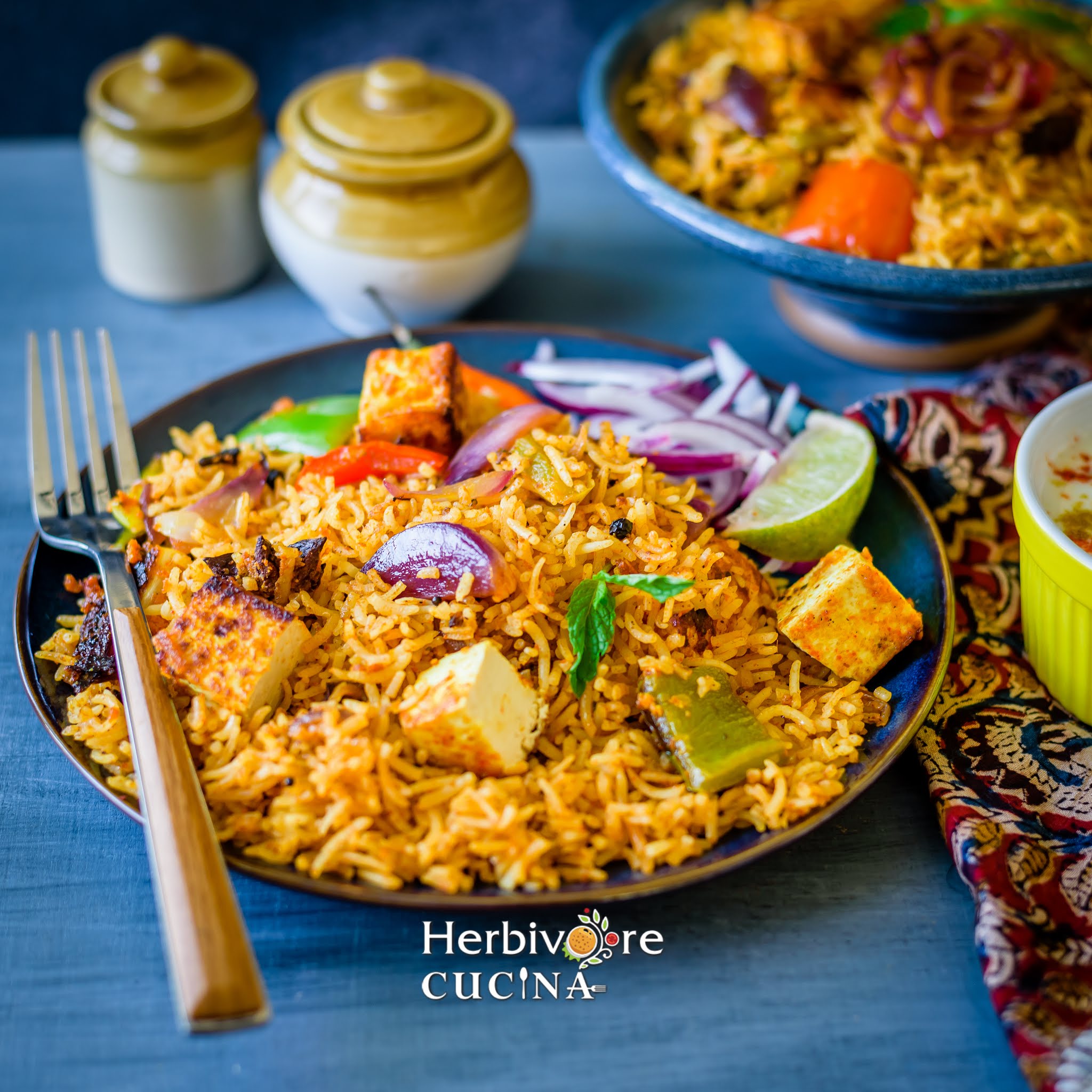 Variations
If you are having a grilling party and have leftover tikkas, convert it to this biryani. Better still, if you have leftover rice too, it all comes together in under 10 minutes!
Plus, if you have leftover marinade, make tofu tikka using it and then make the biryani. It is a great way to use up leftover marinade and get a meal quickly on the table.
Finally, if you love biryanis, try one of these from the blog:
Hope you try this recipe soon too. If you like vegetarian recipes, make sure you join this facebook group and get inspired: Delicious Vegetarian Recipes!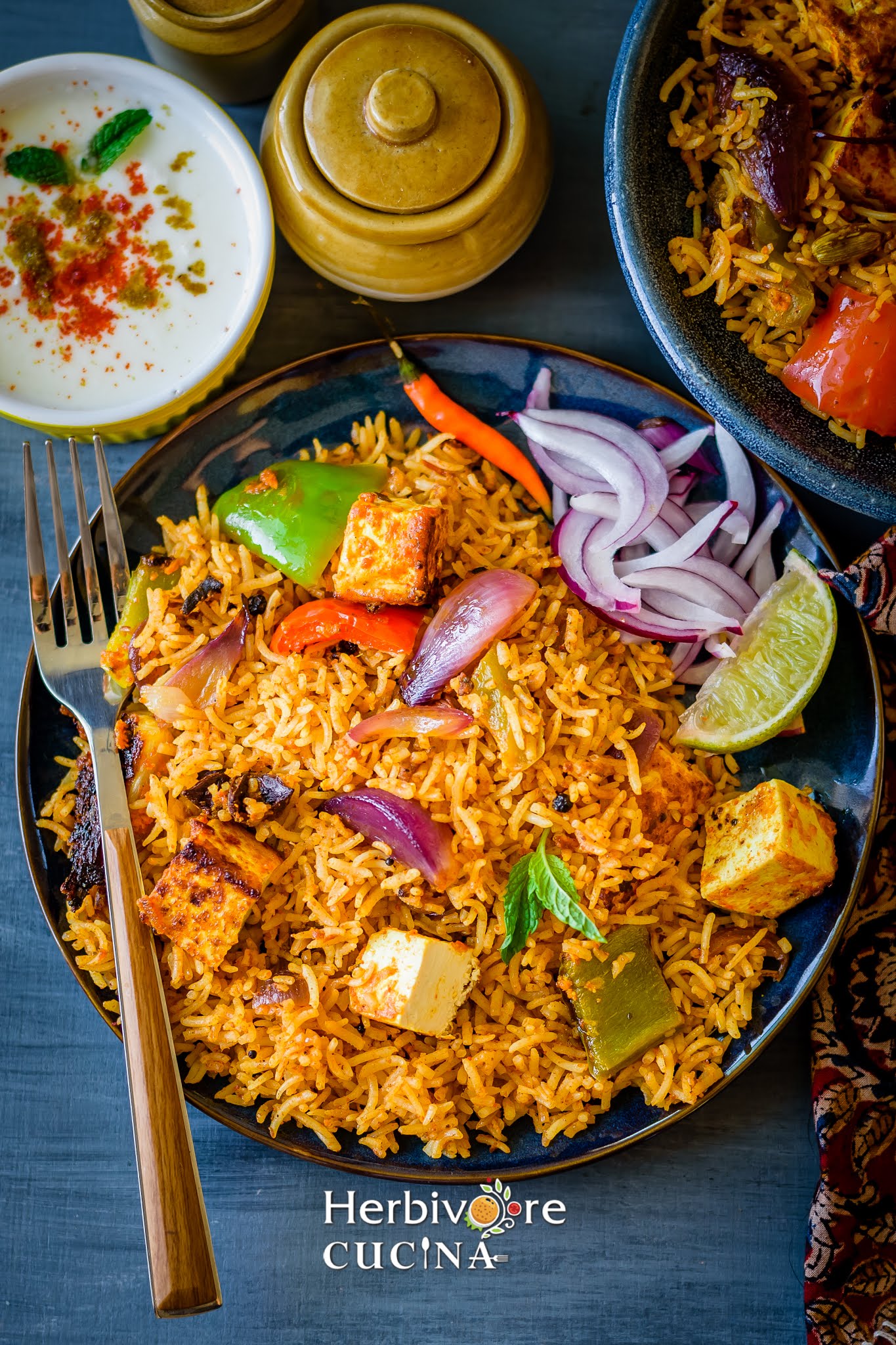 Ingredients
Tofu Tikka skewers using this recipe
Basmati Rice 1 cup
Onion ½ medium, sliced thinly
Ginger 1 inch piece, grated
Garlic 2-3 cloves, grated
Green Chili 1, chopped
Cloves 1-2
Cinnamon 1 inch stick
Bay leaves 2-3
Mustard Seeds ¼ tsp
Cumin seeds ½ tsp
Turmeric Powder 1 tsp
Red Chili Powder 1 tsp
Biryani Masala 1 ½ tsp
Salt 1 tsp
Ghee 2 tbsp
Mint and cilantro to top
Method
Make the tofu tikka as directed by this recipe. Set aside.
In a pan add rinsed basmati rice and 1 ½ cup water. Boil for 8-10 minutes, till all the liquid is absorbed and the rice is 70% cooked. Drain and set aside. An alternate way is to cook the rice in a pressure cooker for 3 whistles.
In the same pan add 1 tablespoon ghee. Heat and add sliced onions. Sauté till crisp.
Add the remaining ghee and then add mustard seeds. Once they pop, add cumin seeds, bay leaves, cloves and cinnamon. Sauté for a couple of minutes. Next add ginger, garlic and green chili and sauté till fragrant.
Then add the tofu, onions and peppers from the skewers and mix. Add the drained rice, turmeric powder, red chili powder and salt.
Mix slowly, ensuring the rice does not break. Turn down the flame, sprinkle mint and cilantro and serve with your favorite raita/ yogurt.
DISCLOSURE: WE ARE A PARTICIPANT IN THE AMAZON SERVICES LLC ASSOCIATES PROGRAM, AN AFFILIATE ADVERTISING PROGRAM DESIGNED TO PROVIDE A MEANS FOR US TO EARN FEES BY LINKING TO AMAZON.COM AND AFFILIATED SITES.