October is coming to an end and it has been a SUPER busy month. Starting off with my birthday, then the Indian festival of Navratri, preparing for Diwali, Halloween and finally coming up is my husband's birthday! We are in the middle of Diwali and I have been making, eating and posting TONS of sweets and savories on my IG feed. Are you following me there?
While dealing with all the festive madness, we sometimes start to crave for some of our favorites from the streets of Mumbai, India. While the Pav Bhaji, Misal Pav and Vada Pav have been on every corner of the city since forever, the latest dish to add to street food is momos/dumplings/dimsums! A chain of dumpling carts have come up in the city at most shopping malls and theatres! They have steamed dumplings full of different combinations.
While I have never had dumplings with cheese and schezwan sauce, they serve that and are a rage too!! So after a lot of deliberation, I decided to make them at home. And boy, I must say I am impressed! They are totally indulgent, with the molten cheese and fiery schezwan sauce. I used vegetables I had in my refrigerator, but feel free to experiment as you like. I made a big batch of schezwan sauce at home and used that in the stuffing and as a side. It was a perfect evening snack, especially when everything around as gloomy due to the rains.
Sunsella recently sent me a stainless steel steamer that I used in this recipe. The steel steamer is so good for foods of every kind. It can be used for steaming small amounts of vegetables or other foods in a small container and larger foodstuffs by opening up the basket completely in a large container. The legs are pretty tall, not to submerge the food in water. And yes, the centre piece comes out to facilitate steaming large food items. I loved how it is well made and easy to clean and use. No sharp edges and really good quality steel. If you fancy them too, get yours here.
For those who love dumplings, don't forget to check these out: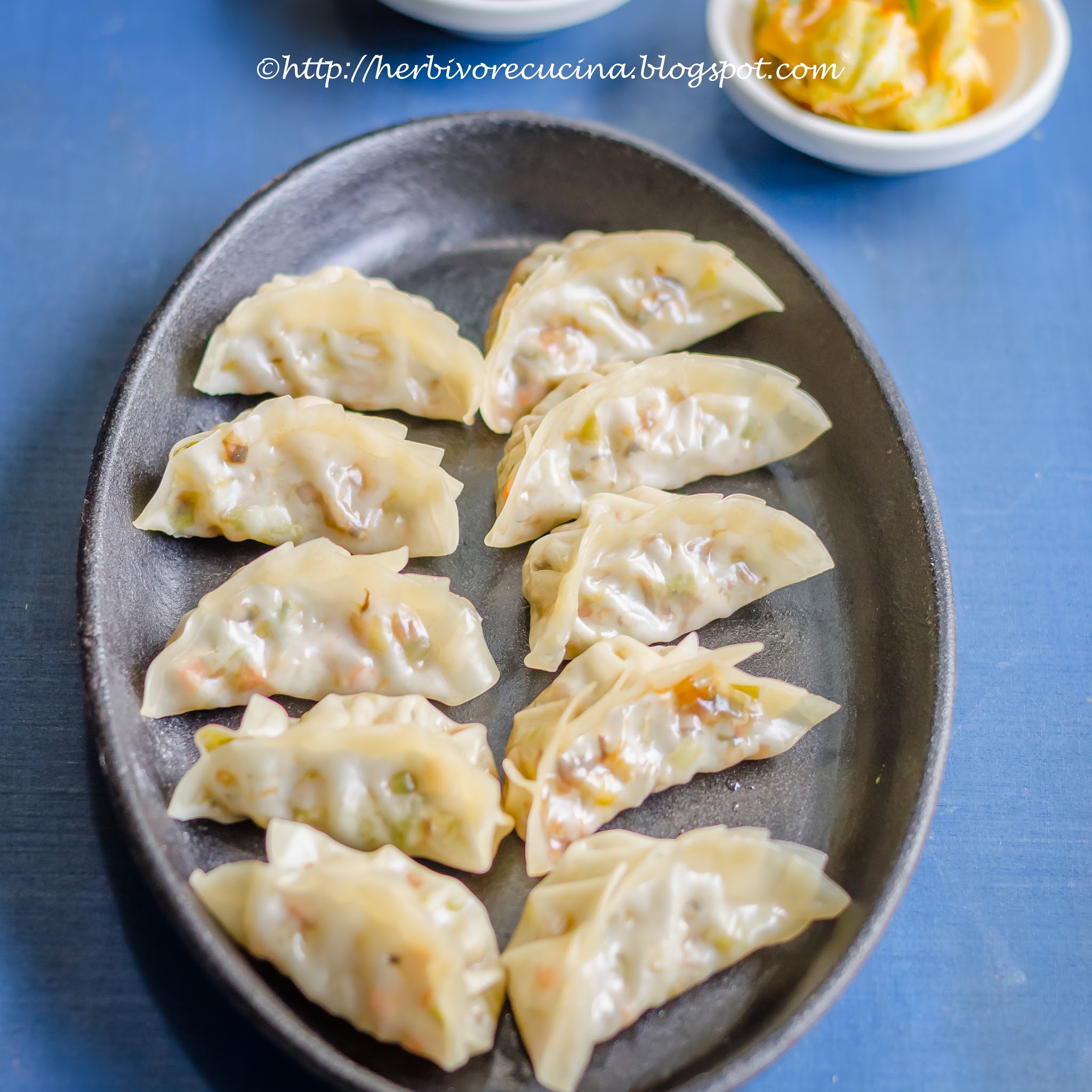 Ingredients
Su-Mai or Potsticker Wrappers
Vegetables (I used carrots, Green Cabbage, Baby Spinach, Mushrooms)
Processed Cheese ½ cup, shredded (I used Amul)
Spring Onions 3-4 stalks
Garlic 2-3 pods
Cilantro ¼ bunch
Soy Sauce 1 tbsp
Vinegar 1 tsp
Schezwan Sauce 1 tsp
Salt, Pepper
Oil and Chilli Oil 1 teaspoon each
Method

Chop all the vegetables into equal sized dice. Season them with salt and let all the moisture drain. Meanwhile, mince the garlic and slice the spring onions. Squeeze the water from the vegetables and set aside.
In a pan, heat oil and chilli oil. Add the minced garlic and spring onion whites. Once the raw flavor vanishes, add the drained vegetables. Mix well and cook till they entire mixture is dry. Add soy sauce, vinegar and Schezwan sauce. Mix well. Then add salt if required and cracked pepper powder.
Once the mixture is dry, turn down the heat. Let the mixture cool and then add chopped cilantro and chopped spring onion greens. Also add shredded cheese.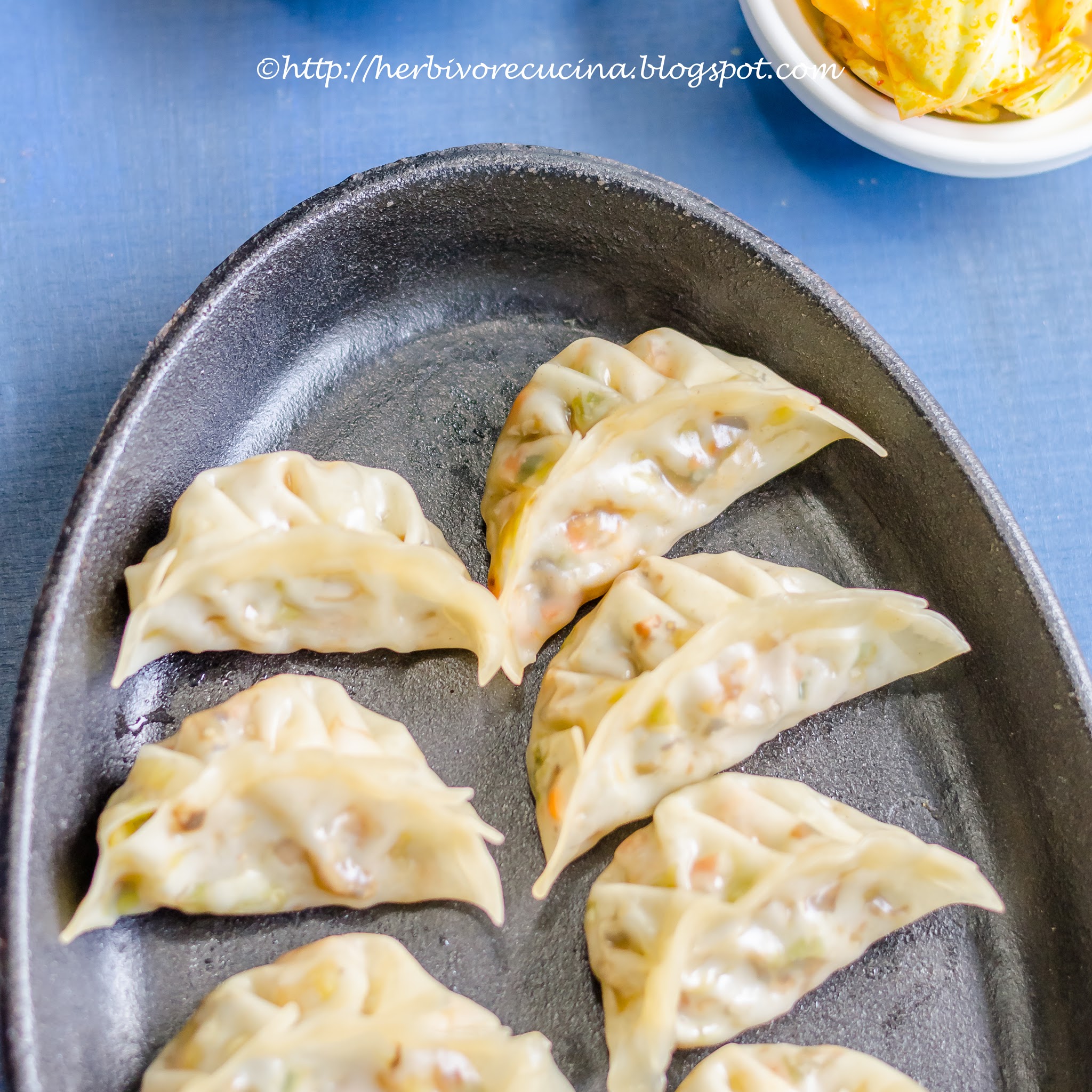 To make the dumplings, take a round wrapper. Apply water on the edges and place a tablespoon of filling in the centre. Fold the dumplings like I did. It does require some patience and practice. Else, just fold the wrapper into half and stick the edges. Keep the dumplings in a plate and cover with a wet towel till ready to steam.
Fill water in a pan, about 1 inch but not touching the base of the steamer. Place the basket in water. Start steaming the water with the steamer and its cover on. Once the water starts boiling, open the cover of the steamer. Place the dumplings leaving some space between them. Quickly put the cover on and steam the dumplings for 8-10 minutes.
The dumplings will turn a little translucent. Remove them and serve with freshly made Schezwan sauce. They taste best when hot!