A collection of the most delicious and easy Quinoa recipes to try. From appetizers and mains to soups and sides; get them all here.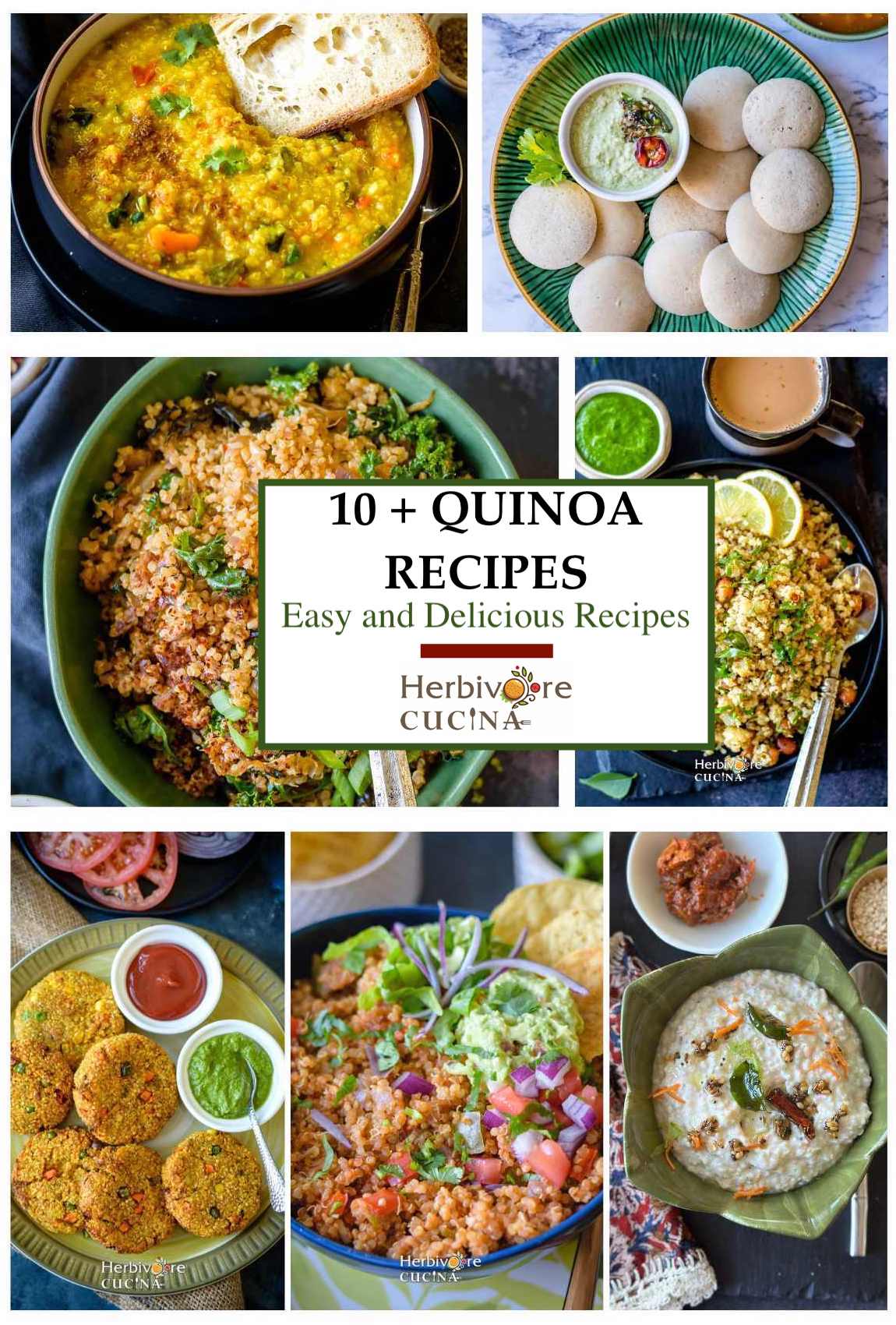 Jump to:
What is Quinoa
Quinoa (KEEN-wah); a seed of a flowering plant of the amaranth family is a popular superfood. We categorize it as seed rather than a grain or cereal; making it great for so many diets.
Available in various colors and types, it is popular as white, red, black or tricolor. All these have their characteristic taste and texture. Plus, they are great in so many recipes.
And if you have been a quinoa hater for the longest time; try some of the recipes below. Most of these are easy to make, super versatile and great for different courses of a meal.
Why choose Quinoa
It is a seed rather than a grain or cereal. This makes it gluten-free.
It is naturally Vegan friendly.
This is a powerhouse of nutrients; protein, dietary fiber, Vitamin B and minerals.
There are about 6 grams of protein in every cup of cooked quinoa.
It is great to consume in Indian fasts; as it a seed.
A great way to cut carb and replace with protein, this is an easy substitute for rice.
It is easy to cook; using the stovetop or instant pot.
Moreover, it is such a versatile ingredient; works perfectly in salads, sides, soups and main course.
This works wonderfully for meal prep. It is easy to prepare complete dishes and store or cook the quinoa and refrigerate. Use as desired.
How to cook Quinoa
Quinoa is easy to cook in several ways. The same recipe works for white quinoa, red quinoa, black quinoa or quinoa blend.
Stovetop Method: rinse the seeds well and add to a pan with water and salt. Cook covered for 12 minutes and let it stand for 5 minutes before fluffing with a fork.
Instant Pot Method: Add rinsed quinoa with water and salt to the Instant pot. Cook for a minute and release the pressure naturally. Then fluff with a fork and enjoy. Here is the complete Instant Pot recipe to refer.
Microwave: This is another method to cook it too. There are several recipes that lay out how to cook the seeds in the microwave and they work fine too.
Other methods: Moreover, quinoa is easy to cook using a traditional pressure cooker using a container in it or also in the instant pot using pot-in-pot method. These are less popular but work well nevertheless.
Common FAQs
What kinds of quinoa are available?
There are three colors of quinoa; white, red and black. Moreover, there are different blends of these available too.
Why should you rinse your quinoa before using?
Yes we do. Quinoa has an outer covering (saponin) that is bitter. Wash under running water till the water runs clear and then use as desired.
Can quinoa be consumed during fasting?
Yes. Most of the fasts require that you consume seeds, fruits and certain vegetables. As quinoa is not a cereal or grain; it can be consumed on fasts.
Why does my quinoa recipe taste bitter?
If quinoa is not washed well, the outer covering gets into the recipe with it and the recipe turns slightly soapy or bitter. Thus, wash the seeds well before using.
So are you ready to include this superfood in your diet? Then you have these quinoa recipes to try, enjoy and serve your family and friends. They are delicious; I promise!
I love seeing when you share my recipes!
Tag me on Instagram @herbivorecucina or mention #herbivorecucina so I can enjoy them virtually with you! You can also find me on Pinterest, Facebook, Tik Tok, and YouTube.