Garlic and cheese is such a perfect match. Combine that with some home-made bread dough and you can never complain again!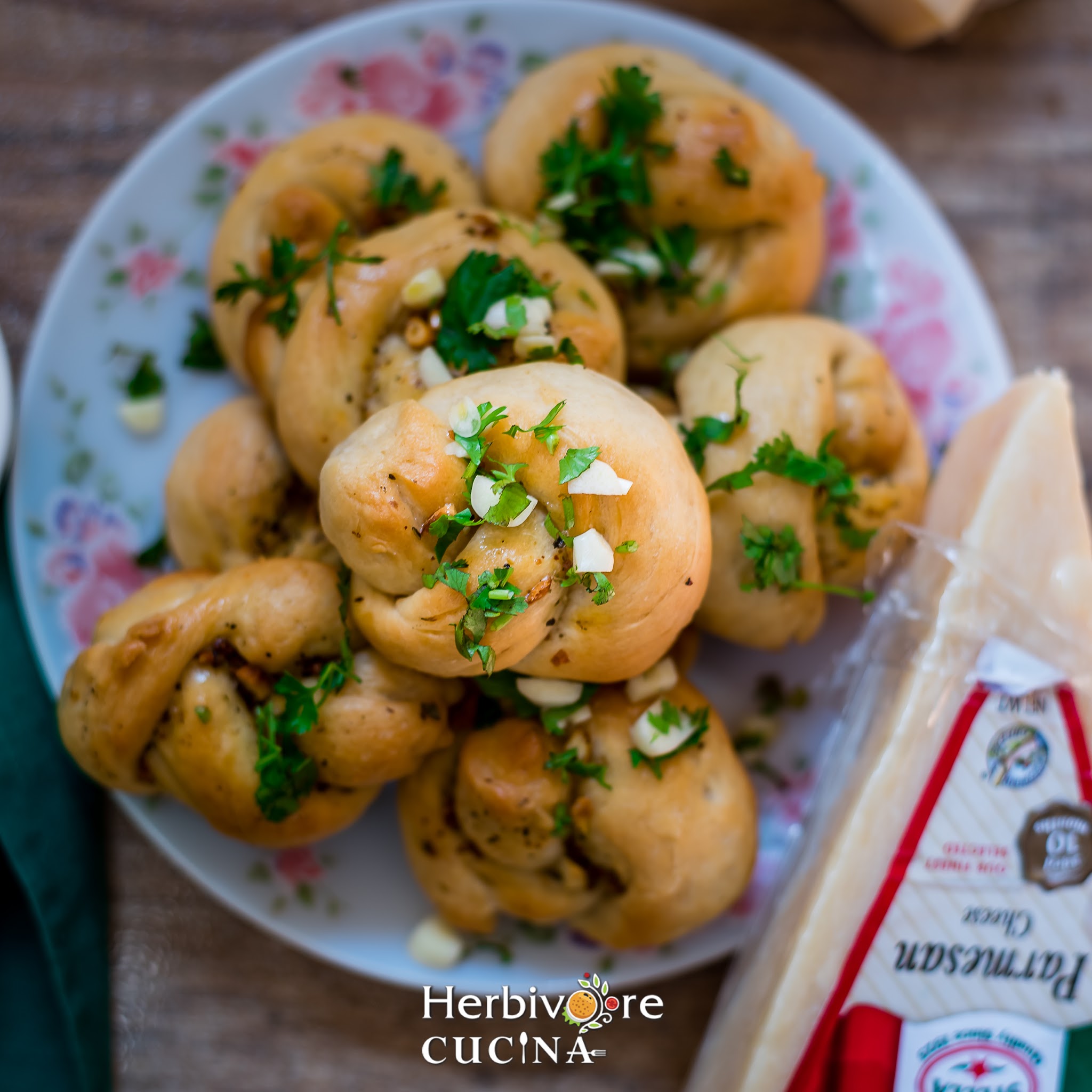 I can't believe we are speeding through November and will soon be at the end of 2017! This year has been full of good food, lovely friends and LOTS of parties for us. Now that the year is slowly inching towards closure, we are getting ready to celebrate the remaining months planning and having a few awesome Holiday parties.
When it comes to Holiday parties, I am always trying to set a menu that everyone would enjoy and not complain of it being boring, too spicy or too bland or repetitive. Yes I agree Cranberry and Sweet Potato HAS to be on the menu, but I find it fun to mix and match them with some easy Holiday sides.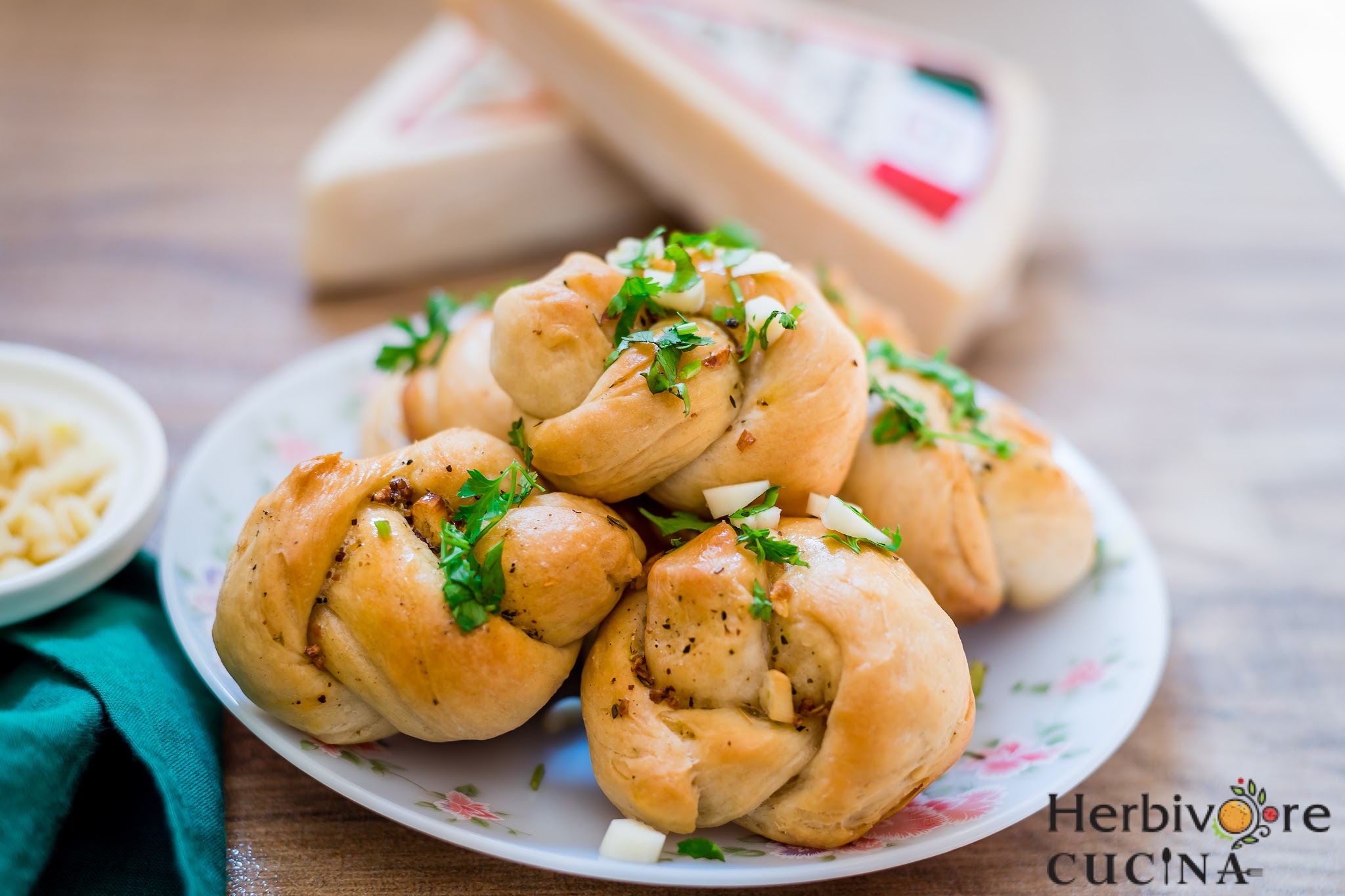 Lately I made a few...or maybe MANY variations of Garlic Bread as a side. From Cream Cheese Stuffed Garlic Rolls and Garlic Cheese Bread Bombs to Garlic Herb Wreath Bread and Hasselback Garlic Cheese Breads, there are many more Garlic Bread variations on the blog. But for the longest time I have been thinking of adding Garlic Parmesan Knots to the listing. Finally, with Stella® Parmesan Cheese I decided to make them over the weekend and I am sharing them today.
What is a party without a cake and what is garlic bread without cheese?? I LOVE the way Parmesan pairs so well with any kind of garlic breads. I bought a block of Stella® Parmesan Cheese and it was just as I had wanted as an accompaniment to my garlic knots.
Guess what's more!! Stella® Cheese is hosting the Taste of Authenticity Recipe Contest now through January 12th, 2018. During this time, we invite you to submit original recipes featuring Stella® Cheese for a chance to win up to $3,000. Click here for more details.
Coming back to the recipe, I plan to make these as a side for my Holiday Dinner. For trying it, I made this lot and they turned out so good; we made them our weekend dinner with a side of marinara sauce. The star ingredient in this recipe is the garlic and it pays to buy some really good garlic for the recipe. Besides, the cheese I used was Parmesan, but I sprinkled some Stella® Aged Asiago Cheese on a few knots and they tasted just as good!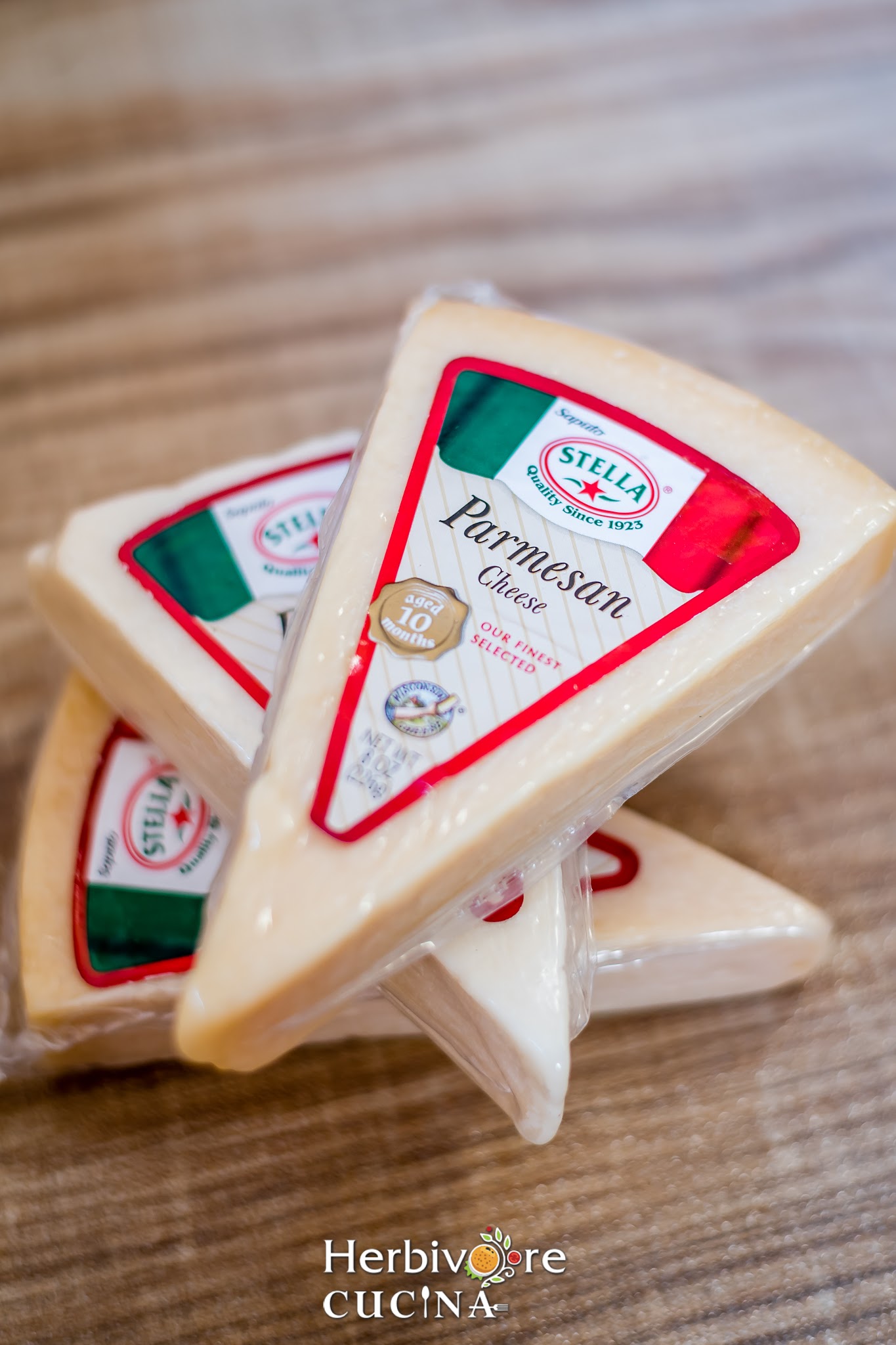 So pick a cheese of your choice, make these knots have a great Holiday season! Don't forget to enter the Taste of Authenticity recipe contest here with your wonderful cheese creations!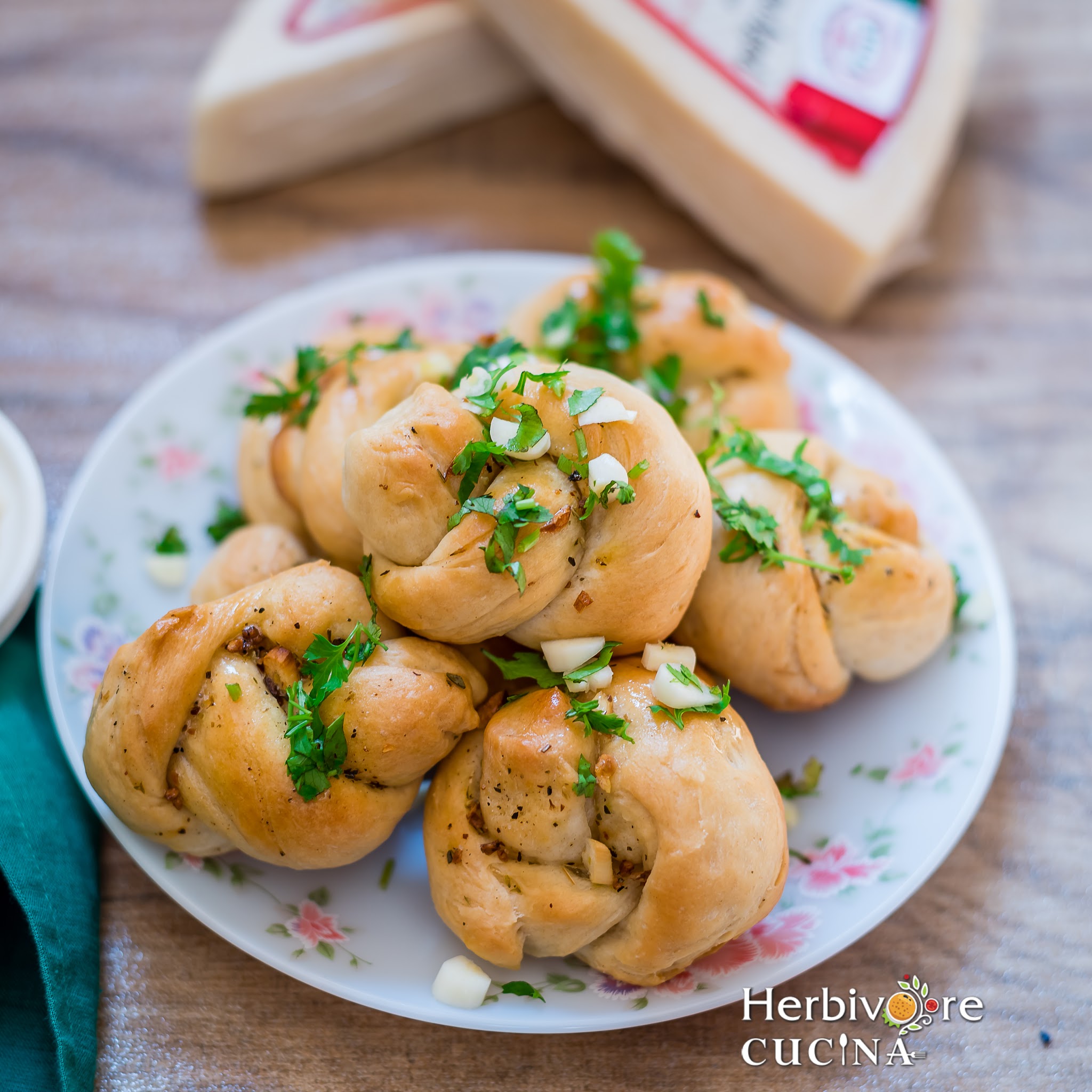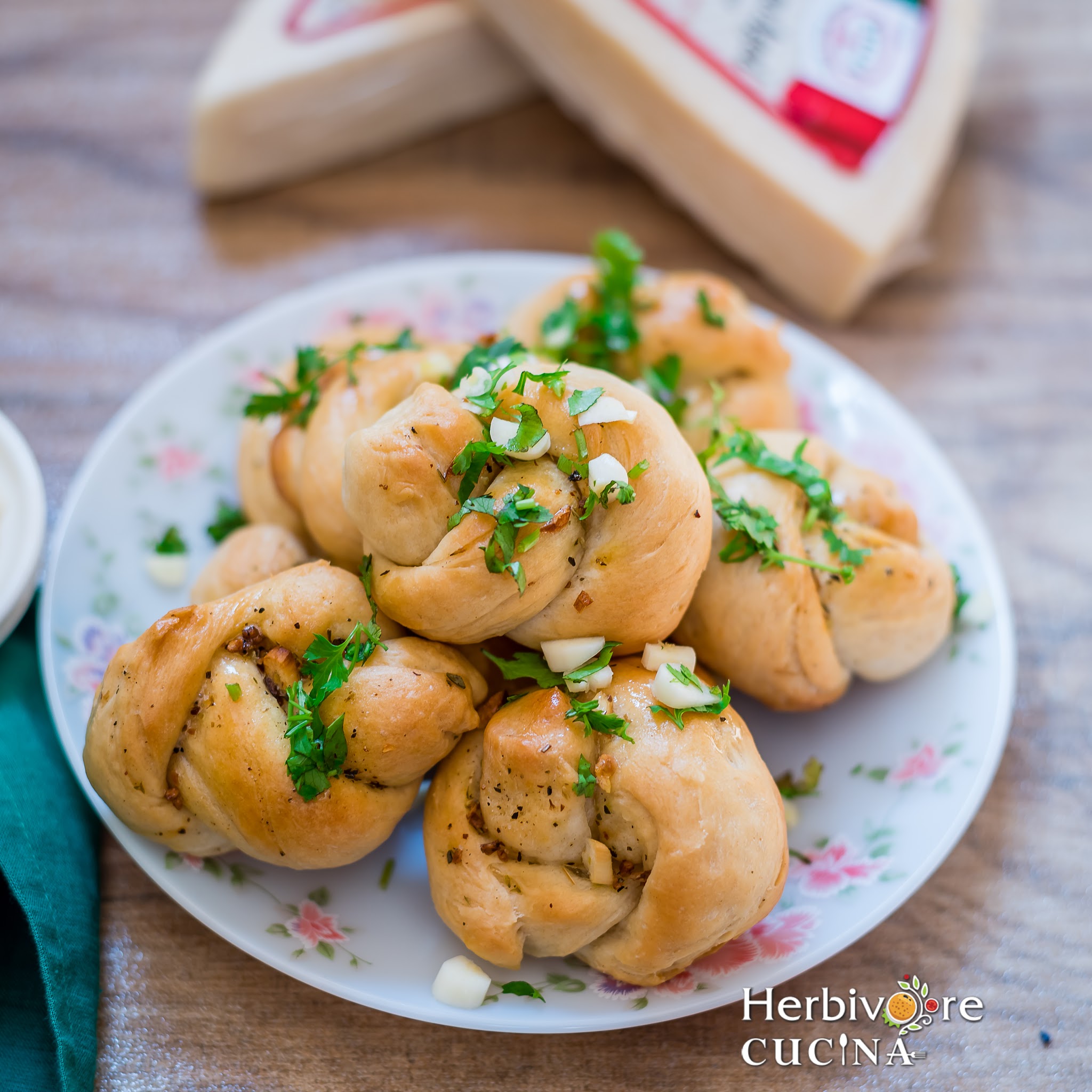 Ingredients
All purpose Flour 3 cups
Instant Dry Yeast 2 ¼ teaspoon (1 sachet)
Warm Water 1 cup
Unsalted Butter 5 tbsp
Garlic 3-4 cloves, minced
Dried Oregano 1 tsp
Stella® Parmesan Cheese 4-5 inches block
Salt 2 tsp
Sugar 1 tsp
Parsley few leaves
Method
In a cup of warm water (105-110F) add 1 teaspoon salt and 1 teaspoon sugar. Mix well and add yeast. Mix and let it stand for 10-15 minutes; till it blooms to double.
In the base of a stand mixer or a large bowl mix together flour, 3 tablespoon room temperature butter, half the garlic, dried oregano and bloomed yeast. Also add some shredded Stella® Parmesan Cheese.
Using a dough hook or with your hand make a soft and smooth dough, incorporating all the garlic and cheese.
Place the dough in a bowl and apply some oil/butter on top. Rest covered for an hour till it rises to double.
Meanwhile, mix together garlic, butter and finely chopped parsley leaves.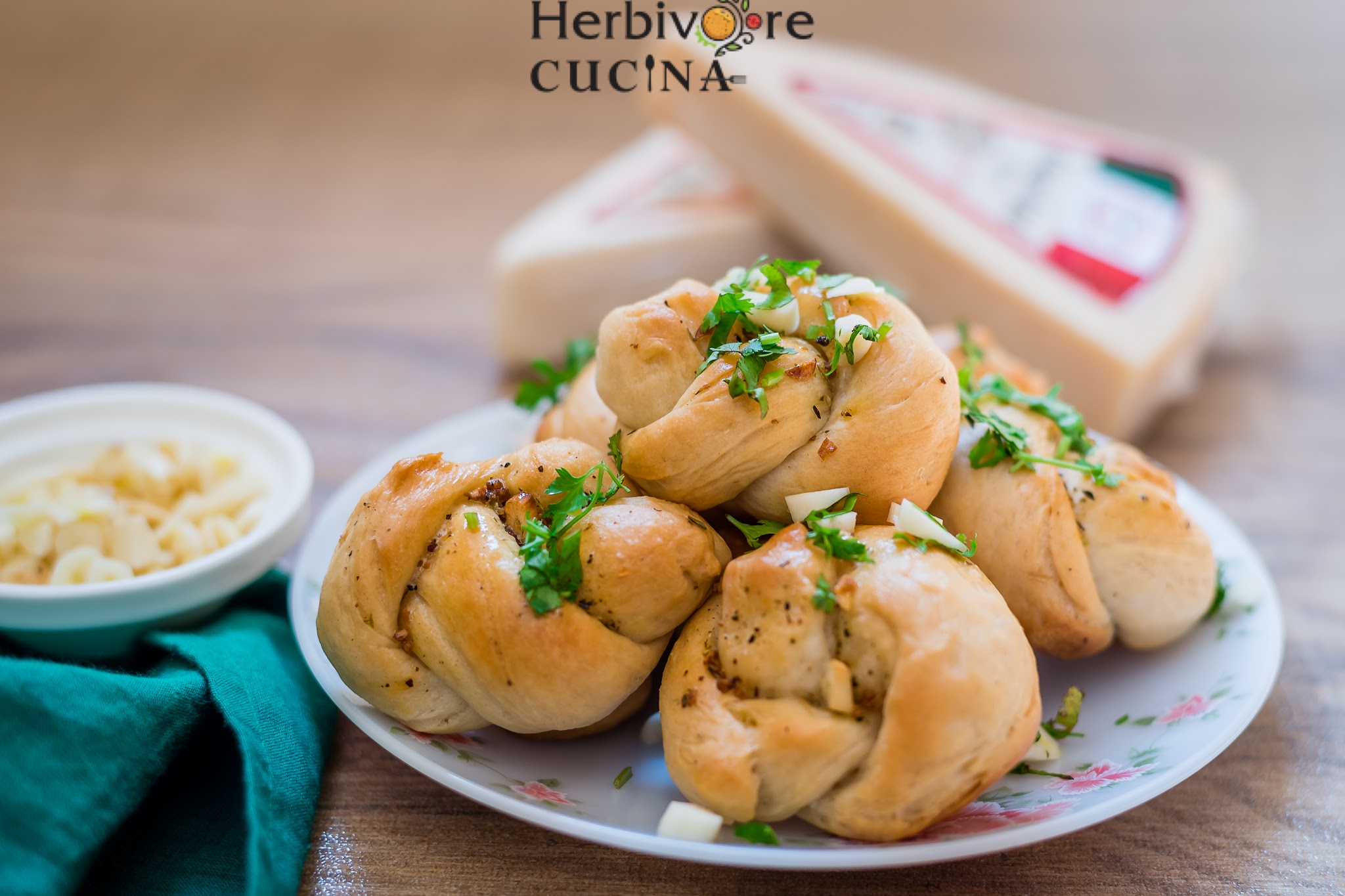 Once the dough has doubled, remove and divide it into 4 parts. Using each part roll it into a log of about an inch thickness. Cut the log into 6-8 equal parts.
Using each part make a knot and tuck in the edges. Place on a baking tray leaving a couple of inches between them. Lay covered for an hour, till they rise.
Preheat oven to 400F/ 200C. Brush some garlic butter on all the knots and bake for 15-16 minutes, till the tops are golden brown and the breads sound hollow when tapped.
Remove from oven, brush some more garlic butter on top and sprinkle Stella® Parmesan Cheese on them. Serve with a side of marinara sauce.